We have a nice slate of games today! Here are some guys I think you should at least consider, at every position and price range. Good luck!
Catcher
Stud
Kyle Schwarber ($4400) – Schwarber should be a popular pick again today and rightly so. He faces Jake Peavy who has been worse on the road and allows left-handed bats to hit .254 against him with four homers already in only 19 innings of work. Schwarber has a sick .487 wOBA with a .317 ISO score against right-handed pitching. He hits on top of that Cubs lineup has double digit fantasy points in five of his last six games. He is hot and profiles well, so expect to see a lot of him in your cash games today as well as in tournaments at a weak position.

Value
Yasmani Grandal ($3400) – If you want to swerve off of Schwarber, Grandal is a nice option if he is in the lineup. He faces Charlie Morton who has allowed a .288 batting average to left-handed bats which is tough considering he faces a very lefty heavy Dodgers lineup. Grandal has a wOBA of of .393 with a .247 ISO score to go with it. He has been batting in the middle of that order, so he is in line for some RBI on top of the Hits and Homerun potential he has today.

First Base
Stud
Mark Teixiera ($5300) –
Tex has been awesome this year and has done his best hitting against right-handed pitching at home in Yankee Stadium. He faces Marco Estrada today who has been good this year, but has struggled with left-handed batter and the homerun ball in his past. Tex has a .420 wOBA with a huge .362 ISO score. His power is undeniable and he now has 6 homers in his last 9 games. Tex is not cheap, but he is also has one of the best matchups here today.

Value
David Ortiz ($4000) – Big Papi has been on a tear with 3 homers in his last four games. He faces Justin Verlander today who has been very erratic. Verlander has allowed left-handed batters to hit .270 against him with 5 homers in limited innings of work. Papi has raised his wOBA to .391 and has a .275 ISO score to go with it. That means he has been hitting for average and power, as well as driving in runs for that Red Sox team. He has averaged 18 fantasy points over his last four games and that is great production from a guy at only $4K.
Second Base
Value
Cesar Hernandez ($2800) – Cesar has been a sneaky play that has produced outsized gains for a few weeks now. The Phillies leadoff man has a tendency to get on base, steal, and score a run which gives him value in one at-bat. He has reached double digits in six of his last nine games, so this is a strong trend. He faces Andrew Cashner today who has allowed left-handed bats to hit .290 against him. Hernandez has very little power, but he does have a .375 wOBA which means he has done a good job of getting on base. His speed is a weapon and one that the Algo's do not value highly. Plus his friendly price allows you to pay up for pitching or get an extra big bat into your lineups without giving up much upside.

Third Base
Stud
Matt Carpenter ($4700) –
Carpenter has always been a staple of cash game play for smart players who like consistency, but lately he also has been a consistent option in tournaments. He has six homers in his last nine games after going deep to lead the game off yesterday. He faces Jimmy Nelson who has allowed left-handed bats to hit .290 against him with 7 homers in 54 innings of work. Carpenter has raised his wOBA up to .380 and his ISO score is now at .212 as well. He is no longer cheap, but has made value anyway with his recent hot streak.

Value
Jung Ho Kang ($3300) – Kang is eligible at 3B and SS, but for a salary saver, I like him better here. He faces the Dodgers newly acquired Alex Wood who has allowed right-handed bats to hit .296 against him this year. Kang has smashed lefties dating back to his Korean League days and currently owns a .380 wOBA with a .211 ISO against them this season. For the price, he is the best hitter in a good matchup that bats on the meat of the order. I expect the Pirates to get to Wood today and for Kang to be right in the middle of it all.

Shortstop
Stud
Carlos Correa ($5000) – He is the priciest SS option, but also one of the best in the game despite being halfway through his rookie year. He is batting .287 with 14 homeruns and he has only played 53 games so far. That puts him on pace for 40+ homers over a full season of action. The 3 hole hitter for the Astros currently owns a .370 wOBA with a .255 ISO score even in a righty/righty matchup which is his lesser split. He faces Chris Bassitt of the As who is not a great pitcher, so the matchup is not particularly tough either.

Value
Jose Iglesias ($3100) – Iglesias is a really solid cash game play with little upside for a tournament. Since being moved to the 2 hole though, he offers great value for you at his price. Iglesias faces the rookie Henry Owens who was touched up in his first start. Iglesias hits lefties pretty well and currently owns a .401 wOBA with a .128 ISO score against them. He has four multi-hit games in his last 9 starts and that would be a good return if he could do that today and maybe add a run scored or RBI.

Outfield
Stud
Lorenzo Cain ($4600) – Cain has hit safely in 8 of his last 10 games and has double digit fantasy points in 4 of the last 8. HE faces Jose Quintana today who has allowed right-handed bats to hit .2998 against him this season. Cain owns a huge .439 wOBA against lefties with an ISO score of .248. He always flies under the radar and he has a great matchup here today for upside at low ownership.

Michael Brantley ($4400) – Brantley has 8, 10, 18, and 24 points in his last four starts. That's an average of 15 fantasy points per game. At his price today, that would make him a great tournament or cash game option if he repeats it. He has a good matchup to do so against Phil Hughes. Hughes has allowed 27 homeruns already this year with 13 of them coming to left-handed bats to go along with a .271 batting average. Brantley has a .376 wOBA and has started to pick up his ISO with the power numbers picking up recently. The Indians scored a bunch of runs last night and could be in line to do so again against Hughes.

Nelson Cruz ($5200) –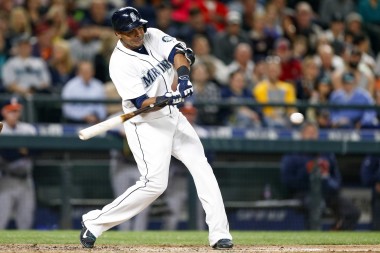 Cruz faces Colby Lewis who has allowed 19 homers already this season. Cruz has homered himself in 6 of his last eight games. His hitting streak has reached double digits during this run and he has scored double digit fantasy points in eight straight games. He owns a .395 wOBA with a .252 ISO score against right-handed pitching and there is no reason to fade him here. Cruz has been the most consistent fantasy performer over the last week and a half, so ride the streak while it is going.

Value
Marlon Byrd ($3800) – This is a nice price and matchup combination for Byrd today and he should be popular. Byrd faces Patrick Corbin who has been solid. Corbin has only allowed a .250 average to righties so far with 5 homers in 24 innings of work. Byrd has been great against left-handed pitching this year. He has a .384 wOBA with an ISO score of .246. He has 17 or more points in four of his last nine starts, so he has been flashing big upside that can help you win a tournament. In a good matchup, I think he is one of the best middle priced options that provide salary relief and still gives you a chance for a big upside.