As I always do on Sunday, I cover the entire slate of games taking place today. Let's get you ready for today, and, as always, you can get me on the ol' Twitter machine @SBuchanan24.
Pitchers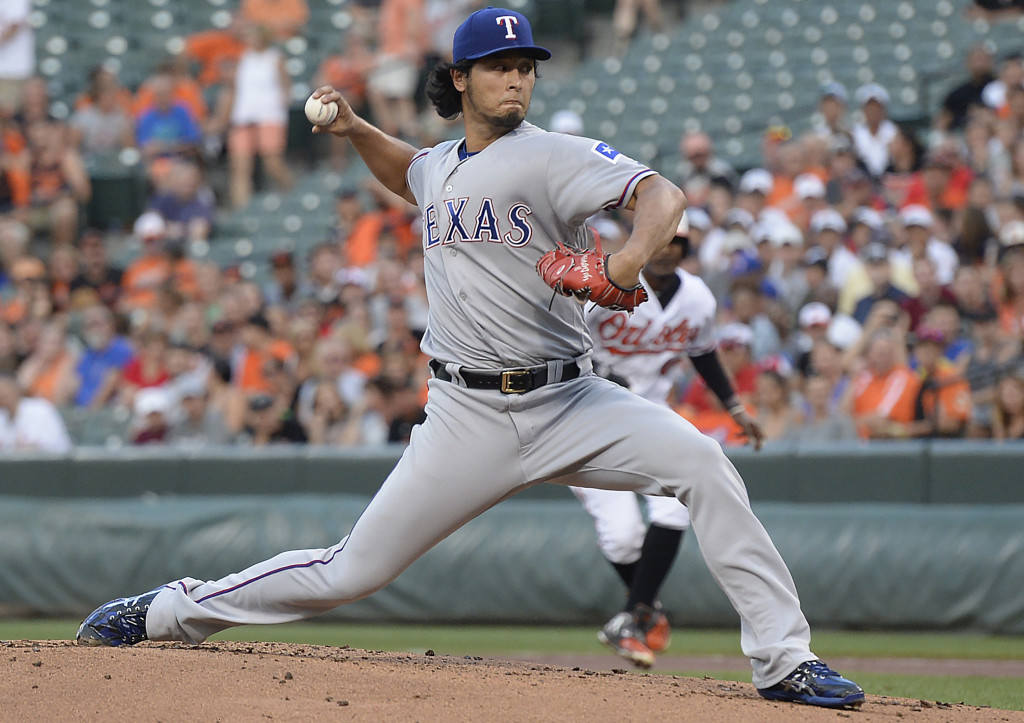 Studs
Yu Darvish – TEX vs. HOU – $13,100 – Darvish has been a bit frustrating since making his return to the Rangers this season. He's striking out a ton of hitters, but he's also giving up runs in short outings. Darvish has made seven starts since his return and is averaging about five innings per start. Amazingly enough, even with the shorter outings, Darvish owns a 12.8 K/9 in those seven starts. Darvish is averaging just under 12 swings and misses per start, so he certainly hasn't lost his stuff. Facing the Astros today, who rank third in K% against right-handed pitching at 24.2%, Darvish has a legitimate chance of grabbing a high score if he can keep the scoring down. In his first start against the Astros, Darvish pitched five innings, allowing one run on three hits with a 7:4 K:BB ratio for 19.1 points.
David Price – BOS vs. LAD – $10,600 – On paper, this is such a great start for Price that would one think he's a steal at $10,600. Unfortunately for Price and anyone that's rostered him this season, we know that nothing is guaranteed with him. Here we are on August 7th and Price owns a 4.30 ERA with a 1.25 WHIP and a K/9 of 9.3. The Dodgers remain one of the worst teams against lefties, owning a .291 wOBA with a .303 OBP and a 20.8 K%. With this start being at Dodger Stadium, Price has one of the best pitcher's parks to work with as he tries to get back on track. At $10,600, I think Price is priced fair enough that he's worth taking a shot with.
Values
Jered Eickhoff – PHI vs. SDP – $8,600 -Eickhoff will be facing the Padres for the second time this season, where he had one of his best starts of the year. In that start, Eickhoff pitching seven shutout innings, allowing four hits and a 9:0 K:BB ratio for 35.4 points. Eickhoff has been better at home than he has on the road, but Petco Park is like Dodger Stadium in the fact that it favors pitchers more than hitters. This Padres team is also weaker than when Eickhoff first saw them, as names like Matt Kemp and Melvin Upton are no longer with them. Coming into today, the Padres own the fourth highest K% against righties at 23.6% with a .303 wOBA and a .302 OBP. At $8,600, Eickhoff is a steal.
---
Batters
Studs
Brandon Moss (1B/OF) – STL vs. ATL – $5,100 – When it comes to facing right-handed pitching, Moss has been one of the best all season. Coming into this start against Mike Foltynewicz, Moss owns .428 wOBA against righties with a .676 SLG and a .369 OBP. Folty has struggled against lefties, owning a .356 wOBA with a .539 SLG and seven of his 13 home runs allowed. The combination of the two of them makes for the top matchup on the day for me.
Ryan Braun (OF) – MIL vs. ARZ – $5,000 – Even if Braun didn't have a two home run game last night, he still would have made it near the top of my ranks for today. Braun is locked in right now, averaging 14.1 FPPG over his last 10 games that's seen him go 11-27 with a double, four home runs, 11 RBIs, eight walks and four steals. He faces Archie Bradley today who is allowing a .328 wOBA to righties at home with five of his 11 home runs.
Kris Bryant (3B/OF)- CHC vs OAK – $4,600 – It feels like Bryant keeps getting fed good matchup after good matchup as of late. He takes on Sean Manaea today, who is allowing a .350 wOBA to righties with a .490 SLG and 12 of his 14 home runs allowed. Bryant continues to crush lefties on the road, owning a .435 wOBA with a .607 SLG and .452 OBP.
Nolan Arenado (3B) – COL vs. MIA – $5,400 – Grabbing Arenado at Coors Field is usually a play that should be made if you can afford it. This is a guy that is averaging 11.2 FPPG at Coors Field this season. He faces off against Adam Conley, who has been decent all around this season, but has allowed seven of his 10 home runs to right-handed batters on the road. Arenado has a .408 wOBA against righties at home with a .634 SLG.
Adam Jones (OF) – BAL vs. CHW – $4,900 – After a decent three game stretch for James Shields, it was only a matter of time before he came crashing back down to Earth, and that's just what happened in his last start. He faces the Orioles at home today, which could bring some trouble. The Orioles haven't been crushing the ball as a team, but Adam Jones is hitting very well right now. Averaging 8.3 FPPG over his last 10 games, including three home runs, Shields has allowed 12 of his 20 home runs to righties.
Albert Pujols (1B) – LAA vs. SEA – $4,100 – It's very possible that you don't even realize that Pujols has a legitimate chance to hit 30 home runs and knock in 100 runs this season. He's been hitting well and has a good matchup on tap against James Paxton. Against lefties, Pujols owns a .365 wOBA with a .540 SLG and eight of his 21 home runs.
Brad Miller (SS) – TBR vs MIN – $4,500 – Brad Miller just doesn't care what you have to say about Tropicana Field, he makes it look like Fenway Park with how much he drives the ball over the fence. Miller owns 16 of his 20 home runs at Tropicana Field to go with a .363 wOBA against righties. Kyle Gibson faces off against the Rays today and owns a .383 woBA with a .521 SLG against lefties on the road.
Values
Yasmani Grandal (CATCH) – LAD vs. BOS – $3,800 – I was honestly shocked that Grandal was out of the lineup yesterday with a left-handed pitcher on the mound. He has a taller task against David Price tonight, but Grandal has been fantastic against lefties. Coming into tonight, Grandal owns .467 wOBA against lefties at home with a .556 SLG and a .542 OBP. Not too shabby for someone that's under $4K tonight.
David Dahl (OF) – COL vs. MIA – $3,000 – At just $3,000, playing in Coors Field and consistently batting in the heart of their order, Dahl continues to be a steal. Dahl has played in only 12 games this season, but he's batting .380 with three home runs, seven RBIs and averaging 10.6 FPPG. It doesn't matter what his matchup is right now, his price makes him immensely valuable.
Scooter Gennett (2B) – MIL vs. ARZ – $3,800 – Scooter Gennett should be able to expose the biggest weakness to Archie Bradley, left-handed batters. On the season, Bradley owns a .398 wOBA against lefties with a .533 SLG and six of his 11 home runs allowed. Gennett has a .317 wOBA against righties on the road and is a nice cheap option to fill at second base.
George Springer (OF) – HOU vs. TEX – $3,600 – I'm certainly not going to be taking many chances against Yu Darvish today, but Springer is cheap enough that I'm at least a bit intrigued. Springer owns a .393 wOBA against lefties with a .541 SLG with seven of his 22 home runs. Darvish has certainly given up some runs, so Springer could be part of that.
---
I am a promoter at DraftKings and am also an avid fan and user (my username is Steveazors) and may sometimes play on my personal account in the games that I offer advice on. Although I have expressed my personal view on the games and strategies above, they do not necessarily reflect the view(s) of DraftKings and I may also deploy different players and strategies than what I recommend above.