We have a nice slate of games today! Here are some guys I think you should at least consider, at every position and price range. Good luck!
* Sunday Lobby!*
Catcher
Stud
AJ Pierzynski ($3400) – AJ is not someone that many would expect to see on this list, but he has an elite matchup based on the numbers. AJ still has pretty decent numbers against right-handed pitchers and Nathan Eovaldi has horrendous numbers to left-handed batters. Pierzynski is as hit or miss as they come to be honest, so this makes more sense for a tournament. Still he tends to bat in the middle of that order when he is in and has carried that offense for stretches during the year. At $3400 on a day where many starters get rested, he makes some sense to use.
Value
Matt Wieters ($2700) – This is the guy I would be looking to at catcher for a cheap option. Wieters had the day off Saturday, so I expect to see him behind the dish on Sunday. He faces Derek Holland who has already allowed a .311 batting average with 5 homers in only 11 innings of work so far. Wieters owns a .368 wOBA and a .200 ISO score against left-handed pitchers this year, so he looks to be in a good spot at a very cheap price.
First Base
Stud/Value
Ryan Howard ($3500) – This is a matchup that screams value play potential with huge upside for cash or tournaments. Ryan Howard has upped his wOBA to .357 and still has a robust ISO score of .248. He faces James Shields who has allowed left-handed hitters to jack out 17 homeruns in 75 innings of work to go along with a .277 batting average allowed. He has 77 points in his last six starts, putting his average just shy of 13 per game. At only $3500, that is not stealing, it's highway robbery. He should be in his usual four hole and profiles well against his opponent, so if $3500 is all they want, no need to argue it.
Second Base
Stud
Jason Kipnis ($4600) –
Kipnis is on fire right now. A guy who is usually priced too high because of his consistency is now too low because of his upside. In his last three games, Kipnis is 6 for 13 with 5 runs scored, 6 RBI, and over 18 fantasy points per contest. Very few second baseman can approach that kind of upside, let alone do it over a three game stretch. Kipnis has another good matchup to hit in against Jered Weaver, the soft tossing Angels pitcher. Kipnis is hitting .365 against right-handed pitching this year with a wOBA of .410. His ability to rack up hits, score runs, and even drive in a few or steal a base makes him a top option if you want safety for your cash games. I still think he is better in cash than in a GPP, but he did just win a whole bunch of money for his backers in recent games.
Value
Logan Forsythe ($3500) – This guy owns left-handed pitching this year. Forsythe is always cheap at a tough to fill second base position. He is also the best combination of power, upside, consistency and price on the day. Forsythe has a .406 wOBA and a .317 ISO score, which are insane power numbers for a middle infielder. He bats cleanup, so he has chances to drive in runs most games and he faces a guy in Duffy who has allowed a .279 batting average with a 1.43 WHIP and an ERA of 4.54 to righties. Forsythe homered against a lefty a few days back and now has 9 in 126 at-bats against them. For $3500, he is another guy that will be hard to pass up in his preferred splits matchup.
Shortstop
Stud
Wilmer Flores ($3700) – The home ballpark is not ideal, but Flores has the best numbers vs. left-handed pitching of anyone playing with more than 30 at-bats on the team. He won tournaments by himself earlier in the week, but he also has scored double digits in 6 of his last 8 starts, so the consistency and upside are both present. He faces Wade Miley who has struggled to a .281 batting average and a WHIP of 1.53 against right-handed bats. His .383 wOBA and .250 ISO score are both elite level numbers for the position, and due to injuries and tougher matchups, he is easily the top guy to trust on the higher end.
Value
Andres Blanco ($2200) – Blanco had the day off Saturday, but that only helped lower his price again before Sunday. James Shields struggles with Left-handed bats, and Blanco is a switch hitter with a .348 wOBA and a .222 ISO score. While those are not sick numbers, they are more than adequate for a min priced play. Blanco has at least 7 fantasy points in 9 of his last 10 and is averaging about 9.5 during that run. At $2200, you really can not ask for anything more as he has become the top salary saving option to use. He does not force you to sacrifice upside, he is consistent, and the savings allow you to get upgrades elsewhere. In fact he has been a staple of winning cash game rosters for about two weeks straight now.
Third Base
Stud
Miguel Cabrera ($5500) – I don't know if I can handle the price on most rosters I want to build today, but he does profile very well. Miggy has a .478 wOBA and a .279 ISO score against left-handed pitching. He gets to hit in the Rogers Centre which is almost unfair. He faces Mark Buehrle, who can still get out impatient hitters, but struggles against big bats with homerun upside like Miggy has. He has six of his last 10 games with 12 or more points and has an average over 11 during this run. He has spoiled us with his greatness to the point we don't even consider this a good stretch of the season for him. He is still one of the top 3 hitter's in the game and rostering him is usually a very good idea, especially with a park bump and his preferred split on the mound.
Value
Evan Longoria ($3300) – This price is insanely cheap for Longo. He has not been the stud we wanted him to be, but he is still in an elite matchup based on the numbers here. He faces a lefty in Danny Duffy with a .270 batting average allowed and a WHIP of 1.43 against right-handed bats. Longo has a .352 average with 5 homers in 105 at-bats in that situation this season. His .402 wOBA is very good for any matchup, but he has not been racking up the extra base hits like he normally does with an ISO score of only .190. He is a great salary saver at the price, although I like him better in cash with the power upside being suspect.
Outfield
Stud
Nelson Cruz ($5200) –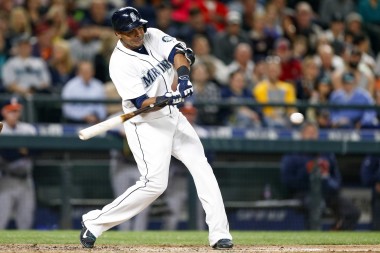 Cruz gets his preferred split today too and the matchup looks great for him. He faces Jose Quintana who is tough on lefties, but has allowed right-handed bats to hit .297 against him. Cruz is a monster against left-handed pitching with a .468 wOBA and a .338 ISO score. He has a .360 average with 12 homeruns in 129 at-bats which is legendary status as far as homers per AB go. He has at least nine points in five of his last 8 starts with some huge upside numbers there as well. He makes for a solid tournament option although he is a tad pricey for me in cash games.
Franklin Gutierrez ($4200) – All the wonderful things we said about the matchup for Nelson Cruz apply here too, but Gutierrez would be tough for me to take over Cruz even if they were the same price today. Granted it's in about 50 less at-bats, but Gutierrez has a higher batting average against left-handed pitching at .364, A higher wOBA at .469, and a higher ISO score at .351 than Cruz. If Cruz's bat is consider one of the best in the league, than Gutierrez lately has to be up there too. Lately is the key word here as recent performance also gives him the nod. He has gone 9 for his last 17 with 5 runs scored, 3 homers, 3 walks, and 9 RBI over the last 5 games for a total of 84 fantasy points. He has scored at least 7 in each so the upside is certainly there, but so is the consistency. I do not consider him a better overall player then a guy like Cruz is, but right now, against a lefty, he is on par or better during his recent run.
Adam Jones ($4300) –
Jones has a long history of hitting left-handed pitching well and it continues this year. He faces Derek Holland who it seems like we are picking on and frankly we are. Holland has been horrendous against right-handed bats with a .311 average and a homerun allowed about every 2 innings so far. Jones has a .379 wOBA and a .250 IO score with a great park to hit homeruns in today. He also has not been consistent, so this is more of a tournament play, but at the price it is one that many people should be making, but probably won't so he could go off lower owned than expected as well.
Value
Michael Cuddyer ($3100) – Cuddyer is 9 for 19 in his last four starts, which does not include the pinch hits he has along the way. He is averaging 16.5 points during this stretch per game, which is an insane total even for a top priced player. Cuddyer has both OF and 1B eligibility, so he works in both places. He faces Wade Miley who has allowed these righties to hit .281 against him as discussed above. He has had a rough year and it's tough to take any of his past numbers at Coors as his norm with the park there, but he has always done well against lefties. For only $3100, he does not need to do much to make value and in three of the last four starts, he would have reached double digits and been a great guy to have used.