Pitchers
Studs
Carlos Martinez – STL at ATL – $10,000 – Carlos Martinez aka The Rooster is a fine option to anchor our pitching staffs in all game formats. We will likely be targeting the Atlanta Braves frequently this season as they really do not have many dangerous hitters outside of Freddie Freeman. Collectively, the current Braves batters have accumulated a 98 wRC+ (weighted runs created plus, an advanced metric created to neutralize ball park factors and created a league-wide scoring efficiency of 100) which is 2% less than league average over the last two seasons. While the Atlanta hitters do not strike out a lot (18.2% which is in the bottom third of the league), they also do not hit for power with a .122 ISO which is the second lowest over the last two years.
Cole Hamels – TEX at LAA – $11,200 – Hamels makes for an interesting tournament option because most gamers are likely to choose Carlos Martinez for the discount. Current Halos have managed to hit a paltry .152/.224/.313 against Hamels with just ten extra base hits in 112 at bats. To be fair, Yunel Escobar, Albert Pujols and Andrelton Simmons account for 75 of those at bats and Mike Trout has just two. Cole was sharp in his first outing on Monday against the Mariners allowing just four hits and two runs, on two solo shots, along with eight strikeouts going seven full innings on 104 pitches. He looks like he is in mid-season form and I am willing to take a chance with him in tournaments.
Values
Bartolo Colon – NYM vs PHI – $6,100 – Colon is making the first start of his eighteenth season against the Phillies tonight. Current Philadelphia batsmen have a combined .265/.303/.368 slash line with just eight extra base hits in 136 at bats. While we should be thrilled if Colon gets 20 DraftKings fantasy points, the price and matchup are just too good to pass over tonight.
---
Batters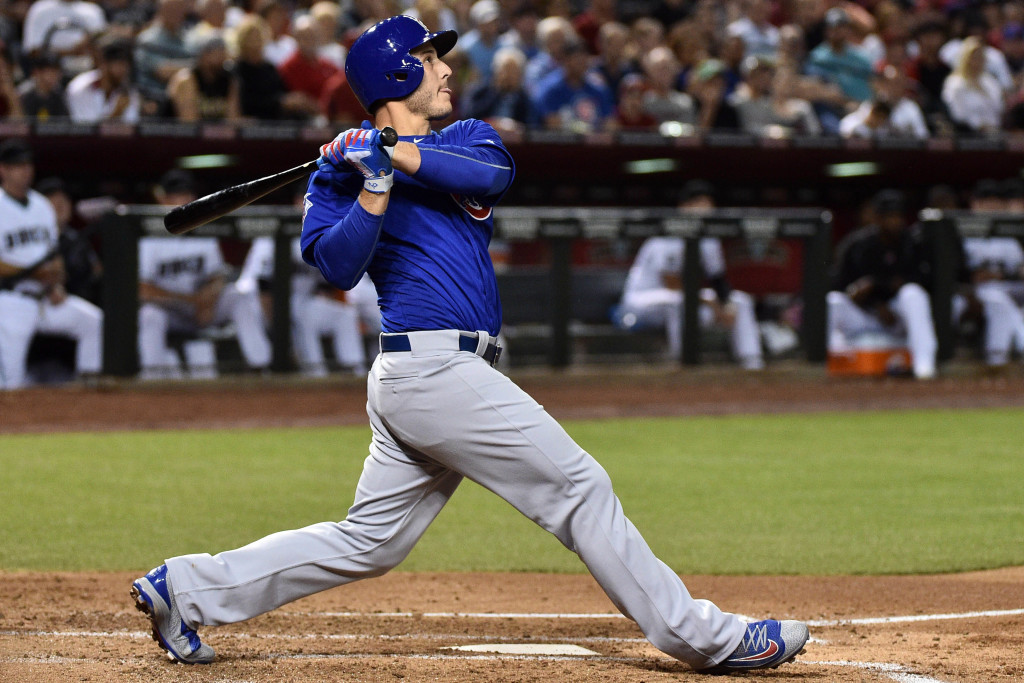 Studs
Anthony Rizzo (1B) – CHC at ARI – $4,800 – Hopefully the Zack Greinke name recognition will scare away most casual gamers from taking Rizzo tonight. In his three seasons with the Dodgers, Greinke's ERA was much better than his advanced indicators (FIP and xFIP) so it would not be surprising to see him regress with the dramatic park shift from Dodgers Stadium to the thin desert air of Chase Field. Over the last two seasons, Rizzo has a .250 ISO and a .387 wOBA in lefty/righty matchups and he is a fine cornerstone for our lineups tonight.
Nelson Cruz (OF) – SEA vs OAK – $4,600 – Anytime I can take Cruz against a southpaw, I am going to do my best to get him in my lineups. Over the last two seasons he has a .289 ISO (isolated power) and a .439 wOBA against lefties over the last two seasons.
Paul Goldschmidt (1B) – ARI vs CHC – $5,300 – Over his last 787 at bats against right-handed pitching, Goldy has a .399 wOBA and a .950 OPS. If you can find the extra scratch, he is a fantastic tournament option since this price point is going to have most gamers looking elsewhere.
Matt Carpenter (3B) – STL at ATL – $4,100 – Last season Carpenter hit a career high 28 home runs, which was four more than he managed in the prior three seasons combined. Yes, that was his high-water mark, however, it was nice to see. He should be leading off tonight against the mediocre at best RHP Julio Teheran and he is an easy plug and play at the hot corner.
Yoenis Cespedes (OF) – NYM vs PHI – $4,700 – Cespedes has become a beloved character by the Mets fans who have embraced his quirks and his light tower power. Tonight, he draws a fantastic matchup against RHP Vince Velasquez, and if you are looking for an off-the-wall home run call, then Cespy is the play.
Lorenzo Cain (OF) – KC vs MIN – $4,800 – This is a nice spot tonight for the Kansas City Royals as LHP Tommy Milone is a flyball pitcher prone to home runs. Most daily fantasy gamers ignore the Royals since they are just never exciting and don't hit a lot of home runs. Although they lack power, they are strong up and down the lineup and make for a sneaky stack tonight.
Nolan Arenado (3B) – COL vs SDP – $5,000 – While he is not cheap and he will be very popular because he is at home in Coors Field, Arenado is a terrific play against LHP Drew Pomeranz. In his last 250 at bats against southpaws, Arenado has a steller .359 wOBA and an elite .227 ISO. There should be some fireworks in this game, so be sure to have a couple players from it if possible.
Carlos Correa (SS) – HOU at MIL – $5,000 – With most gamers likely to be flocking to Trevor Story as their shortstop, and with good reason, Correa is actually going to be a contrarian option tonight. Though on the road, he is in a hitters park against the very average RHP Wily Peralta. Last season, Correa was outstanding against same-handed pitchers with a .359 wOBA and a healthy .210 ISO.
Values
Trevor Story (SS) – COL vs SD – $3,900 – It would not be surprising to see Story on upwards of 60% of all tournament rosters. Six of his seven hits have been home runs this season and while that cannot be sustained by any stretch of the imagination, we must turn to the wise and sage like Crash Davis who would tell us to "Respect the Streak."
Corey Dickerson (OF) – TAM at BAL – $3,900 – Dickerson is ensconced as the Tampa Bay cleanup hitter and we want to target him anytime he is going against a right-handed pitcher. Mike Wright is replacement level at best and when we consider that Dickerson has a .410 wOBA and a .280 ISO in his last 520 at bats against opposite-handed pitching, we have to lock him in once again at this discounted price point.
David Peralta (OF) – ARI vs CHC – $3,700 – One way to get Goldy in your lineup is to also roster teammate David Peralta for his price and the synergy opportunity. Though he is not a household name and the DraftKings algorithm seems to keep his price tag suppressed, he is always on my radar when he faces a right-handed pitcher and especially when he is at home. He has a .210 ISO and a .386 wOBA over the last two seasons in lefty/righty matchups and he is an absolute steal at this price point.
Michael Conforto (OF) – NYM vs PHI – $3,500 – Conforto is a player that I have projected for a breakout season and he is in a nice situation against RHP Vince Velasquez. A Mets mini-stack is a viable tournament strategy for the Saturday night contests.
Stephen Piscotty (1B/OF) – STL at ATL – $3,600 – Piscotty is another talented youngster who we should see big things from this season. He offers multi-position flexibility, a cheap price point and a likely spot in the middle-of-the-order for the Redbirds tonight.
Derek Norris © – SDP at COL – $4,000 – Norris gets a major park boost going from Petco to Coors Field and we always want to target him when he faces a lefty. Over his last 280 at bats against left-handed pitching, he has a .365 wOBA and a .840 OPS. The Padres have had their salaries bumped for the series in Coors Field, but we don't want to be left out in the cold by avoiding this game.
Ben Paulsen (1B/OF) – COL vs SDP – $3,300 – Somehow his price was actually not increased and though he is a part-time player, if he is in the Rockies lineup tonight we simply must get him in ours.
Neil Walker (2B) – NYM vs PHI – $3,900 – Though he is a switch hitter, Walker is dramatically better against right-handed pitching. In his last 870 at bats against righties he has tallied a .351 wOBA and a .200 ISO making him a fine option at the keystone position.