WATCH: MLB GAME TO WATCH
---
We've got a nice, big, juicy slate for you Wednesday night with a few key matchups to hone in on. The Nationals' potent offense will take on Dan Straily, who has been known to give up the long ball. The Indians' offense has been rolling out in Arlington, leading the AL with 12 runs through the first two games. Elsewhere in Texas, the Astros' pitching staff has shut down the Mariners order so far, with Charlie Morton tasked with holding down Seattle for a third straight game. There's plenty to look forward to, so let's get into which players to target!
Pitcher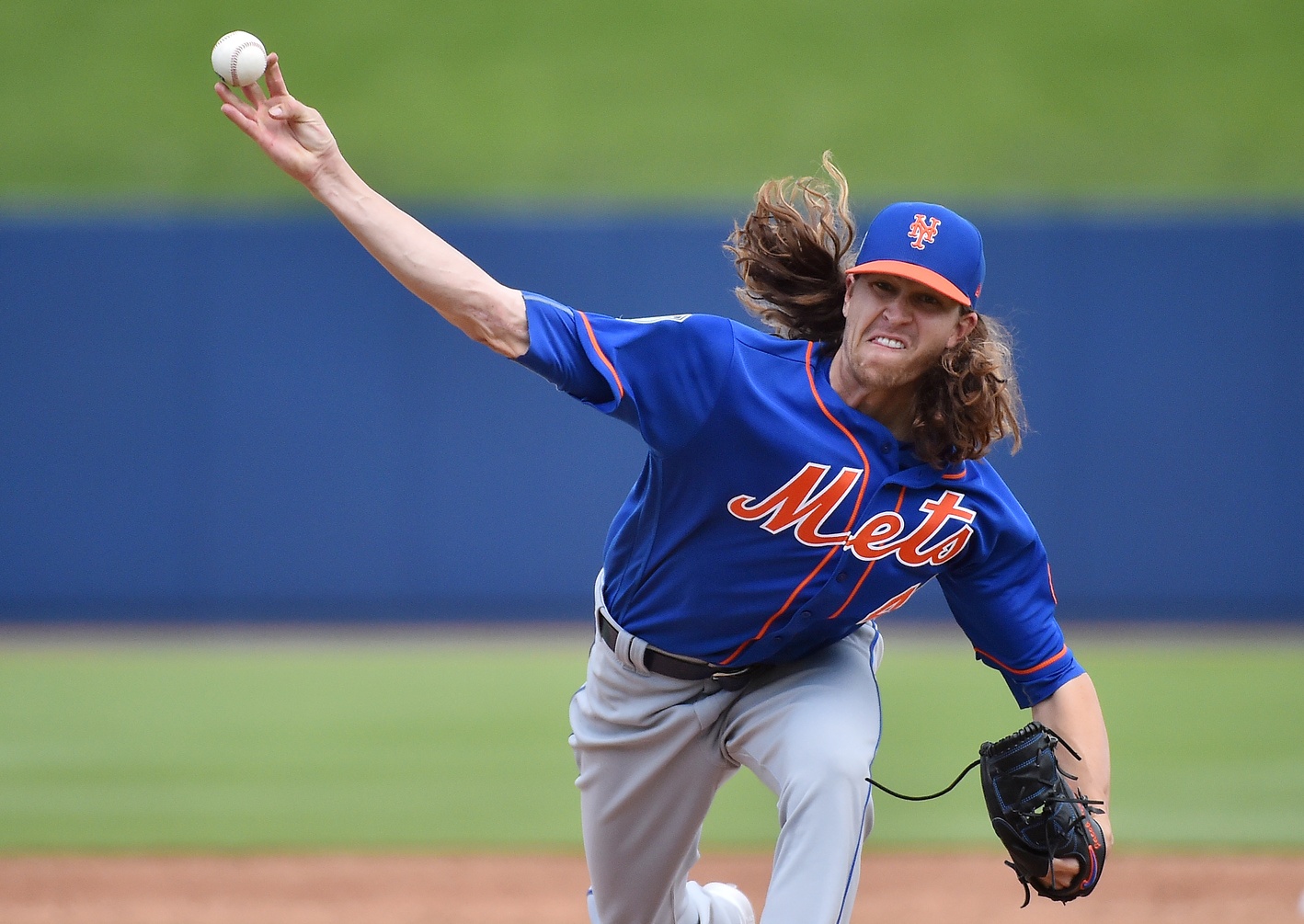 Stud
Jacob deGrom — NYM vs. ATL — $10,600 – Of the three starting pitchers priced higher than $10,000, deGrom is easily the most appealing. He's at home where he had a 2.11 ERA and 10.3 K/9 in 13 games last season. He allowed four runs in 19.2 IP vs. Atlanta in three starts last season. Noah Syndergaard had no trouble shutting down the Braves' offense on Opening Day, so I expect deGrom to follow suit Wednesday.
Other Options Michael Pineda ($8,400), Tanner Roark ($8,200)
Value
Charlie Morton — HOU vs. SEA — $6,100 – Morton is a ground-ball pitcher, which could cause problems for the Mariners' power-heavy lineup. Seattle hit into 10 grounders in a 2-1 loss Tuesday, and Astros' pitching has limited the Mariners to one run over two games. If Seattle's bats stay cold, Morton would be in a decent spot to get a win at the very least, making him worth a look in tournaments.
Other Options Jerad Eickhoff ($7,400), Tyler Chatwood ($5,900)
---
Catcher
Stud
Buster Posey — SFG vs. ARI — $4,100 – Posey has been off to a slow start, going 0-for-7 in his first two games of the season. But the All-Star hit the ball well at Chase Field last season (.303 in eight games), so he should turn things around. Posey has at least been patient with three BBs, has 1B eligibility on DraftKings, and pretty much everyone surrounding him in the Giants' lineup is scorching hot to start the season.
Other Options Jonathan Lucroy ($4,000), Yasmani Grandal ($3,600)
Value
Stephen Vogt — OAK vs. LAA — $3,100 – Vogt will likely draw the start vs. the right-handed Garrett Richards, and like Posey also has 1B eligibility. Vogt is a solid tournament play given he hit 13 of his 14 HRs last season vs. RHP.
Other Options Tony Wolters ($3,100), Mike Zunino ($3,000)
---
First Base
Stud
Carlos Santana — CLE vs. TEX — $4,700 – Santana has gotten off to a strong start in two games, going 4-for-8 with two doubles, one HR and three RBI. I think he'll be upset to leave Arlington and the Rangers' hitter-friendly ballpark as the Indians look for a series sweep Wednesday. Santana has the upper hand vs. LHP Cole Hamels, hitting for a better average (.269) over the past three season against southpaws.
Other Options Brandon Belt ($4,000), Adrian Gonzalez ($3,800)
Value
Greg Bird — NYY vs. TB — $3,100 – After a torrid spring training, Bird hasn't been able to find that pop in his first two games of the season. He flashed some of that power with a double in Tuesday's 5-0 win vs. the Rays, his first hit of 2017. But after moving up to third in the Yankees order, it's only a matter of time before things will start to click. Bird has a plus-matchup vs. RHP Alex Cobb, who had an 8.59 ERA in an injury-riddled 2016.
Other Options Mark Reynolds ($3,400), Yonder Alonso ($2,800)
---
Second Base
Stud
Daniel Murphy — WAS vs. MIA — $4,500 – Murphy picked up right where he left off last season, going 2-for-4 with a RBI in the Nationals' opener. He'll take on Dan Straily, who is a boom-bust power arm, which bodes well for a contact hitter. Murphy did the majority of his damage at home last season, batting .361 with 10 HR and 50 RBI. He's in a strong spot to return value among the elite 2B given his high floor.
Other Options – Rougned Odor ($4,300), Dustin Pedroia ($4,200)
Value
Jed Lowrie — OAK vs. LAA — $2,700 – In his first two games, Lowrie has proven to be an extreme value play, going 5-for-8 with a double, a solo HR and three runs. Richards has struggled in Oakland in his career, posting a 1-3 record with a 4.83 ERA and 1.64 WHIP in eight appearances. Lowry is in the heart of the A's lineup and will get plenty of chances to drive in runs.
Other Options Stephen Drew ($2,800), Danny Espinosa ($2,800)
---
Third Base
Stud
Nolan Arenado — COL vs. MIL — $5,000 – I'm not going to get all cute with you at 3B. Arenado is the definition of a stud. He hasn't flashed that power yet, but it's only a matter of time in the Rockies' high-powered offense in a hitters park vs. Wily Peralta (career 4.18 ERA). Arenado has had success vs. Peralta (3-for-8 career) and offers arguably the highest ceiling of any hitter on Wednesday's slate.
Other Options Maikel Franco ($4,500), Justin Turner ($4,200)
Value
Yunel Escobar — LAA vs. OAK — $3,000 – Escobar is in a solid spot, batting leadoff for the Angels in front of the likes of Mike Trout and Albert Pujols. The A's will send out the highly touted Jharel Cotton, who only has two games of MLB experience under his belt. LAA's veteran lineup should be able to take advantage and all Escobar needs to do is get on base and score to be worth the go-ahead here.
Other Options Chase Headley ($2,900), Derek Dietrich ($3,100)
---
Shortstop
Stud
Francisco Lindor — CLE vs. TEX — $4,400 – The Indians are an appealing stack option vs. Hamels and the Rangers. For one, you've got a hitters ballpark. Two, Lindor, like Santana, is capable of hitting vs. LHP and should bust out after going 0-for-6 with 2 BB in his first two games. He's been aggressive on the base paths as well, always a threat to swipe a bag or two.
Other Options – Corey Seager ($4,500), Jose Reyes ($3,900)
Value
Stephen Drew — WAS vs. MIA — $2,800 – Drew offers flexibility as a dual 2B/SS and arguably has the most power of any SS priced below $3,000. That added pop makes him an appealing tournament play, particularly vs. Straily, who led the MLB in HRs allowed last season (31).
Other Options – Dansby Swanson ($3,000), Andrelton Simmons ($2,900)
---
Outfield
Stud
Bryce Harper — WAS vs. MIA — $5,000 – If Drew's chances of hitting an HR off of Straily are this high, Harper could be in line for a huge night. The Marlins HR-prone pitcher will be no match for one of the most prolific hitters in the league. Harper already got on the board, belting his first HR of the season in the opener. Though his ceiling is high, Harper is more of a cash-game play as I expect him to be popular.
Other Options – Mark Trumbo ($4,400), Yoenis Cespedes ($4,300)
Value
Andrew Toles — LAD vs. SD — $3,000 – Toles took the night off with the Dodgers facing LHP Clayton Richard in Tuesday's loss. He should be back in the lineup batting leadoff in a good spot vs. Cahill, the cheapest SP in DraftKings late contests. Toles will bat in front of two studs, Corey Seager and Justin Turner, giving him a great chance of racking up points if he can get on base and cross the plate a few times.
Other Options – Joey Rickard ($3,000), Matt Joyce ($2,400)
---
I am a promoter at DraftKings and am also an avid fan and user (my username is bzweiman521) and may sometimes play on my personal account in the games that I offer advice on. Although I have expressed my personal view on the games and strategies above, they do not necessarily reflect the view(s) of DraftKings and I may also deploy different players and strategies than what I recommend above.