There are only two day games today, but another thirteen at night. We have contests for both groups of games, with game sets at 1:08 and then 7:05 EST. This article will contain daily fantasy baseball targets from both groups, at every position and price range. Good luck!
Enter the MLB $150K Payoff Pitch – Late (7:05 EST) – $27 Entry >> DRAFT NOW!!
Starting Pitchers
Studs
Max Scherzer vs. PHI ($11,700) – LATE – There are a ton of great pitching options tonight, which is clear when Kershaw is an option, and he doesn't get mentioned here. But just a few days ago, with this same matchup, Scherzer came through 22.7 points on 6 innings of 8 strikeout ball. And it's the Phillies, so I wouldn't expect a lot of improvement.
Corey Kluber @ MIN ($9,800) – LATE – He's yet to get his first win, but he is easy to trust, coming off a season with a 2.44 ERA and 1.09 WHIP in more than 235 innings. Plus, there's this: he has seventeen K's in two outings, going more than six innings in each, and not giving up more than two earned runs. Now facing a team that is averaging three runs scored per game and collectively hits .221, this could easily end up being Kluber's best outing of the season, and he hasn't scored fewer than 22 fantasy points yet. And that makes him worth this much money, and then some.
Values
Bartolo Colon vs. MIA ($7,000) – LATE – At some point, you'd imagine, Colon is going to stop being a fantasy-relevant pitcher. And it might even happen this season. But for right now, he has won both of his first two matchups, averaging over six innings and over six strikeouts per outing. That's relevant, especially at this price.
Jimmy Nelson @ PIT ($6,600) – LATE – He had seven innings of two-hit ball five days ago, with no runs allowed and nine K's. Oh, and it was also against the Pirates. Even if they've "figured him out" a little since then, he is not likely to go from that level to unusable that quickly.
Catchers
Studs
Carlos Santana @ Mike Pelfrey ($4,700) – LATE – So, he's not a catcher. But that's ok – use it to your advantage. Coming off a 27 home run season, he is still going to get plenty of at-bats, and could look to actually improve on last year's numbers.
Buster Posey vs. Josh Collmenter ($4,000)- LATE – Collmenter has a WHIP of 2.17 so far on the season, and it's not like there were high expectations to begin with. If these teams had better offenses, I'd be looking for a high-scoring game here, but as it is, you can expect to see just about every Giant with a pulse on this list somewhere.
Values
Travis d'Arnaud vs. David Phelps ($3,900) – LATE – He went 0-4 last night, but the matchup with Phelps doesn't scare me, and I honestly see a trajectory for d'Arnaud this year that ends with him being listed on the top half of these picks.
Stephen Vogt @ Jeremy Guthrie ($3,800) – LATE – He's 2-5 against Guthrie for his career, and last night was the first zero-hit game he's had all season. He's another one who you should appreciate being able to take advantage of the catcher eligibility.
First Basemen
Studs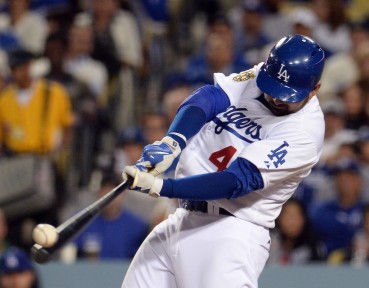 Adrian Gonzalez vs. Kyle Kendrick ($4,900) – LATE – I am pretty sure I have no choice but to include him in this column and show you a picture of him hammering the ball every time I get the chance until further notice. I mean, right? He has only scored fewer than 10 fantasy points twice on the season, and they were both seven. He went 2-5 with a double and a RBI last night, and it was a little disappointing. His OPS is now 1.706, and he is hitting well over .500. I am going to assume that pace drops off a little at some point, but until I see it happen, I am going to remain a believer. And I don't think Kyle Kendrick is the guy to turn it around.
Paul Goldschmidt @ Jake Peavy ($4,800) – LATE – It's amazing, really, that anyone is more expensive than him. No matter what you think of the Diamondbacks as a whole, this guy is a stud in the truest definition of the word. He already has twelve RBI on an offense that doesn't exactly lend itself to that sort of thing (he has driven in more than 25% of all their runs).
Values
Billy Butler @ Jeremy Guthrie ($3,900) – LATE – I feel like this is a game where the Oakland offense could do some damage, and therefore all of their "value plays" seem appealing to me in this one. Maybe only less so than the Giants. Butler doesn't provide a lot of power, but he has scored seven runs on the season, thanks in part to his .359 batting average getting him plenty of opportunities on the bases.
Mark Trumbo @ Jake Peavy ($3,600) – LATE – Trumbo went deep last night, and you want him in there mainly for that power potential (looking back to the 30-HR days of 2011-2013). He has been making good contact with a .276 average that's better than anything he's really ever done, so maybe he's on track for a resurgent season.
Second Basemen
Studs
Jason Kipnis @ Mike Pelfrey ($4,700) – LATE – Kipnis was battling with the lingering effects of an injury to his finger in the spring, but he has started to hit a little as the season has gotten rolling. You might want to wait a little longer before you trust him at this price, but you definitely want to start to pay attention to him as a legitimate option again.
Ian Kinsler vs. Jeff Samardzija ($4,400) – EARLY – I know, it's a bummer you can't use him along with all your other late game plays. In fact, playing in any early contests at all might be a simply by-product of wanting to get these Tigers active for you, because they could do some damage deep against a guy like Samardzija if they are all on their games, and there is no reason to suspect they aren't.
Values
Rougned Odor @ J.A. Happ ($4,000) – LATE – He is hitting leadoff right now, and while his average looks terrible, he is getting on base at a .350 clip, giving him plenty of opportunities on the bases for this offense. And when he does make contact, he has shown some pop, with four extra-base hits already on the season.
Asdrubal Cabrera vs. Adam Warren ($3,700) – LATE – This particular Cabrera is not exactly one I am running out to get into my lineup as quickly as possible, but it's hard enough to find any production from second basemen, never mind cheap ones, and Adam Warren does the opposite of striking fear into my heart, whatever that is. He fills my heart with gladness? Maybe?
Third Basemen
Studs
Josh Donaldson vs. Julio Teheran ($4,300) – LATE – This Toronto lineup is scary, and he is right at the heart of it. He doesn't have a lot of history against Teheran, but he is 1-3 for his career, so at least you know he can make contact.
Xander Bogaerts vs. Ubaldo Jiminez ($4,200) – LATE – I don't particularly love this matchup for either offense, but Bogaerts has been impressive to the point that this price does seem low. And maybe it's low because of Jiminez, but Xander went 2-3 against him the only other time they faced each other, so if you're going to trust any Sox, it might as well be this one.
Values
Alex Rodriguez vs. Nathan Karns ($3,900) – LATE – I know. It's kind of crazy. I thought we were done thinking about A-Rod, too. But there is it – he's DH-ing, and he's doing it effectively. He's striking out a lot, but he also has a pair of home runs, a pair of doubles, and an OPS of .965.
Kyle Seager vs. Yovani Gallardo ($3,600) – LATE – He has been an unexpected value for owners in weekly leagues so far, with a pair of HRs and a handful of RBI where you might not have seen them coming.
Shortstops
Studs
Ian Desmond vs. Sean O'Sullivan ($4,500) – LATE – If anything I guess I am surprised I haven't felt compelled to write about more Phillies with this matchup, but if there was going to be one, this one makes sense. Despite the low average, he has had five hits in his last three games, so you're hoping to catch him on the front side of a few weeks that bring his stats back into balance.
Jimmy Rollins vs. Kyle Kendrick ($4,000) – LATE – He just keeps being useful, and with a matchup with Kendrick, there is no reason to expect it to stop tonight.
Values
Jean Segura @ Jeff Locke ($3,900) – LATE – Segura is hitting leadoff, which should give him plenty of chances, at least, which is a good thing when you are hitting well over .300. But it would be great to see the rest of the offense start to pick up too, because more movement on the basepaths would obviously lead to more scoring chances, but it could even help improve the chances of him getting free reign to run – you would like to see more than one steal so far with an OBP over .350.
Matt Duffy vs. Josh Collmenter ($3,000) – LATE – Again, Josh Collmenter. I think I mentioned something about finding some Giants on this list earlier, right? He is hitting .300 with an .820 OPS, and he is getting plenty of playing time. Perhaps those two things are related?
Outfielders
Studs
Mike Trout @ Roberto Hernandez ($5,800) – LATE – If there was a good night to spend up for Trout, this could be it. He is 3-8 with two home runs against Hernandez for his career, so he will be looking to anchor an offense on a mission in this one.
Nelson Cruz vs. Yovani Gallardo ($4,800) – LATE – He has six home runs in 34 at-bats. If you projected him to hit fewer than he did last year with the move and the inevitable "stat correction," there will come a point when you have to decide if it is time to reassess that opinion.
Bryce Harper vs. Sean O'Sullivan ($4,500) – LATE – Oh, ok, here we go – more Nationals. Here is another guy who could be the centerpiece of a lot of offenses, who adds to the potential of this team to boost the stats of all their hitters with a solid all-around game. This can be, when the situation is right, a real "whole is better than the sum of the parts" situation.
Yasiel Puig vs. Kyle Kendrick ($4,300) – LATE – Puig is listed as day-to-day, but is expected to play. But, if you are going to trust him, just make sure to check your lineup right before gametime – there are plenty of other options around the same price point to plug in if you have to.
Values
Angel Pagan vs. Josh Collmenter ($3,900) – LATE – Another Giant, but Pagan is someone I am comfortable almost regardless of matchup right now, if only because I know his .372 average and OPS over .900 are unsustainable, so I want in on the goodness while there is goodness to be had.
Sam Fuld @ Jeremy Guthrie ($3,800) – LATE – No home runs, but seven extra base hits on the year, including three triples. It's too bad the A's just don't run much, because obviously he's got wheels, but even just an increased likelihood of scoring helps his fantasy value.
Nick Markakis @ Drew Hutchison ($3,700) – LATE – Not a sexy pick, at all, but this is a matchup where the Braves could actually score a little and it would have to come from somewhere. He is 5-22 against Hutchison for his career.
Nori Aoki vs. Josh Collmenter ($3,500) – LATE – Yet another Giant. They might actually score runs in this one!
Whether you're getting into the early games or the late – or both – good luck!