Now that a third of the MLB season has passed, let's review the year-to-date production of all 30 teams. Here's a breakdown of the seven best stacks of 2017.
The Seven Highest-Scoring Teams
As of the morning of June 15, the seven teams with the most DraftKings points per game per batter (PGB) are:
Nationals: 8.88
Yankees: 8.64
Reds: 8.42
Diamondbacks: 8.41
Brewers: 8.08
Astros: 8.04
Rockies: 7.99
All of these teams are top-10 in the league in runs per game. As nice as hits, walks and stolen bases are, total runs matter most.
In reality, the seven best stacks of the season are different iterations of Nationals and Yankees groupings — but it would be boring for me to say something like, "And here's the fourth stack with both Ryan Zimmerman and Bryce Harper," so instead I'm looking at the best stack for each of the top-seven teams in DraftKings scoring.
Why seven? Because I have to discuss the Rockies. Also, I'm using the word "best" somewhat subjectively.
In analyzing these stacks, I've taken into account raw production, salary, ownership rates, location and pitcher handedness. Also, I've relied on FantasyLabs' proprietary Plus/Minus and Consistency Rating metrics. Plus/Minus measures actual vs. expected fantasy production based on the historical performances of previous players at comparable salaries. Consistency Rating measures the percentage of instances in which salary-based expectations are met.
No. 1 – Nationals
The Nationals have been significantly better this season against right-handed pitching and at home. When those two factors have overlapped these four stacked batters have collectively crushed, averaging 11.73 DraftKings PGB with a +2.92 Plus/Minus and 53.3 percent Consistency Rating.
1. Trea Turner
3. Bryce Harper
4. Ryan Zimmerman
6. Anthony Rendon
While Turner and Harper have collectively been owned at a 16.6 percent rate in large-field guaranteed prize pools, Zimmerman and Rendon have been owned at a more palatable 5.8 percent. Although they're expensive and chalky, it's still possible to stack the Nationals and have unique tournament lineups.
---
No. 2 – Yankees
The Yankees are basically the American League version of the Nationals: they smash righties and at home. Under those circumstances, these five stacked batters average a prolific 12.33 DraftKings PGB with a +4.40 Plus/Minus and 53.1 percent Consistency Rating.
1. Brett Gardner
2. Aaron Hicks
3. Matt Holiday
4. Starlin Castro
5. Aaron Judge
A 1-5 stack of the Yankees isn't original, but to date, it has been rosterable in DraftKings tournaments, as Judge has been the only batter in the stack with a double-digit ownership rate.
---
No. 3 – Reds
Although the Reds are better against righties, this year they've basically been a splits-agnostic team at home, where they've excelled. Great American Ball Park isn't especially known as a hitter's haven, but this year the Reds and their opponents alike have done well there. At home, these stacked batters have averaged +10.08 DraftKings PGB with a +1.86 Plus/Minus and 49.7 percent Consistency Rating.
1. Billy Hamilton
2. Zack Cosart
3. Joey Votto
4. Adam Duvall
5. Eugenio Suarez
Again, a 1-5 stack isn't original, but not one player in this group has a double-digit ownership rate. DraftKings players have been slow to roster the Reds this season.
---
No. 4 – Diamondbacks
This year no team has been better at home than the Diamondbacks, who have managed to turn Chase Field into their version of Coors Field. Like the Reds, they are better against righties, but they smash righties and lefties alike at home, where these five stacked batters have averaged 11.59 DraftKings PGB with a +3.34 Plus/Minus and absurd 59.3 percent Consistency Rating.
3. Paul Goldschmidt
4. Jake Lamb
5. Yasmany Tomas
6. Brandon Drury
7. Chris Owings
The Diamondbacks have had the highest ownership rate this year of any team, but pivoting away from A.J. Pollock and David Peralta at the top of the order gives this stack a chance of appearing in unique DraftKings tournament lineups.
---
No. 5 – Brewers
Amazingly, this year Miller Park has witnessed the most fantasy batting production in the league — but the Brewers don't have strong home/road and righty/lefty splits. Regardless of venue or pitcher handedness, these stacked batters have averaged 9.45 DraftKings PGB with a +1.72 Plus/Minus and 46.3 percent Consistency Rating.
1. Eric Sogard
2. Eric Thames
3. Hernan Perez
4. Travis Shaw
5. Domingo Santana
With all apologies to Jonathan Villar and Ryan Braun — two of the three most-owned Brewers — their teammates do just fine when they're not in the lineup.
---
No. 6 – Astros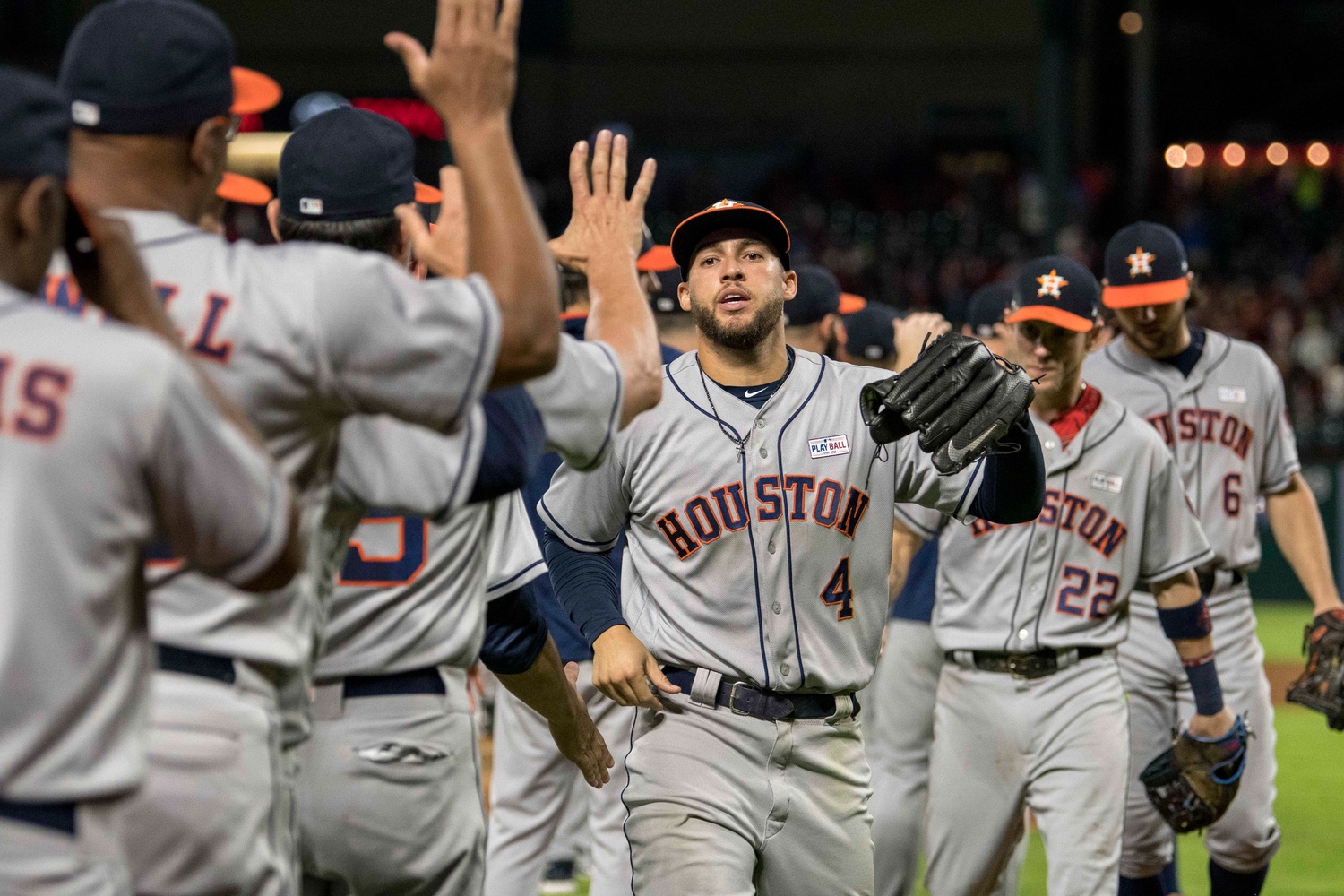 There's nothing wrong with Minute Maid Park, but this year the Astros have been markedly better (at reduced ownership!) on the road, where these stacked batters have averaged 11.02 DraftKings PGB with a +2.51 Plus/Minus and 54.1 percent Consistency Rating.
1. George Springer
3. Jose Altuve
4. Carlos Correa
6. Brian McCann
7. Marwin Gonzalez
Better against lefties, this stack has especially crushed lefties on the road (albeit in limited games) — at a low average ownership rate of 4.5 percent.
---
No. 7 – Rockies
This year, visiting hitters have struggled to meet their salary-based expectations at Coors, and the Rockies have struggled to meet expectations everywhere. Given that batters are now regularly priced up there, Coors is just a place. Still, that's where the Rockies have been their best — especially these two guys with their 12.84 DraftKings PGB with a +3.62 Plus/Minus and 61.4 percent Consistency Rating.
1. Charlie Blackmon
5. Mark Reynolds
Only two batters? Yeah. Basically, what I'm saying is that this season the best way to stack the Rockies has been to do it almost not at all.
---
I am a promoter at DraftKings and am also an avid fan and user (my username is mefreedman) and may sometimes play on my personal account in the games that I offer advice on. Although I have expressed my personal view on the games and strategies above, they do not necessarily reflect the view(s) of DraftKings and I may also deploy different players and strategies than what I recommend above.