Rankings below are based on a mixture of expected output and DraftKings MLB salaries for that day. The ordering is not based on highest projected fantasy totals, but rather by value of each pitcher.
Cream of the Crop
Dallas Keuchel v. Los Angeles Angels ($11400) – Keuchel had been great until getting shelled for 9 runs without making it thorugh five innings last time out in Texas. The big lefty should be able to bounce back as a huge favorite in this one though. The Angels have been struggling for weeks now. The only guy with good numbers against left-handed pitching on the season is superstar Mike Trout. The rest of that lineup is pretty weak and Keuchel should have no trouble with them. It's also a matter of motivation. The Astros still have something to play for and can not be dropping games right now. I expect the offense to be able to get to Weaver, so if Keuchel is pitching well, he should have a lead and be able to pepper the strike zone and go after guys. With how nasty his stuff has been this season, that could lead to a huge fantasy performance.
Eduardo Rodriguez vs. Tampa Bay Rays ($8300) – Tampa Bay does hit lefties well, which is a concern. They also strike out a lot and Rodriguez has been very good since his call up. The rookie has gone about six innings in most of his recent starts and struck out over a batter per inning. He has allowed two earned runs or less in six of his last seven starts as well, so he does not usually give up much to the opposition. The Tampa team he faces has a few guys who hit lefties like Longoria and Forsythe, but as a team they strikeout a lot and do not have great offensive stats. The price is a key factor here as well, since Rodriguez is one of the few guys who has consistent recent fantasy scores that show he is capable of getting you a return of three points per thousand of cost or more.
Middle of the Pack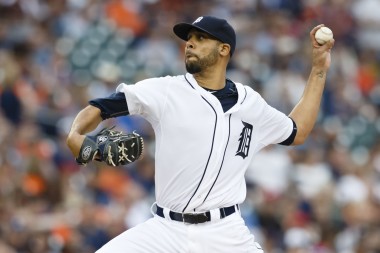 David Price vs. New York Yankees ($12400) – Price has been awesome since becoming a Blue Jay, but the Yankees have always done well against him. Price has already beaten them twice in three tries in the last month or so. He tends to go a little over 6 innings with 7 strikeouts and between one and two earned runs in those starts. While those numbers are good, they are not great at his price of over $12000. I expect Price to pitch well and not allow a lot of negative events, but he would need a 12 strikeout game or a complete game in order to really return great value at his price tag.
John Lamb vs. St. Louis Cardinals ($6800) – Lamb has alternated good and bad starts, but has a sneaky good spot here. St. Louis is far weaker against left-handed pitching and Lamb does have some strikeout upside. He has returned over 2 fantasy points in two of his last four starts. When he is on, he can mow some guys down. He will likely only pitc six here, but he could strikeout out 7 and limit the damage which would give him a chance for 20+ points. At under $7K, that would be excellent value even if he did not get a win.
Chris Archer vs. Boston Red Sox ($11700) – Archer has been great this season, but not so great lately. He can't seem to make it past six innings, which really limits his upside. He has still been limiting the negative events and striking batters out, but when a guy only goes six, it's very tough for him to get over 20 points which would be far short of what he needs at almost $12K. The Red Sox are also a decent hitting team that does much better against right-handed pitching, so to expect him to reach his ceiling is not likely. While he has the strikeout upside to be a GPP any time he steps on the moung, he seems a little too expensive here to be the top option to target.
Brett Anderson vs. Arizona Diamondbacks ($7100) – Anderson gets to pitch at home which is a plus, but he does face a solid lineup in Arizona. It's a big negative park switch for the diamondbacks, and Anderson has been solid in most of his recent turns. It seem his price is always a tad low for a guy who tends to go near 7, strike out just shy of a batter per inning and keep the other team off the board. He returns around 2.5 points per thousand of cost in most recent starts and has a friendly enough price point to make him a good play today.
Jhoulys Chacin vs. Los Angeles Dodgers ($6000) – I actually like the pitching on both sides of this game. Chacin goes about 6 innings, tends to strike out four or five and gives up about 2 runs per game. He gets a park bump to a better place to pitch and faces a lineup that is not firing on all cylinders right now. If he is able to do that and pick up a win, he could return 15-20 points and be a top option on the day for value. The low price is really what makes him viable, but he has pitched wel enough that it is not just a price play.
Jamie Garcia vs. Cincinnati Reds ($10300) – I have never really been a big fan of his and have waited for regression to come all season. It looks like he has started to see that happen lately. He is tough on left-handed batters, which actually makes this a decent matchup as most of the big bats on the Reds ht from the left side. He has been down lately and way too erratic for e to consider him in cash games, but as a low owned option in a tournament I could see using him. He does have upside although he only flashes it sometimes and this could be one of those times against a lefty heavy lineup.
Gio Gonzalez v. Baltimore Orioles ($9600) – This is a very steep price for Gio. The reason for it is that he has had a couple big strikeout games recently. he has hit double digit Ks in two of his last three games and is average almost 1 and a half strikeouts per inning over his last three starts. It is not usually the numbers we see from him, but lately whatever he is doing differently seems to be working. He does face a high strikeout team in the Orioles, but they are better against left-handed pitching. Gio has some tournament appeal with his new found ability to sit guys down, but the price here is a little too high for him to be a cash game option.
Jonathon Niese vs. Atlanta Braves ($5800) – Niese has not been good lately, so his inclusion on this list is not because of recent performance. It is however because he is favored here, cheap, and likely to get some run support. I would not expect a gem out of Niese, but he does face a struggling offense and does not need to be great in order to return value. He would be a GPP only option for me as he has shown all season how inconsistent he can be and that is deadly for a cash game play.
Erik Johnson vs. Detroit Tigers ($4500) – Johnson is probably one of the better cheap options today as he has returned around 15 fantasy points per start through his first three. That is not going to be huge upside,but would be useful at his price. The problem for him is he faces a tough Tigers lineup that has some big bats that hit left-handed pitching well. Johnson goes about 6 innings with four strikeouts and three earned runs per start. To guarantee value, he would need to get the win and as the underdog it looks unlikely.
Jason Hammel vs. Milwaukee Brewers ($7800) – This is a spot that scares me with Hammel. He had pitched well for a stretch, but lately he seems to be fading. His innings are done to where he barely goes five, his strikeouts are down as well and he has been giving up 3+ runs per outing. Milwaukee does not have good numbers as a team, but they have a few solid individual hitters near the top of that order that do hit right-handed pitching well. Hammel is not expensive, but he isn't cheap either and it has been a long time since he returned a fantasy score that would justify rostering him at this price today.
Rest of the Field
AJ Burnett vs. Colorado Rockies ($8000) – AJ in Coors field, can't imagine has this ends well. Burnett is a decent pitcher, so that is probably a bit harsh, but he has not pitched well lately and gets a huge negative park switch going from Pittsburgh to Coors. I do not play Clayton Kershaw in Coors field, so there is no way I would say to play Burnett there.
Jered Weaver vs. Houston Astros ($6300) – Weaver will throw the occasional gem, but for the most part he goes six innings, strikes out four or less, and gives up a few runs. That leaves him right around 10-12 fantasy points which helps no one and nothing. The low strikeouts mean he has no floor for cash and the lack of innings means he has no upside in tournaments. He is solid for a little over 10 points per start most times, but that doesn't really help you get anywhere in any format.
Shelby Miller vs. New York Mets ($8800) – Miller has fallen on tough times on the mound and at a price of almost $9K, he has fallen way short of value recently. Miller has averaged five innings with four strikeouts and a total of 14 earned runs over his last four starts. That breaks down to only about 7.5 points per start. He faces a Mets team that is coming off a beating at the hands of the cross town rival Yankees and is looking to win a few more games in order to lock up the division. With his Braves team having nothing to play for, I like the Mets to figure out a way to get to a struggling Miller. At his price, their is no reason to roll him out looking for a complete turn around here.
Ubaldo Jiminez vs. Washington Nationals ($7500) – Ubaldo is much better at home than he is on the road. Unfortunately for him, he has to travel down the Beltway to Washington for this one. The Nationals are finally getting healthy and hitting better as a team with all of the pieces back in place. The Nats do have a very righty heavy lineup that would prefer to hit left-handed pitching, but they got enough pop in that lineup to take advantage of Jiminez who has seen his strikeouts dip while also allowing a few more runs per game. Gio Gonzalez has also been pitching well at home, so the win is highly doubtful. Unaldo is only averaging 11 fantasy points per start on the road this year, which would be far short of value at his $7500 price tag.
Wily Peralta vs. Chicago Cubs ($4800) – Peralta's biggest problem is his low strikeout totals. That makes him a risky start, because their is not floor to his performances. If he pitches well he does not have upside without the strikeouts and when he pitches poorly and does not go deep into the hgames, it's near impossible for him to get a positive score when the runs allowed negate the points from the innings pitched. That is why you see his scores alternate between negative numbers and useful numbers in the teens and low twenties. I consider this more of a potential negative matchup for him as he faces a homerun hitting Cubs team and he has allowed a lot of homeruns, includng three in his last start. It has always been a problem for him and it's a big reason why I would stay away here.
Adam Warren vs. Toronto Blue Jays ($4300) – Adam Warren is being stretched out and has not made it pas four innings yet. He faces one of the best offenses in the league in Toronto and he goes opposite David Price. Nothing about this suggests he returns value or makes a good start in any game format.
Jon Gray vs. Pittsburgh Pirates ($5000) – Gray has pitched well this year, but has now given up 14 runs in his last 15 innings of work at home. He faces a solid hitting pirates team and did I mention the game is in Coors. He has not pitched well there and I do not see him turning it around today.
Randy Wolf vs. Chicago White Sox ($4300) – Wolf started off his return hot, but sine then has allowed 14 runs in his last eleven innings and has not made it past the fourth. He has a grand total of -4 fantasy points in his last three starts, so this is definitely not a good spot to use him. The White Sox do not have a great lineup which could be a silver lining, but Wolf has been so bad that it does not really matter. I can not tell you to use him as he is probably the worst pitcher on the mound today.
Win your share of $80,000 in tonight's $3 Moonshot!