Rankings below are based on a mixture of expected output and DraftKings MLB salaries for that day. The ordering is not based on highest projected fantasy totals, but rather by value of each pitcher.
Win your share of $60,000 in tonight's $3 Moonshot!
Cream of the Crop
Clayton Kershaw ($15000) – Matchups, numbers, wOBA, BvP…. It's Clayton Kershaw for christ sake, none of that matters. There is no comparable to him, so looking at those stats to glean some insight is meaningless. He's the best pitcher in the game and the question is not whether he pitches well, the question is how well do I need him to pitch to make value at this price? 40-45 points is not an easy feat, but he has done it in two of his last four games and is averaging 36 fantasy points over that stretch, so I also do not doubt he can be the top scorer on the day easily. The question is can you roster enough around him to make it worth your while to pay up, cause he is the best pitcher on the mound today by far.
Carlos Carrasco v. Chicago White Sox ($11400) – Anyone coming to see this game is going to be in for a treat. Both f these pitchers have been good this year. Carrasco has been striking out everyone lately on his way to putting up some huge fantasy scores. He has thrown up numbers in the high twenties and low thirties almost daily lately. He is either striking guys out or forcing them to hit ground balls, which is why neither side of the plate is hitting over .220 against him this year. Carrasco has been every bit the ace over the last month or so, and I don't even mind paying up for him in this pitcher's duel.
Carlos Rodon vs. Cleveland Indians ($8200) – I might be irrationally high on him today, but I just love this matchup. The bats that scare me on Cleveland are all left-handed and Rodon is very tough on lefties. Cleveland has some weak right0handed bats to attack him with, which is why I am not worried too much. If this sounds like a broken record, I made this same argument about two weeks ago when Rodon went out and threw up a 30 fantasy point game against this lineup. He has a good shot to do something like that again here and return 3.5 points per thousand of cost.
Middle of the Pack
Garrett Richards v. Minnesota Twins ($8900) –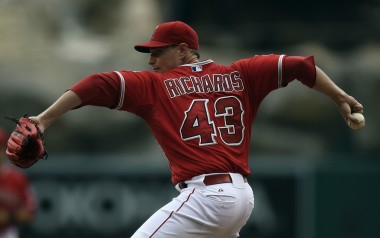 Richards has great stuff, but for some reasons things always seem to fall apart on him. He is very inconsistent. He has alternated good and bad starts for a month and a half at this point, but I think this one sets up nice for him. The Twins are worse against right-handed pitching, so that plays into his favor. He is not a huge strikeout guy, but he could pitch deep into this one against a team that hits a lot of weak ground balls and dos not do a great job of working the count. I also think he is in a good spot for the win opposite Mike Pelfrey, so all those things could add up quickly for a good score.
Jared Eickhoff vs. Atlanta Braves ($7400) – This is a nice price on the Phillies youngster who has looked solid in four of his five starts. He faces a weak hitting Braves team today, so I expect him to make that five of six. Eickoff goes about 7 innings with 6 strikeouts and two earned runs. If you excuse his one bad outing, he would be averaging close to 20 fantasy points per game, which is where we would need him to be here. He is a good win candidate going opposite Ryan Weber and he has the better lineup behind him as well, so there are a lot of positives with him here.
Cole Hamels vs. Seattle Mariners ($10200) – Hamels has been decent, but will struggle to reach value without a huge performance based on his price. The Mariners have some nice right-handed bats, namely Franklin Gutierrez and Nelson Cruz who profile well against Hamels. While the lefty has been solid, he has not reached the plateau he needs here more than once in his last eight starts since becoming a Ranger. While I like his floor to be around 16-20 points here, I can not envision him going much higher than that.
Francisco Liriano vs. Los Angeles Dodgers ($10000) –
If Liriano was on top of his game, I would really like to move him up here. He is normally real tough on left-handed batters and the Dodgers have a bunch of them. They can also get very right-handed with guys coming off their bench who hit left-handed pitching well. Liriano seems to have lost his stuff recently. He was pulled after 59 pitches and said he did not have control. The problem was he wasn't wild, he was just missing right over the plate with stuff not breaking like he is used to it breaking. When he is on, I could see a big game keeping him and his team close with Kershaw opposite him here, but recently his struggles have me doubting that.
Scott Kazmir vs. Oakland Athletics ($9200) – The revenge game idea aside, Kazmir is a sneaky play for this game. The big bats on Oakland are basically left-handed, not that it matters with the way they have been hitting over the last month or so. Kazmir does have some strikeout stuff and faces a team that is much better against right-handed pitching. I expect him to out pitch a struggling Gray in this one, which may not be a popular opinion, but it does look likely. Kazmir has not been that great though, so I do not see a high upside here, but I think he pitches well enough for a safe floor against a bad offense.
Taylor Jungmann vs. Cincinnati Reds ($8600) – Jungmann came out of the gates n fire, but lately has just been serviceable. He is still getting you 16-20 fantasy points per outing, but that is not enough with his price nearing the $9K range. He tends to go about 6 innings and strike out 5, but he has been allowing a few hits and runs for negative events. He is likely to pitch a decent game here agin, but a decent game is not going to generate enough fantasy points to justify using him at the price
Sonny Gray vs. Houston Astros ($10400) –
This is a pretty big game for these teams, but I don't think I like Gray in this spot. You may think I am crazy as the Astros have a huge K% vs. right-handed pitching and everyone loves him here, but he has not looked good lately. He really has not thrown a good game in over a month since going the distance against this Houston team. Houston is healthier now and they are fighting for their playoff lives. Gray has gone negative in two of his last three starts, so his has not exactly been on top of his game lately and that is not the recipe for a guy I want to pay over $10K for.
Edinson Volquez vs. Detroit Tigers ($7000) – I do not love this matchup for him. He was shelled by this team three games back and finished with a negative number. Detroit has all their sticks healthy again right now and that is a pretty dynamic offense when that happens. He has watched his innings and strikeouts dip over the last month while his runs per game are rising as his price had too. That is the complete opposite of what we would like to see for fantasy purposes. This has a feel of a game where both starters are out by the sixth and five lead changes late has the win going to a random middle reliever, so I do not even think those points are safe here for Volquez.
Mike Pelfrey vs. Los Angeles Angels ($4000) – This is a tricky price point for me on him. Pelfrey has not been great, but he has not been bad enough in all his starts to warrant a $4K price tag. I don't see him going past five or striking out a ton of guys. I do however think he can get 10-12 fanasy points which is value at $4K with a 15-18 point upside which would make him a tournament option. There is risk as Pelfrey has struggled to get outs lately, but I'd rather use him then any of the other cheap options down in that range if I absolutely had to have the price savings. It's a tourney only thing, but I can see the case for him.
Vidal Nuno vs. Texas Rangers ($5900) – This is strictly a GPP dart, because Nuno has had a bunch of rough outings lately, but the one stud 36 point effort he did have came against this team. The Rangers are not good against left-handed pitching, so I can see the upside for Nuno. The problem is he has a bunch of negative and low single digit fantasy scores lately too, so what is the upside of using him? If you want to risk a GPP bullet on him, he will likely be low owned and has success in his past vs. this team, but he could just as easily get shelled and be out of this one early.
Rest of the Field
Josh Smith vs. Milwaukee Brewers ($4100) – Smith is a middle relief man getting a spot start here. He likely will not even make it five, so the win is out. If he doesn't go five and has less then a K per inning, he won't be able to make 3 times value even if he does not allow a base runner. I expect him to allow base runners here as well, so overall there is no upside.
Ryan Weber vs. Philadelphia Phillies ($4000) – Weber has gone six innings in both of his starts, which is good, but he has only managed two strikeouts i each which is not. He has not allowed a lot of runs, but even two runs with only six innings of work and low strikeout numbers is bad. He has only reached double digits once and even then it was just barely. I do not see the upside or safety in using a low strikeout rookie against a team that has cooled, but has good numbers over the second half.
Matt Boyd vs. Kansas City Royals ($4200) – Matt Boyd has an ERA of 8, three games in his last ten with double digit negative numbers and only three others where he reached double digits to the good side. He faces the team with the lowest strikeout rate and one of the better batting averages in the league. He only goes about 5 innings and always gives up negative events. Their is not much to love here.
Robbie Erlin ($4300) and Yohan Flande ($4800) – I don't play stud pitchers in Coors field, so I'm not going to play too young guys who are likely to get lit up either. I can't give you my blessing if you want to play them, but I won't waste anymore words other than to say, it's your funeral.