For DFS purposes, there's nothing better than a full night slate of games, and that's what we get again tonight. Every single team is in action this evening, with no splits slates or day games to limit our options. The pitching pool is your extremely deep this evening, so let's put on some arm swimmies and jump in it.
Rankings below are based on a mixture of expected output and DraftKings MLB salaries for that day. The ordering is not based on highest projected fantasy totals, but rather by value of each pitcher. To determine the best values in today's rankings, I run projections that include opponent's strength, betting situation, handedness, park factor, projected Game Score, power/finesse pitching tendencies along with ground-ball/fly-ball tendencies. We want to take everything into consideration when making our pitcher choices, because they're the backbone of the lineup. If you have any last-minute questions, please find me on Twitter, @RyNoonan.
Win $50,000 tonight in the MEGA PERFECT GAME! Join here now and play!
Cream of the Crop
Matt Harvey @ Philadelphia Phillies ($11,000)
Let's not over-analyse this here. We have one of the best starting pitchers in the game against the undisputed cellar dweller of major league offenses. The Phillies are so far and away the worst team against right-handed pitching it's almost laughable. Their wRC+ of 58 means that they're 42-percent below league average. Woof. I understand why you'd fade Harvey in single entry tournaments, but he should be a staple in cash lineups.
Francisco Liriano vs. St. Louis Cardinals ($9,100)
As a team, the Cardinals possess some serious handedness splits. While they're a top five offense when facing right-handed pitching, they're in the bottom five in both wOBA and wRC+ against lefties. They're still relatively patient and they don't strikeout a ton, but Liriano enters play with a K-rate of 27.1-percent and offers a ton of upside when he's on.
Michael Wacha @ Pittsburgh Pirates ($8,300)
The Pirates offense just isn't right. Andrew McCutchen clearly isn't himself right now, and it's having a trickle down effect on the entire offense. The only team playing worse against right-handed pitching than the Pirates is the previously mentioned Phillies, so the matchup is ripe for the picking here. Michael Wacha has better swing-and-miss stuff then we've seen so far, and he provides decent salary relief today.
Sonny Gray @ Seattle Mariners ($9,800)
The park factor here for Sonny Gray is essentially a wash because both Oakland and Seattle are plus spots for pitchers, and I like what we're seeing from Sonny Gray so far. He's changed his pitch mix a little bit, introducing a cut fastball and increasing the use of his slider. The results are a yielding a depressed hard-contact rate, which speaks to his minuscule HR/FB ratio. Seattle is slightly above average against lefties, but roughly nine percent below average (91 wRC+) against right-handed pitching.
Cole Hamels vs. New York Mets ($9,900)
Walks and homers. That's the crux of the 2015 Cole Hamels Story. Possibly coming soon to a city near you! I don't want to pretend that those things don't matter because they're extremely important, but we have enough of a career sample size to understand who Cole Hamels is as a pitcher. Most of his other peripherals make me feel like this is the same guy and not the start of a major decline. I like Hamels in GPP's today, as his counterpart Matt Harvey will be quite popular.
Middle of the Pack
David Price vs. Kansas City Royals ($10,400)
One of the many top shelve left-handers taking the ball today, David Price perhaps gets the most difficult matchup of the group here against the Royals. The Royals have the second most plate appearances against left-handed pitching, and with that relatively large sample size, they enter play with the fourth highest wOBA in these scenarios. They also minimize Price's strikeout upside, striking out just 12.9-percent of the time.
Jason Hammel @ Milwaukee Brewers ($7,300)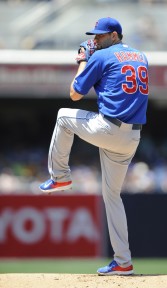 After a rocky end to the 2014 season, Jason Hammel looks like the same pitcher we saw at the beginning of last season prior to his trade out of Chicago. We're seeing similar strikeout totals that we saw last year, and he's improved his already strong walk rate. His BABIP-against and strand rate indicate that he's even been a tad unlucky thus far. The Brewers are better with Carlos Gomez in the lineup, but they're still not at full strength either.
Trevor Bauer vs. Minnesota Twins ($7,000)
There are times when Trevor Bauer looks absolutely unhittable. He averaged about 25 DraftKings points in his first three outings. Then there are times when he looks like the pitcher who's struggled to stay on a big league roster, as he has for much of the past few seasons. He's averaging ZERO DraftKings points over his past three starts, but his strikeout upside always makes him a tempting option.
Gio Gonzalez vs. Atlanta Braves ($9,500)
Perhaps I'm sleeping on Gio Gonzalez a bit here, but this is more about the price point than it is about the pitcher himself. Gio has pitched well to start 2015, and he'll enter play today with a 2.93 FIP through his first 30 innings. He can get himself into jams with his control, or lack thereof, which always makes me hesitant to pay his premium price tag.
James Shields @ Arizona Diamondbacks ($8,800)
The move to the National league has been beneficial to James Shields strikeout totals; his current 11.29 strikeouts per nine represents a career high for the veteran right-hander. His early season issue though has been the long ball. His 20-percent home run to fly ball ratio is not something that we should expect to see continue, but it doesn't bode well for his matchup tonight against a hot-hitting Diamondbacks club in Arizona.
Jimmy Nelson vs. Chicago Cubs ($6,200)
Outside of one rocky start in Cincinnati, Jimmy Nelson has been solid this season. The introduction of a curveball to his arsenal has helped increase his strikeout numbers, but we've seen the walks grow as well. He's a bit of a mixed bag statistically; his BABIP-against shows he's been lucky, but his strand rate indicates the opposite. At first glance this makes me believe he's better in full wind up versus the stretch. It's something to watch for tonight.
Tim Lincecum vs. Miami Marlins ($7,500)
The ever-eroding velocity of Tim Lincecum hasn't been that big of an issue so far, as he enters play tonight with a 2.40 ERA. He's managed to keep the ball in the park, which has been a growing issue for him over the past few seasons. We're seeing more curves and less sliders from the former Cy Young award winner, but the trade off is leading to worst than league average strikeout totals. There's not enough upside at $7,500.
Jarred Cosart @ San Francisco Giants ($7,100)
Tim Lincecum's counterpart, Jarred Cosart, offers the same type of upside that Lincecum does; little to none. A K/9 under six is difficult to roster, even in spacious AT&T Park. If you're looking to pivot off of some of the top options today, there are better ways to do it.
Yordano Ventura @ Detroit Tigers ($6,800)
Yordano Ventura is a retro-Andrew Cashner; a flame thrower who can't strike anyone out. We've seen glimpses of the ace that Ventura could be, but he's nowhere near a finished product at this point in his young career. That makes him intrguing in a dynasty league, but this is Daily Fantasy.
Adam Warren vs. Baltimore Orioles ($4,800)
I don't know what to make of Adam Warren's start to the season, but I do know that $4,800 is incredibly cheap. The problem is his opponent, the Baltimore Orioles, feast on right-handed pitching and enter play with the league's second best wOBA against righties. He's an interesting GPP option though, because he doesn't need to be great to return value.
Rest of the Field
Per usual, the Rest of the Field is essentially a list of players that I wouldn't consider viable options today. Sure, you can make a case for some of the next few arms, but there are better ways to allocate your funds today.
Aaron Sanchez vs. Boston Red Sox ($5,800)
The Red Sox 9.1-percent walk rate against right-handed pitchers does not bode well for Aaron Sanchez today. He'll take the mound tonight with a 7.11 BB/9 mark, something that'll make anyone's spot in a rotation tenuous at best. There are brighter days ahead for Sanchez, but the Red Sox will treat him dirty.
Taijuan Walker vs. Oakland Athletics ($7,200)
Taijuan Walker: The Trevor Bauer Story. I'm basically the best movie title creator you've never heard of. Really what I'm getting at here is, there's a lot of similarities to the first few weeks of the season for these two. Occasional dominance, with some atrocious roster destroying outings mixed in here and there. Remember Walker's first start this season against the Athletics? Fresh off of an electric spring in Arizona, Walker couldn't get out of the fourth inning and 'scattered' nine runs.
Wade Miley @ Toronto Blue Jays ($6,100)
Wade Miley has had double digit DraftKings points in each of past five starts. Unfortunatley, he's rotating between double digit negative and positive point totals. He's due for a negative one here, and he's facing the league's best offense against left-handed pitching in the Toronto Blue Jays.
Yovani Gallardo @ Tampa Bay Rays ($6,900)
The Rays are not a team to fear, and pitching in Tampa Bay is a park factor bump for Yovani Gallardo as well. The only problem here is Gallardo just isn't very good any longer. Walks and home runs have always plagued him, and the strikeout dominating outings that used to be mixed in from time to time are a distant memory for Gallardo and his fantasy owners.
Jered Weaver vs. Houston Astros ($7,000)
'Janet Jackson? Girl came in here looking more like Freddie Jackson!'
That's essentially where we're at with Jered Weaver. Whatever you think you remember about Jered Weaver being a useful fantasy option, just forget it. His 3.93 K/9 is hard to fathom, and I'm amazed that he's ERA is just 6.29.
Nathan Karns vs. Texas Rangers ($5,700)
I simply won't chase a cheap starter with a higher than average walk rate unless his strikeout upside is high. That's just not the case Karns. His 4.59 B/9 minimizes any upside that he may have, even in a decent matchup agains the Rangers.
Roberto Hernandez @ Los Angeles Angels ($5,100)
Roberto Hernandez has been bad pitcher as Fausto Carmona, and now as Roberto Hernandez. I mean, let's be honest, that's impressive. Even when you go back to his 19-win season with the Indians back in 2006, he wasn't dominant, more so just lucky with batted balls. The skill he did have then, his ability to get opponents to pound his sinker into the ground, is no longer a skill he possesses.
Eric Stults @ Washington Nationals ($5,900)
Eric Stults has already faced this Nationals club this season, and came away with a victory after throwing a 16.1 DK points up on the board. I expect the Nationals to fare better against the left-handed Stults today.
Hector Noesi vs. Cincinnati Reds ($5,300)
The Reds are patient enough to cause Noesi fits today, and I expect Joey Votto and company to hang a crooked number up on Noesi and the White Sox.
Brett Anderson @ Colorado Rockies ($5,200)
Brett Anderson, when he's going well, can keep the ball on the ground which is extremely important in Colorado. We aren't seeing that Brett Anderson tonight. Just don't…
Miguel Gonzalez @ New York Yankees ($6,300)
Miguel Gonzalez hasn't pitched as well as his tidy 2.93 ERA would lead you to believe. He's benefited from a low BABIP against and a high strand rate, two things that will begin to regulate tonight in the Bronx.
Jason Marquis @ Chicago White Sox ($5,000)
I don't know what to make out of these respectable strikeout totals that we're seeing from Jason Marquis so far. The 36-year old Marquis has been a surprise at time for the Reds, but I'd be surprised if you roster him and win money tonight.
Jeremy Hellickson @ San Diego Padres ($6,000)
Jeremey Hellickson's numbers don't look terrible, but when you dig deeper in you see hard-hit data that's enough to keep you away. He doesn't miss enough bats and those bats square him up regularly.
Mike Pelfry @ Cleveland Indians ($4,900)
Maybe I'm being too harsh on Mike Pelfry, but his ERA is more than 2 full runs higher than his FIP. Perhaps there's something to this new split-finger fastball he's using, but I'm willing to bet on a regression in ERA which will more closely mirror his nearly 5 FIP.
Eddie Butler vs. Los Angeles Dodgers ($4,100)
Eddie Butler in Coors is something that you like to see; when you're constructing your offense for the day.