Holy starting pitching, Batman! Tonight is LOADED with top shelf arms. The combinations are plentiful and making sure that you have a strong pair of arms will be crucial to cashing tonight. We have 13 starting pitchers who'll cost you $8,000 or more tonight, a very uncommon occurrence. We have a full, 15-game slate on tap tonight so let's get in it!
Rankings below are based on a mixture of expected output and DraftKings MLB salaries for that day. The ordering is not based on highest projected fantasy totals, but rather by value of each pitcher. To determine the best values in today's rankings, I run projections that include opponent's strength, betting situation, handedness, park factor, projected Game Score, power/finesse pitching tendencies along with ground-ball/fly-ball tendencies. We want to take everything into consideration when making our pitcher choices, because they're the backbone of the lineup. If you have any last-minute questions, please find me on Twitter, @RyNoonan.
Be the next King of the Fantasy Baseball and win $10,000 a day!! Join today!
Cream of the Crop
Max Scherzer vs. Philadelphia Phillies ($12,700)
On a day with so many pitching options, it may not be necessary to pay up for Max Scherzer, especially since he's nearly $2,000 more than Felix Hernandez, but he's clearly the top option on the board. Early 2015 returns suggest that Scherzer is happy to be back in the National League. Since he made 'the leap' back in 2011 with Detroit, his K/BB ratios have read like this; 3.11, 3.85, 4.29 and 4.0. This season he's at 8.25 strikeouts for every walk. That's sick. For as bad as the Phillies are, they don't strikeout a ton, but Scherzer is a different beast.
Felix Hernandez @ Toronto Blue Jays ($10,800)
Of all the elite options today, King Felix has the most difficult matchup as he heads to the Rogers Centre to take on the Blue Jays. The homer haven is not a very pitcher-friendly place, but Felix Hernandez is inducing grounders at a personal best rate so far (60.6%). The Blue Jays can mash, but they're a little beat up and they grade out as a middle of the road club against right-handed pitching (.318 wOBA/100 wRC+)
Gerrit Cole vs. New York Mets ($9,200)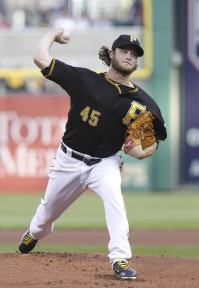 The subtle improvements that we've seen from Gerrit Cole have gone a bit under the radar this season. He's throwing more strikes and the move from fastball/curve-ball to fastball/slider has been beneficial to his SwStk% and his ability to induce ground balls. The Mets are 28th in the league against right-handed pitching, with a wOBA of .280. Lucas Duda is hot, but that's not enough to move me off of Cole today.
Michael Pineda vs. Texas Rangers ($9,400)
The gravy train came to a screeching halt for Pineda in his last start, but that had a lot to do with the Royals, and doesn't concern me at all moving forward. The Rangers have struggled against righties for most of the season, as their 26th ranked wOBA and wRC+ would indicate. The huge strikeout upside is something that I think is even more crucial today, and Pineda has that in spades.
Garrett Richards @ Boston Red Sox ($9,600)
Here's a great GPP pick for today, Garrett Richards. The strikeout upside is through the roof, and he's rounding into form after missing most of April due the a leg injury that happened right here in Fenway Park last season. The Red Sox offense is reeling, and have struggled against the Wandy Rodriguez's of the league of late. Richards is bad news for the Red Sox tonight. I'd have Richards much higher if this game were in Anaheim, but he's still a strong play.
Middle of the Pack
Carlos Carrasco vs. Cincinnati Reds ($8,800)
Carlos Carrasco is the opposite of Zack Geinke in a number of ways. His ERA (4.98) and FIP (2.73) tell you a very different story, and when you look at his BABIP-against and strand rate, you can see he's been the victim of Strasburgitis. Here's a pitcher that's ready to bust out. We're past the lingering effects of the liner to the face, hopefully, and I'm ready to buy. Carrasco's 68 cFIP tells us that he's been good, but is going to be even better moving forward.
Zack Greinke vs. San Diego Padres ($10,400)
I have him here, among the Cream of the Crop, but I don't anticipate having many shares of Zack Greinke today. It's a plus matchup against a league average offense, in a pitcher's park, and Greinke is generally considered one of the top-10 starters in the game. With that said, he doesn't offer the big punch-out totals that I want today. He's had a bit of lucky on balls in play this year, and while good pitchers can make their own luck at times, his 3.18 FIP tells us that his 1.52 ERA is a bit out of line. He's $10,400 for a reason, though.
Noah Syndergaard @ Pittsburgh Pirates ($7,500)
I don't love the 10.2% walk rate, and you can't keep the ball in the park like he's done so far with just a 22.6% ground ball rate, but our sample size here is small. What I do love is 97 mph gas, while mixing in a 80 mph uncle charlie. That'll keep hitters off balance if he's able to throw it for a strike. The problem we often see with two-pitch pitchers (and that's basically what he is right now) is they struggle in the second and third time through the lineup. The Pirates are in the bottom third in wOBA against right-handed pitchers, and Thor is priced well.
Jon Lester @ Arizona Diamondbacks ($9,000)
This is a difficult matchup for Jon Lester, but his strikeout upside keeps him in play here. The Diamondbacks hit lefties really well (.332 wOBA), and don't strikeout a ton, but when Lester is dialed in though he's difficult to beat. He'll need to keep the ball on the ground here in Arizona, and mitigate the base on balls or this could be a long night in the desert.
Lance Lynn @ Kansas City Royals ($9,300)
This feels very much like Michael Pineda's last outing. I really want to roster Lance Lynn, and on a night like tonight with so many big names, I bet his ownership totals would be really low. The problem is, the Royals are a nuisance. The hit righties very well (.330 wOBA is 2nd in the league) and they have the lowest strikeout rate as well.
Rick Porcello vs. Los Angeles Angels ($7,100)
It's hard to believe that a club as talented as the Angels can be so bad against right-handed pitching as they've been so far. They're dead least in wOBA, and their -35.4 wRAA tells us that they've scored 35 less runs than a league average team would have in the same situations. That's hard to believe, since this team has the best player in the world in it's lineup every day. Mike Trout hasn't been the problem though, but the supporting cast has been a dud. Rick Porcello has traded a bit of his ground ball prowess for more swing-and-miss stuff, but I like that trade off. He's learning how to be a different pitcher essentially, but we love the strikeout upsider here on DraftKings.
Scott Kazmir @ Tampa Bay Rays ($7,600)
Scott Kazmir returns to Tampa Bay to face the Rays. There's your narrative headline of the day, if that's your thing. There's strikeout potential here as well. Kazmir has improved his strikeout rate a bit, and the Rays have one of the highest K rates in the league against left-handed pitching. They also have hit them fairly well too, with a 116 wRC+ versus lefties this season. With all of the options today, I think I'd stay away from Kazmir in cash, but he's on my GPP radar.
Alex Wood vs. Milwaukee Brewers ($8,000)
We've seen some improvements of late, but let's just say that 2014 Alex Wood would be much higher on this list today than this current 2015 version. His FIP is essentially the same, but his strikeouts are down almost 10% over last year and his walks are up a bit too. At first glance you'd assume the Brewers would hit left-handed pitching well, considering their outfielders who can flash some power, but they're terrible. They have the lowest walk rate, strikeout 25% of the time and their .269 wOBA is the third worst mark in the league. I'm torn on Wood today. That sounds terrible…
Chris Archer vs. Oakland Athletics ($8,600)
You have to be impressed by the strides made by Chris Archer this season. His SwStk% is up 3% (huge jump) and he's giving up fewer walks to boot. I'm a huge fan of the increase in ground balls too, but is he matchup proof yet? I'm not sure. While Oakland has the worst record in the American League, they're one of the best offenses in the game against right-handed pitching. Good pitching always beats good hitting, and that's going to be tested today in Tampa.
Ubaldo Jimenez @ Miami Marlins ($7,000)
There's a lot of BABIP luck tied to Ubaldo Jimenez's 2015 season, but there are some other encouraging signs. He has enough innings under his belt this season that we should feel confident in his command gains, and the strikeouts are still there too. His K-BB% was just 7.6% last season, and it's up to 16.3% this season. The Marlins (.294 wOBA) are a hot mess right now.
Andrew Cashner @ Los Angeles Dodgers ($8,100)
Andrew Cashner has always had the 'stuff' to be a big strikeout guy, and he's finally putting it all together. He's been carrying a fairly low strand rate which should improve based on his career totals, but I wouldn't bother with him today. The Dodgers are far and away the league's best offense, especially against right-handed pitching. Their wRAA of 43.9 is incredible at this point in the season. The Tigers are second at 17.5. Wow.
Jeff Samardzija vs. Minnesota Twins ($8,700)
I was not a fan of this move for the White Sox, and I like it even less now that Samardzija seems to have loss his ground ball tendencies. His strikeouts are down as well, and walks have always been an issue. Wow, that was not a strong endorsement for Samardzjia. The caveat is, the Twins struggle against right-handed pitching; they're 27th in the league against right-handed pitchers.
Collin McHugh @ Detroit Tigers ($7,800)
I'm a big Collin McHugh fan, but it's difficult to back him today against the Tigers. They're one of the best offenses in the league, and on a day with so many options, it's best to avoid McHugh today. Moving forward though, don't worry about McHugh's hiccups of late.
Phil Hughes @ Chicago White Sox ($7,200)
What we saw from Phil Hughes was season was remarkable, and as we suspected, unsustainable. He's still exhibiting elite control, but the strikeout's per/9 are down by nearly 2, and he has not been able to keep the ball in the park like he was last season. Hitters are attacking him early, and I think the White Sox continue that approach today. The negative ball park bump here doesn't help Hughes case.
Alfredo Simon vs. Houston Astros ($6,100)
We know that the Astros are a target at times because they strikeout so frequently. That flaw doesn't matchup well with Alfredo Simon's skill set. With that said, Simon has been effective this season, but you need strikeouts tonight.
Rest of the Field
Marco Estrada vs. Seattle Mariners ($5,400)
I like the improved strikeout rate we've seen from Marco Estrada, but that's never been the problem. Fastball location has been, and it's lead to him giving up insane amounts of home runs at times. Pitching in the homer-friendly Rogers Centre is not a place that I won't to spend my pitching money today.
Wily Peralta @ Atlanta Braves ($7,300)
The Braves are middle of the the pack offensively, but Peralta is not. The strikeout totals continue to go down and while I love his ground ball rates, I'm not a fan of the price today. He's also one of the worst in the league at limiting stolen bases.
Colby Lewis @ New York Yankees ($7,400)
Lewis's price is finally reflecting how he's pitched so far this season (3.06 ERA/3.17 FIP), but he's way over his head. A fly-ball pitcher in Yankee Stadium? No thank you.
Mike Leake @ Cleveland Indians ($6,600)
I've preached it throughout this piece; you have to get strikeouts today. Mike Leake's 4.94 K/9 is not going to get it done.
Chris Young vs. St Louis Cardinals ($5,100)
A .132 BABIP-against? That's hard to do. A fly-ball pitcher like Young can typically carry a lower than average BABIP, but that's an incredible number. I think Matt Carpenter can drive that number up tonight.
Henderson Alvarez vs. Baltimore Orioles ($5,600)
Henderson Alvarez isn't going to be an option today. His 3.63 K/9 is laughable, and way below his already below average career strikeout rate. The ball park helps, but it's not enough.
Josh Collmenter vs. Chicago Cubs ($4,700)
This is not a matchup that works for Collmenter. The Cubs see more pitches per plate appearance than any other club in the league. They're patient and while the can definitely swing-and-miss with the best of them, that's not a skill that Collmenter has.
Sean O'Sullivan @ Washington Nationals ($5,200)
The Nationals are one of the best right-handed hitting clubs in the game, and Bryce Harper is good at baseball. Really good.
Kyle Kendrick vs. San Francisco Giants ($4,000)
I don't want to bail out on analysis here but c'mon….Coors Field. Don't do this to yourself.
Ryan Vogelsong vs. Colorado Rockies ($5,300)
I think the Rockies might be popular plays in cash games today.
Good luck tonight!