Rankings below are based on a mixture of expected output and DraftKings' MLB salaries for that day. The ordering is not based on highest projected fantasy totals, but rather by value of each pitcher.
Get in on the action! Enter the $115K Payoff Pitch for $27 — Draft Now!
Cream of the Crop
Zack Greinke vs. Philadelphia Phillies ($11200) – Greinke is Mr. Consistency for your cash game plays. In his last nine starts, he has thrown up one clunker and the rest have been between 20-30 DK points. He lacks the elite upside to get you a forty point game, because he tends not to pitch too deep, but his strikeout rate is elite and he is solid for cash games. The Phillies have the fifth worst batting average in the league at .243 against righties, but they do not strike out a ton at only 19% for 22nd in the league against right-handed pitching. Still they are one of the lowest scoring offenses we have to target and Greinke has been Cy Young winner good. A 1.48 ERA, a 0.89 WHIP and about 8Ks per 9 innings speaks for itself.
Garrett Richards vs. Seattle Mariners ($9300) – Richards is an under the radar stud. He has had between 24 and 27 DK points in four of his last five starts. He has averaged about 7 innings, 6 strikeouts, and only a run and a half per game over that stretch. He faces a Mariners team today that has the fourth highest K% against righties and is dead last in the league for batting average. He is an underdog against Felix, which will keep his ownership lower, but the run total in that games is only 6.5, so Vegas does not expect a lot of scoring. The numbers favor him today and his offense has been producing some runs. I do not think they will knock around Felix, but the way Richards has pitched, a two run lead may be all he needs here.
Cody Anderson vs. Houston Astros ($6300) – The young righty has been great since being called up and put into the rotation. He has gone about 8 innings in each of his first three starts while allowing only 18 hits, 2 runs, and having a K/BB ratio of 10:1. He is not a high strikeout guy, but he faces a team that does strikeout a lot, so he should be towards the higher end of his averages in that category today. Houston has a lot of guys who swing for the fences, which makes them a feast or famine kind of team. At $6300 though, Anderson does not need to do much in order to make value. His upside is limited by the fact he is not a high K guy, but he throws a lot of first pitch strikes and staying ahead of this Houston lineup is the key to doing well against them, so his skill set fits well. He is favored for the win at -125, so he also has the chance to get 20% of his value number just off of that.
Jeff Locke vs. St. Louis Cardinals ($7700) – Locke actually has a great matchup as a lefty facing this lefty heavy Cards lineup. He was awesome last out with over 30 DK points, but has also thrown up a few negative numbers, so he is not safe enough for cash play. Still the Cards are 3rd worst in the league for batting average against left handed pitching and they have the highest K% at 24.8%. Locke is cheap and could be a real sneaky tournament option as a slight underdog in a low run total game at home.
Middle of the Pack
Felix Hernandez vs. Los Angeles Angels ($11000) – The price is the big thing today with King Felix. Actually the price in relation to his recent performances. Hernandez has only averaged about 20 points over his last four starts and that does not include the -17.5 he put up five back. He is not 100% of his usual dominant self, but the price on him still is. The LA bats have hit well recently, but they were in Coors field, so you have to take that with a grain of salt. A healthy Felix would be in a good spot here with a team that is middle of the road for batting average and K%. They do have some big bats in that lineup, but also some really weak hitters. Felix could get healthy and surprise with a dominant performance as he handled this lineup easily two games back, but he also could be a little off and get hit hard, so there's a wide range of potential outcomes that keeps him from the top shelf.
Jose Fernandez vs. Cincinnati Reds ($9800) – He might be the second most talented pitcher on the mound today which is high praise given some of the studs on the hill tonight, but he does not make for a great fantasy option. Fernandez is making just his second start after returning from injury and only threw 90 pitches last out. Now he was very good in those 90 pitches and there is no doubt in mind he will pitch well tonight too. The problem is 90 pitches is only about 6 innings, so even if he is dialing up the Ks and not allowing runs or hits, it will still not be enough positives to justify a price of almost $10K. He can get you a solid 20 for a cash game, but why spend up for a guy who is still on a pitch count when other options are available today?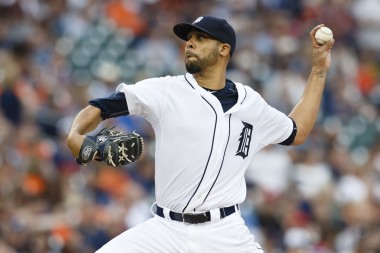 David Price vs. Minnesota Twins ($10800) – Price has a tougher matchup today then some others do. Minnesota has the tenth highest batting average and is 22nd in the league for K% against left-handed pitching. They have not been as good lately, but they still have have guys who do well against lefties over there careers. Price has been erratic lately, with 2 games of 40, 2 of 20, and 2 in the low teens over his last 6. There is not enough safety to recommend him for cash, and in a tough matchup it's even harder to do so. He does have the ability to strikeout a lot of guys and limit opponents, so he can be a useful stab to take in a tourney as his ownership will likely be lower then others in his price range.
Carlos Martinez vs. Pittsburgh Pirates ($9400) – Martinez is a victim of his own success here. He has been solid lately as he has averaged about 20 per game over his last four. The problem is his price has come up and he has a tougher matchup today. It's tough to envision a guy who rarely pitches into the seventh, and rarely strikes out over a batter per inning scoring enough points to pay off a salary of 9400, even if he does happen to get the win.
Mike Pelfrey vs. Detroit Tigers ($4700) – Pelfrey has not been horrible for a guy who is this cheap. He has been in about one of every three starts, but he has reached fantasy scores into the twenties on other occasions. The Key to this one for me is that Miggy is out and JD Martinez was hit in the hand late in the gae yesterday. Take JD and Miggy off that team and the Lineup does not look as scary. I'm not expecting a dominant 40 point fantasy score, but he may be able to get 20 against a weaker lineup and that is good value at his price.
Rest of the Field
Brett Oberholtzer vs. Cleveland Indians ($5900) – Oberholtzer has been a guy with a high ERA and some reverse splits over the last few years. Left-handed bats have done better against him with a higher batting average against. That is bad news against a team filled with left-handed regulars that is good against left-handed pitching. The Indians have the seventh highest batting average against left-handers this season, and the 27th ranked K% which makes them incredibly tough to strike out at only 17.6%. Over his last 5 games, he has gone 25 innings with 25 hits, 10 walks, and 15 earned runs allowed. With low strikeouts, low innings, and a few negative events to be expected, his fantasy score is not likely to be one of his best.
Michael Lorenzen vs. Miami Marlins ($4400) – Lorenzen has been shaky in his recent outings. His numbers against left-handers have been a big reason. They have jumped up to a .298 batting average with 6 homeruns allowed in 23 innings of work and a WHIP of 1.83. This is bad, because despite losing Giancarlo Stanton, this is a good matchup for the Marlins. The Marlins have 5 or six decent left-handed bats to throw at Lorenzen. He has not been pitching deep into games, so he does not get a lot of points there. He has ok numbers, but nothing over the top with around 7 Ks per nine. He also allows a lot of negative events, so it's easy to see why he is low on the list.
Alex Wood ($7700) – Wood is OK, but he is pitching in Coors today. I never take Alex Wood at his price in cash, because he is either hot or cold in most of his starts. He normally makes for a good tournament play, but this is COORS FIELD we are talking about and a righty heavy lineup for the Rockies that all hit lefties well. Guys like Tulo, Arenado, LeMathieu, and Rosario are all in a great splits matchup here, so to expect upside is tough.
Severino Gonzalez vs. Los Angeles Dodgers ($5000) – This is the worst possible matchup for the young righty who has allowed 23 runs in 25 innings of work so far. He has let left-handers hit over .485 against him in a small sample size so far. He faces a Dodgers team riddled with quality power bats from the left-side. They have the highest OPS against righties in the league with a sizable lead in the number of homeruns hit as well. Nothing about this matchup is good for Gonzalez and he is a guy to target against rather than use in this one.
Kyle Kendrick vs. Atlanta Braves ($4900) – I know it's the Braves, but he is still Kyle Kendrick. The man who has allowed a dozen homers from each side of the plate and a .280 + average to all handedness of hitters over the last two seasons. Did I mention the game is in Coors too, which is the majors best ballpark for hitter's. Friends don't let friends play Kyle Kendrick at home against anybody regardless of price.