Welcome back to the DraftKings Playbook Daily Pitcher Rankings. It's a full slate Friday, and we have quite a few top shelf options at our disposal today. We have one day game (Phillies @ Cubs) so the evening slate is a 14-game offering. My goal is to help you make the right decisions when choosing your pitchers, but to also help you target the ones that are likely to struggle when choosing your bats. If you're new or if you have any last-minute questions, please find me on Twitter, @RyNoonan.
Rankings below are based on a mixture of expected output and DraftKings MLB salaries for that day. The ordering is not based on highest projected fantasy totals, but rather by value of each pitcher. To determine the best values in today's rankings, I run projections that include opponent's strength, betting situation, handedness, park factor, projected Game Score, power/finesse pitching tendencies along with ground-ball/fly-ball tendencies. We want to take everything into consideration when making our pitcher choices, because they're the backbone of the lineup.
Tonight's $150,000 Midsummer Classic is just $20 and the winner takes down $20,000! Click on this link and sign up after you read this!
Cream of the Crop
Corey Kluber vs. Chicago White Sox ($11,500)
Out of the five starters who have price tags north of $10,000 today, Corey Kluber faces the weakest offense of the bunch. That fact, in addition to being $2,500 less than Max Scherzer, earns him the top spot today. The White Sox (25th in wOBA and wRC+ vs. right-handed pitching) have seen plenty of Kluber over the past few seasons, but the familiarity has not breaded success, as the White Sox active roster has just a .289 wOBA against Kluber. He's not likely to carry an ERA (3.38) that's a nearly a full run higher than his FIP (2.48) all season long.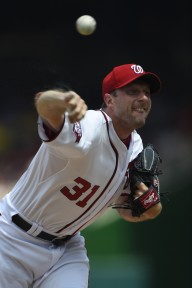 Max Scherzer @ Pittsburgh Pirates ($14,000)
I really miss $11,000-Max Scherzer, that guy was fun to roster. This current version has earned his astronomical salary with his huge 10.3 K/9 and a tidy little 2.09 ERA. The remarkable part to me is still his steadily improving command. He enters play tonight with a 0.98 BB/9 rate, something that no one saw coming as he made his way up with the Diamondbacks. The Pirates are streaky, but have been below average this season against right-handed pitching (94 wRC+), and their 20.5% strikeout rate leaves plenty of meat on the bone.
Chris Archer vs. Baltimore Orioles ($11,400)
Chris Archer's run of elite opponents (or at least potent offenses) continues, but such is life in the American League East. The appeal here is the strikeout upside for Archer, (2.73 ERA/2.69 FIP) who's striking out 10.7 batters per nine innings this season, and the Orioles 22.4% whiff rate is one of the higher marks in the league. Archer is also platoon neutral, which helps minimize the blow-up potential of the Orioles here.
Michael Pineda @ Minnesota Twins ($9,600)
The development of Michael Pineda's swing-and-miss arsenal has been a boon to fantasy owners this season, but long-term I'm equally encouraged with his spike in ground balls (50.8%). Learning how to pitch and thrive in the Bronx can only help when he's on the road against a team like the Twins (.306 wOBA/94 wRC+ against right-handed pitching). His 2.90 FIP is indicative of his skill set, and just like Chris Archer, Pineda has neutral handedness splits as well.
Felix Hernandez vs. Toronto Blue Jays ($10,700)
I'm not a huge fan of home/road splits, but there's definitely something different when the King's Court is going crazy for a Felix Hernandez start. He's still better than average on the road (.295 wOBA) despite a few hiccups this season, but he's dominant at home (.251 wOBA). I suspect the threat of the Blue Jays offense (.329 wOBA/107 wRC+) will keep most players away tonight, and I understand why, but he presents a great opportunity to roster a legit ace when he has suppressed ownership levels.
Middle of the Pack
Jon Lester @ Philadelphia Phillies ($9,600)
Jon Lester (3.37 ERA/3.06 FIP) is taking the mound this afternoon, taking on the Phillies in the Friendly Confines of Wrigley Field. We're starting to see the Jon Lester that Cubs fans had been expecting all season, but he's unlikely to be on your radar today unless you're taking a dip in to the early slate to gain a share or two. I wouldn't go that far. The Phillies are still the Phillies, but they're not nearly to offensive dumpster fire against left-handed pitching as they are against righties.
Andrew Cashner vs. Miami Marlins ($7,200)
This feels like a decent spot for Andrew Casher tonight. The Marlins have struggled all season against right-handed pitching (82 wRC+) and a strikeout rate north of 20% helps maximize the whiff potential of Cashner (4.10 ERA/3.85 FIP). He's been bad with runners on base this season, but he's too good to carry a strand rate of 61.5% (more than 10% above league average) all season long.
Scott Kazmir @ Kansas City Royals ($10,200)
It's baptism by fire for Scott Kazmir, as the newest Astros' starter gets the ball on his first day with his new club. No pressure. Oh, and by the way, you also get to face a team that's atop the American League standings right now, the Kansas City Royals. From a fantasy perspective, the Royals are a team I often avoid because their aggressive style limits the upside of the starter that's facing them. They have the lowest strikeout and walk rates in the league, and it just feels like a difficult spot for Kazmir so I don't want to pay up for him on this full slate.
Patrick Corbin vs. Milwaukee Brewers ($5,900)
Patrick Corbin has been off the radar for so long, it's difficult to remember how well he has pitched in his brief major league career. We've only seen 15 innings of Corbin this season, but looking at what Steamer has projected for him is more useful than the limited sample size from 2015. Steamer likes him to be about a 3.50 ERA/FIP guy, with an above average strikeout rate (just about 8 per nine innings). He's facing the Brewers, who've consistently been one of the worst teams in the league against left-handed pitching this season (.293 wOBA/81 RC+). He's a strong SP2 tonight with a price tag under $6,000, and pairs well with some of the more expensive, top tier options.
Tim Cooney vs. Atlanta Braves ($6,500)
Tim Cooney isn't quite as cheap as Patrick Corbin is, but he still has quite a bit of upside at his current price. I always preach the importance of high strikeout upside if you're going to roll the dice on a lower priced starter, and through just 24 innings this season, Cooney has shown us that he possesses that skill (8.88 K/9). He's an extreme fly-ball lefty who's benefited from a lower than average HR/FB ratio, but the Braves aren't known as a strong slugging team, and they've had difficulty with left-handed pitching all season (29th in wOBA and wRC+).
Jesse Chavez @ San Francisco Giants ($7,800)
Jesse Chavez's price has finally landed in a range that makes sense, after spending most of the season in the $6-$7,000 tier. He faces one of the league's best and most underrated offenses' in the game, as the Giants have been excellent against right-handed pitching this season (112 wRC+). It's fair to wonder if Chavez will fall off here in the second half like he did last season, but since returning to the rotation after starting the season in the 'pen, Chavez has been outstanding (3.21 ERA/3.11 FIP). If you like the Giants here I'd advise that you stay away from a big stack. Chavez's .239 wOBA against right-handed bats is one of the lowest marks in the league this season.
Jose Quintana @ Cleveland Indians ($8,100)
Jose Quintana and the White Sox are a fairly sizable underdog here (+161), but there's some GPP appeal here if you're looking to fade Corey Kluber. Quintana has faced the Indians quite often in his career, and this current Indians roster has a collective wOBA of .319 against him. That's the same wOBA that the Indians have against all left-handed pitchers this season, actually. Quintana's issues this season have been against right-handed hitters. After holding them to a .290 wOBA last season, he's allowed a .346 wOBA this season.
Phil Hughes vs. New York Yankees ($6,700)
I've made money this season by targeting Phil Hughes, and I plan on continuing that trend tonight. It was easier earlier in the season because Hughes opponents were priced as if they were facing one of the top pitchers, which we all know now is not the case. Hughes' strikeout rate is down nearly 2.5 K's per/9 versus last season's mark, and he's been below average to both lefties and righties. He's showing some exaggerated splits against right-handed bats, who have a .384 wOBA against Hughes so far in 2015.
Jimmy Nelson @ Arizona Diamondbacks ($7,100)
Jimmy Nelson added a spike-curve during the off-season and in April it looked to be a great addition to his arsenal, particularly against left-handed hitters. It's still grading out as a plus pitch for Nelson (along with his slider), but his fastball has been batting practice this season, especially those to lefties (.397 wOBA). If he can find a way to use those two pitches more, and his fastball less, we might be on to something here. Until then, the splits are so extreme it's difficult to trust Nelson when a club has any left-handed threats.
Dan Haren @ San Diego Padres ($7,400)
I'm probably a bit too low on Haren here because my model likes him more than I do. The model is taking into account Haren's success against right-handed bats (.256 wOBA) while noting that the Padres are primarily a right-handed hitting team. They've also struggled against right-handers this season, and are entering play tonight with the 3rd lowest wOBA against them (.291). Extreme fly-ball pitchers typically fare well in San Diego, as well.
Manuel Banuelos @ St. Louis Cardinals ($6,200)
There's a little bit of strikeout upside here with Manny Banuelos tonight. The problem is, both Patrick Corbin and his opposition, Tim Cooney, are even better options in this price range. Don't be fooled by his 1.08 ERA, he's not that kind of guy, and his .255 BABIP and 92.2% strand rate are way off of the league average marks. The appeal is that the Cardinals haven't been very good against left-handed pitching this season (86 wRC+), and they have one of the league's highest strikeout rates at 24%.
Colby Lewis @ Los Angeles Angels ($6,900)
I'm not sure I have the stones to roster Colby Lewis tonight, nor do I think it's necessary to roster him with all of the other viable options here, but I won't be surprised if he has a solid outing. He's a fly-ball pitcher who'll benefit from pitching in Los Angeles instead of his home park in Arlington, and he has fairly neutral splits in terms of FIP and wOBA. The one thing that jumps out is his strikeout rate. For the season it's just 6.60 whiffs per 9, but when facing right-handed bats it's elite (9.31 K/9). The fact that the Angels are a right-handed heavy offense (Trout and Pujols, at least), is a plus for Lewis' chances at success tonight.
Rest of the Field
Chris Tillman @ Tampa Bay Rays ($5,800)
Pitching in Tampa is a positive park bump for Chris Tillman here, but that's not enough to make him a viable play tonight. His walks are way up this season, and a 6.80 K/9 leaves a lot to be desired, as well. He has some major reverse splits, not just this season but throughout his career. Right-handed hitters have mashed him, to the tun of a .376 wOBA and a .526 SLG this season.
Jeff Locke vs. Washington Nationals ($6,600)
A 52.5% ground ball rate is strong, and when a pitcher's able to consistently induce grounders it'll lead to some decent outings. That ground ball rate is really all that Jeff Locke has going for him. The good news is that the Nationals aren't great against left-handed pitching (92 wRC+), but Locke can be generous with the free passes (3.31 BB/9) and that's a no-no when you only strike out 6.79 per nine innings.
Jon Niese vs. Los Angeles Dodgers ($7,300)
There are a few options that are much cheaper than Jon Niese is tonight, and they have much more upside as well. A 5.85 K/9 is difficult to roster on a full slate regardless of the opponent, but the Dodgers (103 wRC+) make Niese an easy fade tonight in Queens.
Rick Porcello vs. Detroit Tigers ($5,300)
#RevengeNarrative!!
Ok, sorry that's all I've got. If you, for some reason, buy in to the notion that a revenge game is a real thing that has a predictive element to it, well, you're wrong. I'm sorry. The Tigers have continued to rake (112 wRC+) despite the absence of Miguel Cabrera, and Rick Porcello has been victimized by both left (.364 wOBA) and right-handed (.340) bats this season
Justin Verlander @ Boston Red Sox ($5,500)
Oh, how the mighty have fallen. Justin Verlander (6.62 ERA/6.06 FIP) has been terrible this season and really looks nothing like the former Cy Young Award winning starter that we've been accustomed to seeing in season's past. All of the Red Sox bats are in play here, regardless of the handedness splits.
Jerome Williams @ Chicago Cubs ($4,000)
Even if Jerome Williams was playing this evening and not during the day, he'd be off the radar. He's Jerome Williams. The Cubs swing-and-miss ways are well documented, but Williams' 5.27 K/9 shows us that he doesn't profile as someone that can exploit that Cubs whole.
Jeremy Guthrie vs. Houston Astros ($4,300)
Jeremy Guthrie has your normal L/R splits, only both are a lot higher than normal since Jeremy Guthrie is terrible at pitching. He doesn't have the swing-and-miss arsenal that's needed to keep the Astros in check, and his fly-ball heavy tendencies don't jive well with Houston's power packed lineup.
Nick Tropeano vs. Texas Rangers ($5,900)
The Angels have called up Nick Tropeano from AAA to take the ball tonight against the Rangers. It's difficult to draw many conclusions from Tropeano's AAA innings, but he's shown the ability to miss bats (9.59 K) despite carrying a 4.43 ERA (4.02 FIP).
Anthony DeSclafani @ Colorado Rockies ($5,000)
I'm not a big believer in home/road splits, mainly because I'm not confident that there's a large enough seasonal stabilization rate to say with certainty that it's real and not just variance. With that said, Reds starter Anthony DeSclafani has been excellent on the road this season, but there's nothing like Coors Field to bring that back down to earth. There's no need to start DeSclafani tonight.
Eddie Butler vs. Cincinnati Reds ($4,000)
Eddie Butler is terrible. Lefties (.414 wOBA), righties (.377 wOBA) it doesn't matter. Start them all.
Ian Thomas @ New York Mets ($4,000)
Ian Thomas benefits from the likely debut of Greinke baby tonight, as Zack Greinke was set to start but has since flown home to be with his wife who's expecting to give birth to their first child any day now. I don't think Thomas will work very deep in to this game, eliminating any upside that he'd have by facing the Mets in New York.
Good luck!