Rankings below are based on a mixture of expected output and DraftKings MLB salaries for that day. The ordering is not based on highest projected fantasy totals, but rather by value of each pitcher.
Take home $10 in the Hot Corner Championship tonight!
Cream of the Crop
Carlos Rodon vs. Seattle Mariners ($9800) – Rodon has been the most consistent of all the starters on the mound today in his recent starts. The young lefty has gone at least 7 in each of his last three starts with an average of 1 run, 8 strikeouts, and less than a walk/hit per inning. He faces a Seattle team that has the 8th highest strikeout percentage and a middle tier batting average against left-handed pitching. He has been really tough on lefties, which is bad news for big Seattle bats like Cano and Seager. Righties have done well with a .290 average so guys like Nelson Cruz and Franklin Gutierrez in the middle of that order are concerns. Overall though the combination of matchup, recency, and price make Rodon one of the more attractive options on a short slate with not a lot of ways to really go with it.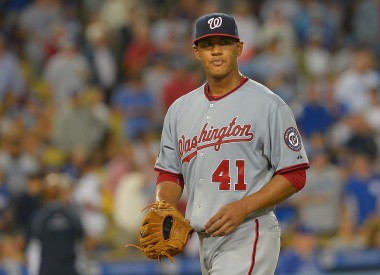 Joe Ross ($10100) – All things being considered, Ross probably has the second best matchup of anyone here. San Diego has the sixth worst batting average against right-handed pitching this year and the fourth highest strikeout rate at 21.6%. Ross is a high strikeout guy who is tough on right-handed batters and San Diego has a lot of right-handed regulars who strikeout. The matchup fits very well for him against a team who does not have what it takes to go after Ross. Ross has struggled with left-handed bats who hit .295 against him, but San Diego really only has Solarte and Alonso who can even swing it from that side and neither guy is too scary. Finally Ross is at home in Washington and has been around 20 points in most of his recent starts. I do not see him having huge upside, but he should be a safe option to get you 20= in a good matchup and come away with a win.
Middle of the Pack
Roenis Elias vs. Chicago White Sox ($6500) – Elias is really cheap for some reason today and stands out as a mispriced option. He has a bunch of games in the 20s sandwiched around two clunkers against KC and Houston. KC is one of the toughest teams to take a starter against and Houston is a boom or bust team that profiles better against lefties like him, so excuses can be made. The White Sox offense is no where near as scary for him and the upside at the price is easily the best on the day. Elias has not allowed a high average to either side of the plate this year, so he can be dominant at times. He has flashed the ability to strike out double digits and that is the key for him here. When his Ks are high, so is his fantasy score and at only $6500, the chances for a big return with him outweigh the risks. It's not a slam dunk, so tournament only seems to be the way to go, but he does not deserve to be the cheapest pitcher on an ugly slate.
Gerritt Cole vs. Miami Marlins ($12900) – This price is too high for Cole today. Even when he was pitching great this is a tall order to ask him to pay this off, and lately he has not been pitching great. The Marlins are a bottom ten team in batting average against right-handed pitching, but they are also in the bottom third for strikeout rate. Therefore it's not going to be easy for Cole to reach his upside without picking up those Ks. At the price, he needs to have a huge strikeout game to pay it off and the numbers do not show that being probable. He was struggling before a good game last out vs. the Giants, but his price is now 20% higher off that game. While I expect him to pitch well, I don't expect huge upside and it will be a struggle to even get above two points per thousand of salary here.
Drew Smyly vs. Minnesota Twins ($10900) – Smyly has been good recently which had him standing out on first glance. He does face a Minnesota team that has hit lefties much better than righties and his price is JACKED up. That is why I am less likely to look his way today. It's not that he hasn't pitched well, because he has been striking guys out and putting up solid fantasy production, but he also only goes about 6 innings, which means he would have to basically shut them down and strikeout everybody in order to give you upside at almost $11K. I expect a solid start from Smyly, but against a decent offense vs. Left-handed pitching it will not be easy for him to reach anywhere near acceptable value.
Rubby De La Rosa vs. St. Louis Cardinals ($9600) – It is slim picking at pitcher tonight or I would have him on the lower rung too. Rubby is a high K guy who also allows a good deal of runs, hits, and walks. He is at home which is a park bump for the Cards, but that offense has struggled. Right-handers like Cashner and Kennedy had good games against the depleted squad last weekend, so I think Rubby has a chance for a big strikeout game with upside like they did. I was really hoping the price would be square, like in the $7K range, but at $9600 it is very risky to me. For a few hundred more you can pay up for a Ross or Rodon who have more consistency.
Jonathon Niese vs. Philadelphia Phillies ($8800) – Niese has been up and down lately. He had some nice starts in the low 20s and then blew up in a few recent ones. He faces a Phillies offense that had been on fire, but was shut down last night by the Mets. The Phillies will be running out a plethora of right-handed bats against Niese as they have a lot of right-handed specialist on their bench. Philly is a good hitter's park too, so I think he will have his hands full. He has surprised us with some solid games and his offense is in a good spot here. If those were not the case, he would be on the lower rung today as well.
Andrew Cahner vs. Washington Nationals ($8000) – He looked really good last time out, which might raise his ownership at a square price here, but he was horrible for about a month before that. He does have a decent park to pitch in, but the Nationals have some lefties on top of that order to give him trouble. Cashner has been tough on righties, but left-handed bats are hitting .290 against him with a homerun every five innings. Guys like the freshly activated Denard Span and the studly Bryce Harper are going to be tough for him. He is cheap enough that I can't put him in the bottom rung, but I'm not convinced he can repeat the dominance we saw in his last start against a struggling Cards lineup.
Rest of the Field
Carlos Martinez vs. Arizona Diamondbacks ($11200) – You might think I am crazy for putting him on the bottom rung, but I hate his situation here. He faces an Arizona team that has one of the best offenses since the all-star break. He faces them at Arizona which is a negative park switch for him. He has one good start in his last five and in the other four he failed to make it past 6 innings. He has more recent starts with 15 or fewer fantasy points than he does with 20+. Finally at his price today he would need 25-35 points and I just can not see that happening against a good hitting team. I like Martinez for upside, but not in this matchup.
Aaron Harang vs. New York Mets ($6900) – Harang has really been struggling. He has four negative numbers in his last six starts and is currently averaging 2 fantasy points per game during this stretch. That's right 4 of 6 have gone negative and he is averaging 2 fantasy points per game. I say that twice to emphasize how bad he has been. The Mets have put up 50 runs in the last week, so he is catching a red hot offense that is getting healthy for a late push. Top it off with the friendly hitter's park and even $7K seems expensive here.
Tommy Milone vs. Tampa Bay ($8700) – It's hard enough to justify paying $8700 for a guy who has not reached 16 fantasy points in any of his last six games or gone past 6 innings. It's even tougher when he faces a team that actually hits left-handed pitching pretty well. Milone has allowed right-handed bats to hit .283 with 12 homers in 65 innings of work. Guys like Forsythe and Longoria have great numbers against lefties this year, so the middle of that order is set to do some damage. Milone has not gone deep, not struck out many batters and has a tough matchup here. Throw in the high price and it is a very easy spot to stay away from.
Justin Nicolino vs. Pittsburgh Pirates ($6800) – Nicolino has a tough matchup here. Guys like Marte, McCutchen, and Kang in the middle of that order have great numbers vs. left-handed pitching. Nicolino has struggled with right-handed bats who have a WHIP of 1.32 and a batting average of .289 against him. The Pirates offense has been putting up runs too, so with Nicolino not getting a ton of Ks or going deep, I can not see how he pays this off today.