Welcome back to the DraftKings Playbook Daily Pitcher Rankings. It's a typical full slate Tuesday, with all 15 games taking place tonight, opening up the entire player pool to have at your disposal when building your lineups today.
My goal is to help you make the right decisions when choosing your pitchers, but to also help you target the ones that are likely to struggle, making it easier for you to choose your bats. If you're new or if you have any last-minute questions, please find me on Twitter, @RyNoonan. Tonight's pitching slate is interesting. We have 12 pitchers priced below $6,000, not all of which are useless, but that's a high mark. Let's get to it.
Rankings below are based on a mixture of expected output and DraftKings MLB salaries for that day. The ordering is not based on highest projected fantasy totals, but rather by value of each pitcher. To determine the best values in today's rankings, I run projections that include opponent's strength, betting situation, handedness, park factor, projected Game Score, power/finesse pitching tendencies along with ground-ball/fly-ball tendencies. We want to take everything into consideration when making our pitcher choices, because they're the backbone of the lineup.
$20 can bring home $100,000 in tonight's $400K Tuesday Night Special!
Cream of the Crop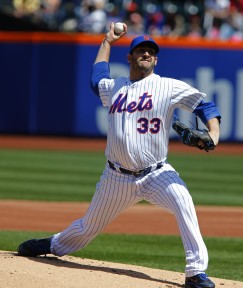 Matt Harvey vs. Colorado Rockies ($10,900)
Matt Harvey is a huge favorite tonight (-240) and Vegas has Colorado with an implied-run total of just 2.7, the lowest of the night. Harvey has had a few bumps in the road this season, which is to be expected, but he's been turning it up of late, with a 1.64 ERA in his last nine outings. His 8.42 K/9 isn't quite what I expected, but his 11.1 SwStk% shows that the upside to rack up double-digit K's is still in play. Colorado's .343 wOBA is strong, but it's just .296 outside of Coors Field.
Madison Bumgarner vs. Houston Astros ($11,100)
I anticipate fairly high ownership totals for MadBum tonight. First, he's $900 cheaper than the top ace on the board. The masses will always look to save a few dollars when it feels like they're giving up little to no top-end upside, which is a smart approach in cash games. Secondly, the matchup at home against a big-time swing and miss team like the Astros is appealing. AT&T is by far the most pitcher friendly park, both in terms of runs and home runs. I want Bumgarner in big matchups in the second half, and that's what we have tonight.
Zack Greinke vs. Washington Nationals ($12,000)
There's such value in consistency, particularly at starting pitcher, and it's worth even more when it's an elite starting pitching. Zack Greinke (1.71 ERA/2.63 FIP) has been dominant at times this season, but even more so I value his steadiness and high floor. Last time out against the Phillies was one of the small handful of sub-20 point performances from Greinke, and subsequently his price has dropped from $13,500 to $12,000. You can frame it one of two ways; either he's struggling a little bit and you're backing off, or there's value to be gained by his price drop and potentially perceived dip in performance. I'm in group 2, in case you're wondering.
Scott Kazmir @ San Francisco Giants ($10,200)
Scott Kazmir will also benefit from pitching in spacious AT&T Park tonight, and you could argue that he has an even better matchup than his opposition, Madison Bumgarner. The Giants are a good offensive club, but have been fairly pedestrian against left-handed pitching this season (20th in wOBA/99 wRC+). They don't strike out a ton, and Kazmir's strikeouts have been down a bit of late, topping 6 just once in his last 10 outings, but I like Kazmir's floor tonight in this matchup.
Carlos Carrasco vs. New York Yankees ($10,100)
Carlos Carrasco has put together back to back complete games, compiling 27 ground ball outs in 18 innings of work. That's impressive. His 51.7% ground ball rate will keep him out of trouble when he's on, and his strikeout upside is through the roof (9.70 K/9). The problem is that he's difficult to trust despite his huge upside and low walk rate, and he's facing one of the league's best offenses tonight (107 wRC+ vs. RHP). I think both Carrasco and the Yankees will be low owned tonight, giving both sides some tournament appeal.
Middle of the Pack
Joe Ross @ Los Angeles Dodgers ($8,800)
We're just five starts removed from $4,800-Joe Ross, which is quite a feat when you think about it. He's earned his $8,800 price tag though, with an electric 45 innings so far. Sure, the sample is small, but a look under the hood shows he's the real deal. His 9.40 K/9 (and 13.0 SwStk%) look even better next to his 0.80 BB/9. He's getting a ton of ground ball outs too, with a 52.5% ground ball rate. My hope is that his meteoric rise in price and the perception of the Dodgers offense will keep his ownership totals down tonight.
Carlos Martinez vs. Pittsburgh Pirates ($9,300)
Carlos Martinez hasn't seen the 6th inning in his last few starts, but he'll need to tonight to help take down NL Central foe Pittsburgh tonight. The Pirates' bats have warmed up of late, but their 20.4% strikeout rate leaves some meat on the bone for Martinez owners tonight. The Pirates aren't a particularly patient team, and that could play into the hands of Martinez tonight. I love strikeout pitchers with big-time ground ball rates, and Carlos Martinez fits that mold. His inability to work deep into games lately makes him feel a bit less safe though, and more of a tournament play versus steady cash game option.
Taylor Jungmann @ Chicago Cubs ($8,700)
There hasn't been a lot to be excited about in Milwaukee this season, but the performance of Taylor Jungmann has to be near the top of the list. He's been excellent so far, holding right-handed hitters to a .240 wOBA and has gotten better as the game has gone on, something that's quite uncommon for young pitchers. His strikeout and walks rates are right around league average, but he's limited hard-hit contact (just 21.8%) which has a lot to do with his 3.5 HR/FB% thus far. It's a rate that won't hold up, but limiting hard-hit contact will help keep it in check moving forward. Suprisingly, Wrigley is second to only AT&T Park in terms of suppressing runs scored this season.
Hector Santiago @ Chicago White Sox ($7,400)
I never get Hector Santiago right. Consider yourselves warned because I'm going back to the well tonight. The White Sox season-long struggles against left-handed pitching are the main reason, as they're last in the league with a .275 wOBA against southpaws. A few elements make him more of a tournament play though, so be careful. We're looking at an extreme fly-ball pitcher in a homerun-friendly park.
Taijuan Walker vs. Baltimore Orioles ($8,400)
I like the prospects of Taijuan Walker at home a lot more than on the road, but I'm still not a fan of this matchup against the Orioles (.320 wOBA/.171 ISO vs. RHP). Walker is a fly-ball pitcher who's facing a powerful lineup, a toxic combination more times than not. We've seen glimpses of brilliance from Walker at times this season, and I think the future is bright for him. I'm just a bit leery of him in this spot. The strikeout upside IS appealing, but the blow up potential takes him out of cash game consideration for me.
Drew Hutchison vs. Oakland Athletics ($5,700)
I'm not a huge home/road split guy, especially when your home park is conducive to scoring runs, but Drew Hutchison's splits are at least worth talking about. I'm on the fence as to whether or not the data is actionable, but here it is. On the road, Hutchison has pitched 51 innings of 9.00 ERA baseball. He's allowed a .433 wOBA against him, with a bit of reverse split action that's consistent regardless of the park. At home though he's thrown 69 innings with a 2.69 ERA and a .279 wOBA against. Weird. Do with that what you will, just know that he's at home tonight.
Chris Tillman @ Seattle Mariners ($6,500)
Chris Tillman had been pitching better of late prior to missing his last couple of turns due to a sprained ankle. He returns tonight to face Seattle, and Tillman would have some 'punt' appeal for me if he weren't coming off of this injury. I'm hesitant to use him because I'm worried about how deep he'll work in to this game, even if he's pitching well.
Yordano Ventura vs. Detroit Tigers ($6,400)
It's clear that Yordano Ventura isn't fooling anyone right now. His 32.4% hard-hit rate is one of the highest marks in the league, and he's been particularly bad with runners on base. His 5.29 ERA would look a bit more like his 4.13 FIP if he could work better out of the stretch. His 65.5% strand rate is an issue, and while it could have some batted ball variance in it, it's been a consistent problem for him in his young career.
Kyle Gibson vs. Texas Rangers ($6,300)
The Rangers are a much better offense at home than on the road, so that's one thing working in Kyle Gibson's favor tonight. He's been able to improve his ground ball rate this season as well, inducing grounders 52.8% of the time. I just struggle to see the upside in Gibson here. His strikeout rate is below average, and the Rangers have enough thump to do some damage. If you told me I'd be getting 12 points from Kyle Gibson tonight I'd be thrilled. I'd also not be rostering him if you said that to me. (STOP TALKING TO ME! I'M TRYING TO WRITE!)
Anibal Sanchez @ Kansas City Royals ($7,500)
Red flags galore here for Anibal Sanchez. I've called out his spike in fly balls numerous times this season, and it's starting to really bite him in the ass. After spending most of his career in the 48-52 GB% range, his season mark currently sits at 39.4% and has resulted in a spike in home runs. Walks have plagued Sanchez at times, as well, and he's not missing bats nearly as often as we've come to expect. For me, this drop in price is not one that needs to be exploited but a tell tale sign of a pitcher who's off his game.
Jeff Locke @ St. Louis Cardinals ($6,200)
I'm not sure I have the stones to roster Jeff Locke (4.31 ERA/3.91 FIP) tonight, but my guess is he pitches well. He's been so up and down this season, as most league-average or below pitchers are, but the Cardinals have struggled against left-handed pitching this season. They enter play with an 87 wRC+ and a huge 23.4% strikeout rate. Locke isn't going to be able to fully exploit that with just a 6.96 K/9, but he'll be serviceable. I'm likely staying away from Cardinals' bats, but not rushing out to roster Locke either.
Yovani Gallardo vs. Minnesota Twins ($5,900)
Yovani Gallardo is getting more ground ball outs this season than in seasons past, but the free passes that plagued him in his Brewer days are still here. The only difference is the strikeout upside that once existed has vanished. Home runs have always been an issue for Gallardo, and Target Field surprisingly is playing as one of the more favorable home run parks in the league this season.
Luis Severino @ Cleveland Indians ($5,500)
There's a lot of buzz around Yankees' prospect Luis Severino, and he pitched well in his debut. He only worked 5 innings and if that continues that'll cap his upside, but the strikeout potential is appealing. He's likely to be owned at a higher than normal rate for a $5,500 pitcher, so fading a punt pitcher is easy when there are other viable options, even at a similar price point.
Carlos Rodon vs. Los Angeles Angels ($5,400)
I'm willing to miss on some really good Carlos Rodon starts because I can stomach the walks. A 5.31 BB/9 is ridiculously high, but once he figures it out a bit, look out. He has some fairly normal splits, shutting down left-handed bats while being susceptible to right-handers, and his strikeout upside is off the charts. He's been BABIP'd a bit as well (.360), but he'll need to learn how to get ahead in the count more often before I trust him. His 54.4% first-pitch strike rate won't get it done.
Erasmo Ramirez vs. Atlanta Braves ($5,800)
I love the cheap upside that Erasmo Ramirez brings to the table. His 12.2 SwStk% is always sexy, and leaves me wanting more than just a 7.05 K/9. He's also able to gain an edge against left-handed bats, holding them to a .261 wOBA so far this season. The Braves are not a lineup to be feared, and pitching at home in the Trop is a plus for Ramirez too. He rarely works deep in to games which limits his upside, but if you wanted to load up on expensive bats then consider a tournament lineup with Ramirez as your SP2.
Rest of the Field
Dan Haren vs. Milwaukee Brewers ($6,600)
I can't get behind a fly-ball pitcher who doesn't miss bats, and that's essentially what Dan Haren (3.49 ERA/4.74 FIP) is at this stage of his career. His 6.11 K/9 leaves leaves a lot to be desired, and offers little to no upside in this matchup against Milwaukee. The Brewers have a few right-handed bats with neutral splits (hello, Khris Davis), and left-handed bats have given Haren problems all season long (.360 wOBA).
Jeremy Hellickson vs. Philadelphia Phillies ($5,600)
The Phillies have been scoring some runs, which is weird isn't it? I like them again tonight against Jeremy Hellickson (5.06 ERA/4.48 FIP). Hellickson's 33.1% hard-hit contact rate is one of the league's worst, and left-handed bats in particular have had a field day against him (.363 wOBA). I'm hopeful that Ryan Howard enjoyed his day off yesterday, and that's he's feeling fresh and spry today.
Kendall Graveman @ Toronto Blue Jays ($5,300)
I don't want to start elite pitchers in Toronto against the Blue Jays right now, so passing on Kendall Graveman is pretty easy.
Justin Nicolino vs. Boston Red Sox ($5,000)
Justin Nicolino's upside is not very high. Not for tonight or his career. He has a very average arsenal of pitches, but the young left-hander could benefit from pitching in Miami. There's no need to consider him tonight.
Colin Rea vs. Cincinnati Reds ($4,500)
I don't like Colin Rea's chances to see the 5th inning tonight. His minor league track record shows that he's struggled with command at times, and there's no real strikeout upside here that makes him worth the risk. Unless you hate money.
Williams Perez @ Tampa Bay Rays ($4,300)
Williams Perez is another easy fade tonight, as the bottom third of this slate is filled with clunkers. There's little upside here with Perez, even against the Rays. Perez is like Carlos Rodon, minus the electric stuff and huge strike outs. Ok, so he's nothing like Rodon but he just walks a lot of batters. Sorry.
Chris Rusin @ New York Mets ($4,200)
Chris Rusin has had difficulty checking lefties (.406 wOBA) and righties (.356) this season. Pitching in New York is clearly more favorable than pitching in Coors Field, but let's not get silly here, people.
Michael Lorenzen @ San Diego Padres ($4,100)
The Padres don't really have the left-handed bats that can take advantage of how poorly Michael Lorenzen has pitched against them this season (.437 wOBA), but he's still and easy player to cross off of your list tonight. A 5.14 BB/9 will do that.
David Buchanan @ Arizona Diamondbacks ($4,000)
Ok, David Buchanan is better than his 7.23 ERA. But, just barely. Arizona bats will be very popular tonight, as Buchanan has struggled against both left-handed (.429 wOBA) and right-handed (.362) bats this season.
Good luck!