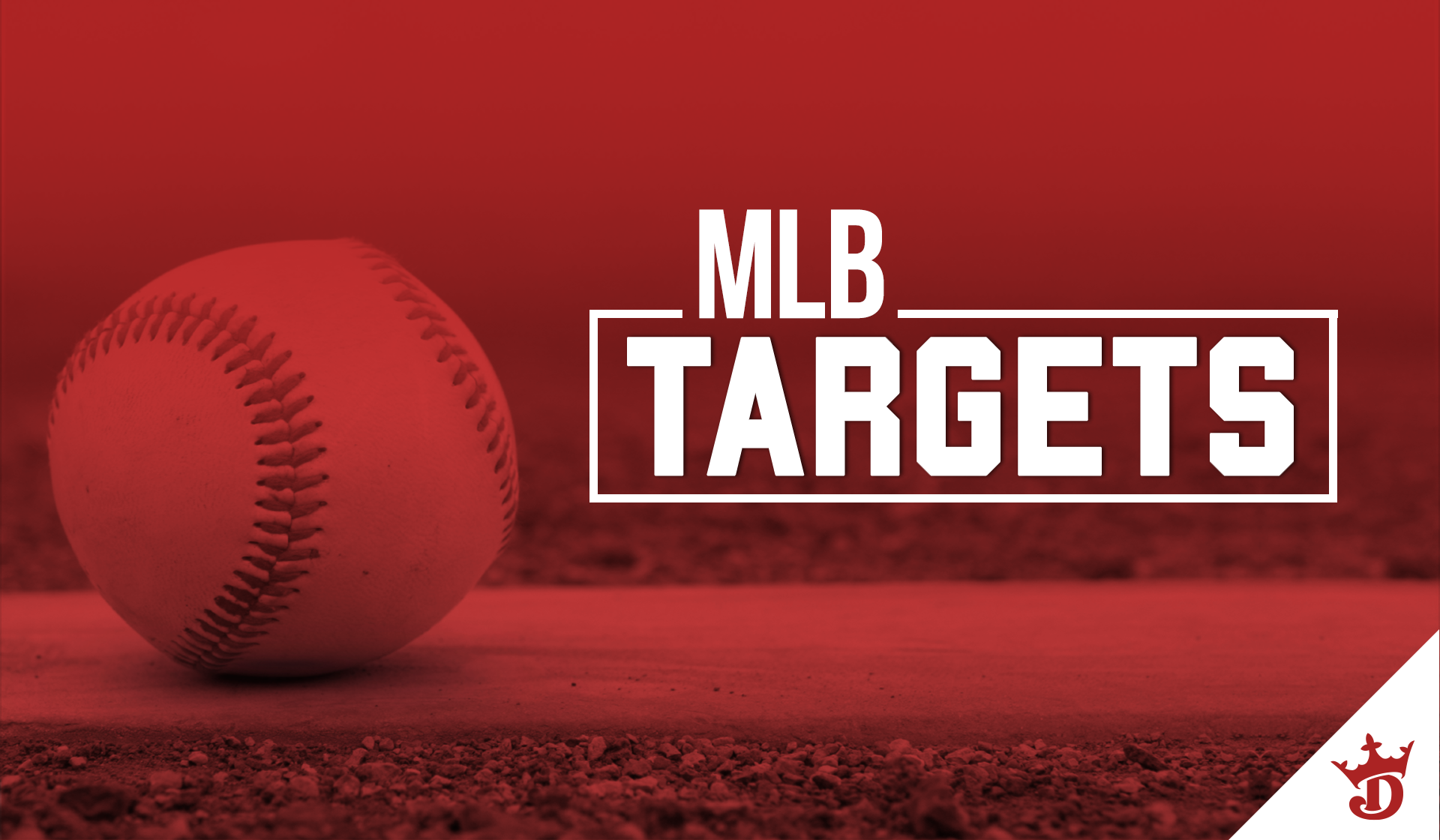 Monday features a 10-game slate this afternoon as we celebrate Memorial Day. With the slate starting at 1:05 p.m. ET, let's take a look at my favorite targets on this huge slate. As always, you can reach me on Twitter at @SBuchanan24.
---
PITCHER
Stud
Gerrit Cole,

HOU

vs.

CHC,

$11,300 —
Cole was rocked in his last start against the White Sox, allowing six runs on seven hits with seven strikeouts through five innings. He draws a fairly tough matchup again today against the Cubs but the strikeout upside is what continues to draw us in. Entering this start, Cole sports a ridiculous 37.7 K% through 11 starts. While the Cubs are a tough matchup, they could be without Kris Bryant ($4,600) who was injured in a collision on Sunday. Cole is still one of the most elite pitchers in the league and has struck out at least six in every start this season.
Other Option — Luis Castillo ($10,700)
Value
Rick Porcello,

BOS

vs.

CLE,

$7,300 —
This is one of the cheapest salaries we've seen for Porcello all season long and it comes in a favorable spot against the Indians. I'm not going to sit here and say the season is already over for the Indians but, the season is basically over for the Indians. They're simply not hitting at all and have just a .297 wOBA and a .145
ISO
against righties. They don't strikeout a ton, owners of a 22.2 K%, but Porcello is cheap enough that we don't need him to strike out 10 in this game. I imagine Porcello will be popular so don't be surprised by that.
Other Option — Jose Urena ($6,300)
---
CATCHER
Stud
James McCann,

CWS

vs.

KC,

$4,200 —
I'd never think I'd see the day where McCann was viewed as the "stud" on a given day but here we are. He has the luxury of taking on Homer Bailey ($5,200) who has now allowed 10 runs on 12 hits over his past six innings. Against righties, Bailey is allowing a .360 wOBA with a 4.75 xFIP and three of his seven home runs.
Other Option — Carson Kelly ($4,000)
Value
Pedro Severino,

BAL

vs.

DET,

$3,800 —
Severino has become a sneaky hitter against lefties and draws that matchup tonight. He'll be facing Daniel Norris ($6,900) who is allowing a .334 wOBA with a 4.53 xFIP with six of his eight home runs allowed. As for Severino, he owns a massive .455 wOBA with a .333
ISO
and three of his five home runs. For the salary you're getting him at, this feels like a really good value.
Other Option — Robinson Chirinos ($3,500)
---
FIRST BASE
Mitch Moreland,

BOS

vs.

CLE,

$4,800 —
Moreland has cooled off a bit as of late but I love his matchup against Jefry Rodriguez ($6,100). Against lefties, Rodriguez sports a .366 wOBA with a 5.77 xFIP with four of his five home runs allowed. As for Moreland, he has a massive amount of power hitting at Fenway against righties, equaling out to a .349
ISO
to go with a .344 wOBA.
Other Option — Hunter Dozier ($4,900)
Value
Christian Walker,

ARI

vs.

COL,

$4,200 —
I don't think you can go too cheap at first base on this slate but getting a bat at Coors for $4,200 isn't too shabby. Jon Gray ($8,400) at home has been a disaster this season and the Diamondbacks are a team that can make those numbers worse. On the road against righties, Walker has a fantastic .469 wOBA with a .359
ISO
and five of his eight home runs.
Other Option — Ji-Man Choi ($3,700)
---
SECOND BASE
Stud
Whit Merrifield, KC vs.

CWS,

$5,300 —
I'm advising you that getting a bunch of Royals bats in your lineup would be a smart idea. They'll be facing Ivan Nova ($4,800) who has been nothing less than a tragedy on the mound. Rightes have been mashing, lefties have been mashing, it doesn't really matter. Against righties, he owns a .388 wOBA with a 4.64 xFIP and six of his 11 home runs allowed. Merrifield is hitting everything in the world right now so he feels like a must.
Other Option — Brandon Lowe ($5,000)
Value
Hanser Alberto,

BAL

vs.

DET,

$4,100 —
Two Orioles being showcased in this article is an accomplishment in of itself, so please bookmark this page for historical purposes. Alberto is smashing lefties and his matchup against Norris allows him to continue. He's quietly put together a .416 wOBA with a .173
ISO
and two of his three home runs. Getting him on the cheap is the cherry on top.
Other Option — Nicky Lopez ($3,600)
---
THIRD BASE
Stud
Eduardo Escobar,

ARI

vs.

COL,

$5,600 —
With the way Escobar is swinging the bat right now, getting him at Coors Field could not have come at a more perfect time. It feels like he won't stop hitting home runs and he has four in his last 10 games. As I mentioned, Gray has pitched exceptionally poorly at Coors Field and has a .334 wOBA and a 4.85 xFIP against them at Coors. If you can afford Escobar, he should be worth it.
Other Option — Rafael Devers ($5,300)
Value
Yuli Gurriel,

HOU

vs.

CHC,

$3,200 —
Gurriel is dirt cheap so if you're looking to save at a position, this could be your window of opportunity. Granted, he's not smoking the ball by any means, but he does sport a respectable .342 wOBA and a .174
ISO
against lefties. His matchup isn't the greatest against Cole Hamels ($9,200), but Gurriel is a worthy punt in this spot.
Other Option — Vlad Guerrero Jr. ($3,600)
---
SHORTSTOP
Stud
Adalberto Mondesi,

KCR

vs.

CWS,

$5,700 —
Is it going to be extremely hard to fit Mondesi in your lineup? Yup. Should you at least still try? Yup. With the salary set as it is, we actually could see some low ownership on Mondesi solely based off salary. It's a shame for the people who can't fit him because Nova is allowing a .423 wOBA to lefties with a 4.99 xFIP and five of his 11 home runs. As I said, try to make him fit if you can.
Other Option — Gleyber Torres ($4,600)
Value
Carlos Correa,

HOU

vs.

CHC,

$4,200 —
With how expensive Mondesi is, a $4,200 Correa feels awfully cheap. He'll be facing Hamels and Correa will bring with him a .431 wOBA with a .313
ISO
and three of his 11 home runs on the year. It's worth mentioning that the Astros are one of the best offenses in the league against lefties, so getting these guys at what feels like discounted salaries really make them enticing.
Other Option — Jose Iglesias ($3,500)
---
OUTFIELD
Stud
Alex Gordon, KC vs.

CWS,

$5,000 —
Oh hey, another Royal! More specifically, another Royal who bats from the left side. As I mentioned, this is such a smash spot for the Royals against Nova and I really don't want to miss out on these bats if I can. Against righties, Gordon has a very impressive .391 wOBA, a .254
ISO
with seven of his eight home runs.
Other Options — J.D. Martinez ($5,300), Clint Frazier ($4,400)
Value
Aaron Hicks,

NYY

vs.

SDP,

$4,100 —
Hicks hasn't played much this season so we'll refer back to his 2018 numbers in this matchup. Hicks provided a ton of pop for the Yankees and against lefties especially. Last year he ended with a .252
ISO
to go with a .343 wOBA and nine of his 27 home runs. Getting someone who has that 30 home run potential at this deep of a discount is something that should be taken advantage of.
Other Options — Steve Wilkerson ($4,000), Billy Hamilton ($3,400)
---
Put your knowledge to the test. Sign up for DraftKings and experience the game inside the game.
---
I am a promoter at DraftKings and am also an avid fan and user (my username is Steveazors) and may sometimes play on my personal account in the games that I offer advice on. Although I have expressed my personal view on the games and strategies above, they do not necessarily reflect the view(s) of DraftKings and I may also deploy different players and strategies than what I recommend above. I am not an employee of DraftKings and do not have access to any non-public information.