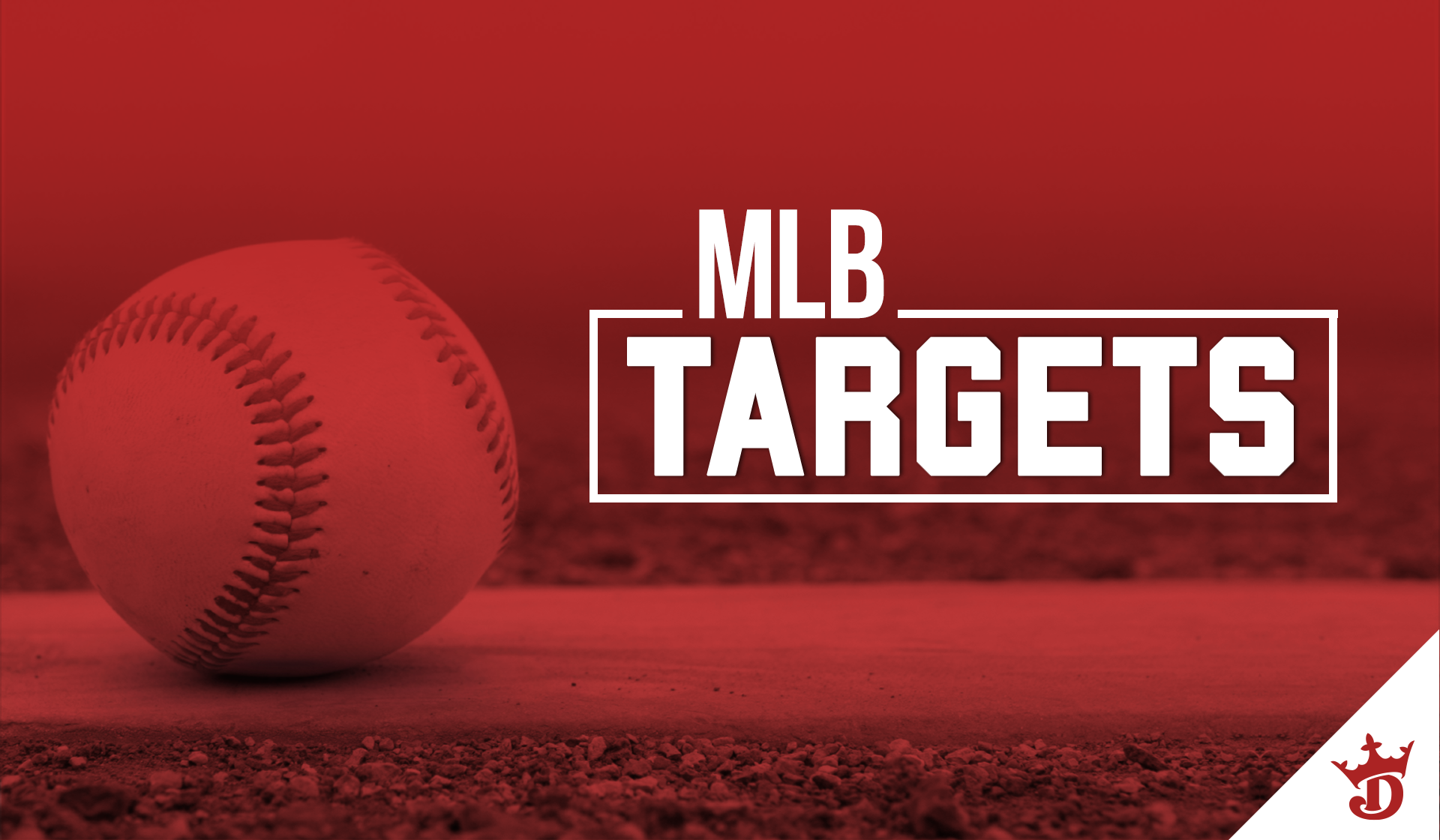 I hate to keep bringing this up, but, well, the weather on the East Coast is still garbage, guys. Like, there's a chance its just been on my mind more often than usual as a resident of Toronto – as we have a retractable roof that's yet to retract and are currently attempting to influence a Southern California native to stay north of the border for basketball purposes – yet, once again, I look out my apartment window into a sea of grey.
It's not just Canada, either. Specific to this evening's nine-game featured slate on DraftKings, we've got contests in both Baltimore and Philadelphia up in the air due to rain. Technically, Colorado's also in a bit of danger to be postponed or delayed this evening. Just something to keep in mind as we get closer to first pitch.
Let's get into everything else you need to know.
---
PITCHER
Stud
Aaron Nola,

PHI

vs.

STL,

$9,000 –
As mentioned above, you'll have to keep an eye on the status of this matchup – the last thing we want is an in-game delay – but the uncertainty of the situation might even help keep Nola's ownership low. Heck, so might Nola's recent performances. After a 12 strikeout effort against a Rockies team with one of the league's highest swinging strike rates, Nola regressed in Chicago, walking four Cubs across 5.1 innings of work.
He's been inconsistent to be sure, yet the Cardinals present an intriguing opportunity. Not only does St. Louis possess an underwhelming .285 wOBA over the past two weeks, but it also doesn't have the left-handed bats to throw at a pitcher who's allowed LHBs to compile a .421 wOBA in 2019. In fact, the Cardinals have the seventh-fewest left-on-right plate appearances this season (509) and they pair that with the sixth-lowest ISO within the split (.145). Nola can find his form this evening. Weather pending.
Other Options: Blake Snell ($11,300), Walker Buehler ($9,600)
Value
Pablo Lopez,

MIA

vs.

SF,

$6,600 –
I'm about to evoke one of the most powerful comparisons in
DFS
: Lopez is the new Wei-Yin Chen. I mean, not actually, there's much evidence to suggest that Lopez is much better with a much higher ceiling than Chen, but I'm of course speaking about the vaunted home splits for a Marlins' pitcher. In four starts at Marlins Park this season, Lopez sports a 1.66
FIP
and a 29.9% strikeout rate.
He's also held opposing hitters to a microscopic .200 wOBA. His numbers on the road? Incredibly ugly. Obviously, the sample size is small, but allow me to take two lessons from this. One, Miami is still a good place for pitchers to take the mound. Two, Lopez has the potential to be a high-end strikeout fantasy option. The Giants are bad and Lopez is cheap. What more do you need?
Other Option: John Means ($6,900)
---
CATCHER
Stud
Pedro Severino,

BAL

vs.

DET,

$3,900 –
There's a lot going on with the Tigers' pitching staff tonight. Not even factoring in the possibility of rain, Ryan Carpenter ($5,400) is starting this game against the Orioles on short rest. That seems bad. Then again, you probably don't want a full bullpen game from a collection of relievers that own the league's worst
FIP
(5.69). In any case, Severino shouldn't be in a single bad matchup this evening; especially when facing the left-handed Carpenter. Baltimore's catcher is hitting .333 with a .306
ISO
in his 42 plate appearances versus
LHP
s in 2019.
EDITOR'S NOTE: Severino is not in the starting lineup for tonight's game.
Other Option: Alex Avila ($4,200)
Value
Chris Iannetta,

COL

vs.

ARZ,

$3,700 –
This is an easy one with the Rockies in Colorado; however, unlike most nights when we all want to play Iannetta versus a lefty, there's a really good chance he's actually in the lineup this evening. Tony Wolters ($3,500) was scratched on Tuesday with a bruised right hand, opening the door for Iannetta to hit his fourth home run in 60 at-bats. He's got power, he's always had an inclination for batting against
LHP
s, and I'd be shocked if he's not starting. A pretty good combination of factors in the altitude.
Other Option: Jorge Alfaro ($3,500)
---
FIRST BASE
Stud
Freddie Freeman,

ATL

vs.

WAS,

$5,200 –
Anibal Sanchez ($7,200) will come off the IL tonight to face the Braves. This is exceedingly good news if you're name is Freddie Freeman. Not that Freeman really even needs a good matchup to be viable. So far in May, the All-Star is slashing .324/.378/.637 with a .314
ISO
and a .421 wOBA. He's one of the best hitters in the league. Still, I'm not going to ignore his good fortune when presented with an opposing starting pitcher who has surrendered a .404 wOBA to
LHB
s through his first nine outings of the season. This is a great spot for Freeman.
Other Options: Trey Mancini ($5,000), Jose Abreu ($4,900)
Value
Garrett Cooper,

MIA

vs.

SF,

$3,300 –
The sample size is just 50 plate appearances, but Cooper's slashed .327/.340/.531 with a 132 wRC+ against left-handed pitching throughout his brief
MLB
career. That, by itself, doesn't do a whole lot to sway me in this matchup against Madison Bumgarner ($9,900); yet the bargain basement price has to matter here when you consider that Cooper appears locked into the two-spot in the Marlins batting order. The fact that Bumgarner is allowing
RHB
s to hit to a 45.6% hard contact rate so far this season doesn't hurt, either. This isn't a high exposure play, however, I wouldn't advise against a piece or two of Cooper.
Other Options: Ji-Man Choi ($3,700), Mark Reynolds ($3,500)
---
SECOND BASE
Stud
Jonathan Villar,

BAL

vs.

DET,

$4,900 –
Villar's actually been horrible in 2019 against left-handed pitching – with the switch-hitter owning just a 50 wRC+ within the split – however, as previously mentioned, I'm not sure how long Carpenter will be able to pitch in tonight's contest. Villar's taken five plate appearances in five of his last seven contests, a stretch of time where's he's also collected six extra-base hits. If that trend continues, Villar's more likely than not to have at least three of those PAs come against arguably the worst bullpen in baseball. Baltimore's one of the few teams playing a sea-level with an implied run total above five. It's hard to imagine Villar not having a big role if they do indeed get to that number.
Other Option: Brandon Lowe ($4,700)
Value
Lourdes Gurriel,

TOR

at

TB,

$3,400 –
In no way am I suggesting you stack Blue Jays against Snell, however, if you need to save some cash, you could do worse than Gurriel. The Cuban import hit .310 with a .351 wOBA against
LHP
s in 2018 and has already collected a pair of extra-base hits in his five plate appearances versus southpaws since getting recalled last week. In fact, Gurriel has yet to play a game in this recent stint without registering a double or a home run. You're also not just picking on Snell. Tampa Bay's ace has only pitched into the seventh once in his past eight outings. There's a good chance Gurriel draws a reliever for an at-bat or two tonight.
Other Option: David Bote ($3,800)
---
THIRD BASE
Stud
Nolan Arenado,

COL

vs.

ARZ,

$5,600 –
Pick a split. Reach into the imaginary hat I'm presenting to you and grab something at random. Arenado's numbers against lefties this season? He's slashing a cool .379/.446/.845 with a .466
ISO.
How about his stat line at Coors Field? That's a 1.103
OPS
with a .446 wOBA. Maybe recency bias is your bag? Well, Arenado's got a 204 wRC+ and a .505 wOBA so far in the month of May. He's expensive, but there isn't an angle you can view Arenado from on this slate where he doesn't appear to be in a fantastic situation.
Other Option: Yoan Moncada ($4,800)
Value
Justin Turner,

LAD

vs.

NYM,

$4,100 –
Generally the play is to use Turner against a left-handed pitcher. Really, you usually wouldn't be attempting to find bats versus Noah Syndergaard ($9,300) regardless of the splits, but the Mets'
RHP
has looked quite susceptible across his past six starts. Within that span, Syndergaard's pitched to an underwhelming 4.24
FIP,
while also surrendering 1.9 home runs per nine to
RHB
s. Turner, who possesses a .436
ISO
and 199 wRC+ in the 44 plate appearances he's taken at home in the month, is sneaky viable because of these struggles.
Other Option: Vladimir Guerrero Jr. ($3,400)
---
SHORTSTOP
Stud
Jean Segura,

PHI

vs.

STL,

$4,800 –
The left-handed Genesis Cabrera ($7,000) is set to make his
MLB
debut tonight for St. Louis. He's a decent prospect who has pitched to a massive 6.85
FIP
this season in Triple-A. With that being the case, I doubt anyone would be shocked to know that the Phillies are a great place to look for offensive pieces this evening. In particular, Segura has been enjoying an amazing run against
LHP
s all year long. In 38 plate appearances within the split, Segura is batting .417 with an eye-popping 239 wRC+. He's a fairly-priced way to begin any exposure to Philadelphia.
Other Options: Trevor Story ($5,200), Trea Turner ($4,400)
Value
Addison Russell,

CHC

at

HOU,

$3,500 –
Simply put, Russell should just have a higher salary than this. He's never hit left-handed pitching exceedingly well, Wade Miley ($7,800) has been solid in 2019, and the Astros have the best bullpen
ERA
in the game (2.91); but Russell's hit too well to be this far below $4K. In the 18 games since he's returned, the 25-year-old has posted a .277
ISO
to go along with a .393 wOBA. Small sample, but those numbers are bordering on elite production.
Other Option: Sean Rodriguez ($3,600)
---
OUTFIELD
Stud
Austin Meadows, TB vs.

TOR,

$5,600 –
There have been 247 players this season who have taken at least 90 plate appearances against right-handed pitching in 2019. Just three have a wRC+ above 200 in those opportunities: Cody Bellinger ($5,900), Christian Yelich and Meadows. He deserves to have a salary this extravagant; especially considering he's opposed by Trent Thornton ($8,000) this evening. Thornton's been decent in his rookie campaign, but
LHB
s have given him trouble. Specifically, they've clubbed 2.08 home runs per nine off of the young right-hander. Meadows should stay hot on Wednesday.
Other Options: Juan Soto ($5,000), Alex Gordon ($4,800)
Value
Keon Broxton,

BAL

vs.

DET,

$3,900 –
The sentence "and to round out our Orioles stack" is not something I thought I'd utter at any point in 2019, yet, here we are. Broxton's always had upside. His combination of power and speed would be far more obvious if he made contact more than once per week, but I digress. Anyway, he's getting consistent at-bats in Baltimore. Carpenter's owns a career strikeout rate of just 15.7%. Detroit's bullpen has the lowest strikeout rate in baseball at 18.9%. If there was ever a game-script where Broxton's making contact, it's tonight.
Other Options: Eloy Jimenez ($3,800), Niko Goodrum ($3,700)
---
Put your knowledge to the test. Sign up for DraftKings and experience the game inside the game.
---
I am a promoter at DraftKings and am also an avid fan and user (my username is theglt13) and may sometimes play on my personal account in the games that I offer advice on. Although I have expressed my personal view on the games and strategies above, they do not necessarily reflect the view(s) of DraftKings and I may also deploy different players and strategies than what I recommend above. I am not an employee of DraftKings and do not have access to any non-public information.