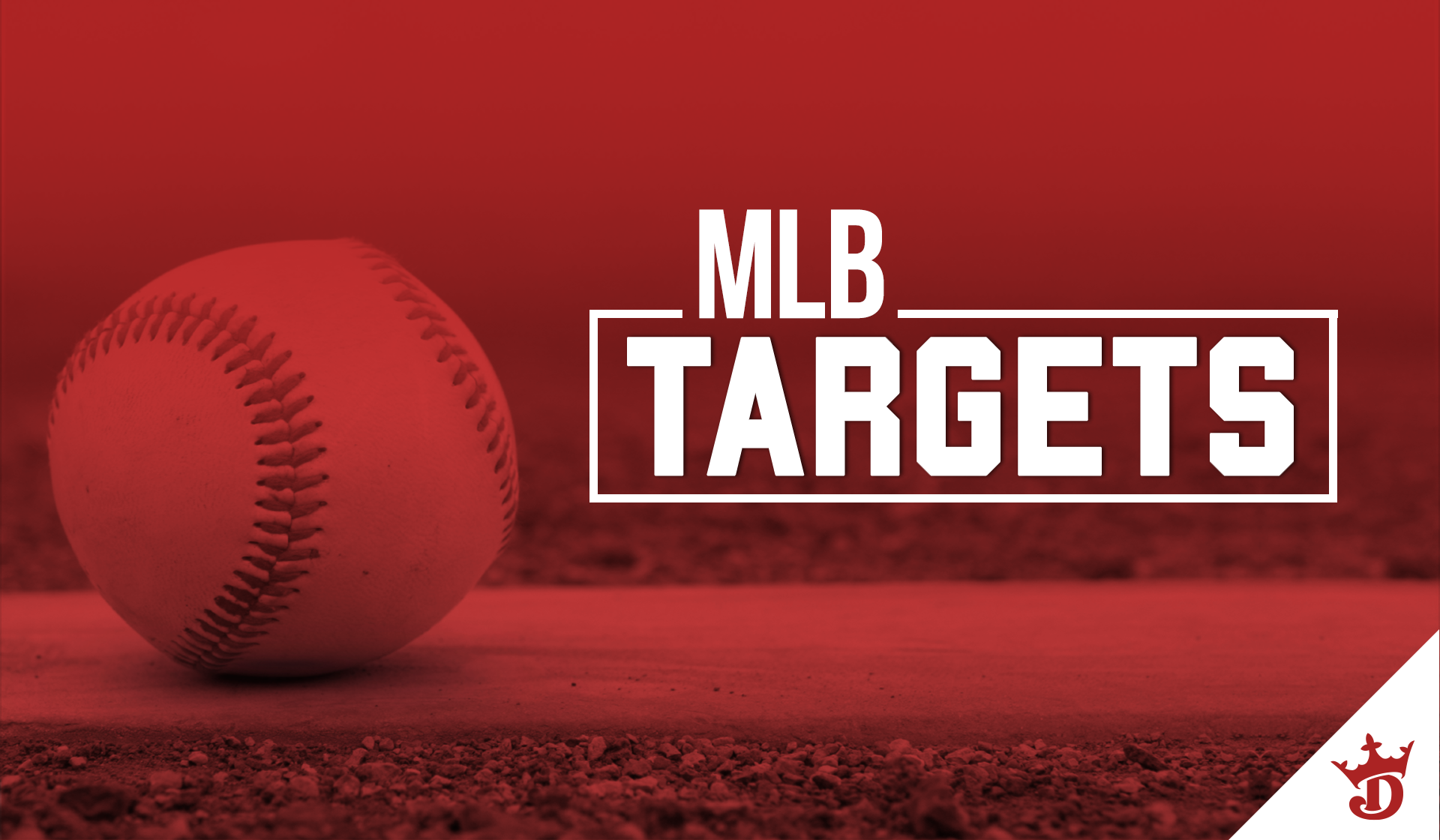 Saturday evening features a five-game slate starting at 7:15 pm E.T. Let's jump into all the targets for tonight and as always, you can reach me on the ol' Twitter machine @SBuchanan24.
---
PITCHER
Stud
Hyun-Jin Ryu,

LAD

vs.

PIT,

$11,200 —
Ryu has been pitching extremely well and draws a really favorable matchup against the Pirates. Over his past five starts, Ryu has scored no less than 25.6
DKFP
while topping out at 38.9. The Pirates have been one of the worst teams in the league against lefties and have just a .294 wOBA with a .126
ISO
and a 24.1 K%. Ryu primarily relies on his fastball and changeup, two pitches the Pirates have not done well against. In fact, they're one of the worst hitting clubs against the fastball, currently ranking 26th. With all this in mind, it feels like this is another great matchup for Ryu.
Other Option — Mike Soroka ($9,500)
Value
Brad Peacock,

HOU

vs.

BOS,

$9,000 —
I'm not thrilled about targeting against the Red Sox, but when it comes to value we don't have much to choose from. After getting rocked by the Twins to begin the month, Peacock has pitched three solid games in which he's allowed just one run while striking out 24 through 17 innings. The Red Sox don't provide a lot of strikeout upside with just a 20 K% on the season but Peacock has been so efficient on the mound that he's a serious consideration on this five-game slate.
Other Option — Dakota Hudson ($6,000)
---
CATCHER
Stud
Pedro Severino,

BAL

vs.

COL,

$3,800 —
If Severino can do one thing well it's hit lefties. Playing at Coors Field, Severino will face Kyle Freeland ($5,500) who just can't seem to figure it out on the mound. Against lefties, Severino has a .456 wOBA with a .355
ISO
and three of his five home runs. Freeland has allowed at least three runs in five straight starts and 12 home runs on the year, making him a liability every time he takes the hill. At $3,800, Severino feels like a steal in this matchup.
Other Option — Tony Wolters ($3,900)
Value
Jonathan Lucroy,

LAA

vs.

TEX,

$3,500 —
I'm still trying to figure out what has happened to Lucroy, who is having an unbelievable season for the Angels. Averaging 8.1
DKFP
over his past 10 games, Lucroy has been tagging lefties for some serious power, sporting a .234
ISO
and a .324 wOBA. His matchup against Mike Minor ($10,400) isn't the easiest, but we've seen Minor struggle a bit more than he has as of late. On the road, Minor has a .329 wOBA and a 4.56 xFIP against righties.
Other Option — Brian McCann ($3,500)
---
FIRST BASE
Stud
Freddie Freeman,

ATL

vs.

STL,

$5,000 —
I think Dakota Hudson ($6,000) is an option, but his struggles against lefties gives me pause. His splits against lefties and righties are night and day and lefties have tagged him with a .439 wOBA with a 5.53 xFIP and eight of his nine home runs. With numbers like that, Freeman feels like an obvious play at first base, even with Josh Bell ($5,100) in the mix. Freeman has been hitting for a ton of power this month with a .344
ISO
and has an overall .344 wOBA and a .255
ISO
against righties.
Other Option — Josh Bell ($5,100)
Value
Albert Pujols,

LAA

vs.

TEX,

$3,600 —
I always consider Pujols when he's facing a lefty, even if that lefty is Minor. On the season, Pujols sports a solid .329 wOBA and a .264
ISO
with four of his eight home runs. Minor has given up five of his six home runs on the road against righties, so the possibility of Pujols getting a hold of one is present.
Other Option — Logan Forsythe ($4,000)
---
SECOND BASE
Stud
Jonathan Villar,

BAL

vs.

COL,

$4,700 —
Second base is a bit weak on this five-game slate so I'm rolling with another bat at Coors. To be fair, Villar's number against lefties aren't great but I'm assuming Freeland isn't in this game for long. Once we get some righties in this game, Villar has a .335 wOBA with a .158
ISO
with four of his five home runs. Not the greatest spot for Villar from a splits perspective, but the environment certainly makes up for it.
Other Option — Max Muncy ($4,700)
Value
Ozzie Albies,

ATL

vs.

STL,

$3,900 —
Rolling with another bat who can bat from the left side against Hudson, Albies is cheap enough to be considered a value. He has much stronger numbers against lefties than he does righties, but Albies has the matchup advantage here batting from the left side. Again, second base is really thin overall so I don't think you're going to find a particularly strong matchup at this position.
Other Option– Hanser Alberto ($4,100)
---
THIRD BASE
Stud
Rafael Devers,

BOS

vs.

HOU,

$4,500 —
I'm not looking to target against Peacock specifically, but I think Devers is someone to strongly consider. He's really been flexing his power this month and has an overall .264
ISO
in the month of May, which is a massive jump from the .078
ISO
in April. Peacock has a .316 wOBA against lefties with a 4.50 xFIP and all four of his home runs allowed.
Other Option — Nolan Arenado ($5,600)
Value
Hanser Alberto,

BAL

vs.

COL,

$4,100 —
Alberto has quite the inflated wOBA against lefties, checking in at .432. His
ISO
isn't too shabby either at .188, but he only has three home runs on the year. Even still, for $4,100, I'll happily take him against Freeland. The only problem here is that Alberto has poor numbers against righties, so if you're expecting Freeland to be out of this game early, the matchups following him won't be as enticing.
Other Option — Asdrubal Cabrera ($3,400)
---
SHORTSTOP
Stud
Carlos Correa,

HOU

vs.

BOS,

$4,600 —
Correa is smashing lefties and even in a fairly tough matchup against David Price ($8,800), I'm more than willing to take him. In this matchup, Correa has a .431 wOBA with a .313
ISO
and three of his 11 home runs against lefties. With Alex Bregman ($4,700) struggling against lefties, Correa has been the one picking up the slack.
Other Option — Paul DeJong ($4,500)
Value
Corey Seager,

LAD

vs.

PIT,

$3,900 —
Joe Musgrove ($6,800) hasn't pitched against lefties much at home so far this season, but they've already tagged him for a .370 wOBA with a 5.14 xFIP. Seager has been hitting well as of late and is averaging 8.8
DKFP
over his past 10 games with two home runs and eight
RBI.
He's cheap enough to consider in this spot and hopefully takes advantage of the matchup at
PNC
Park.
Other Option — Dansby Swanson ($4,100)
---
OUTFIELD
Stud
Joc Pederson,

LAD

vs.

PIT,

$5,200 —
I love when Joc Jams is hitting the ball consistently. When he is, he can rack up fantasy points in bunches each and every game. On the road against righties, Pederson sports a .368 wOBA with a .302
ISO
with four of his 14 home runs. While Musgrove has allowed just two home runs, Pederson is the type of player who can boost that number with one swing of the bat.
Other Options —Trey Mancini ($5,500), J.D. Martinez ($4,900)
Value
Nick Markakis,

ATL

vs.

STL,

$3,800 —
Once again, going with a lefty bat against Hudson in the Braves matchup. As I mentioned, Hudson sports a putrid .439 wOBA and a 5.53 xFIP. On the road against righties, Markakis has a .387 wOBA with a .189
ISO
with two of his four home runs on the season.
Other Options — Harrison Bader ($3,500), Joey Rickard ($3,800)
---
Put your knowledge to the test. Sign up for DraftKings and experience the game inside the game.
---
I am a promoter at DraftKings and am also an avid fan and user (my username is Steveazors) and may sometimes play on my personal account in the games that I offer advice on. Although I have expressed my personal view on the games and strategies above, they do not necessarily reflect the view(s) of DraftKings and I may also deploy different players and strategies than what I recommend above. I am not an employee of DraftKings and do not have access to any non-public information.