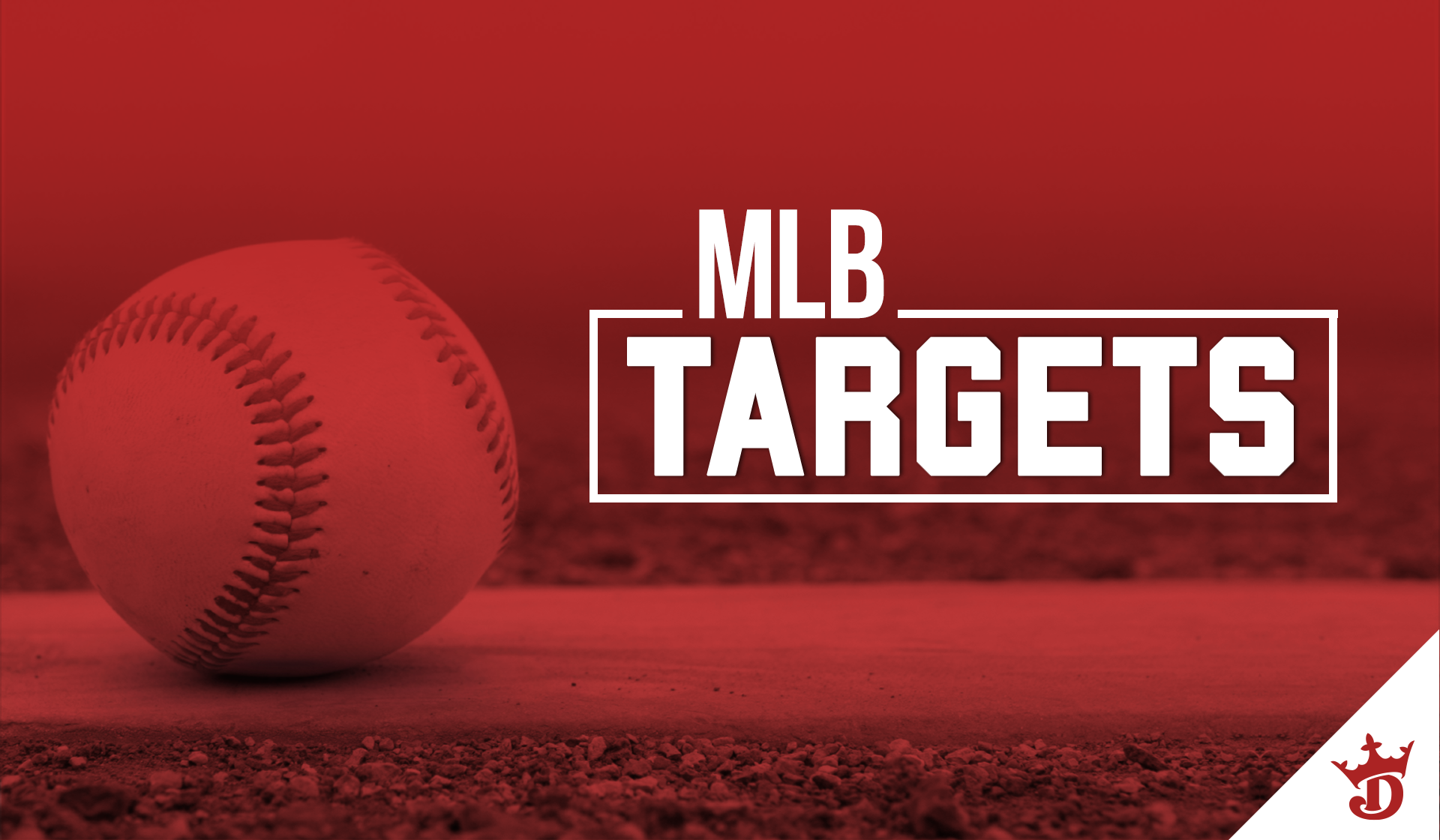 It's another night stacked with All-Star-caliber pitchers on DraftKings. Well, at least at the top-end of this evening's 10-game featured slate. Gerrit Cole's ($12,000) back up at $12K for the first time since last season; Max Scherzer ($11,100) and Jacob deGrom ($10,500) renew acquaintances as the Clayton Kershaw and Madison Bumgarner of the East Coast; and the undefeated Cole Hamels ($9,500) is back on the rubber at Wrigley. Still, finding an affordable second arm to pair with one of these established veterans might be a little bit more complex. Hence, kind reader, why you clicked on this article in the first place.
Let's dive into it.
---
PITCHER
Stud
Rich Hill,

LAD

at

TB,

$10,200 –
Though it wasn't Tuesday's top
DFS
output, Hill's left-handed teammate Clayton Kershaw did exactly what most of his handedness have been able to do against the Rays in 2019; strike out a ton of batters. Kershaw pilled up eight across six innings, a performance very much in line with Tampa Bay's league-leading 30.7% strikeout rate against
LHP
s. Hill's completely capable of recreating that experience tonight. The veteran owns a 29.7% strikeout rate through his first four starts of the season and is coming off his best outing of the year with 10 strikeouts in Cincinnati last Friday. Plus, if Yandy Diaz ($4,000) — the Rays' best hitter of left-handed pitching — remains out with a wrist injury, there's little to stop Hill from going off.
Other Options:
Gerrit Cole ($12,000), Jon Gray ($9,200)
Value
Jose Urena,

MIA

at

DET,

$6,200 –
This is a spot where you really need the Tigers to do most of the work. Urena just isn't a guy who even has his good starts translate well into a
DFS
format. These are the kinds of things that happen when you've never had a swinging strike rate above 9.0% and you've struck out four opponents or fewer in eight of your nine starts in 2019. Still, Detroit has the American League's lowest marks in both wOBA (.259) and wRC+ (59) during the month of May. The Tigers also don't possess a stable of reliable left-handed bats — generally Urena's biggest kryptonite. In fact, Detroit's .283 wOBA in left-on-right plate appearances so far this season is the second-lowest figure in all of baseball.
Other Option: Max Fried ($8,500)
---
CATCHER
Stud
Willson Contreras,

CHC

vs.

PHI,

$5,100 –
Contreras already has hit more home runs this season in 167 plate appearances than he did in all of 2018. The biggest reason for this? Launch angle. Where the young catcher's ground ball rate sat above 52.0% each of the past three years, it now is down to a more acceptable 45.9% so far in 2019. However, Contreras has been even more elevation-inclined when facing left-handed pitching, where he's posted a 0.89 GB/FB ratio in 37 PAs. With 10-15 mph winds expected to be blowing out to left field this evening at Wrigley, Contreras will be hunting for long ball No. 12.
Other Options:
Gary Sanchez ($5,500), Jason Castro ($4,100)
Value
Pedro Severino,

BAL

vs.

NYY,

$3,600 –
The former Nationals prospect hasn't had a huge sample of opportunities to face left-handed pitching so far in 2019 — just 29 plate appearances — however, he's capitalized on the rare occasion. Severino is slashing .333/.379/.704 with a .448 wOBA within the split in 2019; while Brandon Hyde moved the 25-year-old up to the five-spot in the lineup the most recent time Baltimore faced a
LHP.
Sure, an inanimate carbon rod could bat clean-up for this incarnation of the Orioles, but I like Severino's price this evening against CC Sabathia ($7,400).
Other Option: Buster Posey ($3,500)
---
FIRST BASE
Stud
Luke Voit,

NYY

at

BAL,

$5,300 –
I'm not exactly reinventing the wheel by suggesting stacking pieces against Dan Straily ($4,800) — a man pitching so poorly he conceivably could soon lose a rotation spot with the Orioles — but his splits against
RHB
s need to be mentioned. Righties have hit to a .478 wOBA off of the veteran
RHP
so far this season, with Straily allowing 3.60 home runs per nine within the split. It's not just the quality of contact, either; it's the volume. Straily has struck out just 8.1% of the 74 right-handers he's faced and has walked an even more microscopic 4.1%. Voit will make contact this evening. It'll be loud, too.
Other Options:
Freddie Freeman ($5,200), Mitch Moreland ($4,900)
Value
Marwin Gonzalez,

MIN

at

LAA,

$3,700 –
Gonzalez never has been as effective a hitter when forced into the left-side of the batter's box, but everything else is going in his favor this evening. Angel Stadium possessed Baseball Prospectus' highest home run factor for left-handed hitters in 2018, and it once again ranks highly this season. Matt Harvey ($5,500) has surrendered a massive .437 wOBA to
LHB
s in the five starts he's made in Los Angeles in 2019. Also, to top it all off, Gonzalez recently has been hitting from the three-spot in Rocco Baldelli's lineup. All these things coming together at under $4K make Gonzalez a steal.
Other Option: Justin Smoak ($3,800)
---
SECOND BASE
Stud
Gleyber Torres,

NYY

at

BAL,

$5,300 –
Sometimes, I'm a simple man. When veteran broadcaster — and my long, lost father — Gary Thorne is
audibly upset with how well Torres has hit against the Orioles
so far this season, I think that says something. Torres has clubbed eight of his 10 home runs in 2019 when the Yankees have had the fortune of facing Baltimore. Its really not that crazy when you realize that the Orioles' staff has given up a league-high 2.13 home runs per nine to every player in baseball, but still; if you can afford Torres, I've got zero problems riding the hot hand.
Other Option:
Max Muncy ($4,400)
Value
Tony Kemp,

HOU

vs.

CWS,

$4,000 –
I'm having a difficult time envisioning Kemp not in the Astros' lineup this evening, especially if George Springer ($5,900) remains sidelined with his recent back issues. So, despite Kemp having done little to impress with the bat so far this year, the 27-year-old should prove viable as one of Houston's few left-handed batters against Ivan Nova ($4,400). The veteran has been crushed by
LHB
s in 2019, allowing those within the split to compile an eye-popping .435 wOBA. He also has struck out only 11.8% of the left-handed bats he's faced. Considering the Astros' huge implied run total, Kemp has a clear opportunity to thrive on this slate.
Other Option: Adam Frazier ($3,900)
---
THIRD BASE
Stud
Rafael Devers,

BOS

at

TOR,

$4,900 –
It's been an explosive month for the sophomore third baseman. In 83 plate appearances in May, Devers is slashing .355/.398/.605 with a .250
ISO.
He's been the hottest hitter in what has been one of the league's top-performing lineups across the past few weeks. Then, there's Aaron Sanchez ($7,200). For what feels like the billionth time in the past three seasons, Sanchez was forced to leave his most recent outing with a blister issue. How that will affect him tonight is unclear. However, Sanchez's long history of struggling with
LHB
s speaks for itself.
Other Option:
Kris Bryant ($5,400)
Value
Vladimir Guerrero Jr.,

TOR

vs.

BOS,

$4,000 –
Despite his torrid recent play and his stature as reigning American League Player of the Week, Guerrero's price point has remained the same on DraftKings the past week. This is a little curious. Guerrero's averaging 13.3
DKFP
over his past seven games, having hit more home runs (4) within that span of time than he's gone down on strikes (3). It's not as if Rick Porcello's ($8,200) been some pillar of success away from Fenway in 2019, either. In fact, the 40 right-handed hitters Porcello has faced on the road have managed to hit 4.0 home runs per nine to go along with a .428 wOBA. Might as well take a shot with the high ceiling of baseball's No. 1 prospect.
Other Option: Brian Anderson ($3,100)
---
SHORTSTOP
Stud
Jorge Polanco,

MIN

at

LAA,

$4,700 –
Polanco has been an unstoppable force this season against right-handed pitching. The switch-hitter has hit seven of his eight home runs batting from the left-side so far in 2019, with all that power equating out to a jaw-dropping 171 wRC+ within the split. With Harvey surrendering a 55.9% hard contact rate to
LHB
s through his first nine outings of the campaign, it's easy to see Polanco's path to fantasy relevancy this evening.
Other Option:
Jean Segura ($4,500)
Value
Corey Seager,

LAD

at

TB,

$3,700 –
There's not a lot to like below $4K at shortstop on this slate, but you could do worse than the upside of Seager. The former All-Star has three multi-hit performances in his past six contests and he still owns a more-than-respectable .206
ISO
when getting the opportunity to face right-handed pitching this season. Yonny Chirinos ($7,800) has been fantastic against
LHB
s in 2019, but I still prefer tonight's matchup to yesterday's with the left-handed Jalen Beeks.
---
OUTFIELD
Stud
Michael Brantley,

HOU

vs.

CWS,

$5,200 –
Contact. We're always chasing contact. Well, Nova is one of only 16 qualified pitchers this season with a contact rate above 81.0%. Brantley, at 92.8%, owns the second-highest qualified contact rate for a positional player — something that's been consistent throughout his entire career. So, essentially, there is almost no possible way Brantley doesn't have a few batted ball events this evening. With Nova's struggles against left-handed hitters and his propensity to allow barrelled balls, I'd wager those
BBE
s are of the high-leverage variety, too. That's great news for Brantley.
Other Options:
Trey Mancini ($5,100), Eddie Rosario ($4,600)
Value
Max Kepler,

MIN

at

LAA,

$4,100 –
Kepler's been everything the Twins have needed him to be against right-handed pitching this season. In 149 plate appearances — many taken as the club's leadoff hitter — Kepler owns a .250
ISO,
and .361 wOBA, and just a 14.6% strikeout rate. In a good hitter's environment and in a great matchup, Kepler is an easy value on this slate.
Other Options: Nick Markakis ($4,100), Randal Grichuk ($3,800)
---
Put your knowledge to the test. Sign up for DraftKings and experience the game inside the game.
---
I am a promoter at DraftKings and am also an avid fan and user (my username is theglt13) and may sometimes play on my personal account in the games that I offer advice on. Although I have expressed my personal view on the games and strategies above, they do not necessarily reflect the view(s) of DraftKings and I may also deploy different players and strategies than what I recommend above. I am not an employee of DraftKings and do not have access to any non-public information.