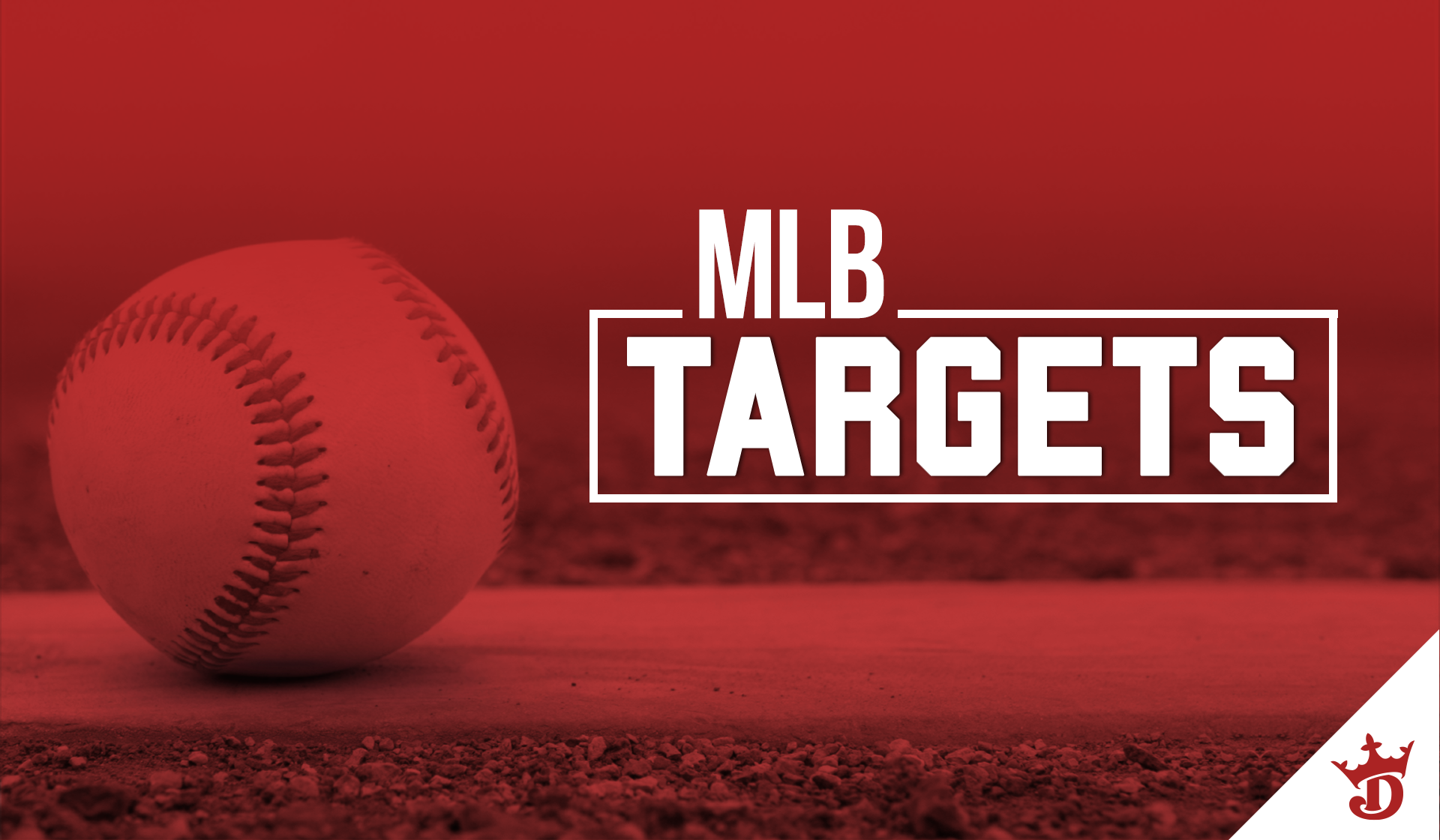 Despite Wednesday evening presenting us with a mid-sized eight-game fantasy baseball slate, there is a serious glut of viable pitching candidates. Not just guys with salaries ranging over $9K, either. Matt Strahm ($8,900) has been solid all season in his first opportunity as a full-time starter in MLB; Mike Soroka ($8,800) has yet to allow more than a single earned run in any of his five outings during 2019; and even Jalen Beeks ($7,600) has scored 24-plus DKFP in two of his past three long-relief chances working behind one of Tampa Bay's openers. Honestly, it's going to be difficult to find positional players to exploit the level of talent we have on the mound tonight.
Yet, we'll find those bats. That's the job. So, let's break it all down.
---
PITCHER
Stud
Patrick Corbin,

WAS

vs.

NYM,

$10,000 –
Just as the Dodgers' reliance in left-on-left plate appearances made them a sneaky good matchup for Corbin last week, the Mets will fall under the same classification. New York is sixth in baseball with 168 PAs in such circumstances; with Jeff McNeil ($4,200), Michael Conforto ($4,500), Robinson Cano ($3,300) and Brandon Nimmo ($3,200) all drawing the start the last time the Mets were confronted with a
LHP.
Yes, New York does have a respectable 115 wRC+ within the overall split in 2019, but much of that "success" has hinged on a league-high .350
BABIP.
There's also the matter of the Mets' massive 28.2% strikeout rate versus left-handed pitching. Corbin has retired 36.7% of the
LHB
s he's faced as a member of the Nationals. If New York trots out a lefty-heavy lineup, he'll be in a great position.
Other Options: Justin Verlander ($11,000), Kenta Maeda ($9,200)
Value
Eduardo Rodriguez,

BOS

vs.

COL,

$8,200 –
It's possible the Rockies have gotten used to a left-handed arm slot at this point. You have to go back all the way to May 5 to find the last game Colorado wasn't opposed by a southpaw; an insane stretch of randomness that I don't think I've ever seen before. Anyway, despite the fact that Nolan Arenado ($5,100) and Trevor Story ($5,000) are killers within the split, I believe this is a good spot for Rodriguez. The Rockies are simply aggressive. They rank first in the National League in swing rate (48.7%), first in all of baseball in swinging strike rate (12.9%) and fourth in
MLB
in chase rate (33.2%). The Rox are the type of team that can simultaneously strikeout in bunches, yet keep Rodriguez's pitch count down. Its the ideal combination for a pitcher with a zone rate as low as E-Rod, not to mention his highly publicized control issues.
Other Option: Jalen Beeks ($7,600)
---
CATCHER
Stud
Robinson Chirinos,

HOU

at

DET,

$4,400 –
It's just difficult to ignore what Chirinos has done in his career to left-handed pitching. While this season's numbers within the split are a bit inflated by a walk rate over 25.0%, the catcher sports a career .227
ISO
versus southpaws across 482 plate appearances. That's a large enough sample to be revealing. Gregory Soto ($5,500) is also just not ready to pitch at this level. He's made one start above Double-A in his life and it was last week in Minnesota. He surrendered nine hits and seven earned runs. It was ugly.
Other Option: Brian McCann ($4,000)
Value
Wilson Ramos,

NYM

at

WSH,

$3,200 –
If you're not going to use Corbin, you might as well use Ramos. The veteran backstop hasn't exactly been a great source of power so far in 2019, but he did hit his first home run since April 14 in yesterday's contest against the Nationals. Additionally, he's feasted on left-handed pitching throughout his career. Going back to the beginning of 2016 – a span of 318 plate appearances – Ramos is slashing .318/.363/.543 with a .225
ISO
within the split.
Other Option: Kurt Suzuki ($3,800)
---
FIRST BASE
Stud
Ji-Man Choi, TB at

MIA,

$4,200 –
Choi, who has consistently batted third in Tampa Bay's order when the team is facing a right-handed pitcher, is in an exceedingly nice spot this evening against Jose Urena ($5,300). The Marlins starter's kryptonite has always been left-handed bats and that weakness has once again carried over into 2019. Miami's
RHP
has allowed lefties to compile a .353 wOBA and a 48.1% hard contact rate through his first eight starts. That last point is key. Quality of contact is crucial, but it's nothing without a high volume of contact to go alongside it. Considering Urena's struck out just 13.7% of the
LHB
s he's faced this season, Choi will definitely get the bat on the ball tonight.
Other Options: Rhys Hoskins ($5,000), Eric Thames ($4,400)
Value
Ronald Guzman,

TEX

at

KC,

$3,800 –
Jorge Lopez ($5,000) can't get left-handed bats out. That's going to be an issue against the Rangers. Not only does Texas have the fifth most left-handed plate appearances versus right-handed pitching as a team so far this season, but it also has the fourth-highest
ISO
within those circumstances (.230). So, with Lopez walking into this evening's matchup sporting a .432 wOBA against
LHB
s, its open season when it comes to stacking purposes. Guzman's a lefty. Guzman's going to be in Chris Woodward's lineup. Guzman's viable.
Other Options: David Freese ($3,600), Tyler White ($3,300)
---
SECOND BASE
Stud
Mike Moustakas,

MIL

at

PHI,

$4,500 –
Moustakas is enjoying his usual level of success against right-handed pitching in 2019, slashing .263/.336/.576 with a .313
ISO
across his first 110 plate appearances within the split. Now, generally, these numbers have been better when getting to hit in the comfy confines of Miller Park; yet, if any road stadium could present a step-up for offensive purposes, it'd be Citizens Bank. There's also the matter of Jake Arrieta's ($8,000) launch angle troubles with
LHB
s. Lefties have hit 2.11 home runs per nine off of the former All-Star this season, all while managing a 0.96 GB/FB ratio. Considering Arrieta's overall GB/FB ratio was 2.47 back in his Cy Young campaign, we can see where the cracks are starting to form.
Other Options: Brandon Lowe ($4,900), Whit Merrifield ($4,700)
Value
Kike Hernandez,

LAD

vs.

SD,

$3,600 –
Sure, Hernandez is in the midst of a pretty awful slump, but he's still the guy manager Dave Roberts is penciling into the Dodgers' leadoff spot when the team draws a left-handed pitcher. We're also all aware of Hernandez's consistent production when facing a
LHP.
However, it should be noted that the 27-year-old's location has been equally crucial. Going back to the start of 2017, Hernandez has a .269
ISO
and .393 wOBA when batting against a lefty at home; vast improvements on his overall splits versus southpaws within the same span. He's rarely this inexpensive in this situation. He's worth a look.
Other Option: Rougned Odor ($3,700)
---
THIRD BASE
Stud
Alex Bregman,

HOU

at

DET,

$5,300 –
Sometimes we don't have to get too complicated. Across his past 12 games, Bregman has hit eight home runs and possesses an otherworldly .511
ISO.
He's scorching hot and he's going up against a Double-A pitcher and an awful Tigers bullpen. When the lone collection of relievers to surrender more home runs per nine (1.73) or sport a higher
FIP
(5.35) is Baltimore's, you know you've got problems. Bregman's expensive, but he's in position to be one of this evening's top plays.
Other Option: Justin Turner ($4,700)
Value
Yuli Gurriel,

HOU

at

DET,

$4,000 –
This is like being in the grocery store and weighing the merits of spending up for that bottle of Dr. Pepper or pocketing a buck or two by lowering your standards to Mr. Pibb. Like, I can't sit here are argue that I think Gurriel will be a better play than his teammate Bregman; but I can also see the similarities. Houston has an implied total of over six runs this evening. Everyone can get in on the act. Plus, Gurriel's been great against left-handed pitching in 2019. He's slashed .306/.405/.500 and has yet to strike out in any of his 42 plate appearances within the split. It's alright to go with Pibb if you need to.
---
SHORTSTOP
Stud
Jean Segura,

PHI

vs.

MIL,

$4,300 –
Segura has generally come through for owners when a left-handed pitcher is involved. In fact, going back to the beginning of the 2017 season, the shortstop has hit .316 off of
LHP
s in 342 plate appearances; the direct result of a microscopic 11.4% strikeout rate within the split. Gio Gonzalez ($7,300) has looked decent in his first three outings with the Brewers, yet I don't think anyone would be shocked if that all ended this evening in Philadelphia.
Other Option: Carlos Correa ($4,800)
Value
Greg Garcia, SD at

LAD,

$3,300 –
Garcia has taken over as the Padres' primary leadoff hitter against right-handed starters and its not difficult to see why with the utility-infielders' current .413
OBP.
Still, this is most certainly a floor play. Garcia has little power to speak of and he's not really a stolen base threat. You're simply hoping for a couple hits and a few runs from the top of San Diego's order. It's not crazy against Maeda, either. The Dodgers'
RHP
has surrendered a .355 wOBA to
LHB
s so far in 2019 and sports an ugly 5.11
FIP
within the split. Garcia's little more than salary relief, but there's a clear path to viability on this slate.
---
OUTFIELD
Stud
Ronald Acuna,

ATL

vs.

STL,

$4,600 –
In the simplest terms, Michael Wacha ($6,700) has been horrendous when facing right-handed batters across his first seven starts of 2019. Along with a robust 6.01
FIP
within the split, Wacha has allowed
RHB
s to compile a .374 wOBA and hit 2.08 home runs per nine innings. That's all really, really bad. Also, very quietly, Acuna's made massive strides in his second year in the majors. Though he hasn't seen the surface results quite yet, the sophomore has cut his swinging strike rate down to just 7.9% this season and – not coincidentally – this had led to a huge jump in his overall contact rate. Acuna still possesses one of the game's highest ceilings and this is a more than fair price to pay.
Other Options: Christian Yelich ($5,700), Austin Meadows ($5,500)
Value
Nomar Mazara,

TEX

at

KC,

$4,000 –
Mazara has struggled the past few weeks, but he might be showing signs of breaking out, as the young outfielder has multiple hits in each of his past two starts. Still, recent success might not even be necessary for a
LHB
to have a big performance against Lopez. The Royals' starter has surrendered 3.24 long balls per nine to lefties to start his campaign. Need I say more?
Other Options: Andrew McCutchen ($4,000), Kevin Kiermaier ($4,000)
---
Put your knowledge to the test. Sign up for DraftKings and experience the game inside the game.
---
I am a promoter at DraftKings and am also an avid fan and user (my username is theglt13) and may sometimes play on my personal account in the games that I offer advice on. Although I have expressed my personal view on the games and strategies above, they do not necessarily reflect the view(s) of DraftKings and I may also deploy different players and strategies than what I recommend above. I am not an employee of DraftKings and do not have access to any non-public information.