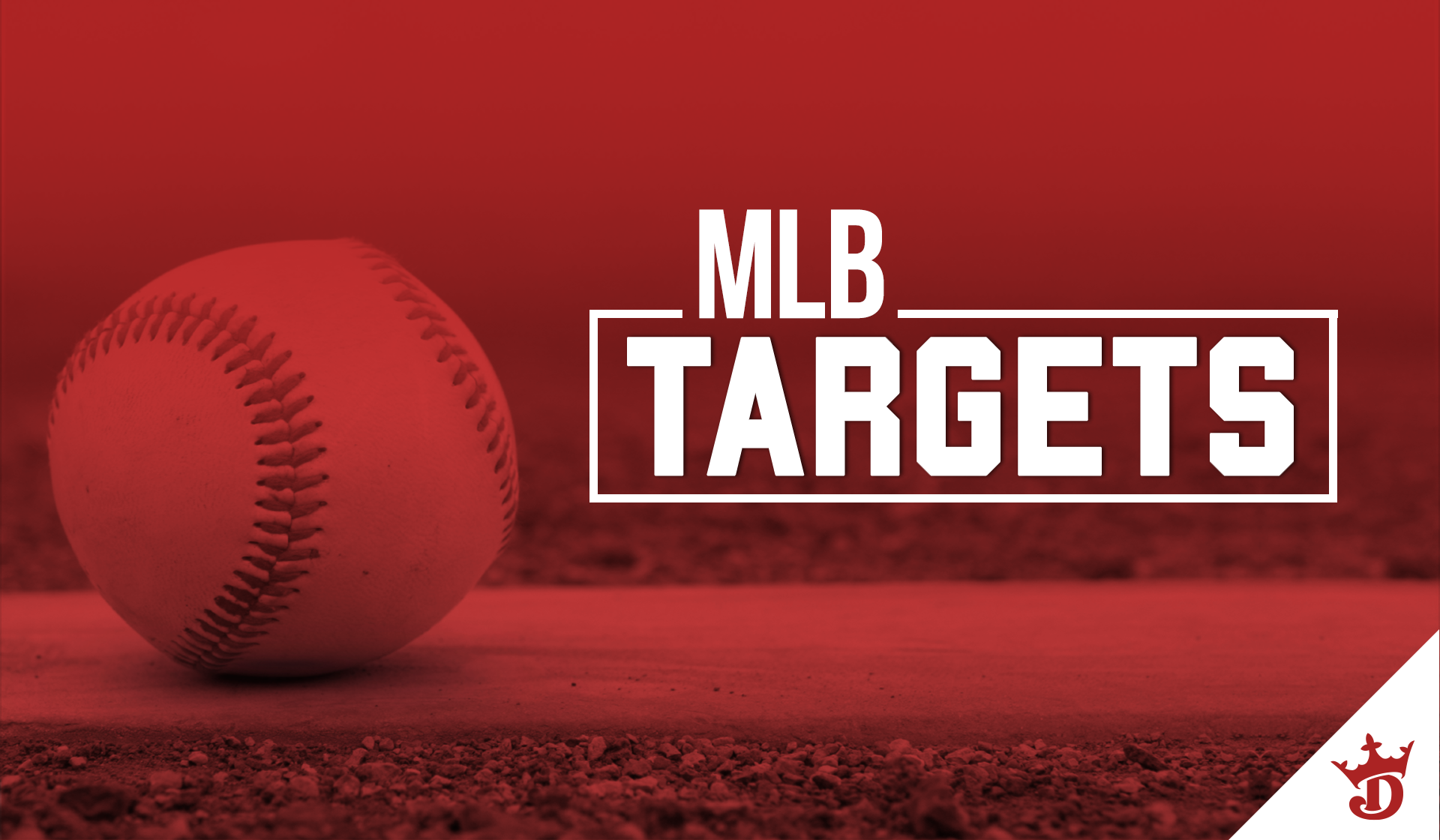 Saturday night features a six-game slate of baseball with some really intriguing matchups to target. Despite the smaller lineup of games, we have a number of ways to attack this slate and some opportunities to pay up for some high profile bats. Let's dive into all the information you'll need for this slate and as always, you can reach me on the ol' Twitter machine @SBuchanan24.
---
PITCHER
Stud
Max Scherzer,

WAS

vs.

SD,

$12,000 —
I've been iffy on using Scherzer at times this season, but this is one spot I'm not worried about. Where Scherzer has struggled this season is against lefties, bats the Padres don't feature much at all. When it comes to righties, Scherzer has a .241 wOBA with a 2.11 xFIP. He's striking them out at a very high percentage at 37.6%. The last time Scherzer faced this club, he threw seven innings allowing two runs on four hits with 10 strikeouts, good for 29.4
DKFP.
Other Option — Rich Hill ($11,000)
Value
Steven Matz,

NYM

vs.

COL,

$6,800 —
I'm not thrilled with the idea of using Matz, but this is just so cheap for one of the worst-hitting clubs on the road. To his credit, Matz has pitched his best games this season at Citi Field, so if he does so again he'd end up being quite the bargain. At home, Matz sports a .292 wOBA with a 3.50 xFIP. The Rockies on the road aren't the same offense as they are at Coors, owners of a .289 wOBA, a .172
ISO
and a 25.9 K%. These numbers are very similar to what they have on the road against lefties with a .283 wOBA and a .179
ISO
and the second-highest K% at 30.4%.
Other Option — Chris Bassitt ($7,600)
---
CATCHER
Stud
Kurt Suzuki,

WAS

vs.

SD,

$4,000 —
Overall, this is a really weak slate for the catcher position so don't agonize over who to take here. Suzuki caught my eye immediately in his match against Eric Lauer ($8,100). Aside from scoring at least 12
DKFP
in three of his past five games, Suzuki has a .425 wOBA and a .304
ISO
with two of his five home runs against lefties this season.
Other Option — Omar Narvaez ($4,200)
Value
Jonathan Lucroy,

LAA

vs.

SEA,

$3,400 —
Lucroy has come back down to Earth after smashing the ball all throughout May. Over his past 10 games, he's averaging only 2.2
DKFP
with no extra-base hits. Really good sell job by me, right? To be fair, he has a good matchup against Yusei Kikuchi ($5,900) who has been lit up in his past two starts for 10 runs on 20 hits through 6 2/3 innings. Lucroy has seen the majority of his power against lefties and sports a .183
ISO
against them. For $3,400, it's worth the punt play.
Other Option — Matt Wieters ($3,400)
---
FIRST BASE
Stud
Cody Bellinger,

LAD

vs.

SF,

$5,600 —
Bellinger has been almost impossible to roster as of late with how expensive he's been. He's been hovering around the $5,800 level for quite some time now, but he's a tad bit cheaper today. With the idea of using Matz, Bellinger becomes a bit more affordable. He draws a matchup against Jeff Samardzija ($7,700) who against lefties is allowing just a .298 wOBA but also has a 5.40 xFIP. Regression is coming, folks. Grab Bellinger for the love of God!
Other Option — Edwin Encarnacion ($4,600)
Value
Tyler Austin, SF vs.

LAD,

$3,800 —
Austin should get the start with the lefty Hill on the mound. It's the only time you want to roster Austin, as his numbers against lefties are his sweet spot. On the season, he owns a .410 wOBA with a .298
ISO
and four of his five home runs. While Hill has pitched well overall, all seven of his home runs allowed have come against righties.
Other Option — Eric Hosmer ($3,600)
---
SECOND BASE
Stud
Danny Santana,

TEX

vs.

OAK,

$4,700 —
Second base stinks on this slate. I wish I could keep the second base position blank if we're being quite honest. I'm not crazy about playing Santana, but he's not in the worst spot against Bassitt. Against lefties on the road, Bassitt has a .333 wOBA with a 4.35 xFIP. Again, it's a whatever spot, nothing great.
Other Option — Tommy La Stella ($4,600)
Value
Brian Dozier,

WAS

vs.

SD,

$3,700 —
This would be the direction I'd take on this slate, paying down for Dozier. He's finally hitting the ball well this season and is averaging 9.2
DKFP
over his past 10 games with two home runs, four doubles and eight
RBI.
He's finally hitting lefties this season and has seen his numbers against them rise to a .463 wOBA and a .318
ISO
with three of his nine home runs.
Other Option– Just play Dozier, please.
---
THIRD BASE
Stud
Anthony Rendon,

WAS

vs.

SD,

$5,500 —
If you don't want to pay up for Bellinger, you could allocate those funds for Rendon instead. You always want to consider him when he's going up against a lefty and that's exactly what he has against Lauer. In these matchups, Rendon sports a .449 wOBA with a .326
ISO
and a 53% hard-hit rate. If you can't tell, the Nationals as a whole feels like a really good spot to target.
Other Option — Max Muncy ($4,400)
Value
Todd Frazier,

NYM

vs.

COL,

$3,600 —
This slate doesn't feature much in terms of value at third base. Frazier would be the option I would consider if I wanted to pay down at this position. I will say though, you're better off paying up. Nonetheless, Frazier does have some decent pop at home against righties with a .182
ISO
but that's about it in terms of numbers that are worth writing up.
Other Option — Justin Turner ($4,000)
---
SHORTSTOP
Stud
Trevor Story,

COL

vs.

NYM,

$5,600 —
I like Matz in this spot but, man, it's hard to fade Story right now. He enters this game averaging a ridiculous 14.8
DKFP
over his past 10 games, which includes two home runs, seven doubles and eight
RBI.
Against lefties on the road, Story has a monster .422 wOBA to go with a .179
ISO.
I'm still undecided on his ownership but figure he'll be the highest owned Rockies bat for what it's worth.
Other Option — Trea Turner ($4,700)
Value
Tim Beckham,

SEA

vs.

LAA,

$3,700 —
Beckham has been in a bit of a slump as of late but when he has gotten a hold of a pitch, he's been hitting for power. Sporting an impressive .237
ISO
against lefties, Beckham is a way to pay down at the position but not lose out some power. He's someone I'd strongly consider to pay down for in this spot.
Other Option — Manny Machado ($3,400)
---
OUTFIELD
Stud
Joc Pederson,

LAD

vs.

SF,

$5,100 —
This is a bit of an odd slate for high-priced outfielders as the majority of these guys aren't in slam dunk matchups. I have no problem taking a shot with Pederson here as he always has one of the best chances to go yard. He's taking on the fraud Samardzija, so you know I'm all about targeting against him. On the road against righties, Pederson has a .373 wOBA with a .286
ISO
and five home runs.
Other Options — Mike Trout ($5,800), Marcell Ozuna ($5,000)
Value
Dexter Fowler,

STL

vs.

CHC,

$3,400 —
Fowler is dirt cheap with a matchup against Jon Lester ($7,700) on tap. Winds will be blowing in at Wrigley Field at 11 mph, so that certainly isn't helpful. However, I like that Fowler has a .342 wOBA and a .176
ISO
against lefties. It's good numbers for someone who is really cheap and help save some salary.
Other Options — Josh Naylor ($3,400), Harrison Bader ($3,400)
---
Put your knowledge to the test. Sign up for DraftKings and experience the game inside the game.
---
I am a promoter at DraftKings and am also an avid fan and user (my username is Steveazors) and may sometimes play on my personal account in the games that I offer advice on. Although I have expressed my personal view on the games and strategies above, they do not necessarily reflect the view(s) of DraftKings and I may also deploy different players and strategies than what I recommend above. I am not an employee of DraftKings and do not have access to any non-public information.