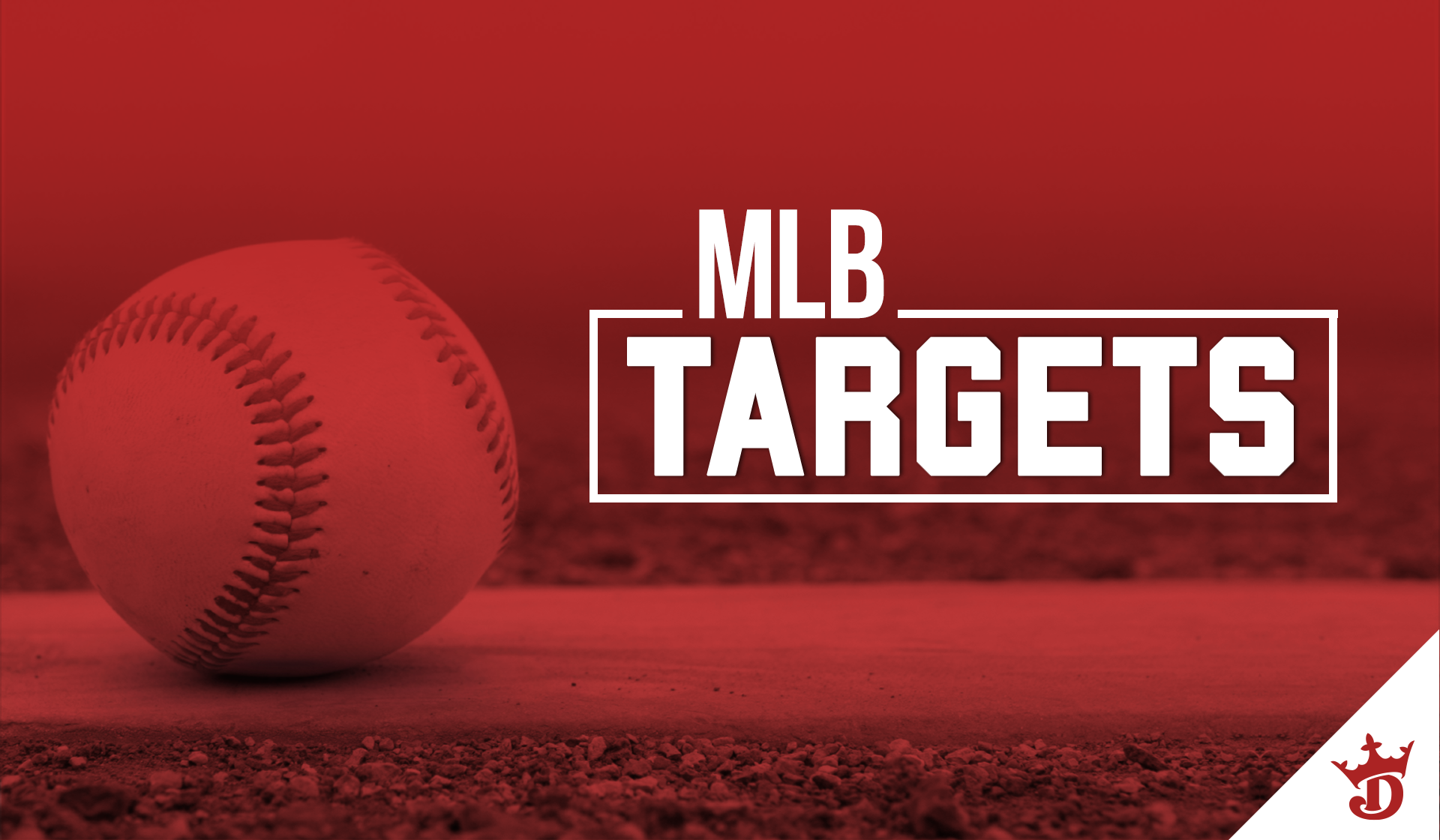 After a busy afternoon, Major League Baseball finishes out this Thursday with a five-game slate which looks to be free of most of the weather concerns that have caused issues this week. Three of the matchups are between divisional foes that are finishing up their series with a nightcap. The Blue Jays host the Yankees, the Twins visit the Tribe and the Angels and Athletics clash in Los Angeles in those three matchups. The Orioles and Rangers are also finishing out the series in Arlington while the only new series getting underway is featured in the final game of the night when the Padres host the Nationals.
Make sure to double-check starting lineups before the scheduled first pitch on the DK Live app or live.draftkings.com to make sure your lineup is ready to roll, but as you begin your roster construction take a look at these top studs and values for each spot.
---
PITCHER
Stud
José Berríos,

MIN

at

CLE,

$9,700 —
The Indians haven't faced Berríos since Opening Day when he dominated them for 10 strikeouts in 7 2/3 shutout innings while allowing just two hits. He hasn't been quite that sharp recently, giving up at least three runs in four straight starts, but he has gone 6 2/3 in each of his two most recent starts while improving to 7-2 on the season with a 3.27
ERA
and 1.13
WHIP.
Berríos seems to have turned things back around after a rough patch in mid-May and should have a lot of confidence going into this matchup in Cleveland. Even though his recent form isn't outstanding, it's still much better than the other options over $9K.
Other Options — Trevor Bauer ($9,400), Joey Lucchesi ($9,000)
Value
Ariel Jurado,

TEX

vs.

BAL,

$6,400 —
Jurado has transitioned to the starting rotation after starting the season in the bullpen. He threw a season-high 101 pitches in his most recent start which came last Saturday against the Royals. In that outing, he went six innings and posted 20.7
DKFP
by striking out six and allowing just two runs. He has 22 strikeouts and a solid 2.43
ERA
through 29 2/3 inning this season and has shown he can be a solid starter in his two starts since joining the rotation. He gets a good matchup against the Orioles and David Hess ($4,200), who comes in with a 7.36
ERA.
If Jurado can be solid and get a win, he could be a great value play at under $6.5K and allow you to stock up on stud bats.
Other Options — Tyler Skaggs ($8,700), J.A. Happ ($7,800)
---
CATCHER
Stud
Gary Sánchez,

NYY

at

TOR,

$5,500 —
Sánchez has homered four times in his past seven games and hit safely in eight straight. During that eight-game run, he is 9-for-32 (.281) with a 1.030
OPS
and has averaged 11.1
DKFP
per contest. He and the Yankees have a great matchup against Edwin Jackson ($5,000), who has gone 0-3 with a 13.22
ERA
in four starts, giving up six homers and allowing opponents to hit .390 against him. Most of the Yankees come with a high salary as a result of the matchup, but Sánchez is one to consider paying up for since he has been so hot lately and fills a sometimes tricky spot behind the plate.
Other Options — Mitch Garver ($4,900), Kurt Suzuki ($3,800)
Value
Josh Phegley,

OAK

at

LAA,

$3,600 —
After not starting yesterday, Phegley should be back in the lineup as the Athletics take on lefty Tyler Skaggs ($8,700) on Thursday. Phegley is hitting .270 with seven homers on the season and has even better numbers against lefties, going 11-for-32 (.344) with four doubles, a home run and a .945
OPS.
Phegley had a very strong May but has scuffled in his few games since the calendar flipped to June. He should be able to get back in rhythm in this good matchup on the road, where he is hitting .315 with a .948
OPS
compared to just a .221 home batting average with a .642
OPS.
Other Options — Yan Gomes ($2,800), Danny Jansen ($2,000)
---
FIRST BASE
Renato Núñez,

BAL

at

TEX,

$5,200 —
Despite Baltimore's struggles, Núñez has provided them with solid numbers from the middle of the lineup for most of the season. He has 15 home runs and 35
RBI
in his 59 games while hitting .245 with a solid .797
OPS.
He has reached base safely in nine of his past 10 games, averaging 11.3
DKFP
per contest and hitting .372 including four homers and a 1.072
OPS.
He'll look to stay hot as he and the Orioles try to pick up a series win in Texas.
Other Options — Luke Voit ($4,900), C.J. Cron ($4,600)
Value
Wil Myers, SD vs.

WAS,

$3,800 —
It has been an up-and-down year for Myers, who is hitting just .234 on the season, but he did have a monster game on Wednesday, going 2-for-4 with a home run, a stolen base and 28
DKFP.
He has at least 12
DKFP
in four of his past 10 games and has a decent .830
OPS
over that span. Myers has hit better at home this season and has also flashed more power when facing lefties. Against southpaws, Myers is 10-for-34 (.294) with three of his 11 home runs and a .973
OPS.
He knows Patrick Corbin ($10,300) well from their time together in the NL West and has had success, going 10-for-27 (.370) with four doubles and a home run.
Other Options — Jake Bauers ($3,100), Kendrys Morales ($2,700)
---
SECOND BASE
Stud
DJ LeMahieu,

NYY

at

TOR,

$4,400 —
Aside from the great matchup against Jackson, LeMahieu makes sense at this price since he continues to be a spark plug at the top of the Yankees' lineup and comes in swinging a hot bat. He has hit safely in 10 straight games, going 13-for-46 (.283) with two doubles, three homers, 13
RBI
and 10.8
DKFP
per contest. He homered and had 26
DKFP
on Wednesday and should be a great play if he's in the leadoff spot for the Yankees as usual.
Other Options — Jonathan Schoop ($4,300), Lourdes Gurriel Jr. ($3,900)
Value
Cavan Biggio,

TOR

vs.

NYY,

$3,400 —
Biggio has at least nine
DKFP
in four of his past five games and seems to be settling in nicely at the Major Leauge level. The 24-year-old prospect is 6-for-28 (.214) but has shown great plate discipline with seven walks and solid speed with a pair of stolen bases. He has gone 3-for-9 against lefties in his brief time in the Majors, so I think he still makes sense at this very affordable price even though he'll be in a lefty-on-lefty matchup against Yankees' starter
J.A.
Happ ($7,800).
Other Options — Hanser Alberto ($3,800), Rougned Odor ($3,700)
---
THIRD BASE
Stud
Matt Chapman,

OAK

at

LAA,

$4,200 —
Chapman has five home runs and six multi-hit performances in his previous 10 games, raising his average on the season to .274 with a healthy .900
OPS.
He has averaged 12.4
DKFP
per game over that 10-game span. While he has a higher batting average against righties, six of his 16 home runs this season have come off lefties like Skaggs, giving him an impressive 1.040
OPS
against southpaws. Chapman is an affordable option worth a look for the rubber game of the Angels and Athletics three-game set.
Other Options — Anthony Rendon ($5,700), Asdrúbal Cabrera ($4,300)
Value
Vladimir Guerrero Jr., TOR vs.

NYY,

$3,800 —
Since his price came down a bit after an unspectacular start to the
MLB
career, Guerrero has been an outstanding value hitting in the middle of the Toronto order. He hit his seventh homer of the season Wednesday against the Yankees and finished with 27
DKFP.
He extended his hitting streak to six games and raised his average to .256, the highest it has been in his 33-game career. Guerrero will take on former-Blue Jay
J.A.
Happ and the Yankees in what could become a Rogers Centre slugfest, so get Vladdy under $4K while you still can.
Other Options — José Ramírez ($3,500), Ty France ($2,900)
---
SHORTSTOP
Stud
Elvis Andrus,

TEX

vs.

BAL,

$4,700 —
You may have noticed several Rangers in my other options partly due to a great matchup at home against David Hess ($4,200) and the Orioles. Hess has a 7.36
ERA
in his 12 games this season and has given up a crazy 19 home runs in his 55 innings. Sixteen of those 19 home runs have been hit by right-handed hitters who have a 1.044
OPS
against Hess. Andrus is one of the Rangers top right-handed bats to take a look at despite a slow start to the month of June. He has hit safely in six of his past seven games and had a double, a stolen base and 15
DKFP
in Texas's win on Wednesday. Andrus has six home runs on the season and is hitting .300, although his most recent home run was all the way back on May 12. With Hess on the mound, Andrus could snap that drought and should be right in the middle of a lineup poised for a big night even if he doesn't go yard.
Other Options — Francisco Lindor ($4,800), Trea Turner ($4,400)
Value
Marcus Semien,

OAK

at

LAA,

$3,600 —
After starting the season hot, Semien cooled off and had a rough May in which he hit just .206 with a .661
OPS.
Things have been looking a little better for him lately, and he should be in a good value spot if he hits leadoff against Skaggs, like he typically does when the A's face a lefty. Semien is 10-for-21 (.476) in his career against Skaggs with four doubles, two home runs and a 1.452
OPS.
His BvP numbers and a little bit of recent momentum after going 4-for-9 in the first two games of this series make him a very nice way to pay less at SS but still have nice upside.
Other Options — Freddy Galvis ($3,700), Luís Rengifo ($3,400)
---
OUTFIELD
Stud
Clint Frazier,

NYY

at

TOR,

$4,500 —
Frazier is another Yankee with a surprisingly-affordable salary in a great matchup with Jackson. He homered in the first game of the Yankees' series in Toronto on Tuesday and had 18
DKFP.
In his past 13 games, Frazier has gone 14-for-45 (.311) with 10 runs scored, 12
RBI,
two doubles, five home runs and a 1.093
OPS
for a solid 11.1
DKFP
per contest. In such a good matchup, he's a very solid outfield option that won't even cost you over $5K.
Other Options — Eddie Rosario ($5,200), Hunter Renfroe ($4,700)
Value
Randal Grichuk,

TOR

vs.

NYY,

$3,400 —
Grichuk has three home runs in the first two games of the Blue Jays' series against New York and posted 14 and 34
DKFP.
He has four home runs in his past five games and seems to be starting to heat up. Grichuk tends to be a streaky performer but is usually worth a look when he's going well and has a matchup with a lefty. He is 16-for-60 (.267) with a .798
OPS
against lefties on the season and also has great home splits hitting .255 with a .860
OPS
at Rogers Centre. He doesn't have a long track record against Happ but has hit a home run off him while going 1-for-4 in his career. He should be a good bargain play and has a good shot to stay hot as the Blue Jays go for the sweep.
Other Options — Nelson Cruz ($4,100), Ramón Laureano ($3,700)
---
Put your knowledge to the test. Sign up for DraftKings and experience the game inside the game.
---
I am a promoter at DraftKings and am also an avid fan and user (my username is Z.Thompson) and may sometimes play on my personal account in the games that I offer advice on. Although I have expressed my personal view on the games and strategies above, they do not necessarily reflect the view(s) of DraftKings and I may also deploy different players and strategies than what I recommend above. I am not an employee of DraftKings and do not have access to any non-public information.