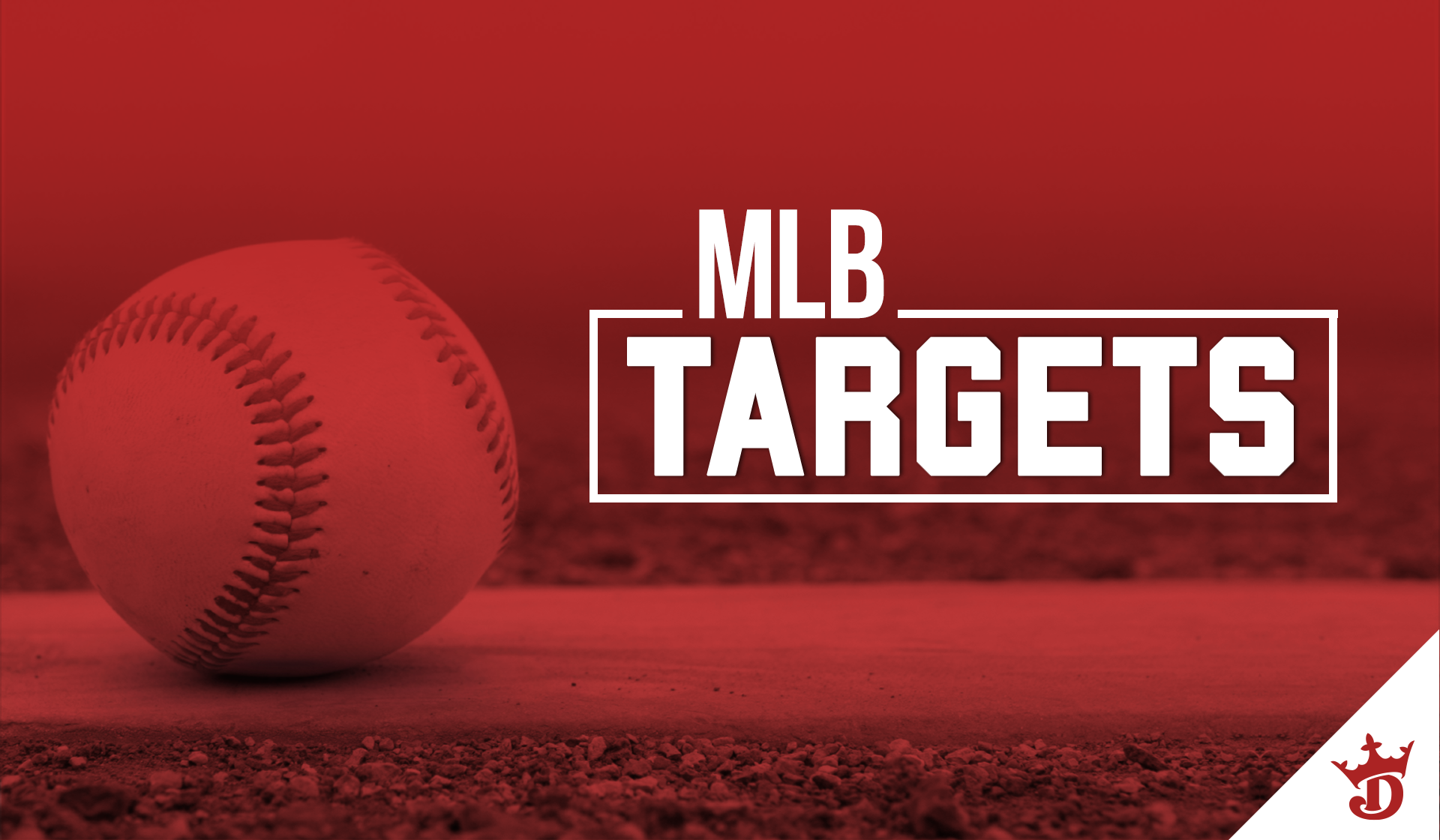 Seven. That's the number of games tonight with at least some level of concern about rain. It's sort of selling the bad weather short, too. Toronto would technically be the eighth poor weather city on the schedule, but, at the very least, the good people at Rogers decided to build a domed stadium. Now, obviously not all seven of these contests are going to end up being effected; however, this 12-game featured fantasy baseball slate on DraftKings will likely be defined by the elements.
Sadly, I can only advise paying attention as we get closer to lock and downloading the DK Live app for all your breaking news needs. Aside from knowing that water is wet, I couldn't tell you anything about rain that I didn't learn from a cartoon teacher and a magic bus.
Still, I do know baseball. So let's dive into the on-field product and not focus on what's happening above it.
---
PITCHER
Stud
Chris Sale,

BOS

at

KC,

$10,600 –
If Sale's been underwhelming in his past three outings, I think it's important to note the competition. Though the
LHP
hasn't scored more than 21.0
DKFP
in this recent stretch, he's taken the mound against the Yankees and twice vs. the Astros. Those teams, even at less than 100% health, are quite the daunting lineups. Kansas City really can't claim the same. The Royals have had one of the league's more depressing offensive attacks the past two weeks, struggling to manage a .296 wOBA that ranks as the third-worst mark in baseball across that span of time. Then, there's the team's specific issues with left-handed pitching for the entirety of the season. The Royals possess just a 73 wRC+ within the split – easily the lowest figure in the American League. Sale has also struck out 43.1% of his opponents dating back to May 3. He should have little trouble carving up this incarnation of Kansas City.
Other Options: Mike Minor ($10,800), Brad Peacock ($9,600)
Value
Martin Perez,

MIN

at

CLE,

$7,400 –
This simply seems like a fair price for a high-ceiling pitcher in a decent matchup. Cleveland has struggled with southpaws all season long, with its propensity to rely in left-on-left plate appearances seemingly its biggest flaw. The Indians rank sixth in baseball with 254 of these occurrences with the team slashing an ugly .187/.255/.270 within the split. Still, it's not as if their switch-hitters are helping much, either. Carlos Santana ($4,500) sees his
ISO
fall from .271 against
RHP
s to .106 when facing a lefty; while Francisco Lindor's ($4,600) batting average is .110 lower from the right-side. Perez is coming off his worst outing of 2019, but I'm willing to take the massive drop in salary and bank on his upside.
Other Options: Jimmy Nelson ($8,200), John Means ($5,800)
---
CATCHER
Stud
Robinson Chirinos,

HOU

at

SEA,

$4,000 –
I'm not usually one to chase a home run streak, but it's difficult to look past the fact that Chirinos has hit a long ball in three straight starts and gets to face Mike Leake ($6,000) this evening. Leake has surrendered an
MLB
-high 18 home runs so far this season, including 2.59 per nine to right-handed batters. Seattle's
RHP
has also managed to strike out just 12.6% of the righties he's faced in 2019. Chirinos is low-contact and big-power. If Leake can't miss his bat – which seems likely – he's going to do some damage.
Other Option: Mitch Garver ($5,500)
Value
Matt Wieters,

STL

vs.

CIN,

$3,800 –
Wieters hasn't been given much opportunity to shine as Yadier Molina's backup; yet, with the veteran currently on the
IL,
Wieters has been unleashed in recent days. The former first-round pick is slashing .361/.368/.667 with a .306
ISO
in his first 38 plate appearances of 2019 against right-handed pitching. Additionally, he's hit primarily out of the five-spot for the Cardinals. All these factors bode well against Anthony DeSclafani ($6,800), who has allowed
LHB
s to compile a massive .431 wOBA so far this season.
Other Option: Pedro Severino ($3,500)
---
FIRST BASE
Stud
Freddie Freeman,

ATL

at

PIT,

$5,400 –
Freeman has been swinging a hot stick the past few weeks. In fact, going back to May 16, Freeman sports the 11th highest
ISO
in all of baseball at .394. The product of eight home runs in just 77 plate appearances. Well, he'll have a chance to continue that torrid pace this evening against the spiraling Joe Musgrove ($5,600). Despite starting the season with a few fantastic outings, the wheels have fallen off for the Pirates'
RHP
since the beginning of May – specifically when comes to dealing with left-handed bats. Across his past six starts, Musgrove has surrendered an atrocious .458 wOBA and .697 slugging percentage to the 70
LHB
s he's seen. Freeman's in a great spot.
Other Options: Eric Thames ($5,100), Trey Mancini ($4,400)
Value
Matt Olson,

OAK

at

LAA,

$3,800 –
If you're going to take a high-upside flier, you'd be hard-pressed to find someone better than Olson. The 25-year-old's been inconsistent at best since returning from an early-season injury, yet, he does possess a .306
ISO
when hitting away from Oakland this year. Angel Stadium isn't a neutral field for left-handed bats, either. According to Baseball Prospectus, it was the best home run park for
LHB
s in 2018 and is currently the sixth best for the same thing in 2019. Felix Pena ($7,800) can attest. The bulk reliever has surrendered 2.30 long balls per nine to left-handed hitters in his outings in Los Angeles so far this season.
Other Option: Joey Votto ($3,800)
---
SECOND BASE
Stud
Derek Dietrich,

CIN

at

STL,

$5,000 –
Obviously you'd prefer to pay-up for Dietrich at Great American Ball Park, a place where he's sporting an insane .514
ISO
this season; however, there's one thing that St. Louis has that Cincinnati lacks: Dakota Hudson ($6,200). The 24-year-old right-hander has been haunted by his inability to pitch effectively to
LHB
s in 2019, allowing the 140 left-handed bats he's faced to compile an eye-popping .435 wOBA. In fact, among the 101 qualified pitchers in the league, no one has surrendered a higher mark within the split. Considering no qualified positional player has a higher
ISO
against
RHP
s that Dietrich (.482), we seem to have a match made in
DFS
heaven on our hands.
Other Option: Michael Chavis ($4,800)
Value
Hanser Alberto,

BAL

at

TEX,

$3,200 –
Alberto has had his way with left-handed pitching all year long. In 69 plate appearances against southpaws, the former Ranger is slashing .412/.420/.559 with an astounding .416 wOBA. Because of this success within the split, Alberto was recently moved up to the leadoff spot in Baltimore's order when the team draws an
LHP.
Tonight's lefty is stout in Mike Minor ($10,800), but at just over $3K, I'm willing to give Alberto the benefit of the doubt.
Other Option: Ozzie Albies ($4,100)
---
THIRD BASE
Stud
Alex Bregman,

HOU

at

SEA,

$5,200 –
As previously mentioned, Leake is not a good pitcher. In fact, no one in the league has allowed more batted ball events to become barrels (27) than the 31-year-old. Most of these barreled balls are coming off the bats of
RHB
s, too. Leake has surrendered 16 barrels during the 135 plate appearances right-handers have taken off him so far this season. That's a barrel per plate appearance rate of 11.9% – a mark that would easily be the highest in baseball prorated across the entire season. Bregman's an elite hitter in a vacuum. Give him an opponent like Leake and he can break a slate.
Other Options: Rafael Devers ($5,300), Matt Carpenter ($4,300)
Value
Evan Longoria, SF at

NYM,

$3,800 –
Longoria is clearly a shell of his former self at this point, but, even so, he's been somewhat effective against
LHP
s the past couple of seasons. In 2019, the raw numbers within the split don't look pretty, yet there is some evidence that Longoria's still a presence to be reckoned with when facing a lefty. In his 68 plate appearances vs. southpaws, Longoria's racked up a 52.3% fly ball rate to go along with a 52.3% hard contact rate. Generally speaking, that's a recipe for home runs. Toss an over-the-hill Jason Vargas ($7,200) into the mix and I'm a little intrigued.
Other Option: Vladimir Guerrero Jr. ($3,500)
---
SHORTSTOP
Stud
Jorge Polanco,

MIN

at

CLE,

$5,500 –
Polanco's been near unstoppable on the road against
RHP
s in 2019, as the switch-hitter possesses an otherworldly .393
ISO
and 208 wRC+ within those exact circumstances. So, with Carlos Carrasco ($9,000) struggling to pitch to
LHB
s at home in recent outings, it would appear Polanco has yet another opportunity to thrive. The former All-Star has allowed a .397 wOBA to left-handed opponents at Progressive Field so far this season, but by no means is this a new problem. Going back to the start of 2016, Carrasco has surrendered a whopping 2.1 home runs per nine to lefties in Cleveland.
EDITOR'S NOTE: Carrasco has been placed on the 10-day IL. Tyler Clippard will start a bullpen day for the Indians tonight.
Other Option: Elvis Andrus ($4,900)
Value
Willy Adames, TB at

DET,

$3,200 –
Adames started the season ice cold, but things have been much better for the young shortstop since the beginning of May. In the 111 plate appearances in that span, the 23-year-old is 30-for-100 (.300) at the plate with a .357 wOBA and a 127 wRC+. He's also found himself batting as high as third or fourth in Kevin Cash's lineup, with injuries mounting for the Rays. Adames is by no means perfect, but, with a couple at-bats against a weak Tigers bullpen on tap, he's very viable at his price.
---
OUTFIELD
Stud
Mookie Betts,

BOS

at

KC,

$4,800 –
Jakob Junis ($7,000) has allowed multiple home runs in three of his past five starts and has walked multiple opponents in each of his past eight outings. I mean, there's a reason the Red Sox have an implied team total above 5.0 runs this evening. Considering Dylan Bundy is the lone man to have surrendered more long balls since the start of last season, I like Betts to break out with a big performance on this slate. Between Junis and a Royals bullpen that has a 4.95
ERA,
Betts should be a lock for five plate appearances. Hopefully a few are productive.
Other Options: Eddie Rosario ($5,600), J.D. Martinez ($4,800)
Value
Aaron Hicks,

NYY

at

TOR,

$4,000 – Hicks, who collected a pair of extra-base hits on Tuesday, seems like he might be rounding back into form after an injury-plagued start to 2019. Still, even if there's some rust, he finds himself in a fantastic spot this evening. Baseball Prospectus and

ESPN

agree, there has been no better home run park in baseball than Rogers Centre so far this season. So, Hicks will find himself in the ideal hitter's environment, taking pitches from rookie Trent Thornton ($7,300); a man who has allowed

LHB

s to produce a .360 wOBA across his first 12 starts. Sounds pretty nice.

Other Options: Jordan Luplow ($3,900), Josh Reddick ($3,900)

EDITOR'S NOTE: Hicks is not in the lineup tonight vs. the Blue Jays
---
Put your knowledge to the test. Sign up for DraftKings and experience the game inside the game.
---
I am a promoter at DraftKings and am also an avid fan and user (my username is theglt13) and may sometimes play on my personal account in the games that I offer advice on. Although I have expressed my personal view on the games and strategies above, they do not necessarily reflect the view(s) of DraftKings and I may also deploy different players and strategies than what I recommend above. I am not an employee of DraftKings and do not have access to any non-public information.