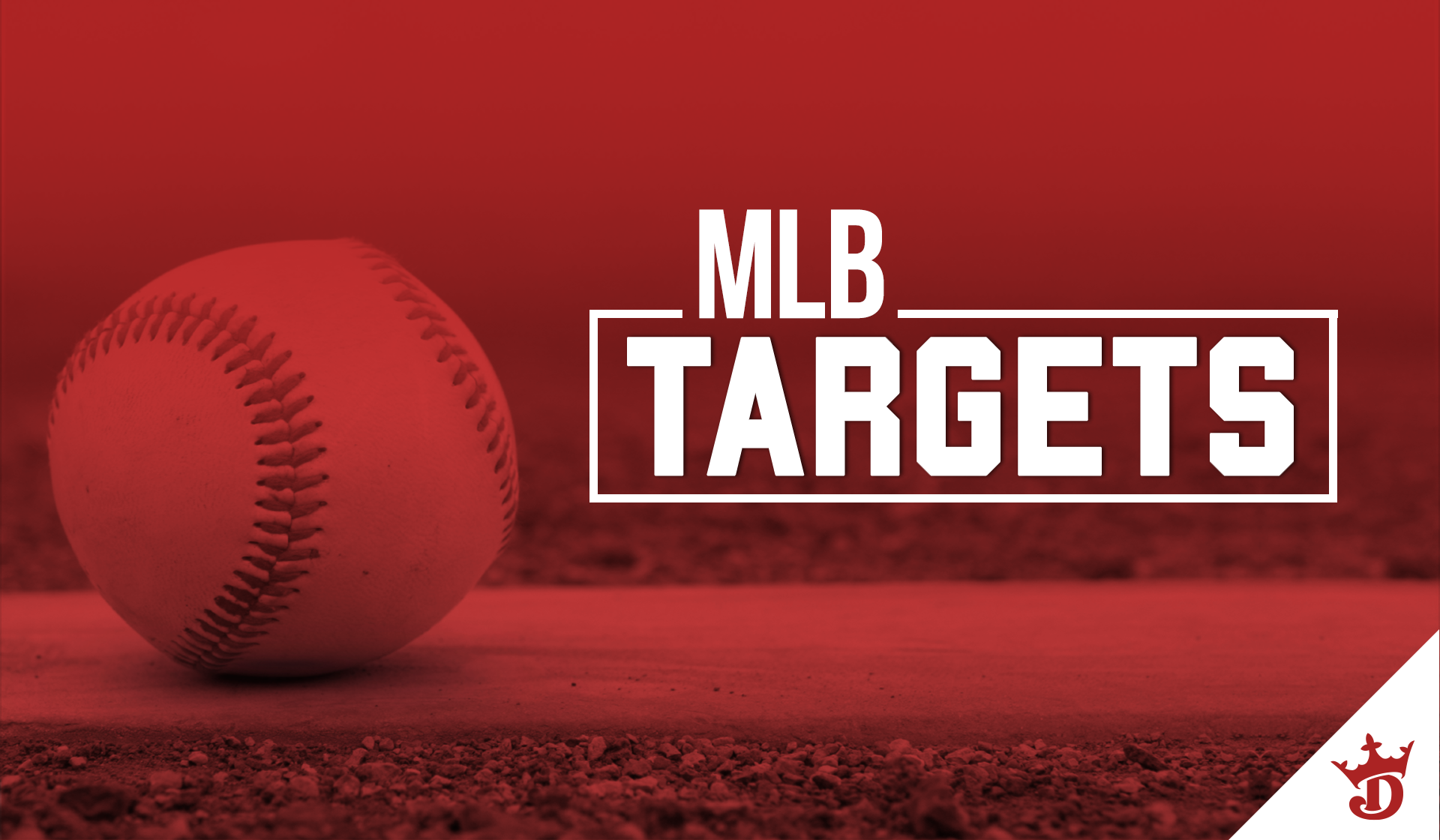 This slate is a pretty easy one to figure out from a construction perspective and so the hard part is going to be figuring out how to fit the pieces together to make it all happen. There are a lot of obvious plays that make differentiation difficult and hitting the pivots will be the route to success. We are going to go over both the obvious plays as well as some off the wall spots in this article. Here are my picks for tonight's short three-game fantasy baseball slate on DraftKings:
---
PITCHER
Stud
Aaron Nola,

PHI

at

SD,

$9,600 —
Although I do think there is merit to playing Walker Buehler ($8,900) in tournaments, Nola is your defacto cash play of the day. He's coming off a strong string of performances with 17.2
DKFP
being the worst of a three-game stretch and 26 strikeouts in the sample against the team with the highest strikeout rate on the slate. Pitching is a priority and Nola is the best option.
Other Options — Walker Buelher ($8,900)
Value
Corbin Martin,

HOU

at

SEA,

$7,100 —
Martin certainly has some issues to work out before he can become a reliable arm in a rotation, but the pure skills are there even if they are a bit unpolished. He had an incredible debut against the Rangers and then three tougher matchups, so he's worth taking a shot on and hoping his mechanical issues are sorted out.
Other Options — Eric Lauer ($7,300)
---
CATCHER
Stud
Robinson Chirinos,

HOU

at

SEA,

$3,800 —
The Astros as a whole are in the best spot on the slate by a good margin, making even their weaker positions the top options. Chirinos is a heavy hitter that doesn't make a lot of contact but makes the most of it when he does with over half his hits being extra bases. We love boom or bust in great spots, and he fits the bill.
Other Options — J.T. Realmuto ($4,400)
Value
Austin Hedges,

LAD

at

ARI,

$2,900 —
The Dodgers find themselves in a position against a flyball prone pitcher, but the matchup isn't great in the overall context. Hedges' price is justified by a cold streak of no hits or walks in his last four games, but it also doesn't consider his ceiling of 20-plus
DKFP
and in
GPP
s he will more than likely be a low-owned part of a solid stacking spot.
Editor's Note: Hedges is not in the lineup for tonight's game.
Other Options — Alex Avila ($3,400)
---
FIRST BASE
Rhys Hoskins,

PHI

at

SD,

$5,500 —
Hoskins is averaging 10.1
DKFP
per contest in the last 10 games and has two doubles, a triple and two home runs, pushing his slash line to .371/.452/.657. He matches up with Lauer ($7,300), who has allowed at least one home run in all but three starts and is a
LHP
which plays to Hoskins strengths, making this a good upside spot that should be contrarian.
Other Options — Cody Bellinger ($5,800), Max Muncy ($4,900)
Value
Yulieski Gurriel,

HOU

at

SEA,

$3,500) —
It's easy to forget about Gurriel when talking about the Astros but he deserves consideration based on his bargain price on this slate. He's coming off a 17-DKFP game and is averaging 6.7 fantasy points per contest in 2019, and even if he isn't someone we consider an elite hitter his price makes the heavy hitters possible in the rest of the lineup.
Other Options — Tyler White ($2,800)
---
SECOND BASE
Stud
Max Muncy,

LAD

at

ARI,

$4,900 —
This is an objectively difficult spot for Muncy up against a hard-throwing
LHP
who he hasn't hit very well to this point in the year (.343 xwOBA over the last month). But his spot in the Dodgers' order and a subpar Diamondbacks bullpen keep him as the top pay up at the position. He has at least four fantasy points in all of his last 10 contests and his floor is admirable.
Editor's Note: Muncy is not in the lineup for tonight's game.
Other Options — Cesar Hernandez ($4,200)
Value
Shed Long,

SEA

vs.

HOU,

$3,300 —
Long is stuck in a platoon split at second base but should get the start against Martin and is in consideration as a decent cheap option. This isn't necessarily a play on Long himself, but a bit of a hedge at a weak position against a pitcher that has exhibited a lot of issues and big blowups in his short 2019 stint.
Other Options — Ian Kinsler ($3,200)
---
THIRD BASE
Stud
Alex Bregman,

HOU

at

SEA,

$4,900 —
This price seems a bit deflated for Bregman in a phenomenal spot. It's fair to say that he's been a bit cold lately, but the contact rates have stayed consistent with the luck on flyballs being bad. I expect that to make a good turn here against the worst pitcher on the slate and believe Bregman is a priority as your main bat to build around.
Other Options — Eduardo Escobar ($5,100)
Value
Kyle Seager,

SEA

vs.

HOU,

$3,400 —
In the same game, we have a cheaper third base option with good power thanks to Seager. Where Shed Long was a play against the matchup, Seager has good qualities as a hitter that we can exploit and is hitting .257/.316/.400 since coming back from injury. His price tag is friendly on a slate that demands you spend at pitcher, making him a solid option in all formats.
Other Options — Yuli Gurriel, $3,500)
---
SHORT STOP
Stud
Jean Segura,

PHI

at

SD,

$4,500 —
It's been a rough recent stretch for Segura, but to be fair he's had some tough series to deal with. We can bet on him to get out of this funk sooner or later as his averages in 2019 of .291/.341/.447 and 8.3
DKFP
per contest are all the better benchmark to consider moving forward. His matchup with a weak
LHP
is a great spot to bet on some regression to the mean.
Other Options — Corey Seager ($4,300)
Value
Manny Machado, SD vs.

PHI,

$3,600 —
Hitting a paltry .176/.293/.206 in the last 10 games with just nine home runs on the year is not what the Padres paid for in Machado, but his skills didn't just evaporate over the winter and we know the skills will return. I don't love the matchup with Nola but with no real options cheaper than Machado you have to take the talent and run with it.
Other Options — Dylan Moore ($3,200)
---
OUTFIELD
Stud
Cody Bellinger,

LAD

at

ARI,

$5,800 —
There is not a better hitter in the league this season than Bellinger and many advanced stats say that he has been underperforming. His 10.5
DKFP
in the last 40 at-bats is a bit of a cold streak as he has only hit three home runs, but he still has more walks than strikeouts and a .991
OPS.
It's hard to write about bad things for Bellinger; he's the best spend at outfield on any given slate.
Editor's Note: Bellinger is not in the lineup for tonight's game.
Other Options — Andrew McCutchen ($5,400), Bryce Harper ($5,200)
Value
Myles Straw,

HOU

at

SEA,

$3,500 —
After recording three steals and scoring three runs in the game last night, Straw will be no secret on this slate, but he's not someone worth fading either. He ran like a mad man with 51 steals in 112 games in
AAA
and faces the worst pitcher and bullpen on the slate at a cheap price. He's a cash and
GPP
anchor.
Other Options — Josh Naylor ($3,500)
---
Put your knowledge to the test. Sign up for DraftKings and experience the game inside the game.
---
I am a promoter at DraftKings and am also an avid fan and user (my username is Multichem) and may sometimes play on my personal account in the games that I offer advice on. Although I have expressed my personal view on the games and strategies above, they do not necessarily reflect the view(s) of DraftKings and I may also deploy different players and strategies than what I recommend above. I am not an employee of DraftKings and do not have access to any non-public information.