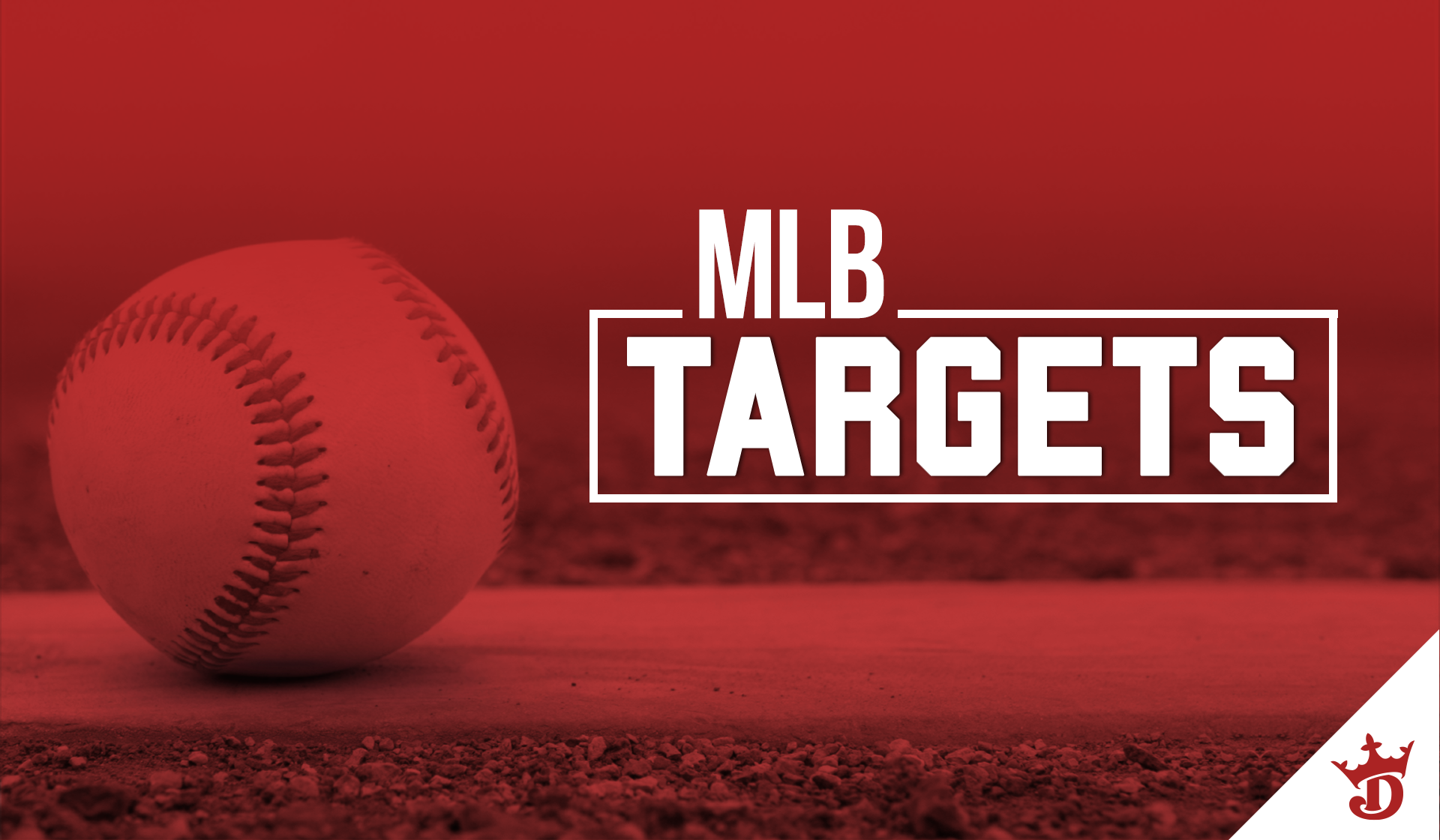 They always say basketball season doesn't truly start till after the Super Bowl. Well, if we'd like to extend that logic to the rest of the sporting calendar, I guess the 2019 MLB season "officially" begins this evening with a massive 15-game featured slate on DraftKings? Across the past 48 hours we've seen the St. Louis Blues hoist the Stanley Cup and the Toronto Raptors celebrate with the Larry O'Brien Trophy, both ending their particular league's campaign in thrilling fashion. Now, we won't have quite that level of excitement when it comes to a full schedule of baseball contests in mid-June; however, it'd be difficult to look at tonight's top-flight pitching options and say we're in for a letdown.
Let's break down everything you'll need to know for a star-studded round of MLB DFS.
---
PITCHER
Stud
Max Scherzer,

WAS

vs.

ARI,

$11,500 –
It's always weird to have a slate where Scherzer isn't the most expensive pitching option simply out of principle. Granted, no one in baseball has a higher strikeout rate than Gerrit Cole ($11,900), but Scherzer's seemed like a man on a mission across his past four starts. Within that span — against some weaker competition — the veteran has surrendered just two earned runs over 27 innings of work, striking out 36.4% of the batters he's faced and maintaining an immaculate 0.93
FIP.
Arizona's not exactly a poor offensive team by any means, yet it is one that clearly prefers left-handed pitching over right-handed pitching. With hitters like Eduardo Escobar ($4,700), Ketel Marte ($4,400) and Adam Jones ($3,900) being microcosms of these drastic splits; the Diamondbacks own a massive 125 wRC+ when drawing a
LHP
in 2019. That figure falls to 88 when the pitcher is a righty.
Other Options:
Gerrit Cole ($11,900), Kyle Gibson ($9,300)
Value
Steven Matz,

NYM

vs.

STL,

$7,100 –
You basically just can pick a random segment of time and I can assure you the Cardinals haven't produced offensively within it. Let's say June. In the month, St. Louis has struck out in 27.2% of its plate appearances and owns the league's second-lowest wOBA (.272). How about we expand our investigation to the past 30 days? Across that span, the Cardinals possess
MLB
-worst marks in both batting average (.215) and wRC+ (73). They're truly not a squad whose struggles we discuss enough. Then there's Matz; coming off a season-best 10-strikeout performance against the Rockies. Matz has had the occasional blow-up in 2019, but he's held his opposition to two earned runs or fewer in nine of his 12 starts. He also has pitched to a 2.89
FIP
at Citi Field.
Other Options: Eduardo Rodriguez ($8,000), Adam Plutko ($7,200)
---
CATCHER
Stud
James McCann,

CWS

vs.

NYY,

$4,100 –
It might say more about the caliber of the White Sox' roster than McCann's skill level, but the backstop is locked in as Chicago's clean-up hitter against both left-handed pitching and right-handed pitching. Still, while McCann has produced admirably versus
RHP
s, it's lefties he consistently has made pay throughout his
MLB
career. In 2019, McCann owns a .212
ISO
and a .409 wOBA in his 38 plate appearances within the split. Additionally, he's profiled as a more dangerous hitter. McCann possesses a mundane 1.59 GB/FB ratio when facing a right-hander, yet that figure jumps to 0.58 in right-on-left situations. Give me launch angle and a premium lineup spot for just over $4K.
Other Option:
Yasmani Grandal ($4,800)
Value
Yan Gomes,

WAS

vs.

ARI,

$2,800 –
Robbie Ray ($10,100) isn't exactly your run-of-the-mill left-handed pitcher, yet it's undeniable that on the rare occasions Gomes has excelled this season, he's done so against a southpaw. The veteran catcher's .392 wOBA within the split is actually 155 points higher than his mark versus
RHP
s in 2019, with Gomes' 1.17 BB/K ratio sitting as a pretty enticing statistic for a player who's struck out in nearly a quarter of his overall plate appearances. As a team, the Nationals own the league's fourth-highest wOBA when opposed by an
LHP.
Washington could prove to be a sneaky stacking opportunity on this slate, and Gomes would be an extremely cost-effective piece of that build.
Other Option: Josh Phegley ($3,800)
---
FIRST BASE
Stud
Derek Dietrich,

CIN

vs.

TEX,

$4,600 –
I'm not sure what we as a society did to deserve Shelby Miller ($4,600) starting a game at Great American Ball Park, but I'm not going to let it pass us by without taking advantage. Not that the veteran's numbers are good within any split, but it has been
RHP
s who have given him the most trouble so far in 2019. Still, Miller's surrendered a 43.6% fly ball rate and a 50.9% hard contact rate to
LHB
s. That's asking for a long night in Cincinnati. Dietrich has cooled slightly since a torrid end to May, but the man can continue to flaunt an eye-popping .600
ISO
when facing a righty at home so far this season. Considering Dietrich's ceiling, he's a steal at this price.
Other Options:
Daniel Murphy ($5,400), Trey Mancini ($4,800)
Value
Jesus Aguilar,

MIL

at

SF,

$3,200 –
Aguilar deserves to be this inexpensive. There's no sugarcoating it. He's been awful. Still, we're talking about a viable platoon bat with a career .817
OPS
against left-handed pitching. It's not like we don't have any precedent for Aguilar being someone who can impact a
DFS
slate. Plus, the likelihood of that grows when you factor in Drew Pomeranz ($6,200). The Giants'
LHP
has been horrendous in 2019, allowing the 159 right-handed bats he's seen to compile a whopping .410 wOBA — the third highest mark of any SP who's tossed the equivalent of 30 innings within the split this season. If there was ever a chance to use Aguilar, it's now.
Other Option: Ronald Guzman ($4,000)
---
SECOND BASE
Stud
Ryan McMahon,

COL

vs.

SD,

$4,300 –
McMahon still is struggling to live up to some daunting fantasy expectations, but he's got two things heavily working in his favor this evening. First and foremost, tonight's contest with the Padres is taking place at Coors Field. You might have heard of it. It's a good place to hit. Second, Cal Quantrill ($5,000) is seemingly unable to negate left-handed hitters even at sea level. Quantrill's allowed
LHB
s to produce a .433 wOBA against him in five starts. He also has seen his elite strikeout rate of 32.5% against
RHB
s fall to just 18.3% when facing a lefty. That inability to stifle contact is huge, as left-handers possess a 49.0% hard contact rate off the rookie, as well.
Other Option:
Michael Chavis ($4,700)
Value
Brian Dozier,

WAS

vs.

ARI,

$3,800 –
I mentioned perviously there's a lot of productive Nationals when it comes to hitting left-handed pitching. Dozier certainly fits into that category. Especially as of late. For the season, in 58 plate appearances, Dozier is slashing .385/.448/.731 with a .484 wOBA within the split. However, since May 17, the veteran infielder has 14 hits in his past 28 at-bats against
LHP
s with five doubles, three home runs and 10
RBI.
To be blunt: Dozier simply isn't priced high enough on this slate.
Other Option: Chad Pinder ($3,700)
---
THIRD BASE
Stud
Rafael Devers,

BOS

at

BAL,

$5,000 –
The phrase "Orioles Bullpen Game" actually can't be spoken on broadcast television before 9 p.m. That's how vulgar a scenario faces Baltimore this evening. Now, it's more than likely Devers will get only once chance to specifically hit against Dan Straily ($4,800), but goodness what an opportunity that will be. Straily's pitched 31 2/3 innings at Camden in 2019. He's surrendered 14 long balls within that frame of time. That equates out to an otherworldly 3.98 home runs allowed per nine. Still, Devers will get three or four more cracks at an Orioles relief staff that owns the American League's highest
ERA
(5.86).
EDITOR'S NOTE: Luis Ortiz will start for the Orioles tonight.
Other Options:
Alex Bregman ($5,100), Eugenio Suarez ($4,500)
Value
Hanser Alberto,

BAL

vs.

BOS,

$3,400 –
At this point, I'm going to keep exploiting Alberto against lefties until it doesn't bring back a profit. Alberto's sample size within the split is up to a decent 81 plate appearances in 2019, and the 26-year-old has not stopped hitting southpaws. Alberto owns a .425 average in those opportunities with a 167 wRC+. An overall swing rate of 55.4% doesn't hurt in a format that rewards aggressiveness, either. He's not a prototypical leadoff man; but, as long as Brandon Hyde keeps batting Alberto there versus left-handers, I'll keep putting him in my lineups.
Other Option: Josh Donaldson ($3,800)
---
SHORTSTOP
Stud
Javier Baez,

CHC

at

LAD,

$4,500 –
Rich Hill's pitched very effectively over his past five outings, but he still has had a little bit of an issue with the long ball. The veteran lefty has given up eight home runs in his eight starts this season, equating out to 1.60 opponent homers per nine. Now, that's not awful by any means, but Baez has been almost without comparison when it comes to hitting
LHP
s in 2019. In 48 plate appearances, the All-Star is slashing .372/.417/.860 with a .488
ISO.
Those numbers almost don't even make sense. Plus, few players in the league have been as adept hitting curveballs. Baez owns a .630 slugging percentage against the offering so far this year, and Hill throws his curve 43.5% of the time. If anyone's going to take Hill deep this evening, it's a good chance to be Baez.
Other Options:
Xander Bogaerts ($5,200), Jean Segura ($4,600)
Value
Jose Iglesias,

CIN

vs.

TEX,

$3,800 –
Iglesias isn't going to surprise anyone with his power, but the shortstop has been pretty productive hitting right-handed pitching at Great American so far this season. In fact, across 78 plate appearances under those exact circumstances, Iglesias sports a .219
ISO
and a .363 wOBA. The Reds also possess the slate's highest non-Coors implied team total. At the end of the day, if you're looking to save some salary, you could do worse than attacking the cheapest options on Cincinnati's roster.
Other Option: Kevin Newman ($3,900)
---
OUTFIELD
Stud
J.D.

Martinez,

BOS

at

BAL,

$5,000 –
Martinez's best
DFS
showings this season have come against left-handed pitching, but I don't think he'll be too picky with whatever or whoever Baltimore trots out to the mound tonight. Clear and simple: Boston should have no issues scoring runs this evening, and you'd estimate Martinez is right in the middle of the action. He also is enjoying his best start to a month so far in 2019, as the veteran is slashing .333/.385/.639 with a .306
ISO
in his first 39 plate appearances of June. He tends to hit home runs in bunches and, after going deep Thursday, Martinez is primed to do it again.
Other Options:
David Dahl ($5,300), Michael Brantley ($4,500)
Value
Josh Reddick,

HOU

vs.

TOR,

$3,900 –
It would appear Reddick has taken over the leadoff role in Houston with Derek Fisher ($4,200) in the midst of a prolonged slump. This is especially good news with Aaron Sanchez ($4,600) on the mound for Toronto this evening. Going back to the beginning of May, Sanchez owns an ugly 5.15
FIP
and has allowed opponents to collect a .361 wOBA against him. Then there's the Blue Jays' bullpen. They've pitched to a 5.70
FIP
across the past 30 days — the second-worst figure in the American League. Reddick should be a lock for five plate appearances on this slate and possesses an exceedingly high floor because of that.
Other Options: Jesse Winker ($3,800), Stephen Piscotty ($3,700)
---
Put your knowledge to the test. Sign up for DraftKings and experience the game inside the game.
---
I am a promoter at DraftKings and am also an avid fan and user (my username is theglt13) and may sometimes play on my personal account in the games that I offer advice on. Although I have expressed my personal view on the games and strategies above, they do not necessarily reflect the view(s) of DraftKings and I may also deploy different players and strategies than what I recommend above. I am not an employee of DraftKings and do not have access to any non-public information.