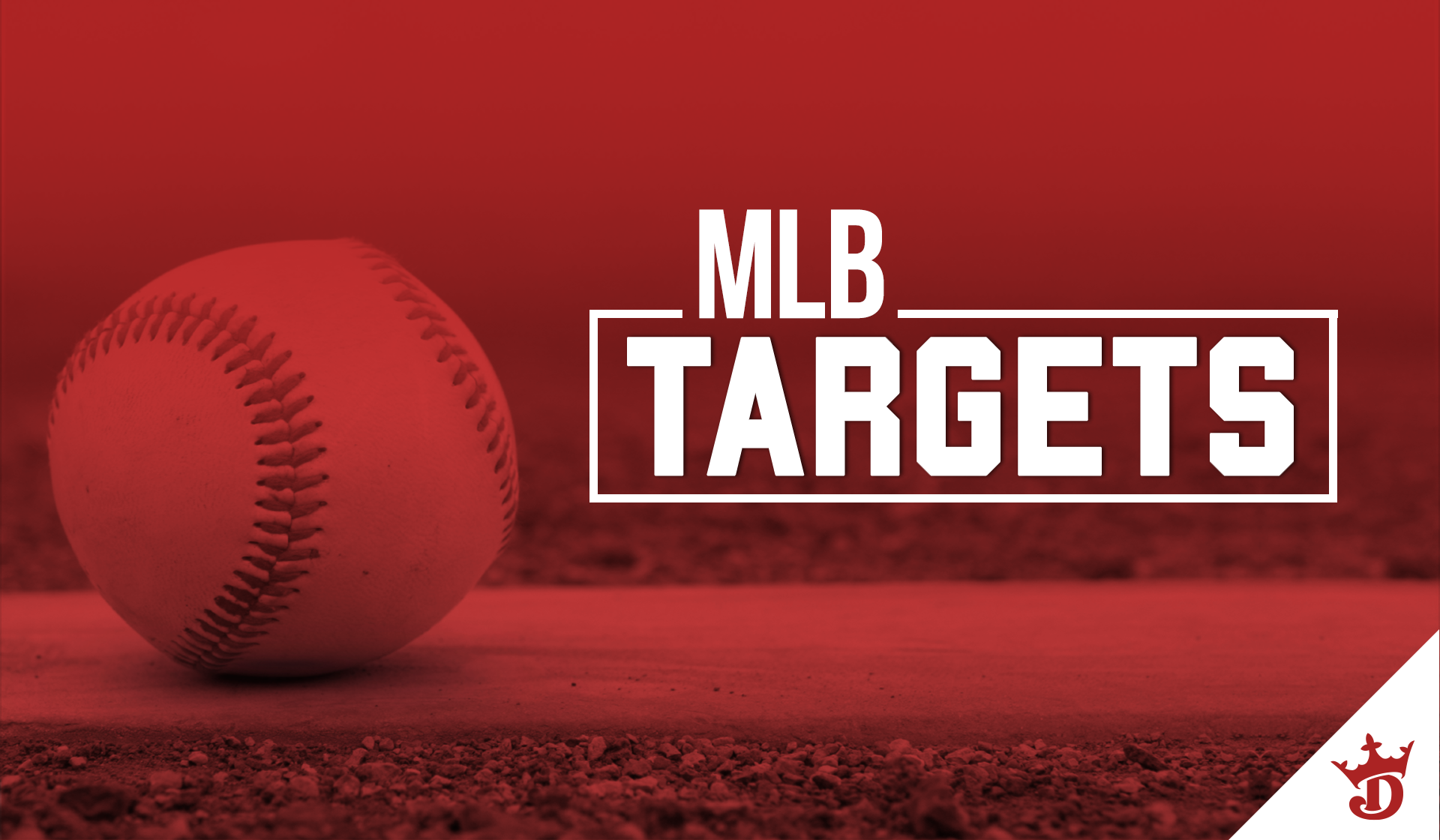 No matter the names at the top of tonight's pricing list, all I can think about in regard to tonight's eight-game featured fantasy baseball slate on DraftKings is Daniel Norris ($5,000). You know when you were a kid and your parents would tell you not to get mixed up in the wrong crowd? That who you surround yourself with might start to define you as a person? Well, Norris finds himself priced between Edwin Jackson ($5,300) and David Hess ($4,100) this evening and I can't figure out who he scorned in DK's backend. Sure, the left-hander has struggled for most of 2019, but, as a starter, he at least brings a 4.40 FIP to the table. Imagine going from key piece in a trade for David Price to less expensive than a version of Jackson averaging negative DKFP through five starts.
Anyway, just remember its not your fault, Daniel. While you're doing that, the rest of us can break down everything you need to know to play some MLB DFS on Wednesday.
EDITOR'S NOTE: Derek Law will start in place of Edwin Jackson for the Blue Jays tonight. Law is expected to go 1-2 innings before Jackson enters, per Blue Jays play-by-play man Mike Wilner.
---
PITCHER
Stud
Jose Berrios,

MIN

vs.

SEA,

$10,300 –
Look, Seattle's offense can ruin any pitcher on any day. That's what can happen when you bring an endless line of power hitters to the plate. In fact, no team has hit more home runs in June than the Mariners with their total of 24. Still, the team also has the league's fifth-highest strikeout rate (25.7%) and swinging strike rate (13.3%) in the month. There's an obvious downside to hunting the long ball as carelessly as they do. Berrios has been about league-average when it comes to home run avoidance, but he's been elite in both pitch count suppression and limiting exit velocity – two things that correlate with fantasy relevance. For instance, throwing just 15.3 pitches per inning, Berrios has thrown at least six frames in 11 of his 13 outings in 2019. That might mean little for upside, yet it sets a nice floor for a SP with a five-figure salary.
Other Option: Joey Lucchesi ($9,600)
Value
Daniel Norris,

DET

at

KC,

$5,000 –
I wasn't joking. Norris is too cheap to ignore on this slate. You might not enjoy actually watching him pitch against the Royals, but nothing about Kansas City's roster puts fear into me using a pitcher against them. Since June 1, no team in baseball has struck out at a higher clip than the Royals at 29.3%. They also possess a .268 wOBA within that span, the lowest mark in the American League. Not a big enough sample? Well, for the entire season, Kansas City's 71 wRC+ against
LHP
s is another area where it trails the rest of the
AL.
I understand that Norris has only surpassed 15.0
DKFP
twice in his past nine outings, but that's such a low bar to clear for 3x value versus one of
MLB'
s most underwhelming lineups.
Other Options: Miles Mikolas ($7,500), Mitch Keller ($7,000)
---
CATCHER
Stud
J.T.

Realmuto,

PHI

vs.

ARZ,

$4,100 –
Even after shutting down a very below-average Blue Jays' offense in Toronto in his last outing, Merrill Kelly ($8,000) still has some appalling road splits in 2019. Across 36.0 innings, the 30-year-old sports an
ERA
of 6.00 with an opponent wOBA of .363. Realmuto hasn't hit right-handed pitching as well as he's hit off lefties so far this season, but the backstop does have a .351
OBP
and a .206
ISO
in his last 74 plate appearances. He's also got a 128 wRC+ when hitting at Citizen's Bank Park as a member of the Phillies.
Other Option: Mitch Garver ($5,100)
Value
John Hicks,

DET

at

KC,

$3,100 –
Hicks really hasn't received much of a chance to showcase his talents against left-handed pitching so far in 2019; but, if we allow ourselves to go back to last season, we can see he's got a knack for hitting off of southpaws. In 90 plate appearances within the split, Hicks slashed .291/.367/.456 with a .356 wOBA. The numbers or the batting order slot aren't going to blow anyone away, yet they shouldn't have to when the player in question is priced just slightly above $3K.
Other Option: Alex Avila ($3,700)
---
FIRST BASE
Stud
Trey Mancini,

BAL

vs.

TOR,

$5,000 –
Any Orioles stack tonight begins and ends with Mancini. I'm a little concerned with how the 27-year-old's GB/FB ratio is back up to 1.75 in the month of June; however, any qualms I have with Mancini are quickly nullified by the presence of Jackson. You almost can't overstate how poorly the veteran
RHP
has thrown the ball in 2019. Jackson "only" allowed two earned runs in his last start against the Yankees, yet a Vladimir Guerrero Jr. throwing error with two outs and no one on base did eventually lead to four more unearned runs. To me, those still count. Jackson's been awful and the .587 wOBA he's surrendered to
RHB
s looks like a misprint.
Other Options: C.J. Cron ($4,500), Rhys Hoskins ($4,400)
Value
Miguel Cabrera,

DET

at

KC,

$3,600 –
I really wasn't expecting to write about the Tigers this much. So, I'm not exactly breaking news when I say that Cabrera looks like a glorified version of James Loney in the batter's box in 2019. His
ISO
of .088 over his first 243 plate appearances of the season almost brings a tear to my eye. However, when given the opportunity to bat against a left-hander, the future Hall of Fame first baseman has thrived. In 38 PAs, Cabrera has a .290
ISO
with an eye-popping 214 wRC+. There's also no way Miggy goes his entire career without taking Danny Duffy ($7,400) yard, right?
Other Option: Tyler Austin ($3,800)
---
SECOND BASE
Stud
Ketel Marte,

ARI

at

PHI,

$4,800 –
Marte doesn't have "must-play" status when his team is going up against a right-handed starter; however, he's hit so well on the road in general this season that he has to be on your radar this evening. The switch-hitter is slashing .308/.360/.583 with a .388 wOBA away from Arizona in 2019. That's a cross-section of his at-bats that include 11 of the 17 home runs he's produced so far this season. Plus, despite Marte being better as an
RHB,
Zach Eflin ($8,700) makes hitting left-handed enticing. At least I'd want to bat lefty off the man surrendering 2.32 home runs per nine within the split.
Other Options: Jonathan Villar ($4,600), Lourdes Gurriel Jr. ($4,500)
Value
Kolten Wong,

STL

at

MIA,

$3,900 –
The Cardinals have not been a team you've wanted to stack often in 2019, yet facing a pitcher making his Major League debut will always turn some heads. Not only will Jordan Yamamoto ($7,500) be pitching on a big league mound for the first time this evening, it's also the first time he'll be throwing above Double-A. As such, St. Louis' implied team total is in the upper-half of the clubs on tonight's slate. Wong, who recently moved up to the six-spot in the lineup, has enjoyed a 10-for-30 (.333) start to June with three stolen bases to go alongside the success at the plate. He's in a decent situation to say the least.
Other Option: Kevin Newman ($3,600)
---
THIRD BASE
Stud
Vladimir Guerrero Jr.,

TOR

at

BAL,

$4,200 –
Guerrero has scuffled a bit at the plate since taking Zach Britton deep last week, yet, entrenched in the two-spot in Toronto's order, it's hard to look past his opportunity tonight. Hess simply can't pitch effectively to right-handed batters – especially at Camden Yards. In fact, of the 67
RHB
s he's seen in Baltimore this season, 10 have taken him deep. That's equated out to an insane .542 wOBA within the split. It all sort of makes sense when you consider that no pitcher in baseball has surrendered more long balls to righties overall in 2019 than Hess (17).
Other Options: Eduardo Escobar ($5,500), Matt Carpenter ($4,400)
Value
Marwin Gonzalez,

MIN

vs.

SEA,

$3,800 –
There's a lot to like about Gonzalez on this slate. First and foremost, he's been tearing the cover off the ball since the beginning of May. Going back to the first day of the month, the switch-hitter is slashing .305/.373/.492 with a .369 wOBA. While that's probably enough to entice prospective owners by itself, there's also the matter of his handedness splits. Gonzalez's 121 wRC+ against
LHP
s is far more palatable than his mark of 86 when seeing a
RHP
in 2019. With the fly-ball prone Tommy Milone ($6,900) set to pitch the bulk of the innings for Seattle this evening, I wouldn't be shocked by a couple more Minnesota home runs.
Other Option: Rio Ruiz ($3,100)
---
SHORTSTOP
Stud
Fernando Tatis Jr., SD at

SF,

$4,700 –
Here's the thing with Tatis: if you're not going to strike him out, you're in trouble. Among the 312 players with at least 70 batted ball events so far this season, Tatis finds himself inside the top 25 in terms of barreled balls per plate appearance (15.2%). I mean, just in general, when you've maintained a .404 wOBA with a strikeout rate bordering on 30.0%, there's clearly some pop in your bat. Specific to tonight, I don't think Shaun Anderson ($6,600) can limit Tatis' contact. Through five
MLB
starts, Anderson possesses a lowly 6.6% swinging strike rate – a number that would be second-lowest among all qualified starters if prorated for the entire season.
Other Option: Paul DeJong ($4,400)
Value
J.T.

Riddle,

MIA

vs.

STL,

$3,000 –
This is truly only for the most desperate of souls. There's so little to say in a positive light about Riddle other than the fact he happens to be left-handed. That ability, along with a pulse, qualifies Miami's shortstop for consideration against Miles Mikolas ($7,500) – who has been destroyed by
LHB
s all year. Mikolas has allowed lefties to compile a massive .399 wOBA against him in 2019; a figure that jumps to .518 when the Cardinals'
RHP
is pitching on the road. Curtis Granderson ($3,400) is also viable in this regard.
---
OUTFIELD
Stud
Nelson Cruz,

MIN

vs.

SEA,

$4,800 –
As mentioned above, it's the left-handed Milone who will be working against the Twins for a majority of this game. I have a very simple rule in this life: when Nelson Cruz is facing a lefty, I play Nelson Cruz. We've got a huge sample of data to suggest that Cruz remains one of the game's best active hitters against
LHP
s, but we really don't have to look any further than his splits in 2019. In 40 plate appearances, Cruz sports a .424
ISO
and an 81.8% hard contact rate. This numbers are mind-numbingly good.
Other Options: Jay Bruce ($5,200), David Peralta ($4,400)
Value
Yordan Alvarez,

HOU

vs.

MIL,

$4,000 –
It's unwise to attack Brandon Woodruff ($7,600) with
RHB
s, so let's unleash the Astros' shiny new toy. Alvarez has looked right at home at the Major League level through two games, blasting a pair of home runs in his first eight plate appearances. He's got a classic, beautiful left-handed swing that should be on display tonight. While Woodruff's held right-handers to a paltry .243 wOBA, that number jumps to .337 against
LHB
s. With Alvarez's upside, I'm more than willing to shell out $4K this evening.
Other Options: Derek Fisher ($4,000), Teoscar Hernandez ($3,800)
---
Put your knowledge to the test. Sign up for DraftKings and experience the game inside the game.
---
I am a promoter at DraftKings and am also an avid fan and user (my username is theglt13) and may sometimes play on my personal account in the games that I offer advice on. Although I have expressed my personal view on the games and strategies above, they do not necessarily reflect the view(s) of DraftKings and I may also deploy different players and strategies than what I recommend above. I am not an employee of DraftKings and do not have access to any non-public information.