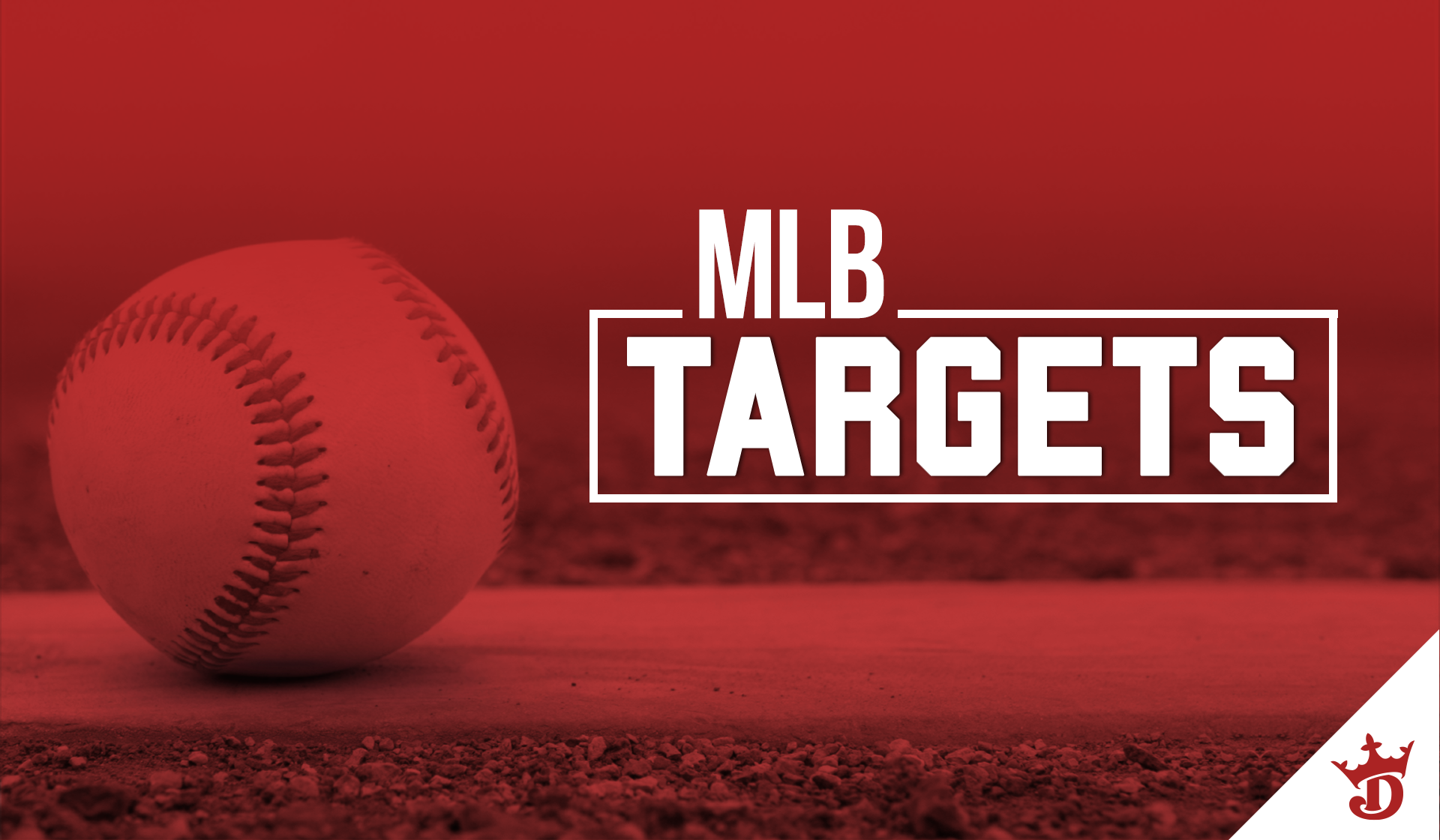 This slate is really interesting because we have a presumably chalk pitcher that is pretty bad up against a bad team, which offers a nice spot to either go with the flow or build some hedge lineups against the crowd. The rest of the construction brings some good pivot plays as well as some obvious upside plays that will ultimately decide the slate. Let's get into things.
---
PITCHER
Stud
Chris Sale,

BOS

vs.

TEX,

$10,900 —
In his last 10 games, Sale has just two with less than 20 fantasy points as well as three over 40. He's dominating in classic fashion and his slow start to 2019 is a thing of the past. He faces a team comprised of power lefties, which he has a platoon advantage against and should be considered the No. 1 priority in construction today.
Other Options — Charlie Morton ($9,900)
Value
Michael Wacha,

STL

at

MIA,

$6,000 —
Wacha will surely be a popular option at his price point in such a great park against a bad team, but it's a really good spot for somebody who has struggled with power this season. There is upside here with Wacha getting four or more strikeouts in six of his last 10 games, but more than anything this is a price point play against a bad team and you are realistically looking for 10-15 points from this
SP2.
Other Options — Joe Musgrove ($5,200)
---
CATCHER
Stud
Gary Sanchez,

NYY

vs.

NYM,

$5,100 —
The ownerships will be interesting with the stud catchers on this slate. Sanchez is in a spot against a terrible pitcher and Willson Contreras ($4,900) is playing at Coors Field against a much better pitcher. I'm going to side with Sanchez here because Yankee Stadium is a top 3 park for offense as well and the difference in pitcher quality is massive, giving Gary more upside. Be wary of the weather in New York, though.
Other Options — Willson Contreras ($4,900)
Editor's Note: Contreras is not in the lineup for tonight's game vs. the Rockies.
Value
Bryan Holiday,

MIA

vs.

STL,

$2,900 —
With both starting catchers ailing from their own individual injuries it would make sense to see Holaday get another start in an advantageous matchup. The price is a bit higher than I would want but he has been good in the six games, he has played with a .250/.368/.500 slash line and makes for a decent value even at cost.
Other Options — Jonathan Lucroy ($2,500)
---
FIRST BASE
Freddie Freeman,

ATL

vs.

PIT,

$5,400 —
Although there are some healthy options at the top of first base, Freeman looks to be in the best position and has been on straight fire in 2019. He's got a slash line of .312/.592/.592 through the season and has upped his
SLG
% to .737 in the recent sample with four doubles and four home runs in 10 games. He will face a weak pitcher and terrible bullpen while playing in a neutral park and his upside is massive.
Other Options — Josh Bell ($5,700), Anthony Rizzo ($5,300)
Value
Yonder Alonso,

CWS

vs.

WAS,

$3,000 —
There's going to be some nice value for the White Sox in this position against Anibal Sanchez ($8,100), who is coming off some nice games but is very prone to imploding on the mound. Alonso will have the platoon advantage as a
LHH
and should be hitting in a nice spot in the order against a weak righty, so while his floor is low the upside is great at the price.
Other Options — Martin Prado ($2,600)
---
SECOND BASE
Stud
Ketel Marte,

ARI

at

PHI,

$4,700 —
With the Diamondbacks traveling to Philly they get a massive park upgrade and should be able to pay off price more easily. Marte has been great from both sides of the plate this year and is maintaining a .513
SLG
%, so while the
OBP
is low, his ceiling is as high as anyone thanks to his switch-hitting abilities. He will face a home-run prone pitcher in a great park making him a terrific option.
Other Options — Ryan McMahon ($4,200), Brandon Lowe ($4,400)
Value
Chris Taylor,

LAD

at

LAA,

$3,000 —
The Dodgers will match up against Griffin Canning ($8,400) in Anaheim and although he's a pretty good pitcher, he does give up a lot of hard contact. Taylor has been hitting leadoff and although his averages are still bad for the most part he is getting good contact with each one of his hits being for extra bases making for an intriguing cheap option.
Other Options — Starlin Castro ($3,100)
---
THIRD BASE
Stud
Anthony Rendon,

WAS

at

CWS,

$5,600 —
The chalk play at this position will be Nolan Arenado ($5,500) against a sketchy pitcher in Coors, but I like Rendon with similar upside at less ownership. Against a White Sox bullpen game, Rendon has been a more consistent hitter in 2019 with a .319/.423/.638 slash line and 21 extra base hits. He is a high-upside leverage play in
GPP
s.
Other Options — Nolan Arenado ($5,500), Austin Riley ($5,000)
Value
Martin Prado,

MIA

vs.

STL,

$2,600 —
He's not a flashy play by any means and there's a chance he might end up a bit popular if he has a good spot in the batting order, but Prado is someone that has good plate skills and can give you a little boost for a bargain. The play on this slate is definitely to pay up at this position, but if you end up the other way Prado is a solid option with limited upside.
Other Options — Christian Arroyo ($3,100)
---
SHORT STOP
Stud
Trevor Story,

COL

vs.

CHC,

$5,900 —
It's pretty easy for me to find pivots away from Coors today at the other positions but at shortstop it's Story time and I have no problem eating the chalk. Averaging 14.2 fantasy points per contest with a 1.218
OPS
over the last 10 games with a ridiculous 17 hits (with seven doubles and two home runs), he's by far the top option on this slate and should be who you are starting your lineups as far as hitters are concerned.
Other Options — Trea Turner ($5,000)
Value
Willy Adames, TB vs.

OAK,

$3,500 —
Another relatively boring play, Adames isn't going to give you a 30-plus
DKFP
performance but he's been incredibly consistently in solid matchups this year. He's found some power recently as well, with two home runs and a .415
SLG
% in the last 10 games giving him a .733
OPS
in the recent sample. Most people will pay up at SS but this is a decent spot to save some salary.
Other Options — Cole Tucker ($2,900)
---
OUTFIELD
Stud
Charlie Blackmon,

COL

at

NYM,

$5,800 —
Another piece of the Rockies that I'm in love with today is Blackmon. He's having another great year at the plate with a .295/.355/.551 slash line and the only real things lacking from his usual repertoire is stolen bases. He faces a
RHH
that has big walk and home run problems and should be on the base paths all day with lots of opportunities for events.
Other Options — Austin Meadows ($5,400), Juan Soto ($5,100)
Value
Eloy Jimenez,

CWS

vs.

WAS,

$3,300 —
At just $3,300, Jiminez is averaging 8.2
DKFP
in his last 10 games and since coming back from injury has looked like a different player. He's got just one game with zero fantasy points in the recent sample and has two home runs and three doubles in his 12 hits. He faces a bad pitcher and terrible bullpen and should be a threat to hit his third home run since his return.
---
Put your knowledge to the test. Sign up for DraftKings and experience the game inside the game.
---
I am a promoter at DraftKings and am also an avid fan and user (my username is Multichem) and may sometimes play on my personal account in the games that I offer advice on. Although I have expressed my personal view on the games and strategies above, they do not necessarily reflect the view(s) of DraftKings and I may also deploy different players and strategies than what I recommend above. I am not an employee of DraftKings and do not have access to any non-public information.