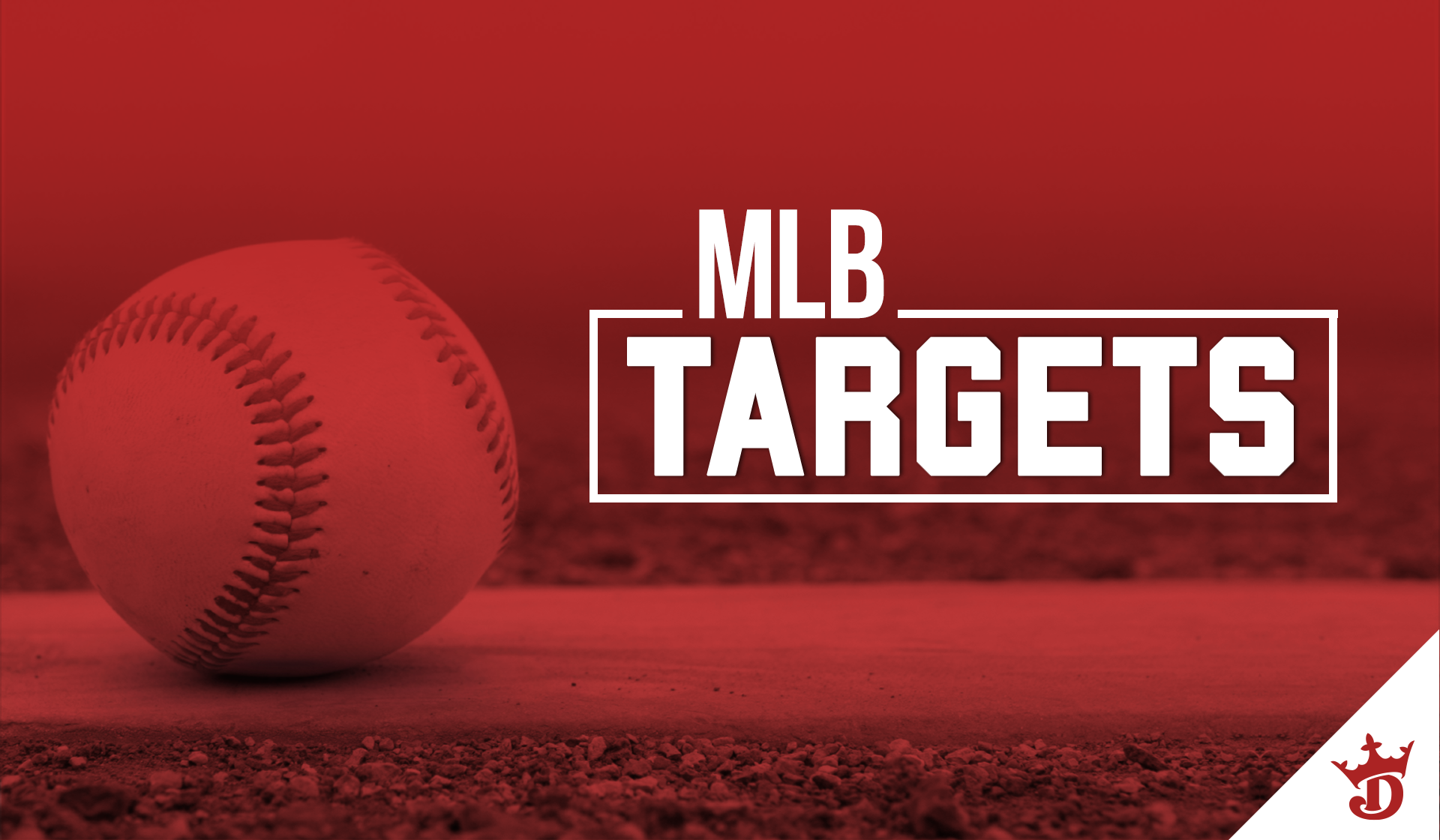 Saturday features an eight-game slate of baseball with a clear night of weather. With a lot of good hitters to target on a relatively weak pitching slate, we have plenty of people to showcase. Let's jump into all the information you'll need and as always, you can reach me on the ol' Twitter machine @SBuchanan24.
---
PITCHER
Stud
Justin Verlander,

HOU

vs.

OAK,

$11,900 —
Verlander and the Astros have the second-best odds of the night behind Clayton Kershaw ($10,100) and the Dodgers. Verlander has been on a roll, allowing one run or less in seven of his past 10 starts. His numbers on the road have been fantastic, owner of a .259 wOBA and a 3.54 xFIP. The Athletics aren't exactly smashing the ball, sporting a .316 wOBA and a .180
ISO
against righties this season. With the way Verlander has been pitching, I see no reason not to use him if you can spare the salary.
Other Option — Zack Greinke ($9,200)
Value
Jack Flaherty,

STL

vs.

CHC,

$7,200 —
Flaherty has disappointed at times this season but I think this is a good spot for him at home against the Cubs. When pitching at Busch Stadium, Flaherty has a .237 wOBA and a 3.44 xFIP this season. He's been tough against lefties, which is a necessity when facing the Cubs. On the season, Flaherty boasts a .268 wOBA and a 3.71 xFIP against them at home. He feels really cheap for this matchup and one I would be looking to target heavily when taking my
SP2.
Other Option — Jose Urena ($5,700)
---
CATCHER
Stud
Jorge Alfaro,

MIA

vs.

SD,

$4,200 —
Alfaro has been a strong option against left-handed pitching, so with a matchup against Nick Margevicius ($6,900) coming up, he's in play on this slate. On the season, Alfaro has a .352 wOBA with a .175
ISO
and a 51.7% hard-hit rate against lefties. As for Margevicius, he's been given up plenty of power to righties with seven of his 11 home runs.
EDITOR'S NOTE: Alfaro is not in the starting lineup for tonight's game.
Other Option — Gary Sanchez ($5,600)
Value
Jonathan Lucroy,

LAA

vs.

SEA,

$3,700 —
Lucroy continues to defy all expectations and hit well for the Angels. He draws a really enticing matchup against Tommy Milone ($6,300), who'll be making his third start of the year. I'm not convinced that Milone is going to be an effective starter after two good starts against the Rangers. Against lefties, Lucroy sports an impressive .212
ISO
with a .299 wOBA.
Other Option — Tony Wolters ($3,800)
---
FIRST BASE
Stud
Justin Smoak,

TOR

vs.

COL,

$5,200 —
Smoak has awoken from his offensive slumber as of late and has cracked five of his 11 home runs over his past 10 games. Now he's playing at Coors Field and will be facing Jon Gray ($7,400). Against lefties, Gray has allowed a .349 wOBA with a 4.60 xFIP and five of his 11 home runs. When Smoak is hitting well, you usually don't want to miss out on him. Now we get him on a hot streak
AND
at Coors Field? Damn.
Other Option — Eric Hosmer ($4,500)
Value
Yuli Gurriel,

HOU

vs.

OAK,

$3,400 —
Gurriel continues to be too cheap to ignore on a nightly basis. Sure, he's not going to go out on a given day and score you 20
DKFP,
but you're not going to ignore a hitter batting cleanup for the Astros at this salary. Against lefties, Gurriel has a .346 wOBA with a .182
ISO
and will be taking on Brett Anderson ($5,400).
Other Option — Garrett Cooper ($3,900)
---
SECOND BASE
Stud
Ketel Marte,

ARI

vs.

NYM,

$4,900 —
I wouldn't go out of my way to take a hitter against Jacob deGrom ($9,400), but I really think this is a good spot for Marte. Against lefties, deGrom has allowed a .341 wOBA with a 4.60 xFIP and four of his nine home runs. Marte has been mashing the ball no matter who is on the mound and has a .336 wOBA and a .217
ISO
against righties. Oh, did I mention he's averaging 13
DKFP
over his past 10 games?
Other Option — DJ LeMahieu ($4,400)
Value
Starlin Castro,

MIA

vs.

SD,

$3,000 —
This is the second Marlin I'm writing up — I promise, I haven't started drinking yet. To be fair, Castro bats cleanup, is $3,000 and has hit lefties well in the past. He's not hitting for much power right now, but at a $3K salary, he doesn't need to do much to reach value. Against lefties, he sports a .306 wOBA with a .119
ISO.
Are they great numbers? Nope. Will you save a ton at the position and fit other guys who
WILL
score a lot of fantasy points. Yup.
Other Option– Chris Taylor ($3,500)
---
THIRD BASE
Stud
Rafael Devers,

BOS

vs.

NYY,

$5,000 —
So, I'm not convinced that Domingo German ($8,900) is pitching as well as it looks. He's had the biggest cupcake schedule in the history of baseball so far this season. He has had some issues with home runs and that's the appeal I have with Devers. Against lefties, German has allowed five of his nine with a 38.1% hard-hit rate. On the road against righties, Devers has a .397 wOBA and a .244
ISO.
Other Option — Nolan Arenado ($5,900)
Value
Vlad Guerrero Jr.,

TOR

vs.

COL,

$4,100 —
He's just too cheap to be playing at Coors Field. Against righties, Guerrero has a .363 wOBA with a .232
ISO
with five of his six home runs. Not to mention, he's batting second for the Blue Jays. This feels like a mistake with his salary and I'm more than happy to take advantage of that. If you're not paying up at this position, Vlad makes all the sense in the world.
Other Option — Brock Holt ($3,300)
---
SHORTSTOP
Stud
Trevor Story,

COL

vs.

TOR,

$5,700 —
Remember when Story was the guy to play against lefties? Well, now he's the guy to play against everyone. In case you didn't know, he's coming off a casual 49
DKFP
performance last night in which he blasted two home runs and knocked in seven. Ya know, a typical day at Coors. Against righties at home, he has a ridiculous .518 wOBA with a .443
ISO
with eight of his 15 home runs.
Other Option — Paul DeJong ($4,500)
Value
Tim Beckham,

SEA

vs.

LAA,

$4,100 —
Beckham keeps hitting for power and I don't know how. He's on the cusp of surpassing his 12 home runs from last season and has a legitimate chance to set a new career-high, which is currently 22. He'll face Andrew Heaney ($8,500), who'll be making just his second start of the year. Against lefties, Beckham has a .392 wOBA with a .275
ISO
and four of his 11 home runs.
Other Option — Jean Segura ($3,900)
---
OUTFIELD
Stud
Mike Trout,

LAA

vs.

SEA,

$5,700 —
I hate writing up Mike Trout. Think of it this way, if
DFS
was around in the 1950s and I wrote up Ted Williams, people wouldn't be like, "Wow Steve, nice sneaky play here." We all know Trout is an option on a nightly basis, but I do like him a lot against Milone. Against lefties, Trout has a .409 wOBA with a .305
ISO
and four of his 13 home runs. But you knew that already.
Other Options — Raimel Tapia ($4,500), Marcell Ozuna ($5,300)
Value
Enrique Hernandez,

LAD

vs.

PHI,

$3,700 —
Hernandez has seen his salary drop quite a bit as of late, but it's got nothing to do with his play against lefties. He'll take on Cole Irvin ($6,800), who just recently came up to the majors. Against lefties, Hernandez has a .367 wOBA and a .209
ISO
with four of his nine home runs. Cheap salary for someone with those kinds of splits.
Other Options — Aaron Hicks ($4,100), Mitch Haniger ($4,300)
---
Put your knowledge to the test. Sign up for DraftKings and experience the game inside the game.
---
I am a promoter at DraftKings and am also an avid fan and user (my username is Steveazors) and may sometimes play on my personal account in the games that I offer advice on. Although I have expressed my personal view on the games and strategies above, they do not necessarily reflect the view(s) of DraftKings and I may also deploy different players and strategies than what I recommend above. I am not an employee of DraftKings and do not have access to any non-public information.