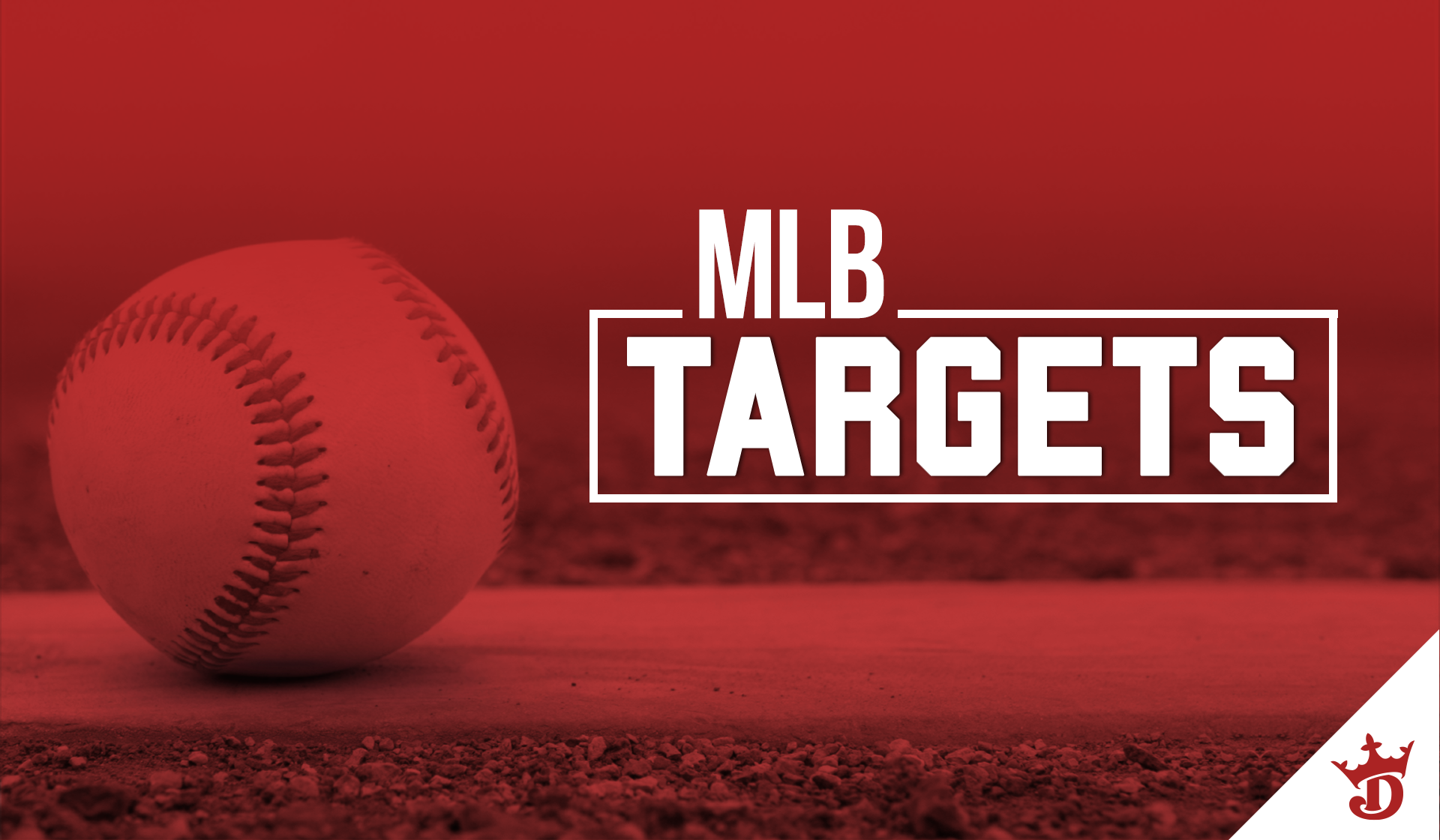 Saturday evening features an eight-game slate starting at 7:10 pm E.T. The pitching options are absolutely stacked in the top tier and should carry some heavy ownership amongst them. With no weather concerns on tap, we should have a good night of baseball ahead. Let's jump into all the targets for tonight and as always, you can reach me on the ol' Twitter machine @SBuchanan24.
---
PITCHER
Stud
Jacob deGrom,

NYM

vs.

MIA,

$11,000 —
One aspect that will grab your attention for deGrom is that the Marlins sport a team total of 2.5 runs, according to DraftKings Sportsbook. As you imagine, it's amongst the lowest totals we've seen this season and quite frankly, I doubt we'd see a total any lower. The Marlins enter today with some pretty pathetic numbers against right-handed pitching, sporting a .270 wOBA with a .088
ISO.
Yes, those are both the lowest in the league. Their 25.6 K% is also ranked amongst the highest in the league, currently ranked fifth. Essentially what I'm saying is, deGrom should be considered an elite option and I figure his ownership will reflect that.
Other Option — Gerrit Cole ($10,700)
Value
Jon Gray,

COL

vs.

SDP,

$8,200 —
Looking for a value pitcher is going to be quite the challenge tonight. With that in mind, Gray tops the list as he takes on the Padres at Coors Field. I'm not super excited about taking pitchers at Coors but the Padres have really been struggling against righties, so I'm willing to take the chance. Entering this game the Padres have a .291 wOBA with a .175
ISO
and 26.1 K%, the third highest in the league. It's hard but not impossible to pair Gray and deGrom together, as you have an average of $3,850 to use on your remaining hitters.
Other Option — Kohl Stewart ($5,800)
---
CATCHER
Stud
Chris Iannetta,

COL

vs.

SD,

$4,100 —
Not a big price to pay for a catcher at Coors Field who has consistently hit lefties well. Facing Lucchesi ($6,800), Iannetta enters this game with a .428 wOBA and .294
ISO
against lefties. Equally, Lucchesi has really struggled against right-handed bats to the tune of a .361 wOBA and a 4.21 xFIP. This just feels like a natural fit for Iannetta in this spot.
EDITOR'S NOTE: Iannetta is not in the starting lineup for tonight's game.
Other Option — J.T. Realmuto ($4,300)
Value
Stephen Vogt, SF vs.

CIN,

$3,600 —
With Buster Posey currently on the injured list, Vogt has taken over the main catching duties for the Giants. He draws a really favorable matchup tonight against Anthony DeSclafani ($9,200), who always has his troubles against left-handed pitching. Despite him pitching well to this point, DeSclafani has a .386 wOBA against lefties to go with a 5.67 xFIP and a 46.3% hard-hit rate.
Other Option — Tyler Flowers ($3,500)
---
FIRST BASE
Freddie Freeman,

ATL

vs.

ARI,

$4,900 —
Freeman has been posting some productive fantasy games with double-digits in three of his last five games. Tonight he'll matchup against Merrill Kelly ($7,000), who just got rocked for seven runs on seven hits through four innings against the Rays. Overall against lefties, Kelly has allowed a .321 wOBA with a 4.76 xFIP on the season.
Other Option — Rhys Hoskins ($5,400)
Value
C.J.

Cron,

MIN

vs.

DET,

$4,100 —
Taking a hitter under the $4K range isn't something I'm looking to do today. At $4,100, Cron is cheap enough that I'm willing to use him. I was surprised to see how well he's hitting lefties and gets rookie Gregory Soto ($5,500), who is being recalled to Double-A to make this start. Cron has a .402 wOBA with a .429
ISO
against lefties with a 39.5% hard-hit rate. At $4,100, he feels like a bit of a steal in this spot.
Other Option — Yuli Gurriel ($3,500)
---
SECOND BASE
Stud
Jonathan Schoop,

MIN

vs.

DET,

$4,500 —
Schoop is another member of the Twins who is raking against left-handed pitching. He enters this game with a massive .533 wOBA and .333
ISO.
As I mentioned, Soto is making his Major League debut, so I think is a great opportunity to jump on the poor kid. Schoop has started off the month of May well, hitting two doubles and two home runs through eight games this month.
Other Option — Derek Dietrich ($4,600)
Value
Joe Panik, SF vs.

CIN,

$3,300 —
Panik has found himself in this article often and tonight is no different. With a very friendly $3,300 salary, he's averaging 9.1
DKFP
over his last 10 games with a home run, two doubles and six
RBI.
He has a matchup against DeSclafani, who I mentioned earlier continues to post some really poor numbers against lefties. The cherry on top is that Panik has been leading off for the Giants, which makes him a tremendous value.
Other Option– Robinson Cano ($3,500)
---
THIRD BASE
Stud
Nolan Arenado,

COL

vs.

SD,

$5,800 —
Way to be original, Steve. Of course, you play Arenado against a lefty, it's not rocket science. What really drives this point home, however, is the ridiculous 14.8
DKFP
Arenado is averaging over his last 10 games. In that span, he's hit four home runs, three doubles while knocking in 12 (!) runs! Now he faces Lucchesi at Coors Field? Lockkkkkkk.
Other Option — Jeff McNeil ($4,500)
Value
Howie Kendrick,

WAS

vs.

LAD,

$4,200 —
Third base is really,
REALLY
thin when it comes to cheap options tonight. I would recommend trying to pay up at this position if you can. If you're forced to pay down, I would take a chance with Kendrick. He's facing Walker Buehler ($9,500), who has pitched better lately, but still sports some ugly numbers overall. Kendrick has been a surprising source of power and has a .382 wOBA and .250
ISO
with four of his six home runs.
EDITOR'S NOTE: Kendrick is not in the starting lineup for tonight's game.
Other Option — Kyle Farmer ($3,700)
---
SHORTSTOP
Stud
Adalberto Mondesi,

KCR

vs.

PHI,

$5,400 —
Zach Eflin ($8,500) is pitching for the Phillies tonight and has done quite well. One area he's had issues has been against lefties, where he sports a .356 wOBA and 4.95 xFIP. As for Mondesi, he has a .354 wOBA against righties with a .252
ISO
with three of his five home runs. I like this spot a lot for him as I imagine his ownership will be low as people may be inclined to go with Eflin for one of their pitching spots.
Other Option — Trevor Story ($5,500)
Value
Jose Iglesias,

CIN

vs.

SF,

$3,400 —
This is just a total punt play if you're looking to save somewhere. To be fair, Iglesias has been hitting well, which is out of character for him. Over his last 10 games, he's averaging 8.4
DKFP
with three doubles, a triple, a home run and five
RBI.
Jeff Samardzija ($8,000) only has a .200 wOBA against righties but his 5.14 xFIP paints a different picture.
Other Option — Gordon Beckham ($3,600)
---
OUTFIELD
Stud
Alex Gordon, KC vs.

PHI,

$4,500 —
I'm not sure when this happened or how it happened but Gordon is good again? For someone that I completely wrote off, he enters this game with an impressive .404 wOBA against righties with a .292
ISO
and seven of his eight home runs. As I mentioned with Mondesi, Eflin has his issues against lefties and this would be another Royals bat you can target at likely low ownership.
Other Options — Cody Bellinger ($5,500), Michael Brantley ($5,200)
Value
Joc Pederson,

LAD

vs.

WAS,

$4,200 —
I have zero issues if you want to go after Max Scherzer ($10,400) with the Dodgers' lefty bats. It's been an area of concern for him so far and the numbers back it up. Scherzer enters this game allowing a .363 wOBA with a 37% hard-hit rate and three of his four home runs. Pederson is always a home-run threat and just cracked two last night. At $4,200, you could do a lot worse at this price point.
Other Options — Alex Verdugo ($3,900), Brandon Nimmo ($3,500)
---
Put your knowledge to the test. Sign up for DraftKings and experience the game inside the game.
---
I am a promoter at DraftKings and am also an avid fan and user (my username is Steveazors) and may sometimes play on my personal account in the games that I offer advice on. Although I have expressed my personal view on the games and strategies above, they do not necessarily reflect the view(s) of DraftKings and I may also deploy different players and strategies than what I recommend above. I am not an employee of DraftKings and do not have access to any non-public information.