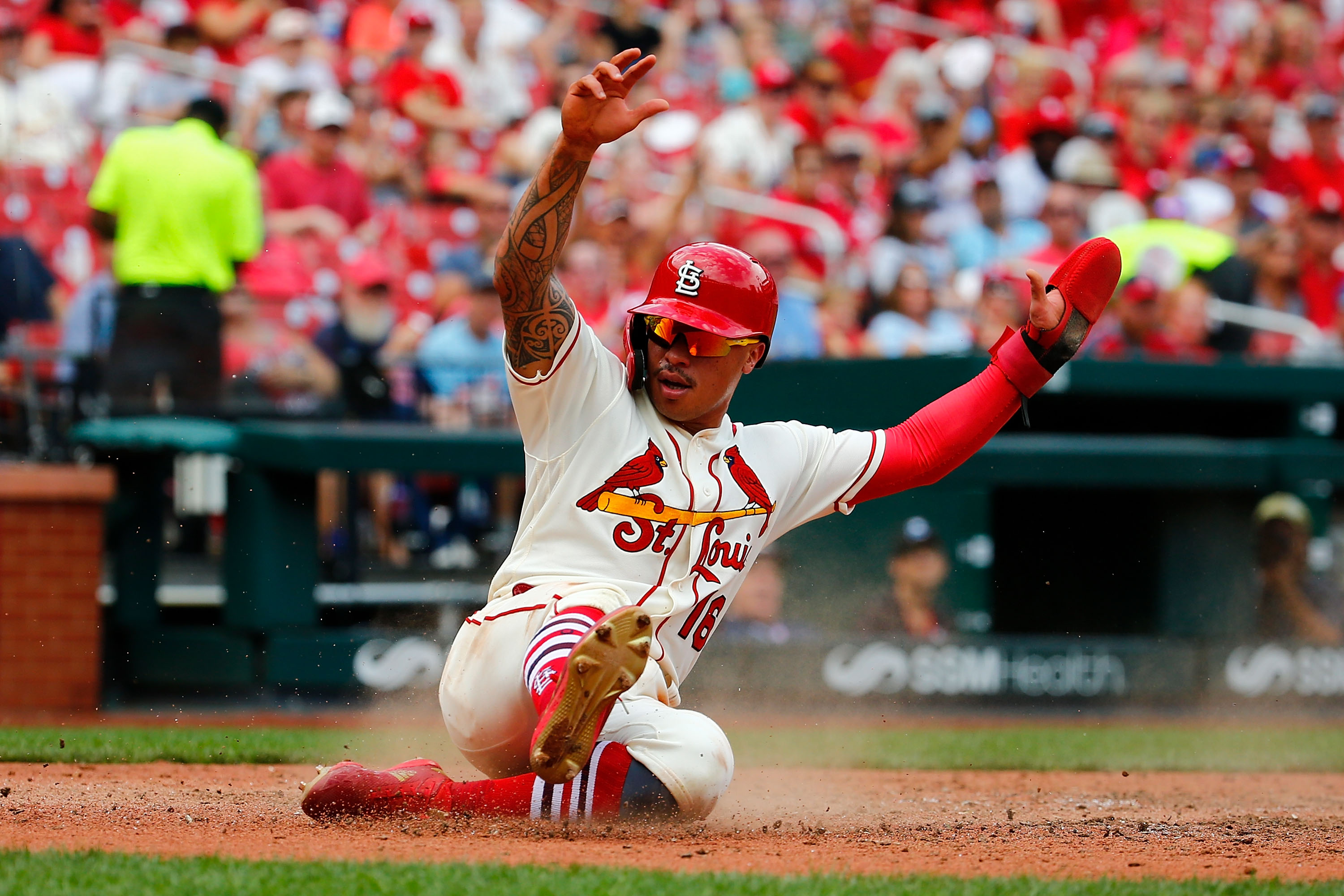 If you're looking to get in on some early action Thursday, there is no shortage of options with seven games to choose from. Let's dig into the matchups and see which players could help lead you to a profitable afternoon.
PITCHER
Stud
Lucas Giolito,

CWS

vs.

KC,

$11,900 —
Not much has gone right for the White Sox this year, but at least Giolito has had a breakout campaign. He enters this matchup with a 3.27
ERA
that is supported by a 3.41
FIP.
Just as important is his strikeout rate has jumped up to 31.7%. The Royals have struggled to score all season, so it's no surprise Giolito has held them to eight runs while recording 39 strikeouts across 31 innings.
Other Options —
Yu Darvish ($10,300), Caleb Smith ($9,200)
Value
Dinelson Lamet, SD vs.

CHC,

$8,500 —
Lamet brings plenty of swing-and-miss stuff to the mound with his 30.1% strikeout rate. The Cubs' lineup is significantly weakened right now with Javier Baez (thumb) likely out for the remainder of the regular season. At this cheap price, Lamet could provide value in tournament play.
Other Options — Jeff Samardzija ($7,600), Gio Gonzalez ($6,700)
---
CATCHER
Stud
Gary Sanchez,

NYY

at

DET,

$4,900 —
While Sanchez once again has battled injuries this season, he also has brought his customary power stroke to the plate with his .298
ISO.
This could be an excellent spot to deploy him against Boyd, who has allowed 1.9 HR/9.
Other Options — Yadier Molina ($4,400), Stephen Vogt ($4,200)
Value
Jorge Alfaro,

MIA

vs.

MIL,

$3,600 —
The Marlins don't have a lot of talented hitters, which usually makes them a team to avoid in
DFS.
However, if you want to save some money at catcher, Alfaro could be worth a look. He has a 106 wRC+ against left-handed pitchers and will be facing an underwhelming one in Gonzalez, who has just a 20.7% strikeout rate.
Other Options — Wilson Ramos ($4,000), Zack Collins ($3,200)
---
FIRST BASE
Pete Alonso,

NYM

vs.

ARI,

$5,100 —
Alonso is swinging a hot bat with the Mets making a push towards the playoffs, hitting 16-for-51 (.314) with five home runs across his past 12 games. Add in his 149 wRC+ against left-handed pitchers, and he could do some damage versus Alex Young, who has allowed at least one home run in four of his past six starts.
Other Options — Edwin Encarnacion ($5,000), Jose Abreu ($4,700)
Value
Anthony Rizzo,

CHC

at

SD,

$4,300 —
It's not often you find a hitter with Rizzo's upside priced so cheap. However, he's hit a rough patch, hitting 6-for-31 (.194) with no home runs over his past 10 games. Lamet has allowed a career .351 wOBA to left-handed hitters, making this an opportunity to take a chance on Rizzo breaking out of his slump.
Other Options —
Luke Voit ($4,100), Garrett Cooper ($4,000)
---
SECOND BASE
Stud
Kolten Wong,

STL

at

COL,

$4,800 —
The Cardinals are surging towards the NL Central crown and will have an opportunity to score in bunches against Tim Melville ($5,700) at Coors Field. Wong has been one of their hottest hitters down the stretch, hitting 28-for-86 (.326) with two home runs, five doubles, three triples and five steals over his past 25 games. His price has jumped up as a result, but he still won't destroy your budget.
Other Options —
Tommy Edman ($5,400), Gleyber Torres ($4,700)
Value
Starlin Castro,

MIA

vs.

MIL,

$4,100 —
Castro remained with the Marlins through the trade deadline, which was a bit surprising given the fact he could have been a valuable addition to a contending team. He's gone on a hot streak during the second half, hitting 44-for-128 (.344) with 10 home runs and 10 doubles over his past 33 games. With the lefty Gonzalez on the mound, Castro has an excellent opportunity to continue his recent run of success based on his .377 wOBA against southpaws.
Other Options — Adam Frazier ($4,000), Mauricio Dubon ($3,700)
---
THIRD BASE
Stud
Yoan Moncada,

CWS

vs.

KC,

$5,000 —
Jorge Lopez ($5,000) has bounced between the starting rotation and the bullpen for the Royals, largely struggling in both roles. He enters his contest with a 5.21
FIP
and a 1.46
WHIP,
making the White Sox an intriguing lineup to pursue. One of their most lethal hitters is Moncada, who has a 148 wRC+ versus right-handed pitchers.
Other Options —
Nolan Arenado ($5,200), DJ LeMahieu ($4,900)
Value
J.D.

Davis,

NYM

vs.

ARI,

$4,100 —
Given a chance to receive regular playing time for the first time in his career, Davis has proven to be a vital member of the Mets' lineup. He enters this contest with a .371 wOBA against left-handed pitchers, making him one of the more appealing cost-effective options who has eligibility at the hot corner.
Other Options —
Gio Urshela ($4,400), Colin Moran ($3,400)
---
SHORTSTOP
Stud
Trevor Story,

COL

vs.

STL,

$5,200 —
Story at Coors Field is usually a recipe for success. Although he only has a 97 wRC+ on the road for his career, he has a 126 wRC+ at home. Miles Mikolas ($7,400) isn't having a bad season with a 4.14
FIP,
but he's not an overpowering force based on his 19.1% strikeout rate. There are a few excellent options at shortstop for this slate, but Story has as high of an upside as any of them.
Other Options — Paul DeJong ($5,100), Jon Berti ($4,800)
Value
Nico Hoerner,

CHC

at

SD,

$2,700 —
With Baez on the shelf, the Cubs have turned to Hoerner to play shortstop. That's a bit surprising considering he played at Double-A this year, but they don't really have a choice but to have faith in him right now given their lack of options. Although he didn't hit for much power in the minors, he was a tough out based on his 10.5% strikeout rate. He already has four hits over his first three games, making him someone to at least consider at such a cheap price.
Other Options — Jordy Mercer ($3,400), Hernan Perez ($3,300)
---
OUTFIELD
Stud
Charlie Blackmon,

COL

vs.

STL,

$5,400 —
There are two splits that are in Blackmon's favor for this contest. First, he has a career .421 wOBA at home compared to a .318 wOBA on the road. Second, he has a .374 wOBA versus righties compared to a .357 wOBA versus southpaws. Add in the fact he is 18-for-53 (.340) over his past 13 games and paying up for his services could prove to be profitable.
Other Options — Ketel Marte ($5,200), Mike Yastrzemski ($4,600)
Value
Harrison Bader,

STL

at

COL,

$3,900 —
If you're going to try and save some money at this position, it makes sense to at least attack the Coors Field game. Based on his season stats, Bader might not look very appealing with his .292 wOBA and 80 wRC+. However, he has at least one hit in three of his past four games and his driven in 10 runs over his past 15 contests.
Other Options —
Kevin Pillar ($4,100), Sam Hilliard ($3,600)
---
Put your knowledge to the test. Sign up for DraftKings and experience the game inside the game.
---
I am a promoter at DraftKings and am also an avid fan and user (my username is mbarner51) and may sometimes play on my personal account in the games that I offer advice on. Although I have expressed my personal view on the games and strategies above, they do not necessarily reflect the view(s) of DraftKings and I may also deploy different players and strategies than what I recommend above. I am not an employee of DraftKings and do not have access to any non-public information.