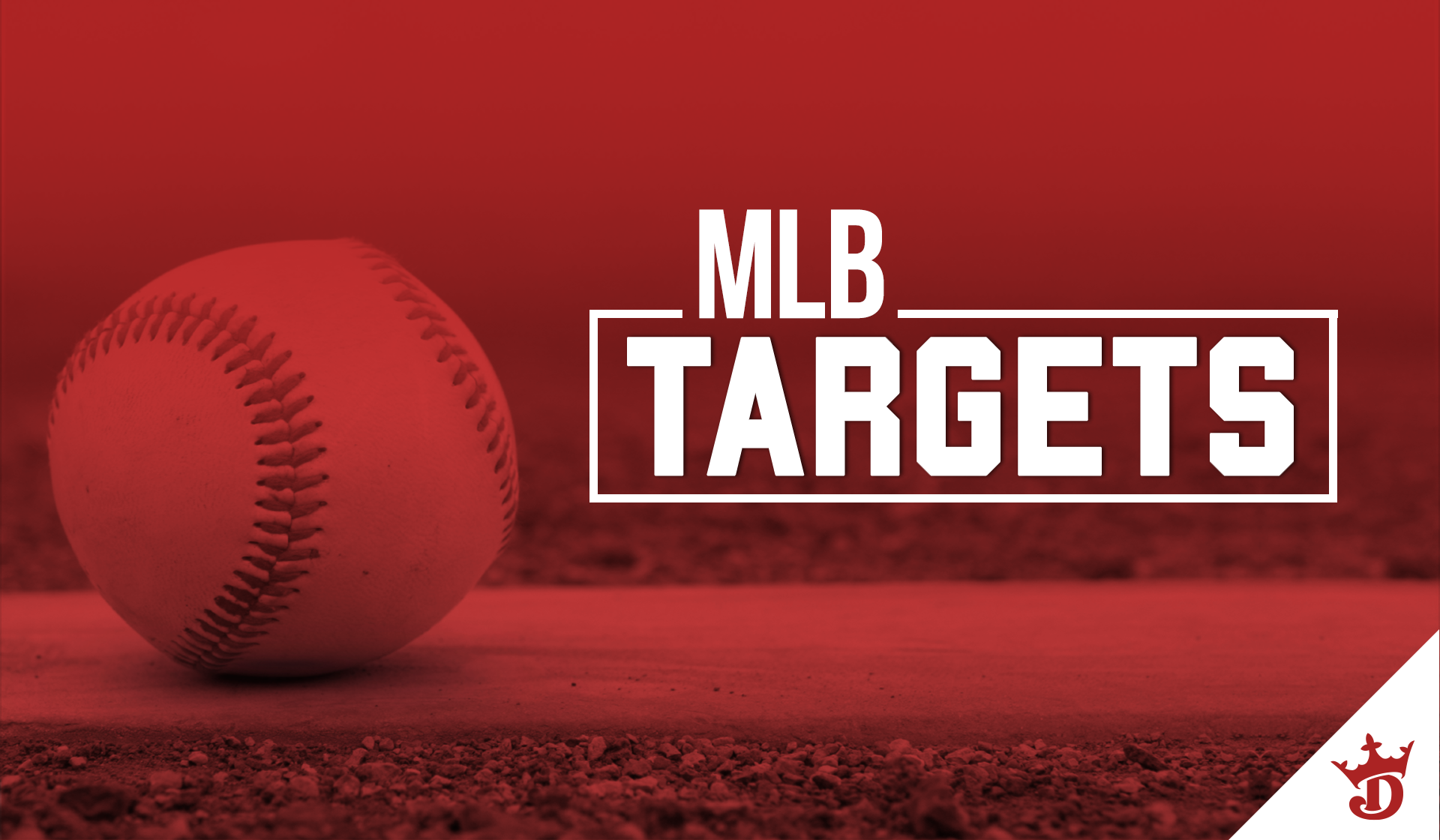 We have an always exciting Coors slate on our hands this afternoon with two mediocre pitchers facing off, making the high-priced Rockies and Giants bats very enticing. However, with really bad cheap pitching options, is it worth it to fade the bats and take the two aces? Let's talk through the best spots and see if it is feasible.
PITCHER
Stud
Yu Darvish,

CHC

vs.

MIA,

$9,500 —
A matchup with the Marlins has been a significant indicator of success for even the worst pitchers this year, and Darvish is somebody who has upside in much harder matchups than this. The walks have been an issue, but the strikeouts have returned with 29 in his past four games and knowing the home run luck will regress, I love him to have a great game and get back on track here.
Other Options — Carlos Carrasco ($10,200)
Value
Felix Pena,

LAA

at

DET,

$7,300 —
The cheap options on this slate are downright awful, and it makes a lot of sense to find a way towards both Carlos Carrasco ($10,200) and Darvish. That being said, Pena has a 27:7 strikeout-to-walk ratio in 26 innings pitched this season and represents upside the other cheap options don't have while playing against one of the weakest teams on the slate. If you have to pay down, I like him the most.
Other Options — Tanner Roark ($7,600)
---
CATCHER
Stud
Buster Posey, SF at

COL,

$4,400–
I can't justify paying for Willson Contreras ($5,300), so I'll take the next stud in a good hitting position. Posey has lost a lot of power this season but has kicked things up a notch in his recent games with a .500
SLG
and .814
OPS
as a result of a home run and four doubles in the past 10 games. He has a lot more power against
LHP
s and finds that split in the best hitting environment available.
EDITOR'S NOTE: Posey is not in the starting lineup for today's game.
Other Options — James McCann ($4,500)
Value
Grayson Greiner,

DET

vs.

LAA,

$2,900 —
Value is going to be exceptionally important, and Greiner is somebody who has decent upside relative his price. He's been on a bit of a hot streak in his past 10 games with three home runs and eight
RBI
but is hitting only .222 in the sample, exhibiting a low floor. The price is good and the matchup with the Angels' bullpen is one of the better spots on the slate.
Other Options — Roberto Perez ($3,100)
---
FIRST BASE
Carlos Santana,

CLE

vs.

CWS,

$4,600 —
It should be interesting to see how Manny Banuelos ($8,100) is able to pitch against the Indians after having issue with tipping his pitches in his most recent start. Knowing he might fall back into that kind of issue makes me really like the Indians' power bats. Santana is hitting great right now with a .845
OPS
and four home runs in six total hits over his past 10 games. He's a high-upside contrarian option at first.
Other Options — Anthony Rizzo ($5,400), Daniel Murphy ($5,000)
Value
Miguel Cabrera,

DET

vs.

LAA,

$3,400 —
Another Detroit bat in the value section as the team generally is underpriced on the slate. Miggy has been much better over his past 10 games with a .349 average and .465
SLG
percentage thanks to 15 hits, two doubles and a home run (his only of the season). For the price he is the best hitter available and likely will be a cash-game darling, but it's deserved.
Other Options — Neil Walker ($3,300)
---
SECOND BASE
Stud
David Bote,

CHC

vs.

MIA,

$4,100 —
Second base is downright awful on this slate featuring three injuries in the top six priced hitters and two platoon bats, including Bote, taking up the other spots. If you want to pay up, you should do so for Bote, who is playing on one of the hotter teams in the league right now. He also faces a pitcher that has failed to complete five innings in three of his past four starts and has given up four home runs in the same time while playing in front of a bottom-10 bullpen in the league.
Other Options — Ryan McMahon ($4,500)
Value
Jose Peraza,

CIN

at

OAK,

$2,700 —
The hitting environment isn't fantastic in Oakland, but Peraza isn't somebody who relies on home runs for his upside, so he is generally less affected by it. He's hitting .206 with a .289
OBP
in his past 10 games but does have two stolen bases and a double as well as only have a zero in two games out of the sample, giving him plenty of ability to pay off a weak price tag.
Other Options — Starlin Castro ($2,900)
---
THIRD BASE
Stud
Nolan Arenado,

COL

vs.

SF,

$5,800 —
This is one of those "Don't be cute" spots I've talked about before when it comes to a top hitter in the league in a fantastic spot to crush. Arenado faces Derek Holland ($5,800), who is coming off the injured list and has given up four home runs and 13 earned runs total in his past three games. Arenado has a 1.131
OPS
and three times as many hits as strikeouts in his past 10. Differentiate elsewhere, folks.
Other Options — Kris Bryant ($5,500)
Value
Brian Anderson,

MIA

at

CHC,

$2,900 —
Though Darvish should have a lot of success against this batting order, he's going to give up a couple well-hit balls, and I think Anderson is someone we should use with that in mind. He's cheap and hitting well right now with a .263 average and .333
OBP
along with 10 hits and five
RBI
in the past 10. He has just one game with a zero in his recent sample, and although I think 10+
DKFP
is unlikely, he only needs six or more to make value.
Other Options — Zack Cozart ($2,700)
---
SHORT STOP
Stud
Francisco Lindor,

CLE

vs.

CWS,

$4,700 —
Lindor has been steady with a slash line of .258/.299/.452 since his return from injury 16 games ago and will look to build on that success in a solid spot for upside. Lindor had power in his return with three home runs in the first six games and has since found the speed again with two stolen bases in his recent sample. His price is a decent bargain on the other elite options, and he makes rostering the aces that much easier while keeping the upside.
Other Options — Trevor Story ($5,600), Javier Baez ($5,400)
Value
Jose Iglesias,

CIN

at

OAK,

$3,100 —
For some value with upside we are going to go with Iglesias, who has been straight fire at the plate over his past 10 games. He has a .776
OPS
in 2019 but a .909 mark in his recent sample with 14 hits, two doubles, a triple and a home run. His
BABIP
is unsustainable and regression will come at some point, but he's worth a thin price on a slate that necessitates savings.
Other Options — Jordy Mercer ($2,600)
---
OUTFIELD
Stud
Mike Trout,

LAA

at

DET,

$5,600–
Trout comes into the game with a .462
OBP
and a .542
SLG
percentage on the season but has been less than fantastic recently with just a .736
OPS
(low for him). His fantasy relevancy is being held up by his ability to take walks and get steals as he still is averaging 8.6
DKFP
in the span. A bullpen game against the Tigers seems like a great opportunity to buy low on the best hitter in baseball.
Other Options — Charlie Blackmon ($5,700), Brandon Belt ($4,700)
Value
Jesse Winker,

CIN

at

OAK,

$3,800 —
Winker is having a great season in 2019 with a .518
SLG
percentage and .833
OPS
along with nine home runs and 15
RBI.
In his past 10 he is hitting a bit better and faces Chris Bassitt ($8,800), who has been good this year but can struggle with power. He already has given up three home runs in just three starts. Winker is priced well and has a good ceiling for guys in his price.
Other Options — Niko Goodrum ($3,500)
---
Put your knowledge to the test. Sign up for DraftKings and experience the game inside the game.
---
I am a promoter at DraftKings and am also an avid fan and user (my username is Multichem) and may sometimes play on my personal account in the games that I offer advice on. Although I have expressed my personal view on the games and strategies above, they do not necessarily reflect the view(s) of DraftKings and I may also deploy different players and strategies than what I recommend above. I am not an employee of DraftKings and do not have access to any non-public information.