If you watched baseball yesterday, you probably have a pretty good feel for who the best performers were. If you were sweating your lineups on DraftKings, you probably have a pretty good feel for who the best performers were. ut the Perfect Lineup? Well that's what we're here for. Check out the daily perfect lineup below!
Just $27 to Enter the $170K Payoff Pitch Tonight!
DRAFT NOW
MLB Headlines – September 1st
Ryan Goins Walks Off for the Blue Jays
-Ryan Goins has been red hot over his last four games, averaging 14.75 fantasy points per game including a 20 fantasy point game last night after his walk off HR.
-Edwin Encarnacion finished his "perfect" month of August on Monday (recording a positive fantasy stat in every game last month) and then carried that into September, picking up an RBI and a walk. His hitting streak did come to an end though.
Greinke continues his dominance
-After a record-setting 1st half of the season, it was going to be tough for Zack Greinke to keep up his torrid pace on the bump. But his FPPG average since the All-Star break on DraftKings is 27.25, which is nearly 3 points higher than his season average.
-Greinke has at least 5 strikeouts in all but one of his last 10 starts.
-After a brutal start against the Mets on July 26th, Greinke's price dropped $3600 on DraftKings. Since then he's driven it back up from $9400 to $12500.
Top Pitchers Struggled on Tuesday Night
-Zack Greinke and Madison Bumgarner dueled on Tuesday night but a number of other highly touted starting pitchers struggled.
-Jon Niese had -2.15 fantasy points against the Phillies.
-Chris Sale had 20 fantasy points but struggled overall against the Twins and didn't pay off his nearly $14K salary.
-Gerrit Cole had his shortest career start and finished at -2.4 fantasy points despite a prime matchup against the Brewers.
-Andrew Cashner was 16.5% owned and managed just 6.45 fantasy points.
-Johnny Cueto continued to struggle with just 3.5 fantasy points on Tuesday.
MLB PERFECT LINEUP
NOTES:
-It's not every day you see a pitcher toss a gem like Rick Porcello did and be on the losing end of a decision but that's what happened last night at Fenway. Porcello had 13 Ks over 8 IP and allowed just 1 ER, which was enough to get him into the Perfect Lineup but not enough to nail down a win.
-The Rays were relatively unpopular last night but Drew Smyly's 36 points and a breakout game from J.P. Arencibia (hitting 9th) put two of Tampa's players in last night's Perfect Lineup.
-The highest owned player in the DK Perfect Lineup was Yoenis Cespedes at 10.4%
-The lowest owned player in the DK Perfect Lineup was the a fore mentioned JP Arencibia at 0.1%
TOP

20

FANTASY POINT SCORERS
NOTES:
-The Rays surprisingly led all teams in average fantasy points per player at 12.15. The Phillies were 2nd at 10.99 fantasy points per player. Both teams were incredibly cheap as well.
-The Braves were the lowest scoring team last night against Justin Nicolino and the Marlins. They averaged just 2.42 fantsay points per player.
-The Orioles were the 2nd lowest scoring team on average last night at just 3.38 fantasy points per player
TOP

20

HIGHEST OWNED PLAYERS
NOTES:
-The Blue Jays continue to be extremely popular and on Tuesday they were the highest owned team on average at 4.33% owned per player.
-It wasn't surprising that the Braves were the lowest owned team on Tuesday. DraftKings users were on point with that selection as Atlanta was the lowest scoring team.
-Three of the top four highest owned players had at least 20 fantasy points.
-There wasn't an overwhelming favorite player to pick last night as the highest owned guy was under 30% owned (Madison Bumgarner)
TOP

20

VALUE PLAYS
1 – Value Plays defined by top 20 players in terms of $/Pt (salary divided by total fantasy points).
NOTES:
-The Phillies were 2nd last night in average fantasy points per player and that was enough to make them the top value team, averaging $263 DK dollars spent per fantasy point scored.
-The worst value team last night was the Braves who just had a brutal day. They averaged $1463 DK dollars spent per fantasy point scored.
-The Orioles were probably the most disappointing team. They were among the top 10 highest owned teams on average and finished 2nd worst in average $/Pt.
-The best values were a little more popular on Tuesday. Two of the top 5 best value plays were over 5% owned (a pair of Phillies – Darin Ruf and Darnell Sweeney)
TOP

20

KEYS

TO

SUCCESS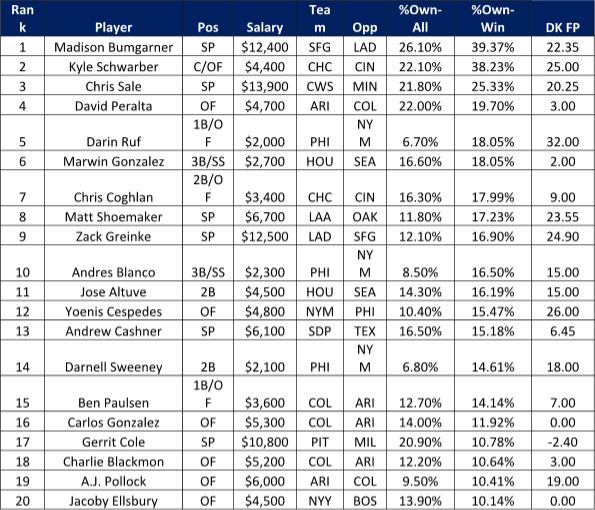 1 – Keys to success defined as highest owned players on winning lineups. This stat is a derivative of percentage owned, except it includes only lineups that finished in the money on DraftKings.
BUSTS

OF

THE NIGHT