The Contrarian Corner will provide a list of players that can separate your MLB lineups from the rest of the pack. We'll take a look at those players that will likely be low-owned, who have high-upside for the day. Here is the list of today's daily fantasy baseball picks in the Contrarian Corner at DraftKings.
Pitchers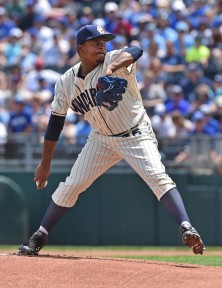 Edinson Volquez ($7,800) – Kansas City Royals – Tonight is an interesting night for selecting hurlers in the sense ownership should be well spread out, and you can comfortably select whoever your favorite arms are. My favorite are is Jake Odorizzi, but he should be one of the higher owned options. Keeping with the spirit of the article, I'll tout the other two arms I'll be mixing in with Odorizzi. The first is Edinson Volquez. The Texas Rangers have been a formidable offense of late, and that should suppress his ownership. On the year, though, the Rangers rank tied for 13th in wRC+ (96) against right-handed pitchers, per FanGraphs, and aren't strangers to striking out with a 20.4% strikeout rate. Volquez has pitched well in his first year with the Royals tallying a 3.36 FIP in 61.0 innings spanning 10 starts. His 19.3% K is a bit below the league average, but his 10.7% swinging strike rate is well above the league average of 9.6%, so an uptick in strike threes could be on the horizon for the veteran righty.
Brett Anderson ($7,000) – Los Angeles Dodgers – Brett Anderson struggles to stay healthy, but when the southpaw is on the mound, he's pretty good. This year has been no exception. He currently leads all qualified starters with a 68.2% ground-ball rate. The lefty has pounded the strike zone with a 6.1% BB, but he's not a big strikeout pitcher with just a 17.1% K. That said, his strikeout rate jumped from 12.8% in April to 19.7% in the month of June, and that coincided nicely with an uptick in velocity, and a boost in whiff rate on his slider.
Batters
Welington Castillo ($2,500) – Arizona Diamondbacks – The well traveled Welington Castillo was dealt from the Cubs to the Mariners, and I hope he didn't unpack his bags because he was swiftly turned around and dealt to the Diamondbacks. Switch-hitter Jarrod Saltalamacchia is lost against lefties, making Castillo a nice candidate to get a turn against Jon Niese tonight. Castillo has no such troubles, and since 2012, he has a .169 ISO, .370 wOBA and 133 wRC+ against southpaws in 275 plate appearances. He's not your average punt, and the salary relief he'll provide you allows for some fun roster building.
Brandon Belt ($4,600) – San Francisco Giants – Brandon Belt's name doesn't come up among the elite at the first base position, but he's quietly turned himself into one of the best offensive players there. His biggest problem is playing in run-suppressing AT&T Park for his home games. He gets a break tonight and travels to Citizens Bank Park in Philadelphia, where the left-handed batter park factor for homers is 108. That should come in handy for a hitter who has managed to tally a .190 ISO against right-handed pitchers since 2012, and he's hit five of his seven homers on the road this year.
Joe Panik ($3,800) – San Francisco Giants – The Giants make for one of my favorite stack options tonight. The number-two hitter, Joe Panik would be an integral part of that. His .092 ISO against righties since reaching the majors last year isn't going to generate a buzz, but his .320 wOBA and 108 wRC+ are rock solid. Furthermore, he gets to face a very giving Jerome Williams. The former Giants pitcher has allowed a .343 wOBA to left-handed batters since 2012.
Anthony Rendon ($4,500) – Washington Nationals – Anthony Rendon is one of the better hitters in the game, but last night was his first in the majors this year after a lengthy disabled list stint to open the year. Gamers will likely be skeptical of him having shaken the rust off already, and that's fair, but it will also drive his ownership down. Rendon's bat-to-ball skills lend themselves to quickly rounding into form, and he rattled off two hits in four plate appearances in his first game of the year. Since reaching the majors in 2013, Rendon has managed 291 plate appearances against southpaws and tallied a .160 ISO, .359 wOBA and 129 wRC+. Getting that kind of hitter at a suppressed ownership level is rare, and the lefty he's facing, Tsuyoshi Wada, has allowed a .322 wOBA to right-handed batters in his big league career.
Xander Bogaerts ($3,900) – Boston Red Sox- Xander Bogaerts quickly hit his way to the bigs, and while he's not posting eye popping numbers yet, he has already established himself as an above average hitter against lefties. In 240 plate appearances against left-handed pitchers, he has a .144 ISO, .346 wOBA and 119 wRC+. Scott Kazmir isn't an especially giving lefty, but Bogaerts price tag is fair, and he's regularly moved up in the order (sometimes as high as fifth) against lefties.
Steven Souza Jr. ($4,300) – Tampa Bay Rays – The sample size is small, but boy oh boy does Steven Souza Jr. annihilate left-handed pitching. In 59 plate appearances against lefties in the majors, he's crushed the ball to the tune of a .467 ISO, .500 wOBA and 233 wRC+. I'm not here to suggest he'll maintain that level of excellence over a prolonged period of time, but his 20.3% BB is a decent indicator he sees the ball well facing lefties, and his raw power is monstrous. Souza ranks 19th in average home run and fly ball distance, per Baseball Heat Maps.
Others to Consider – Marcus Semien ($4,000), Brandon Moss ($4,400)