This article covers the five-game Arcade Mode slate beginning at 7:05 PM EST. Here are a few options to consider as you begin your research. As always, you can reach me on the ol' Twitter machine @SBuchanan24.
Pitchers
Max Scherzer – WAS v. ATL – $23,000 – Scherzer is the name that pops immediately when looking at the pitchers in this five-game slate. His 9.7 K/9 against the Braves shouldn't come as much of a surprise since the Braves have one of the lowest K% in the league against righties at a 19.6. All in all, this slate is fairly thin on talent/good matchups, so I expect Scherzer to be popular, even with his high salary. In case you're curious, his salary will leave you with an average of $5,400 in salary for your five hitters.
Drew Pomeranz – BOS v. TB – $15,000 – In Arcade Mode, you only get one shot with a pitcher, so Drew Pomeranz doesn't exactly make me feel all warm and fuzzy. However, his strikeout abilities are no joke, and this is the perfect team to showcase that against. He's faced the Rays twice already this season and has a K/9 of 16. That's correct, 16. With that 16 K/9 however, Pomeranz has allowed seven runs on eight hits in just 7.2 innings. So this selection certainly doesn't come without risk. For what it's worth, Pomeranz has been his best on the road this season, owning a .311 wOBA and a .399 SLG.
---
Hitters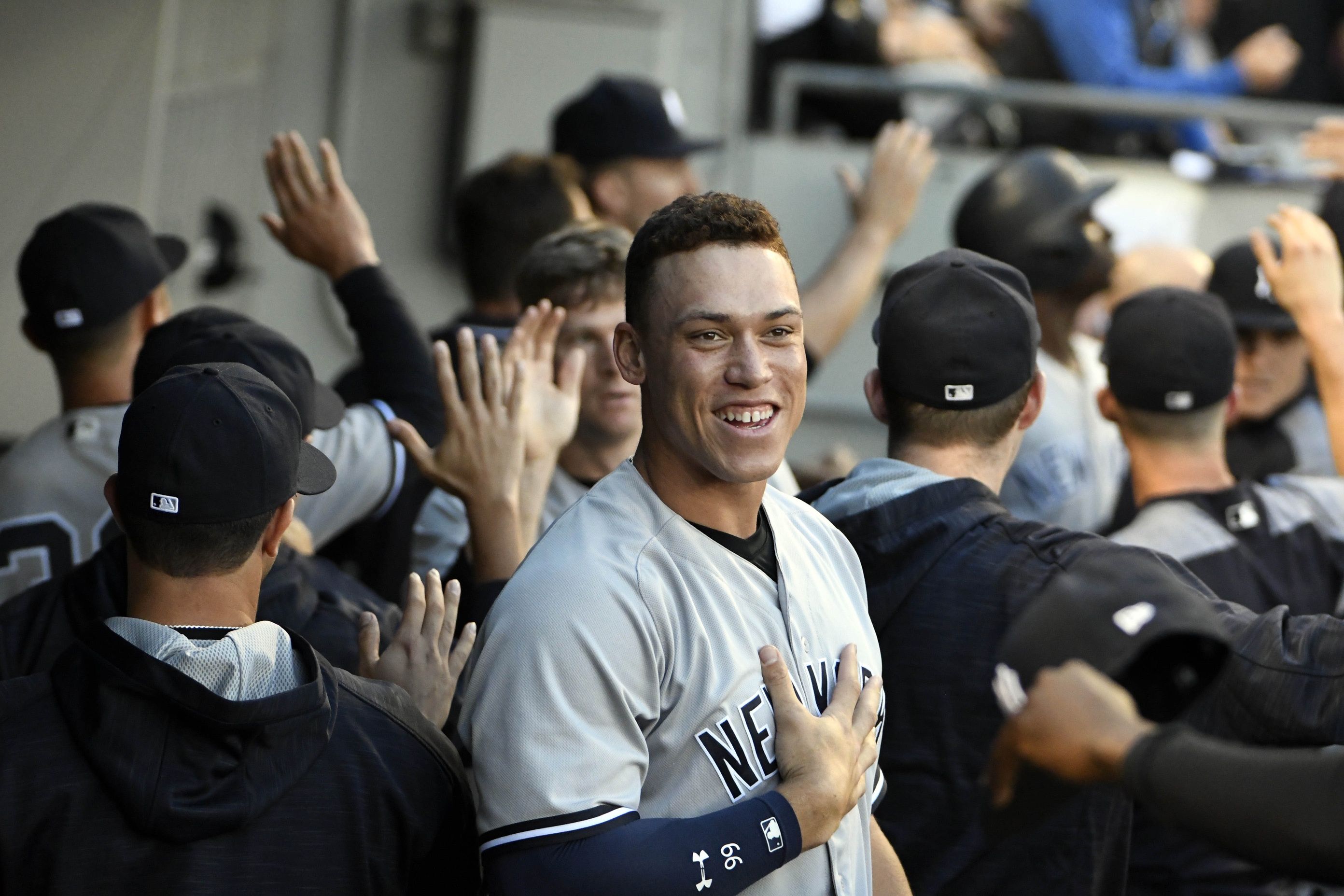 Aaron Judge – NYY v. MIL – $11,500 – The only way you have a shot of getting Judge on your roster is if you're fading Scherzer. It's nearly impossible to fit them both in. So if that's the plan, then Judge is my favorite on this slate. He takes on Junior Guerra, who's allowed a whopping 48% hard hit rate over his last three starts. At home against righties, Judge is posting a .538 wOBA with a .876 SLG.
Jose Bautista – TOR v. HOU – $6,500 – Bautista has been extremely hot and cold this season, but right now I'd say he's about a minute and a half into a four minute frozen dinner. He's averaging 23.1 Arcade Mode points over his last 10 games and faces off against the returning Charlie Morton. When healthy, Morton has allowed a .355 wOBA to righties with a .500 SLG and five of his seven home runs allowed. At $6,500, Bautista is always capable of producing a big fly and could do so on the cheap.
Edwin Encarnacion – CLE v. DET – $7,500 – Encarnacion feels awfully cheap tonight with just a $7,500 salary. Over his past 10 games, he's averaging 29.9 Arcade Mode points with five of his 12 hits going for extra bases. He takes on Jordan Zimmermann, who has been somewhat better as of late but still owns some horrific road numbers. Against righties, Zimm is allowing a .367 wOBA with a .531 SLG and six home runs.
Andrew Benintendi – BOS v. TB – $8,000 – Tropicana Field certainly brings down the value of a hitter on any particular night, but it's hard to breeze over Benintendi at $8K. Averaging 33.1 Arcade Mode points over his last 10 games, Benintendi faces off against Jake Odorizzi, who owns a .331 wOBA against lefties at home. Odorizzi has allowed 11 home runs at the Trop this season with lefties accounting for four of those. Benintendi owns a .383 wOBA against righties on the road with a.527 SLG and a .382 OBP.
Brian Goodwin – WAS v. ATL – $5,500 – If you're looking to save some salary, go no further than Goodwin. His overall numbers won't win you over, but his .468 wOBA at home against righties might do the trick. He takes on R.A. Dickey, who's been downright awful on the road, sporting a .359 wOBA with a .462 SLG with six of his 15 home runs allowed.
---
I am a promoter at DraftKings and am also an avid fan and user (my username is Steveazors) and may sometimes play on my personal account in the games that I offer advice on. Although I have expressed my personal view on the games and strategies above, they do not necessarily reflect the view(s) of DraftKings and I may also deploy different players and strategies than what I recommend above.