Not only is it the MLB All-Star Break but it's also the slowest/absolute worst day of the sports year. No better time to reflect on the first half of the season and more importantly highlight the youngbloods of the MLB!
And this isn't your average batch of ballers… nope we are literally in the Golden Age of baseball right now. Couple pretty key points here:
-As you might have heard, there will be 20 players age 25 or younger on the rosters of the two All-Star teams Tuesday night. How many times has that happened before in 85 previous All-Star Games? Zero.
-You'll find 14 hitters age 25 or younger with at least 200 plate appearances and an Adjusted OPS+ of 125 or better. We've seen only two seasons since 1900, according to baseball-reference.com, when that many position players 25 and under finished the year with an OPS+ that far above league average (minimum 400 plate appearances).

Hammer don't hurt em! Let's take a closer look at some of the most exciting players in The Show today..
Angels OF All-Star Game

MVP

Mike Trout
Mike Trout's 1st AB in All-Star Game 2015 – HR 2014 – Triple 2013 – Double 2012 – Single

—

ESPN

Stats & Info (@ESPNStatsInfo) July 15, 2015
Two straight #ASG MVP Awards, two sweet @Chevrolet rides. @MikeTrout's gonna need a bigger garage. #ChevyBaseballpic.twitter.com/nPU2zT73Gb —

MLB

(@MLB) July 15, 2015

Everytime I read Mike Trout is TWENTY-THREE YEARS OLD I have a sudden urge to not exist anymore. That's the power of a man who makes Mickey Mantle look like a total scrub. But seriously like, damn.
Cubs 3B Kris Bryant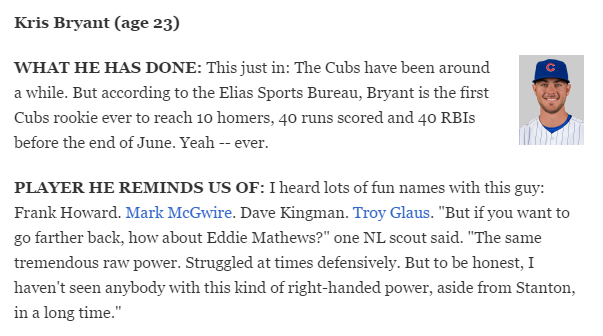 Kris Bryant making his All-Star debut tonight– doing something not a lot of Cubs have done in past pic.twitter.com/QfYNaJNVY6

—

ESPN

Stats & Info (@ESPNStatsInfo) July 15, 2015
Showtime! #uncaged pic.twitter.com/3RmEYqmqSG — Kris Bryant (@KrisBryant_23) July 13, 2015

"Dad? Daaaad? DAD!" – @KrisBryant_23. #HRDerbypic.twitter.com/eL1i2Jf2Og

—

MLB GIFS

(@MLBGIFs) July 14, 2015
Everyone knew he was gonna get called up this season and absolutely MASH. Face of the Franchise for a city that's been wanting Cubs greatness for over 100 years. No sweat for another TWENTY THREE YEAR OLD. Damnit.
Dodgers OF Young Joc Pederson
Distance matters now in the #HRDerby (8ET,

ESPN

). Good news for Joc Pederson, who leads all

MLB

players in HR length. pic.twitter.com/UPQufsHOxC —

ESPN

(@espn) July 13, 2015

I knew Joc Pederson's swing reminded me of Ted Williams for a reason http://t.co/seepqbFsey

— Charlie Hulme (@charlie_hulme) July 14, 2015
How do the Dodgers get every crazy athletic-insane power outfielder? ANOTHER TWENTY THREE YEAR OLD? This is easily the most depressed I've ever been watching 470 ft homeruns.
Reds 3B Todd Big Head Frazier
Little leaguer & future HR Derby champ Todd Frazier next to Derek Jeter at a Yankees game in 1998 pic.twitter.com/iUMxAeyUVI — Darren Rovell (@darrenrovell) July 14, 2015

Todd Frazier is only the second player to win the #HRDerby at home. Ryne Sandberg won the event at Wrigley in 1990. pic.twitter.com/F1hSbvrOt7

— Baseball Tonight (@BBTN) July 14, 2015
Little League World Series Hero. 2015 Homerun Champion. Mayor of Cincinnati. Sometimes having a big head ain't so bad!
Marlins 2B Dee Flash Gordon
Dee Gordon had the single fastest big league trot of the Tater Trot Tracker era last night at 13.95 sec http://t.co/l0hB6Nj0fS

— Tater Trot Tracker (@TaterTrotTrkr) July 1, 2015
When @FlashGJr's trying to stay humble, but @KMillar15 makes you say it anyway… https://t.co/vVpDyHoysp — Miami Marlins (@Marlins) July 14, 2015

He's the son of Flash Gordon and he has the fastest homerun in MLB history. And he'll have around 324 steals this year. The Show is in good hands for many years to come…
BONUS

: 50 Longest Homeruns of the 2015

MLB

Season
Chicks dig the long ball and so do I. Now it's time to grab 50 tater tots and enjoy the next 10 minutes of bliss..