Welcome back to the daily DraftKings picks where we try to get super rich playing daily fantasy baseball. As usual I'll do a brief recap of my lineups from the night before then throw out some picks that I'm brainstorming for tonight, and hopefully get some good feedback/tips/picks from you guys either in the comment section or on Twitter @kmarkobarstool.
I'll run through my lineups from the long weekend real quick – no crazy wins but managed to cash each day.
Saturday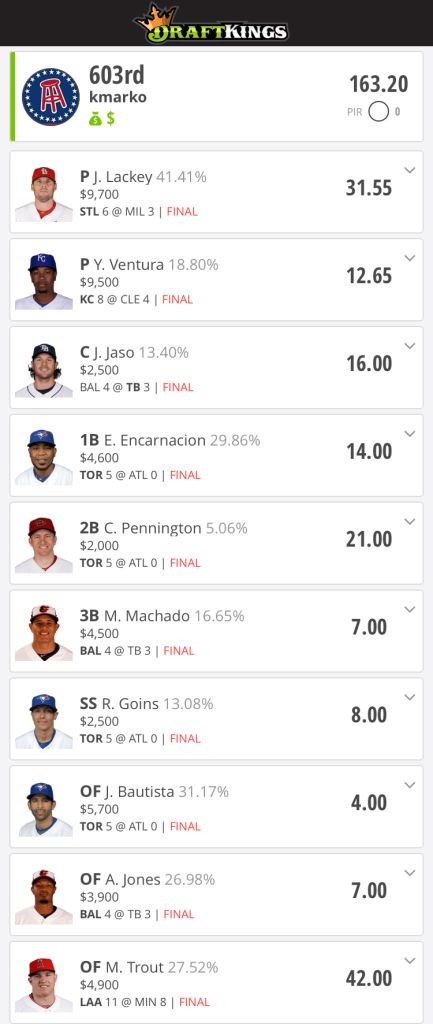 Sunday
Monday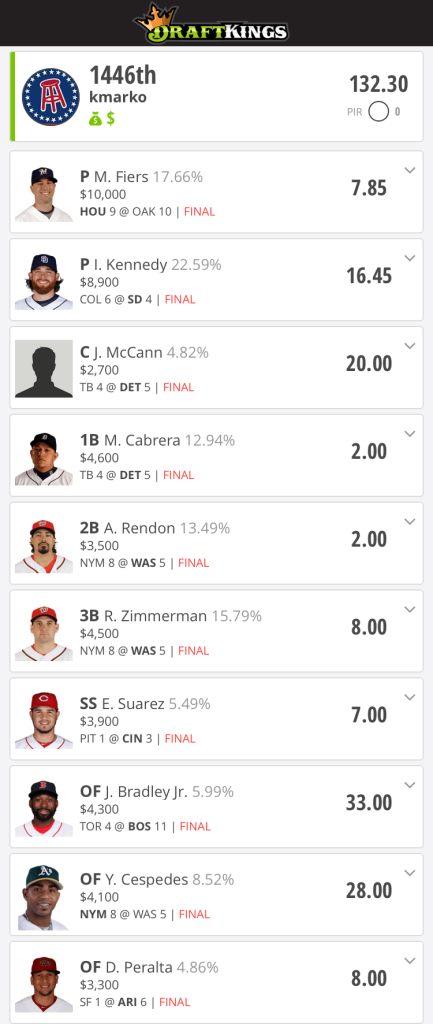 Also tossed one in for college football on Saturday and did surprisingly well.
Now that the bookkeeping is out of the way, let's jump into a new week. Baseball season is winding down but we still got a little bit of time to cash in. Also I'll get some football picks up by the end of the week – Week 1 NFL, always a rollercoaster.
PITCHERS
-Big question of the night – do you pay up for Kershaw or not? He's 15.7K which is officially the highest salary spot of the season. It basically cripples your lineup no matter who you pair him with. But you're getting almost guaranteed safety with massive 50 point upside. All comes down to can you find the high upside extreme value plays to fill out your batters and give yourself a shot to win. This is not usually a strategy I like to use, but I also have a feel that the winning lineup of your GPP tonight will have Kershaw in it.
-Targeting the next tier might be smarter – Harvey, Carrasco and Hamels are all in good spots for about 4K cheaper, and Gray has been shaky lately but the Astros always give you that high strikeout upside.
-I can't recommend Wacha, Kazmir or Tanaka, not with their matchups. Tanaka is your best bet for upside there though.
-Mid range guys I like a lot – Iglesias, Jungmann and Rodon.
-Possible value plays – eh, none really. Which makes it even harder to roll with Kershaw. I guess you could close your eyes and take a shot on one of the pitchers in the low total Padres/Rockies game,
HITTERS
3B Josh Donaldson $5.4K
Up to you how you want to spend your money tonight – If you're going Kershaw, you're not fitting Donaldson. But if you're not and aiming for big bats, Donaldson is my favorite of the bunch. 5.4K is expensive but I still feel like he's underpriced for this matchup,
and if he doesn't put up at least 15 points I'd be shocked. Highest total on the board and legit MVP candidate taking on a lefty at Fenway…makes me salivate.
OF AJ Pollock $4.8K
Not sure why but I feel like this game might go under the radar tonight, and Pollock will be criminally underowned. ALready liked the DBacks tonight, then this tweet caught my eye –
Hudson gives up a ton of contact even on his best days – now consider he's rusty coming off injury and pitching in a big time hitter's park. Goldy, Pollock, Peralta and Inciarte are all good plays tonight, and Pollock is my favorite.
OF Jackie Bradley Jr. $4.5K
I don't know if he can hit the knuckleball, and I know Ortiz, Xander and Mookie are the preferred Red Sox plays against Dickey tonight. But I don't care. JBJ has been one of the hottest hitters on the planet lately and it doesn't seem like anything can stop
him. The Sox/Blue Jays game should be a run fiesta tonight and all the big bats are in play on both sides, but if I'm picking one guy to ride or die with, it's Jackie.
1B/2B Logan Forsythe $4K
Here's something you don't hear every day – the Rays are a great team to target on offense tonight. They get the worst pitcher on the board in Matt Boyd who gets lit up honestly every single time he's on the mound, and he's a lefty, which means the Rays righties
should be able to tee off. Longoria will probably be the popular play (and is definitely a good one), but I'm going to focus on Forsythe who is my favorite Ray to use against lefties. I've been off on him the last 2 times I recommended him, but I think tonight
he makes for a great play at 1B or 2B.
…
That's it for today, hit me up @kmarkobarstool and use my referral if you deposit tonight –