Welcome back to my daily DraftKings picks where I try to get rich playing daily fantasy baseball. Kind of given up on the getting rich part now that I've seen how hard it is, kind of realigned my goals to "making some extra walking-around cash so I can buy some sweet ass outfits for the summer."
Picks have been pretty solid lately, yesterday was nothing special but not a complete dud. Did two contests and cashed a lil bit.
Hoping for a big night tonight so let's get after it. Here are the guys I'm thinking about for the night, in order of salary.
PITCHER
Cole Hamels $10.2K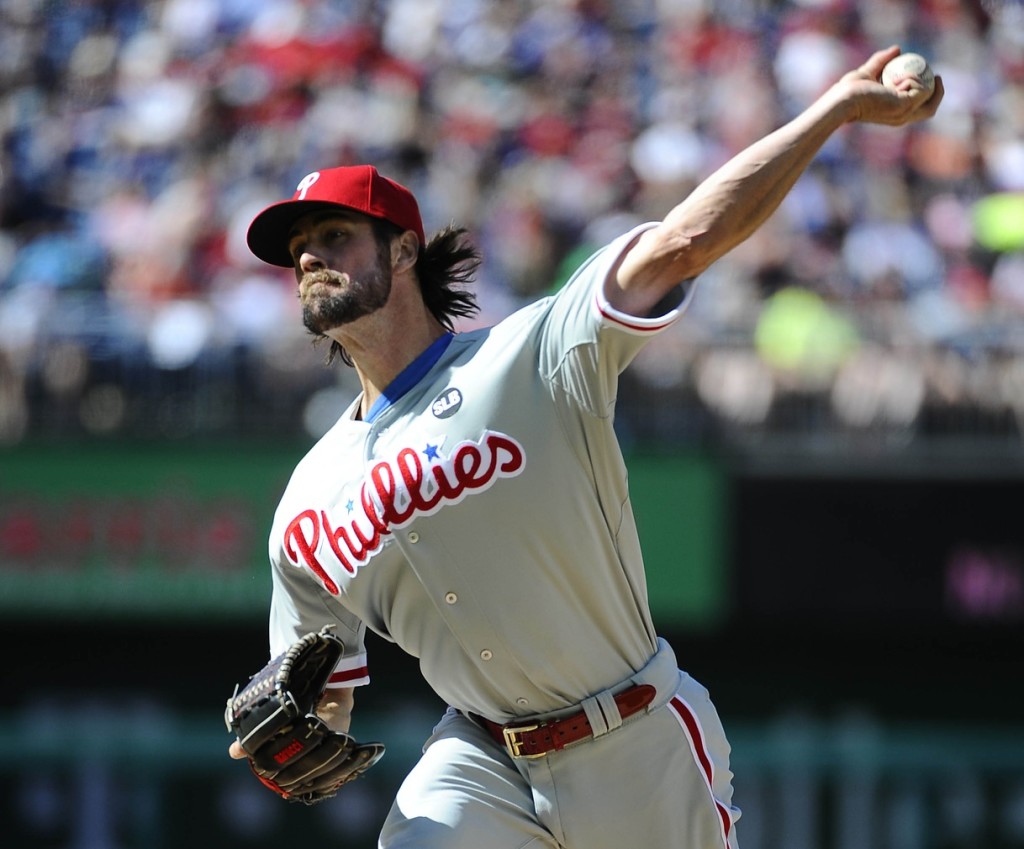 I've been waiting to take Hamels in this game even before pricing came out and was hoping he'd be a little bit cheaper and off the radar. But at 10.2K he's the 2nd highest priced guy on the board and you have to pay up for him. Tough choice between him and Harvey but the Rockies stink against lefties and Hamels dominated them in Coors. Now he's at home and the upside is crazy. The Rockies strike out against lefties more than any team in baseball so I'm hoping for 10 Ks tonight. Not often that I'll root for the Phillies but I think tonight I might have to to make some money.
OF B. Harper $5.2K
Oh come on, his price is going DOWN!? Seriously I would love to use this spot to dazzle you with some off the radar crazy pick guaranteed to homer who nobody has ever heard of, but seriously. Bryce Harper is a motherfucking monster right now and he's not even the highest priced hitter on the board…going up against a pitcher that every expert starts describing with the following sentence: "he can't handle lefties." Give me all of Bryce!
1B/3B Miggy $4.9K
He hasn't been anything great lately, but I kind of have my own personal rule, any time Miggy is under 5K I stick him in my lineup. He's just too good to not blow up for a massive game in the right spot, and hopefully that's tonight against a lefty.
OF George Springer $4.9K
Another guy who I was excited to play until I found out he was much pricier than I expected. Gonna try to squeeze him into my lineup because I like his upside against the lefty Rodon who is going to be a real good pitcher but is a little bumpy right now. Stros have one of the highest team totals on the board.
2B Brian Dozier $4.6K
Buerhle stinks, Dozier crushes lefties, he's been hot, he's not too expensive, what else do you need to know? Oh, the weather doesn't look great. I guess you need to know that. Keep an eye out but he's my top 2B if the game goes.
Value Play OF B. Burns 3.2K
Burns has that Alex Guerrero syndrome where he'll be on fire then get random days off, but if he's at the top of the lineup again tonight, you simply can't find a better value tonight. He homered last night (I was lucky enough to have him) and I like the upside.
Reader Pick Of The Day
OF Josh Hamilton $3.5K
Subject: Josh Hamilton for DraftKings Tonight
This is his first series back in Arlington. Last night he got a standing ovation and then ripped the first pitch he saw for a double. Looking like he's gonna get on a roll and he's only $3600 tonight.
Steven Wright is pitching for the Red Sox tonight and he's never thrown more than 75 pitches so Hamilton should get a few ABs against a tired arm or some scrub relievers.
-Stephen
Remember I'm just starting out at this and these are just some of the guys I'm brainstorming, be sure to check out what the experts have to say before putting big money on a lineup.
Good luck tonight, as always hit me up @kmarkobarstool with your picks and tips for the night.