Welcome back to the daily DraftKings picks where we try to get super rich playing daily fantasy baseball. As usual I'll do a brief recap of my lineups from the night before then throw out some picks that I'm brainstorming for tonight, and hopefully get some good feedback/tips/picks from you guys either in the comment section or on Twitter @kmarkobarstool.
Another night, another round of lukewarm picks. For once it was the value plays carrying the slack – Hernandez and Turner had pretty solid games for their prices, while Lind and Posey put up big time duds. While I was definitely expecting a possible downturn from Lind, I'll be honest, I was real confident about Buster. Thought that one was a lock…I did NOT see Niese tossing a gem last night coming, that's for sure. But that's the deal with DFS, the more confident you are, the more likely it is they go 0-4.
Managed to get my favorite thing in the world, a picture of a DraftKings trophy…
But still…thought I'd be in for a bigger night. Here's to hoping it turns around tonight. On to the picks…
Pitcher Notes
Scherzer is Scherzer. Scherzer is also $14.5K. Unless you have your sights locked in on a surefire like, $5K pitcher to pair him with, it's going to be real tough to build a lineup with that kind of crippling salary. When your upside is basically a perfect game every time you go out though, could be worth it.
Really hard top option after that: Kluber and Liriano are both facing horrible weather, and Cueto has to go up against the Nats which always scares me.
Brett Anderson is a huge favorite and has picked up the Ks lately…but the Phils don't strike out as much as you'd think, and always seem to bust the bats out when you least expect it.
Big Sexy Tolo up against a team that has lost a million in a row and can't hit for shit right now.
HITTERS
OF Kole Calhoun $5.1K
It's way more than I want to pay for Kole Calhoun, whose entire season has been an epic struggle, but facts are facts. Game at Coors, monster total, highest team total on the board – need some exposure to it. Trout and Pujols are lockdown picks, but at at their prices it's really tough to lock them in. Cue Kole, who has been hot recently and should be batting in the 2 hole against a shitty pitcher. You're going to want some Halos in your lineup tonight, so even if you don't want to splurge for the name guys, you can definitely find some value in that lineup. Giavotella anyone?
3B Nolan Arenado $4.8K
We got a Coors game! And as always, everybody gets the price adjustment. Like I said Trout and Pujols are way up there, and even Calhoun is bordering on unplayable price range. Thing is, I don't think they gave Arenado enough of a bump. Not when I think he's clearly the best 3B on the slate, playing at home at Coors. Easy plug and play for me.
OF Josh Reddick $4.4K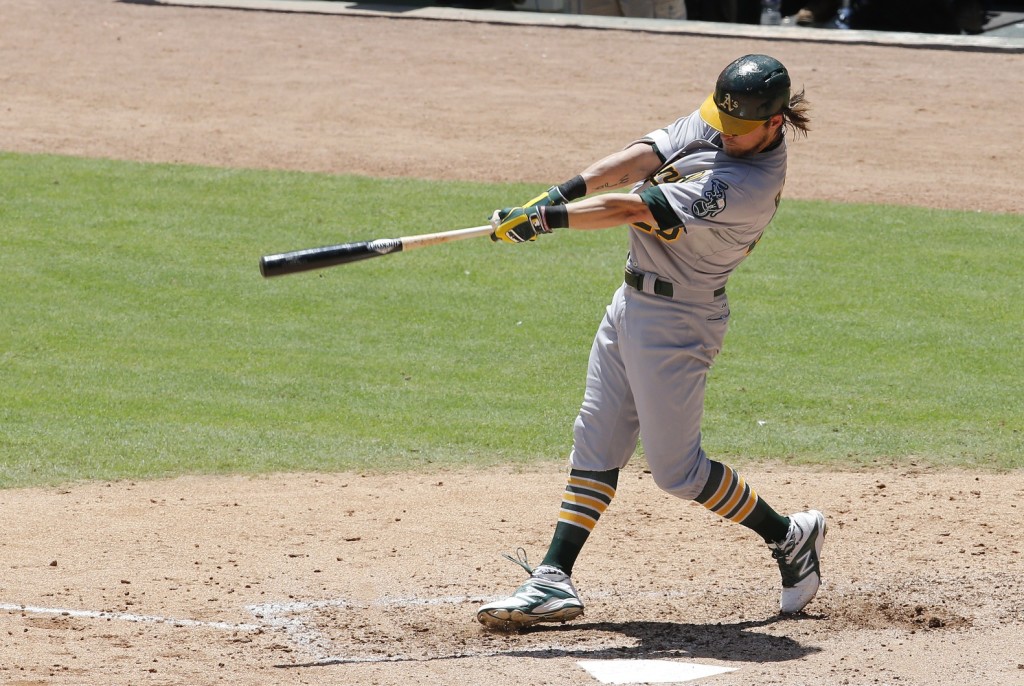 Here's a guy I didn't think I'd ever be officially rolling with. Josh Reddick, who no doubt can put up some huge games, but is one of those players that I'm ALWAYS on the wrong side of. Going against my gut and sticking with the facts tonight – real cheap price, a home run hitter with a good matchup at short porch Yankee Stadium. Should have a great chance at going yard tonight…just going to close my eyes and do it.
VALUE PLAY
C Yasmani Grandal $3.3K
They just refuse to raise Grandal's price, I guess when you consider he sits out multiple times per week? But the dude has been MASHING righties lately and gets a nice juicy matchup with Chad Billingsley tonight. Fresh off a game where they put up 10 runs, it looks like the Dodgers are back on track and ready to run up the scoreboard. Assuming he's in the lineup, Grandal is a great way to get exposure to the game and fill a tough position.
If Grandal is out, I like Vogt to pivot to-
…
That's it for today, good luck tonight, watch the weather because it's a bitch out there. @kmarkobarstool