Welcome back to the daily DraftKings picks where we try to get super rich playing daily fantasy baseball. As usual I'll do a brief recap of my lineups from the night before then throw out some picks that I'm brainstorming for tonight, and hopefully get some good feedback/tips/picks from you guys either in the comment section or on Twitter @kmarkobarstool.
Day slate did pretty well yesterday –
Night slate was eh –
Some tiny cashouts which has become the norm for me lately. I can do just well enough to get my money back, but can't make the big bucks. Fine if you're some n00b just trying to "have fun" out there, but as 4 month veteran of this daily fantasy grind, I'm trying to get PAID. Unacceptable. Triple figure cashouts or nothing.
Blog picks – once again, all mediocre and nothing spectacular. Grandal and Carpenter did a solid job for us, Hanley was OK, and Chris Young was a surprising dud. Still, the production isn't good enough for you, my loyal followers, and I promise to do better. It hurts my heart when we don't win money together.
Let's jump into tonight and make some cash-
PITCHER NOTES
–Clayton Kershaw, same thing every time: he's the best in the game, he's the most expensive pitcher ever. If you can fit his salary somehow…go for it.
Whooooeeee, stacked full of aces in here. Let's go through them
Jose Fernandez is MONEY since his TJ, but we do like to target him more at home for this price point
Jacob DeGrom looking like he wants a Cy Young out there lately…but the Rays have been sneaky hot lately
Sonny Gray is another guy who kind of flies under the radar despite being in incredibly expensive ace
I really like Gerrit Cole tonight, but that could just be my anti-Dodger bias speaking
-Mid range values…Heaney has looked good, and has a rotation spot locked up now with Wilson's injury. Odorizzi is coming in cheap for his upside, but are we still scared of the Mets offense? I am. Teheran has looked surprisingly good lately…someone to consider.
-Value plays…Nola anyone?
Reader pick of the day
HITTERS
OF Mike Trout $4.9K
Mike Trout for 4.9K against Kevin Gausman…oh and did I mention?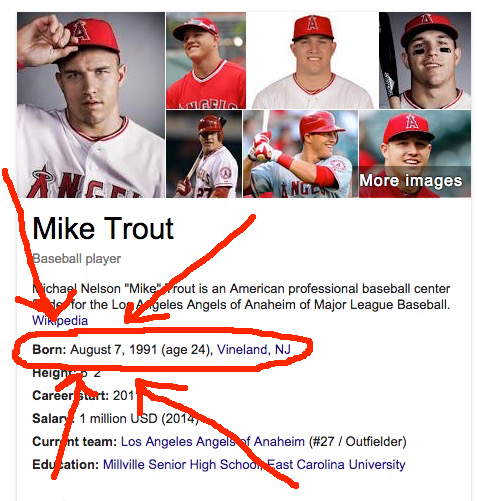 Birthday Bombs for everybody!
(24 freaking years old. Crazy)
1B Edwin Encarnacion $4.5K
When Edwin is locked in…watch out. He's been kind of scuffling off and on this season, but with 2 home runs in his last 2 games, I'm fully on board and ready to ride this hot streak out. He's got another good matchup tonight and the Jays are, as usual, a top 5 offense to target.
2B Ian Kinsler $4.3K
I don't really ever play Kinsler for some reason, so he hasn't been on my radar. You seen his game log lately? Had no idea the dude was putting up so many points. And the Tigers are a top 3 offense to target tonight, so add in the fact he's priced so cheap, and boom, you have a great 2B play. Now a word of caution – I've been targeting the bum Red Sox pitching staff a lot lately, and they keep pulling gems out of their ass and runing my lineups. So hopefully the Tigers can buck that trend tonight. Or, you can play into that, and trot Joe Kelly out there at 4.4K (Lol no don't do that.)
OF Carlos Gonzalez $4K
Borderline value play territory for a guy who has been mashing for the past month or so. Zimmerman has not looked sharp lately, the Rockies have been hitting much better on the road, and at this price I love that combo for some good upside potential.
…
That's it for me, hit me up @kmarkobarstool and good luck out there tonight.