Welcome back to the daily DraftKings picks where we try to get super rich playing daily fantasy baseball. As usual I'll do a brief recap of my lineups from the night before then throw out some picks that I'm brainstorming for tonight, and hopefully get some good feedback/tips/picks from you guys either in the comment section or on Twitter @kmarkobarstool.
Well, one good night was fun. God forbid I try to have two in a row. Lineup breakdown:
Optimal – nada.
Secondary – better, but not great.
Blog picks – Dee Gordon risk didn't pay off, Carpenter did well as expected, and extreme value play Blanco didn't contribute much. Should have made Ruf the official pick instead.
Tonight…
PITCHERS
-It's a Kershaw night! Love the Cubbies, but they strike out a ton and Kershaw is in a different stratosphere right now. Should have another gem, but as always, you have to pay big time for it.
-The next two big dogs have some question marks – Scherzer has looked shaky lately, and Harvey has looked awesome but is now facing a pesky Sox team that doesn't strike out a lot, which minimizes upside. Of course both these guys could easily go off for a 40 point night at any time, just saying be careful when you're spending this much cash.
-I think this next salary range is a good place to focus – Gray, Tanaka, Liriano, and Hamels are good solid plays (on paper) which some good upside and relative safety (well as much safety as you can possibly have in DFS). The Giants are tough on righties but Wacha is also a consideration of course.
-Mid range guys – Ian Kennedy has been striking out a ton of people lately, Jungmann has looked solid and gets the Reds shitty lineup, and Nola is coming off a gem. I also like Iglesias a lot who has been racking up Ks.
-High risk value guys…Chase Anderson and Gausman anyone? Anyone??
HITTERS
OF Yoenis Cespedes $4.9K
The guy is so locked in right now. I've watched every inning of the past like 10 Mets games, and every time Yoenis comes up to the plate you just expect him to crush the ball. That's a great zone to be in as a hitter and more importantly for us, a great zone to target to win some cash money. I said I would auto-roster Cespedes if he was sub-$5K when the pricing came out, and that's exactly what he is.
2B Ian Kinsler $4.5K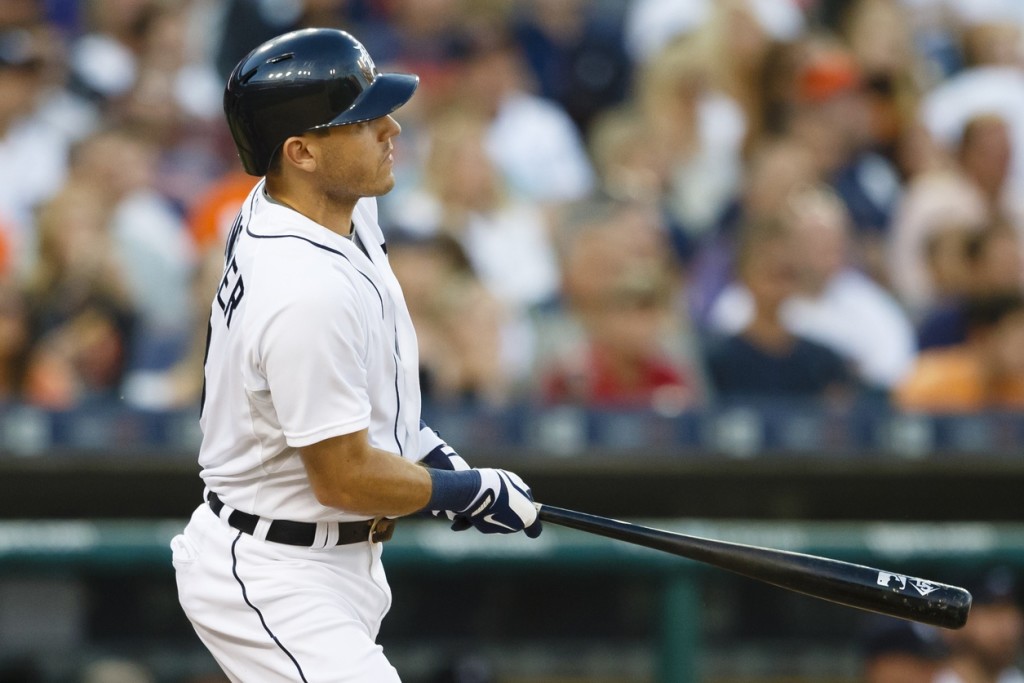 One of the first nerd stats I picked up from the experts I read when getting into this stuff was "BvP"…then I promptly learned that every time I followed it, it never worked out and my guys sucked ass. However, I do think it's important when talking about a knuckleball pitcher so you know who can hit the knuckler and who can't, and Kinsler is 6/16 with 2 HR and 1K lifetime against Dickey. Take that for what it's worth. Now add in the fact he's hitting leadoff in a game with a 9.5 total tonight and I like the play.
OF Chris Colabello $4K
The Blue Jays are the top offense to target tonight by a long shot, and that means the usual suspects are in play – Bautista, Donaldson and Encarnacion are all great plays. And very expensive. I'm gonna focus on someone a little cheaper – Colabello has had 2 huge games in a row, hitting right in the middle of the order. Can't beat that $4K price point with 25 point upside.
*Make sure he's in the lineup, he's in and out of there at what seems like completely random times
VALUE PLAY
OF Franklin Gutierrez $3.8K
Just in case Colabello is out of the lineup I'll throw another OF play in for you, somebody even cheaper. Franklin Gutierrez CRUSHES lefties and usually bats in the 5 spot for a top 3 offense to target tonight – he's also got 2 homers in the past 2 games. Sign me up.
…
Hit me up @kmarkobarstool to talk shit. Also if you deposit and play tonight, use my referral code so we both get hooked up!