Welcome back to the daily DraftKings picks where we try to get super rich playing daily fantasy baseball. As usual I'll do a brief recap of my lineups from the night before then throw out some picks that I'm brainstorming for tonight, and hopefully get some good feedback/tips/picks from you guys either in the comment section or on Twitter @kmarkobarstool.
Been having a ton of people tweet me asking "where are the picks? where's the blog for the day games?" during these split-slate days, so figured I'd break up the daily blog into 2 quick ones. I'm a sucker for my fans. I do have a lot of other blogs to write though so these ones are going to be quick.
Quick recap of last night:
Optimal lineup –
"Just for fun" lineup did a little better –
Better than Tuesday night that's for sure, but scores still not as high as I'd like. Feel like it's been ages since I opened up the app and saw triple digits in bright green next to me lineup. Miss that feeling.
Blog picks were mediocre yet again – Dozier put up good numbers, Soo Choo hit double digits, Jaso eh, Trout sucked. Haven't been hitting my big money guys lately which is obviously a big problem with my lineups.
A few picks for the day games –
PITCHER
Noah Syndergaard $11.1K
No contrarian pick here, he's probably going to be 70-80% owned on this slate and won't set you apart from the field – you're going to need to pick your lineup well to do that. But I have a feeling if you DON'T have him in your lineup you won't be winning much
of anything either. Considering how hot this Mets pitching staff is and how silly they've been making the Rockies look this series, I think this is fade-at-your-own risk territory with Thor. Match him up with a sneaky high risk, high reward SP2, cross your fingers and hope your hitters hit some bombs.
HITTERS
OF Curtis Granderson $4.3K
People who follow me on Twitter know I've joked a bunch all year about doing a Mets stack every day hoping for the 1 game it finally worked out. That used to be a joke. Now, it's kind of becoming a reality, weirdly. The Mets are actually piling on some runs. Eddie Butler stinks at pitching and I like the Mets to close out the series with a win today and 5 or 6 runs – hoping the lead off guy Granderson is right in the middle of the action.
(With my luck lately, Granderson will be the one Met to go hitless, while fucking Kelly Johnson and Ruben Tejada knock in 4 runs each)
VALUE PLAYS
Yup I got 3 for you today…
2B Daniel Murphy $3.9K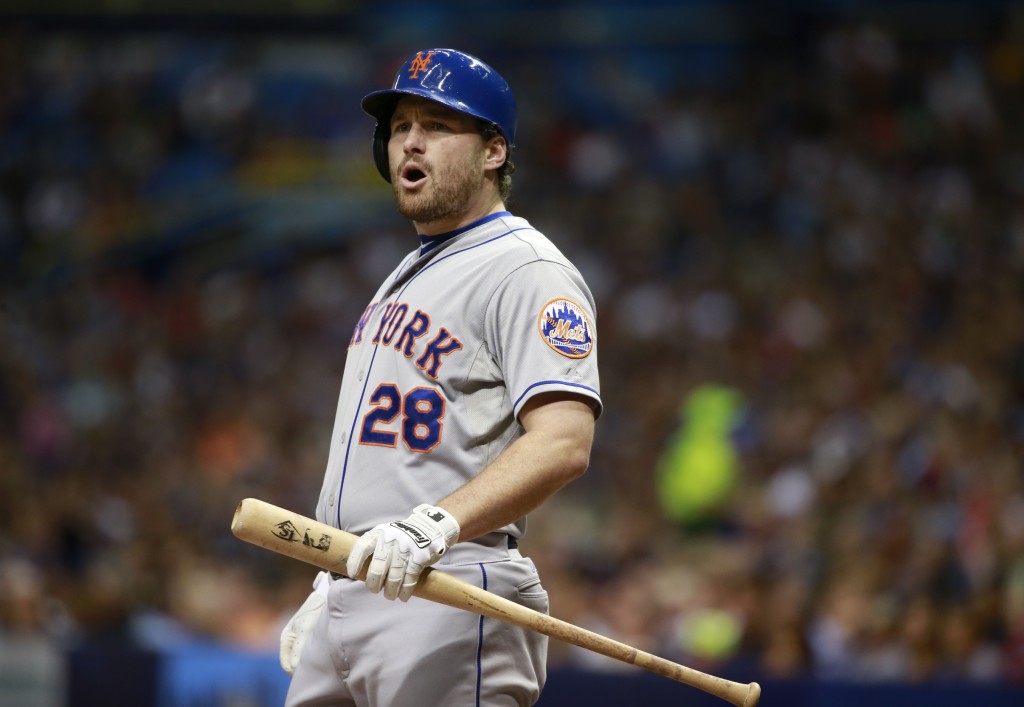 Mets stack baby!
Hitting in the 3 spot against a shitty pitcher. I don't hate it.
3B Miguel Sano $3.8K
Not to chase points here (even though as you can see I played him last night in every lineup), but sometimes it's best not to try and get too cute. Sometimes a guy mashes 2 home runs and his price drops 400 bucks. Sometimes things just don't make sense and you have to jump on it. I think that's what I'll be doing here. I mean if you hit 2 massive bombs in one night you're clearly seeing the ball pretty well and have your swing in a good spot. Why not jump on that for $3.8K?
OF Danny Valenica $3.5K
The dude crushes lefties and is hitting cleanup. Also, checking his game log, he's been on a bit of a tear lately. What else do you need for $3.5K?
Also…revenge game!
…
I'll be back later for the night games. Hit me up @kmarkobarstool. This is also kind of good, doing the day games…if the picks stink, I'll know to switch up my strategy for the late ones. Can't suck on 2 slates on the same day.
PS – If you deposit and play today please use my link so we both get hooked up.