Welcome back to the daily DraftKings picks where we try to get super rich playing daily fantasy baseball. As usual I'll do a brief recap of my lineups from the night before then throw out some picks that I'm brainstorming for tonight, and hopefully get some good feedback/tips/picks from you guys either in the comment section or on Twitter @kmarkobarstool.
Hope everyone had a good weekend and made some money. Quick recap-
The Friday picks did pretty well and I did well enough to cash with my optimal lineup –
Threw a lineup into a cheap Sunday tournament just for fun and squeaked some cash in that one as well –
Nothing major though. Hoping to make a breakthrough this week and start building up a monster bankroll for football and basketball seasons (basketball is by far my strongest DFS sports by the way, hoping to make some big money coming up this winter).
Short slate tonight but some great options out there so let's jump right into it –
PITCHER NOTES
-Really, really hard night for pitchers. Mostly because your two top options are a lot more risky than you'd expect them to be – Chris Sale against the Angels, and Johnny Cueto against the Tigers.
–Sale is Sale, obviously, and you never know when he will snap out of his funk and go back to 14K games. But he HAS been in a funk, a big one. And can you trust him to break it against the Angels?
-The Tigers lineup is way less intimidating with Miggy out and Cespedes gone, but Cueto hasn't exactly been sharp lately – worst of all, he hasn't been getting Ks. Which is what we rely on for DraftKings points. I don't hate taking a shot on him at this price though.
-You thought the top 2 options were scary? Look at who else you got to select from. Good luck feeling real comfortable with a value pitcher tonight. Shoemaker, Niese maybe? Gio? Ughhh.
HITTERS
OF Nelson Cruz $5.5K
This one's pretty easy in my opinion. Obviously at 5.5K you're taking a lot of risk at the expense of the rest of your lineup – if you don't get at least 15-20 points in that spot you're pretty much screwed. Lucky for us, with pitching prices the way they are, it shouldn't be too hard to sneak Cruz in at 5.5. He's the hottest hitter on the planet right now and has another matchup with a lefty…would be shocked if he didn't go deep yet again tonight.
3B Manny Machado $5K
He's expensive, and if you're only going 1 big money guy, then I think Cruz is the no brainer. But looking at my lineup, I have some good value plays penciled in, so I can afford to spend up a little bit for easily the top 3B option. Just feels like one of those Machado bomb type nights.
OF David Peralta $4.1K
The DBacks are the premier offense to target tonight, and while that usually starts with Paul Goldschmidt, I'm dipping way down in price and focusing on Peralta in the outfield. In a great spot tonight for borderline value play price.
David Peralta is one of those guys that I could tell you a ton of stats for, list his salary variations over the past 4 months, and yet have 0 idea what he looked like until searching Google Images for this blog. So goes the life of a DFS player.
VALUE PLAY
2B/3B Anthony Rendon $3.2K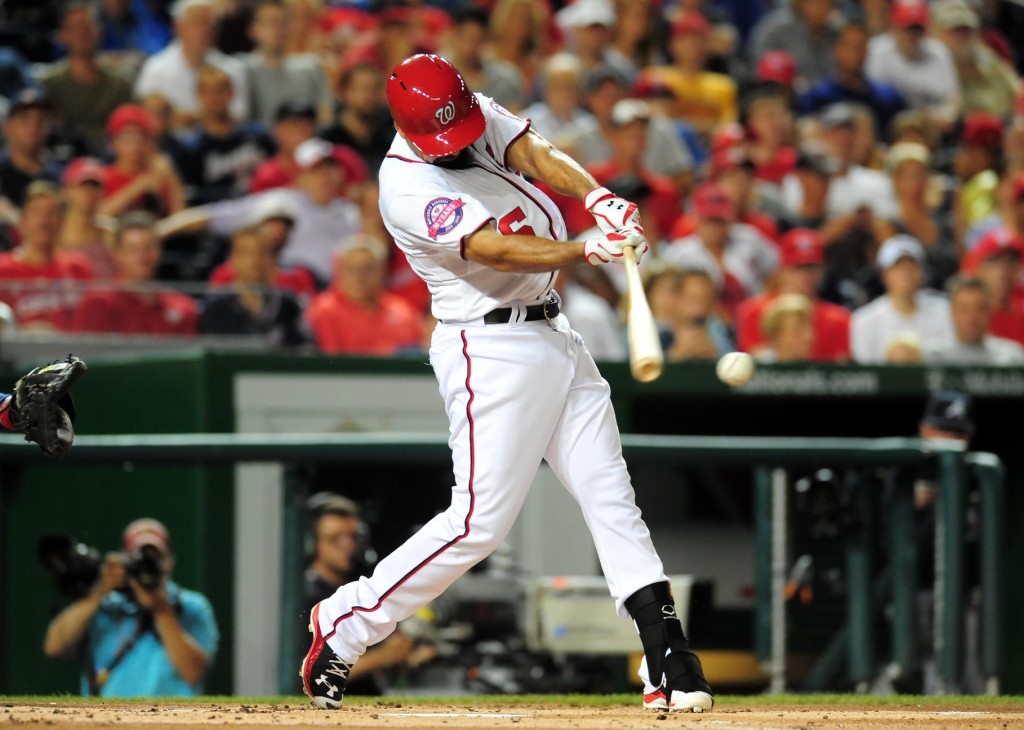 Call it totally a gut play, but I like Rendon tonight. Don't really have any numbers or sneaky expert advice to back that up. Just know that I want some exposure to the Nats tonight. So why not Zimmerman? Especially after I cashed in on him hitting 2 bombs yesterday? Don't know. Can't explain it. The heart wants what it wants. Going to roll the dice on a guy who has been injured all season and has yet to get hot.
…
Good luck out there, hit me up @kmarkobarstool