We finally have some Trevor Story action again tonight. Will he regress or is he going to blast another homer? Out of our plays last night, Suarez regressed, Tyler White had 2 hits and Rizzo/Fowler were miserably bad. Let's see if we can track some of the hottest hitters tonight and breakdown their matchup.
Trevor Story ® (COL vs. SF) – $4,900
Opposing Pitcher: Jeff Samardzija
Trevor Story is a rookie, but he is also the hottest thing in baseball right now. So far this season he has 7 homers, a 1.11 SLG% and a 1.468 OPS. This is unbelievable for a guy that was relatively unknown coming into the season. He will face Samardzija tonight, who is a righty and allowed a .689 OPS to RHB last season. Story has a .657 handedness wOBA and will be playing in the highest run total game of the night. While the Rockies remain at Coors, I can't see any reason to jump off of the Trevor Story train just yet.
---
Jose Altuve ® (HOU vs. KC) – $4,800
Opposing Pitcher: Kris Medlen
Altuve had a great game last night putting up 3 hits. He has had a strong start to the season posting a .286 BA, a .429 SLG% and an .804 OPS. This will be Kris Medlen's first start of the season, and he allowed just a .671 OPS to RHB in 2015. Altuve has a handedness wOBA of .321, and I think Altuve regresses a little tonight and struggles to get it going.
---
Carlos Correa ® (HOU vs. KC) – $4,800
Opposing Pitcher: Kris Medlen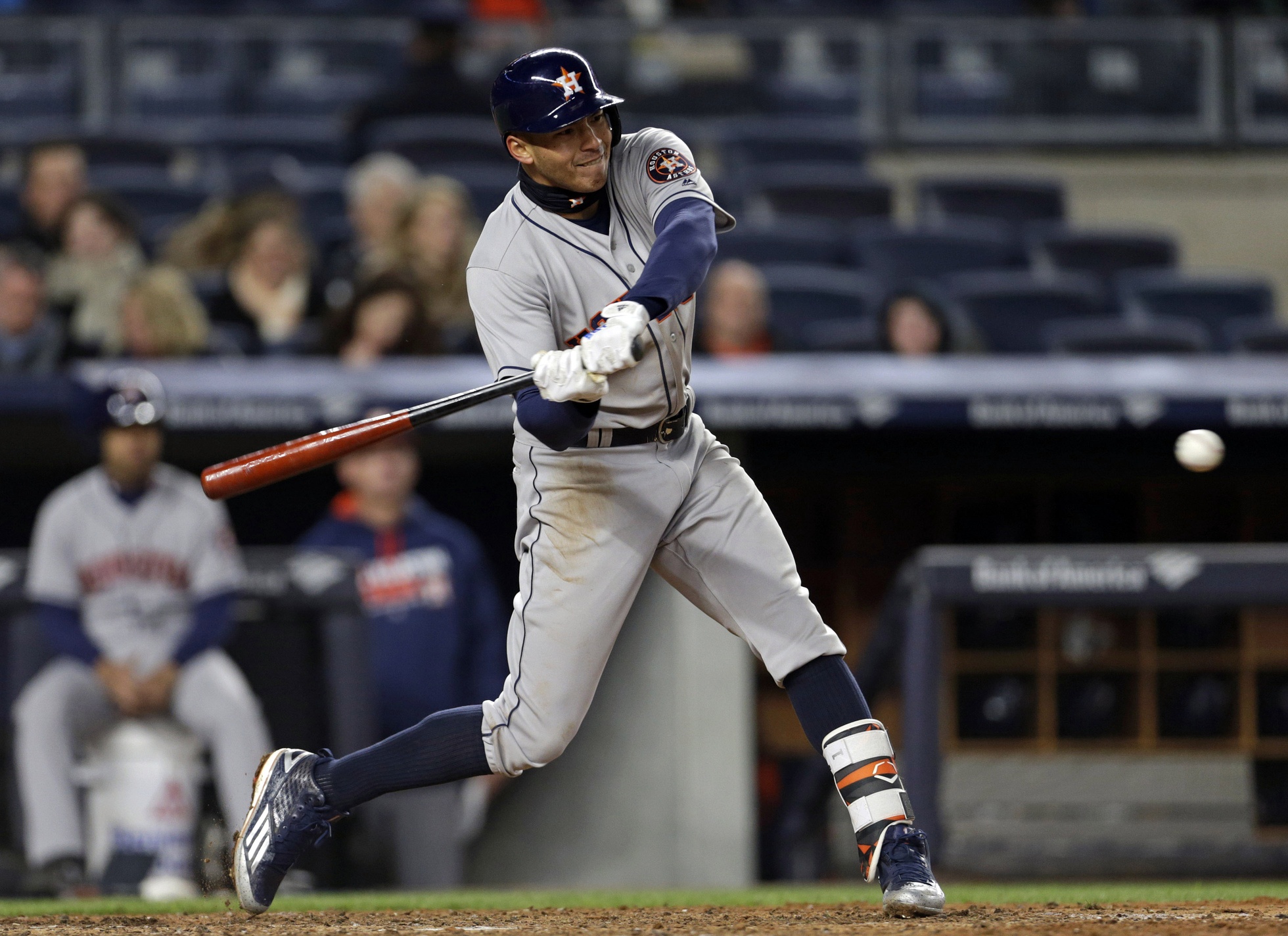 Correa makes the list again today as he put up 3 runs and 2 RBIs yesterday in 5 ABs. I like him a little better than Altuve tonight due to his order in the lineup (3rd) and the .361 wOBA. He is batting .357 on the year and has an OPS of 1.150. I also like his 3 homers and .750 SLG%. If I am not stacking Astros (which I probably will do) then I like Correa better than Altuve tonight.
---
---
Josh Donaldson ® (TOR vs.
NYY

) – $4,600

Opposing Pitcher: Masahiro Tanaka
Donaldson is a model of hitting consistency putting up 17.75 DKFP in the last 4 games. Donaldson has a BA of .310 and is slugging at .759%. He also carries a 1.13 OPS into tonight's game. Tanaka's last start got postponed, but he did have a decent Opening Day, only allowing 2 runs to the Astros. Tanaka had a .654 OPS against RHB last season. The thing that worries me in this one is Donaldson's BvP against Tanaka. In 13 at bats Donaldson has only registered one hit. I usually roll him out for his consistency, but I fear tonight might be the rare off night.
---
Manny Machado ® (CHC vs.
CIN

) – $4,500

Opposing Pitcher: Clay Buchholz
My Orioles are on fire (6-0), and so is Manny Machado. Machado had 2 hits against Boston yesterday and is sitting on 3 homers so far this season. Machado has a .875 SLG% and a whopping 1.394 OPS so far this season. Clay Buchholz had a terrible first start and gave up 6 hits. He had a .725 OPS against RHB last season. Machado has a handedness wOBA of .393 and has done well against Buchholz in the past. I am thinking the hot streak continues tonight in Fenway.
---