YASSSSSSSSSSSSSSSSSSSSSSSSSSS.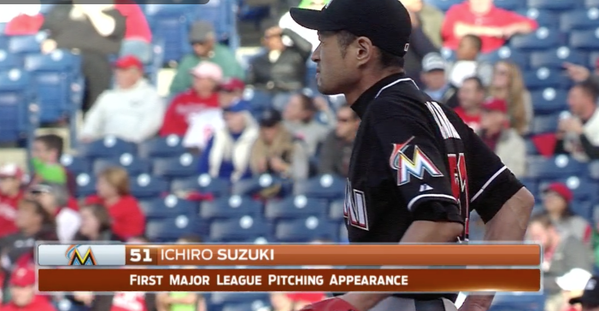 Finally…
FINALLY, ICHIRO-HAS-COME-BACK … to the pitcher's mound!!!!
All these years he's been in the league, he's never pitched — UNTIL NOW.
This wasn't like an experiment/the Marlins trolling, either… here he is pitching in High school:
and in the NPB before he came to the MLB…
https://www.youtube.com/watch?v=LTELf1mrzSY
Well, as of yesterday — he can now say he's pitched in every league he's played in … as he was called out of the "pen" against the Philadelphia Phillies during the Marlins' last game of the season:
Ichiro pitching. This is real life. ⚾👍😂https://t.co/9g2M3AJGqM

—

MLB

(@MLB) October 4, 2015
HE THREW BREAKING PITCHES LIKE IT WAS NOTHING!!!!
https://twitter.com/iamjoonlee/status/650784783543443457
Needless to say, he was a little rusty…
https://vine.co/v/e2igvUA9hbp
But in the end, he performed better than like half the Marlins' staff!
Get this guy in the rotation!
In all seriousness: I could watch this on loop for the rest of my days and be generally pleased with how my life turned out…