Matthew Freedman is the Editor in Chief at FantasyLabs and will be providing five data-driven insights a few times a week right here on the DraftKings Playbook.
FantasyLabs is a daily fantasy data and content platform that enables players to test theories, create and backtest models, and construct customized lineups. In this piece, I leverage the same FantasyLabs Tools used by Co-Founders Jonathan Bales and Peter Jennings (CSURAM88) for each slate.
Pitchers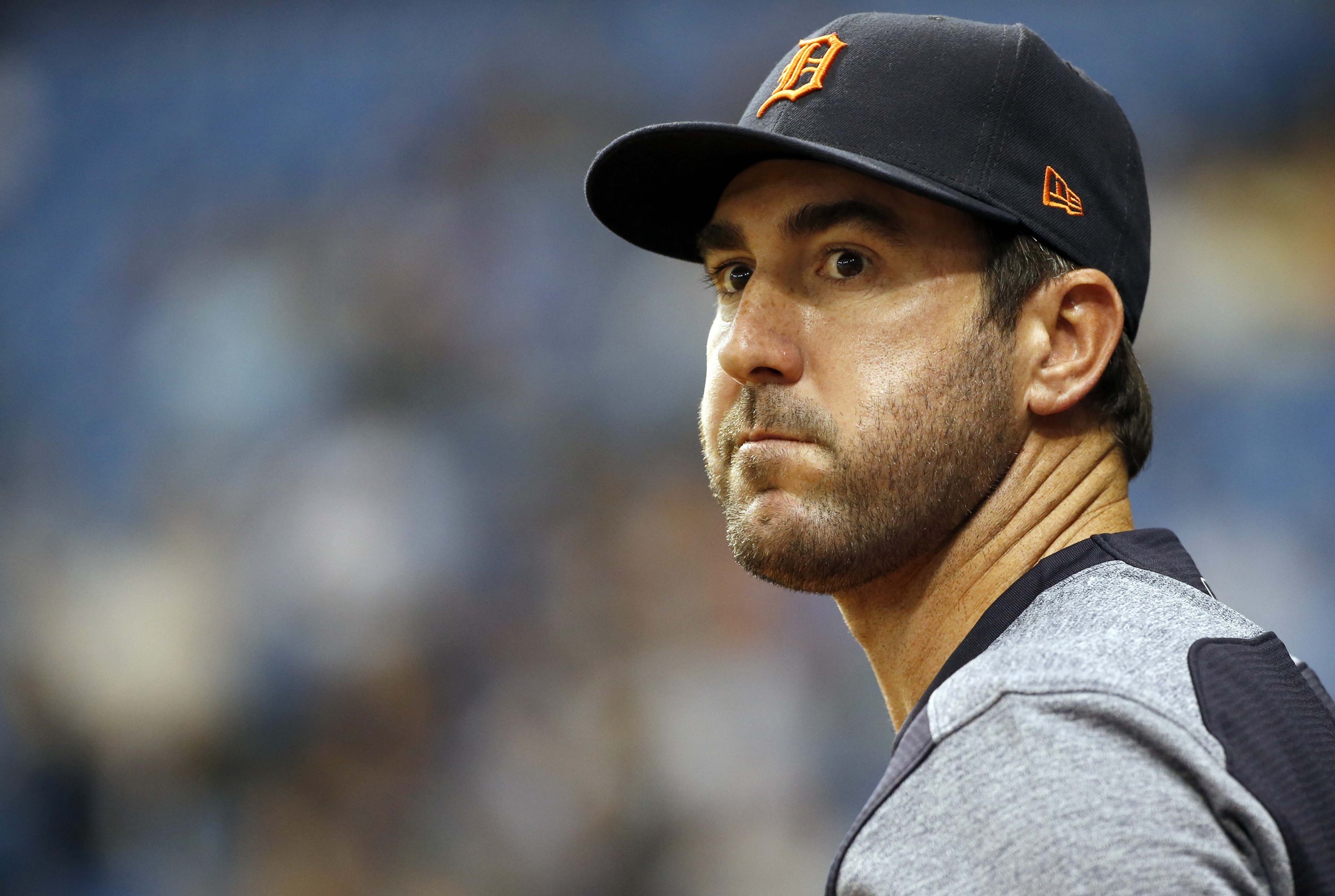 8.5 K Prediction – Justin Verlander
Today the top tier of pitchers consists of Corey Kluber ($10,800), Jon Lester ($10,600), Jacob deGrom ($10,200), and Verlander ($10,300). Of the four, Verlander is perhaps the most intriguing. Whereas the Indians, Cubs, and Mets are all currently favored by at least 0.6 runs, the Tigers are only 0.2-run favorites over the Twins, who have an implied total of 3.7 runs. Given his slight status as a favorite, Verlander could be available at a substantial ownership discount to the other three studs.
Verlander is also intriguing because of his undeniable upside. Of the four studs, he has the highest WHIP (1.007), strikeouts per nine innings (10.262), and innings per start (6.7) over the last 12 months. He also has the highest Park Factor (72) of the stud cohort and the highest predicted strikeouts (8.5) of all pitchers in the slate. At FantasyLabs we have a proprietary Plus/Minus metric that measures actual vs. expected fantasy production based on the historical performances of previous pitchers at comparable salaries. According to our industry-leading Trends tool, past pitchers comparable to Verlander on the basis of strikeout predictions and opponent totals have averaged 20.72 DraftKings points for a +3.45 Plus/Minus. The cohort has collectively hit its salary-based expectations with a 65.2 percent Consistency Rating.
Given that the Tigers-Twins game currently has a zero percent chance of precipitation in a slate with some forecasted storms, Verlander is deservedly one of the highest-rated pitchers in our Player Models.
93 Recent Batted Ball Luck Score – Tyler Glasnow
At just $6,600, Glasnow is one of the cheaper pitchers in the slate and a contrarian GPP option. A 23-year-old newbie with just six career starts, he's allowed 10 hits and seven walks this season over just 6.2 innings on his way to a putrid 12.15 ERA. In his two 2017 starts, he's averaged 1.1 DraftKings points and a terrifying -12.56 Plus/Minus. And yet, appearances to the contrary, he might not be a horrible option: He's third on the slate with an 87 Park Factor (Yankee Stadium is friendly to right-handed pitchers) and sixth with 9.829 strikeouts per nine innings over the last 12 months. The Pirates are only the slightest of underdogs (4.0 implied runs) against the Yankees (4.1), whose implied team total is average for the slate.
Most importantly, it's possible that this season Glasnow has suffered from an inordinate amount of bad luck. At FantasyLabs, we've used Statcast data in our Models since last season and created a number of metrics to leverage this advanced information, one of which is Recent Batted Ball Luck, which measures the difference between a player's percentile rank in batted ball distance and fantasy scoring over the past 15 days. Glasnow has a ridiculous and slate-high mark of 93, meaning that — even though he's in the bottom 10 percent of recent fantasy production — he's in the top 10 percent of all pitchers in batted ball distance allowed. Indeed, over his last two starts, Glasnow has held opposing batters to an average batted ball distance of 183 feet, exit velocity of 87 miles per hour, and a slate-low hard hit rate of just 16 percent.
Glasnow might not be a good pitcher, but he's probably not as bad as his 2017 fantasy production suggests.
---
Hitters
.524 ISO – Eric Thames
Given that he has a National League-leading .415 batting average and MLB-leading eight home runs — seven of which he's hit in the last eight days — Thames is relatively cheap at $3,800. For the season, he's absolutely crushed the ball with an unbelievable batted ball distance of 242 feet, exit velocity of 95 mph, and hard-hit rate of 54 percent. It's not a surprise that he leads the slate with his .524 isolated power (ISO).
That said, he warrants fade consideration in GPPs. Our exclusive Volatility Rating metric measures the differences in player ownership at various stakes, and in yesterday's tournaments Thames had a -8.13 Volatility Rating, as high-stakes GPP players rostered him at a substantially lower rate (14.55 percent) than their low-stakes counterparts (20.93 percent). It's not hard to see why sharp players would fade him today: This season he's been one of the rare left-handed batters to perform better against left-handed than right-handed pitchers, which means that versus Cardinals righty Adam Wainwright he's on the wrong side of his splits, with a -0.203 ISO Differential. Wainwright is off to a terrible start of the season at 0-3 with a hideous 2.195 WHIP and 7.24 ERA. Given his hot streak and Wainwright's early-season incompetence, Thames could have inflated tournament ownership.
100 Park Factor – Rockies & Giants

The Rockies and Giants face each other at Coors Field, where the beer flows like wine and baseballs instinctually fly like the salmon of Capistrano. Park Factor is a FantasyLabs metric that measures the friendliness of a park based on the handedness of the batter and the starting pitcher. At Coors Field, all batters have a 100 Park Factor regardless of handedness. Unsurprisingly, Coors Field is the most hitter-friendly ballpark in MLB with league-high marks in average DraftKings points per game (9.08), Plus/Minus (+1.36), Consistency Rating (47.5 percent), and Upside Rating (19 percent). In cash games, you could do a lot worse than playing Coors first and asking questions later.
In GPPs, though, more discretion is desired, since Coors batters also historically lead the league in ownership (11.2 percent). Although it may seem chalky to stack the Rockies, it's worth noting that over the last four years they've done significantly better at Coors than their opponents:
• Average DraftKings points per game: 9.25 vs. 8.90
• Plus/Minus: +1.56 vs. +1.17
• Consistency Rating: 48.9 percent vs. 46.1 percent
Most importantly, the Rockies have outperformed their visitors at exactly the same 11.2 percent ownership. If you want to stack the Rockies with our Lineup Builder while still being somewhat contrarian, consider judiciously targeting the lower half of the projected lineup. Hitters batting sixth through eighth at Coors historically have provided value (+0.64 Plus/Minus) — at a reduced ownership of only 5.2 percent. And the Rockies could have lower ownership than the Giants, who are favored with a slate-high implied run total of 5.5. The Rockies have 'only' the slate's second-highest implied total at 5.1 runs.

96 Opponent Bullpen – Rangers
Our Opponent Bullpen metric is a percentile rank of how overworked the opposing bullpen has been over the past three games; a higher number is better for batters. Over the last three days, the Royals' bullpen has been punished, needing to pitch into extra innings twice. With the innings they've thrown recently, the Royals relievers are basically zombies.
• April 20: Five innings
• April 19: Two innings
• April 18: Five innings
Yesterday's 13-inning affair — a 0-1 loss to the Rangers — was particularly brutal.
Why does this matter?

The Royals-Rangers game currently has a 71 percent chance of precipitation, which means that Royals' starter Nate Karns seems unlikely to pitch even a starter's allotment of innings. Perhaps unexpectedly, hitters have actually overperformed with a moderate chance of rain — maybe because starters are typically pulled early in rain-impacted games — so the Rangers could be a true contrarian stacking option. They play in a hitter-friendly park, they're currently tied with the Rockies for the slate's second-highest implied total (5.1 runs), they'll likely have depressed ownership because of weather concerns and the Coors Field game, they have a hitter-friendly umpire behind the plate in Tom Woodring (+0.7 Plus/Minus), and they could face the dead arms of the Royals' relievers for an extended number of innings. If this game doesn't get rained out, it could provide a lot of value in GPPs. Of course, it might get rained out.
---
I am a promoter at DraftKings and am also an avid fan and user (my username is mefreedman) and may sometimes play on my personal account in the games that I offer advice on. Although I have expressed my personal view on the games and strategies above, they do not necessarily reflect the view(s) of DraftKings and I may also deploy different players and strategies than what I recommend above.