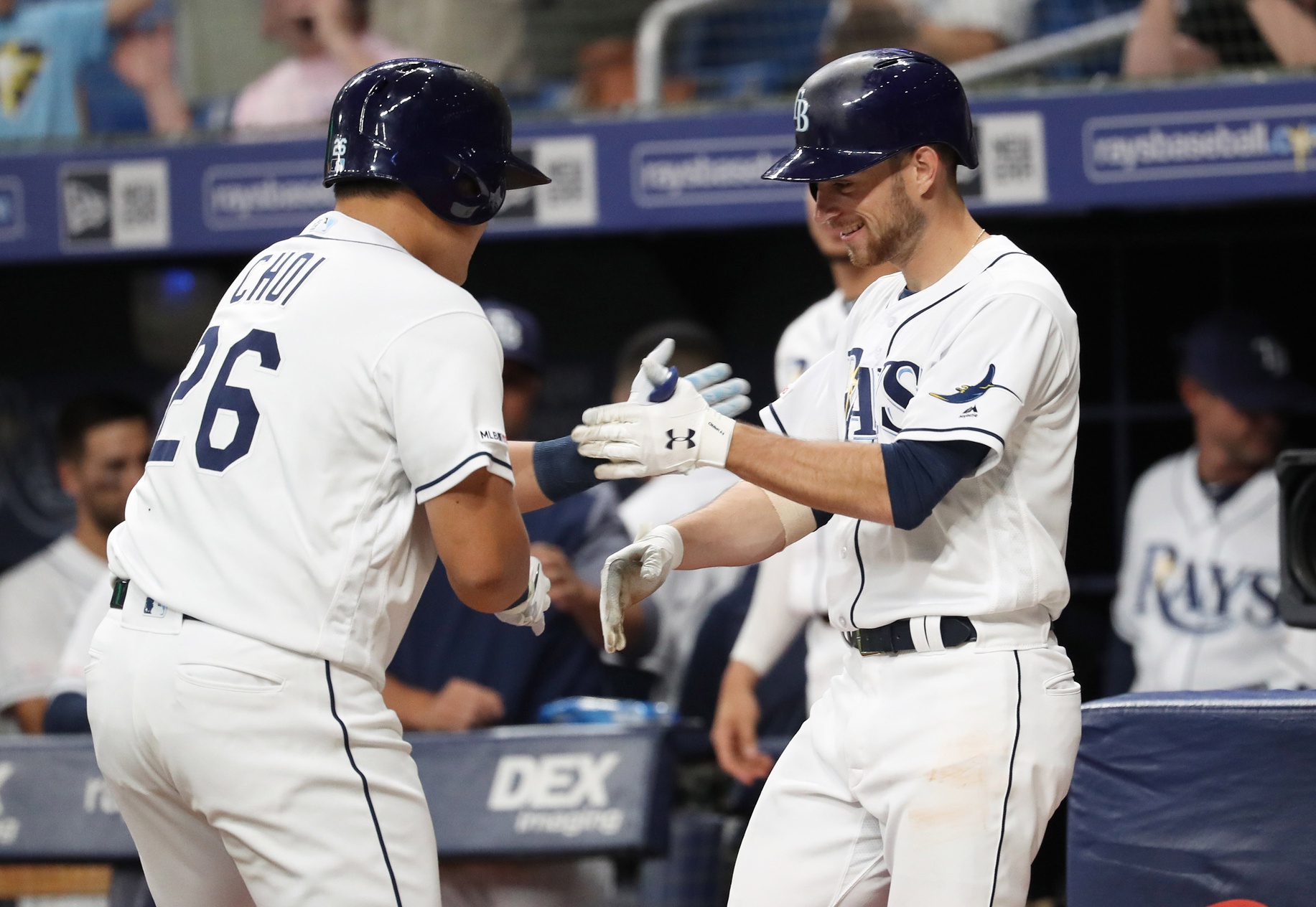 Thursday's MLB main fantasy baseball slate consists of just five games. For up-to-the-minute news, analysis and lineups, download the DK Live app, as MLB news, injury reports, weather and betting lines on DraftKings Sportsbook can change throughout the day. Value also unexpectedly can open up due to lineup changes, making it important to stay up-to-the-minute with the DK Live app until lineups lock. You also can follow DK Live on Twitter at @DKLive.
Here are five different hitting stacks fantasy owners can consider using on DraftKings:
1.
TAMPA BAY RAYS
It's usually a good idea to attack the Orioles' pitching staff. The O's lack talent in both the starting rotation and in their bullpen, which has resulted in them allowing the second-most runs in the league. They'll send Andrew Cashner to the mound for this contest, who is not off to a good start with a 6.21 xFIP and a 1.62 WHIP. This comes on the heels of him recording a 5.19 xFIP and a 1.58 WHIP last year.
Another area of concern for Cashner has been his struggles against left-handed hitters, who recorded a .361 wOBA against him last season. To top it off, he's allowed four home runs over his first 20 1/3 innings after giving up 1.5 HR/9 in 2018. With the Rays one of the hottest teams in baseball out of the gate, this is a matchup to exploit.
Players to consider
Austin Meadows ($5,000)
Brandon Lowe ($4,400)
Ji-Man Choi ($3,700)
Kevin Kiermaier ($4,500)
Yandy Diaz ($4,100)
---
2.
COLORADO ROCKIES
At first glance, the Rockies' .611 OPS to start the season looks concerning. However, it's important to note they've played only five of their 18 games at home. They posted an ugly .665 OPS on the road last year, but they had a league-leading .852 OPS at Coors Field. This is the first of seven straight games at home, so this could be just what they need to get their lineup back on track.
They don't exactly have an imposing opponent Thursday in Zach Eflin, who has a career 17.8 percent strikeout rate. He already has allowed four home runs over his first 16 innings this season and has allowed 1.6 HR/9 for his career. With how hitter-friendly Coors Field plays, Eflin is someone to stack against.
Players to consider
Nolan Arenado ($5,400)
Trevor Story ($5,300)
Charlie Blackmon ($5,100)
Garrett Hampson ($3,900)
Mark Reynolds ($4,200)
---
3.
SEATTLE MARINERS
The Mariners have been one of the hottest hitting teams out of the gate and lead the league in runs scored. However, they've averaged only 2.5 runs during their current six-game losing streak. As bleak as those numbers are, it's important to note they faced the Astros and Indians during that stretch — two teams with stellar pitching staffs.
It will be a much easier row for them to hoe Thursday in their matchup against Chris Stratton, who has allowed eight runs over 13 innings so far. What's even more concerning is he's allowed 26 total baserunners. The problem is he doesn't exactly have an overpowering arsenal, which has left him with a career 17.9 percent strikeout rate. This could be the game the Mariners need to ignite their bats again.
Players to consider
Domingo Santana ($4,900)
Jay Bruce ($4,500)
Daniel Vogelbach ($4,700)
Mitch Haniger ($4,800)
Edwin Encarnacion ($4,600)
---
4.
MILWAUKEE BREWERS
Julio Urias is going to make one final start for the Dodgers on Thursday before they move him to the bullpen. With Hyun-Jin Ryu (groin) set to return, the Dodgers will use that as an opportunity to limit Urias' innings by using him as a reliever. He's not exactly off to the best of starts, either, with a 5.45 xFIP and a 1.32 WHIP.
Urias actually just faced the Brewers in his most recent outing and was lit up for six runs (five earned) across five innings. He allowed two home runs in that contest, which should as no surprise considering the Brewers have hit the fourth-most home runs in baseball. A Brewers stack has the potential to be extremely productive in the rematch.
Players to consider
Christian Yelich ($5,600)
Mike Moustakas ($4,500)
Lorenzo Cain ($4,700)
Yasmani Grandal ($4,800)
Jesus Aguilar ($3,800)
---
5.
PHILADELPHIA PHILLIES
This might not stand out as an obvious stacking opportunity with the Phillies facing Kyle Freeland, who had a breakout campaign in 2018 with a 2.85 ERA and a 1.25 WHIP. However, his 4.35 xFIP indicates he didn't exactly pitch as well as his ERA would lead you to believe. Despite having a couple of favorable matchups against the Marlins and Giants, he already has allowed 14 runs (13 earned) in 21 2/3 innings across his four starts. He only has made one start in Coors Field, and he was hammered in that outing for seven runs over five innings by the Braves. For such a limited slate, attacking Coors Field regardless of who is on the mound isn't exactly a bad idea.
Players to consider
Bryce Harper ($5,800)
Rhys Hoskins ($5,700)
Andrew McCutchen ($5,400)
Maikel Franco ($5,100)
Scott Kingery ($4,000)
---
Put your knowledge to the test. Sign up for DraftKings and experience the game inside the game.
---
I am a promoter at DraftKings and am also an avid fan and user (my username is mbarner51) and may sometimes play on my personal account in the games that I offer advice on. Although I have expressed my personal view on the games and strategies above, they do not necessarily reflect the view(s) of DraftKings and I may also deploy different players and strategies than what I recommend above. I am not an employee of DraftKings and do not have access to any non-public information.