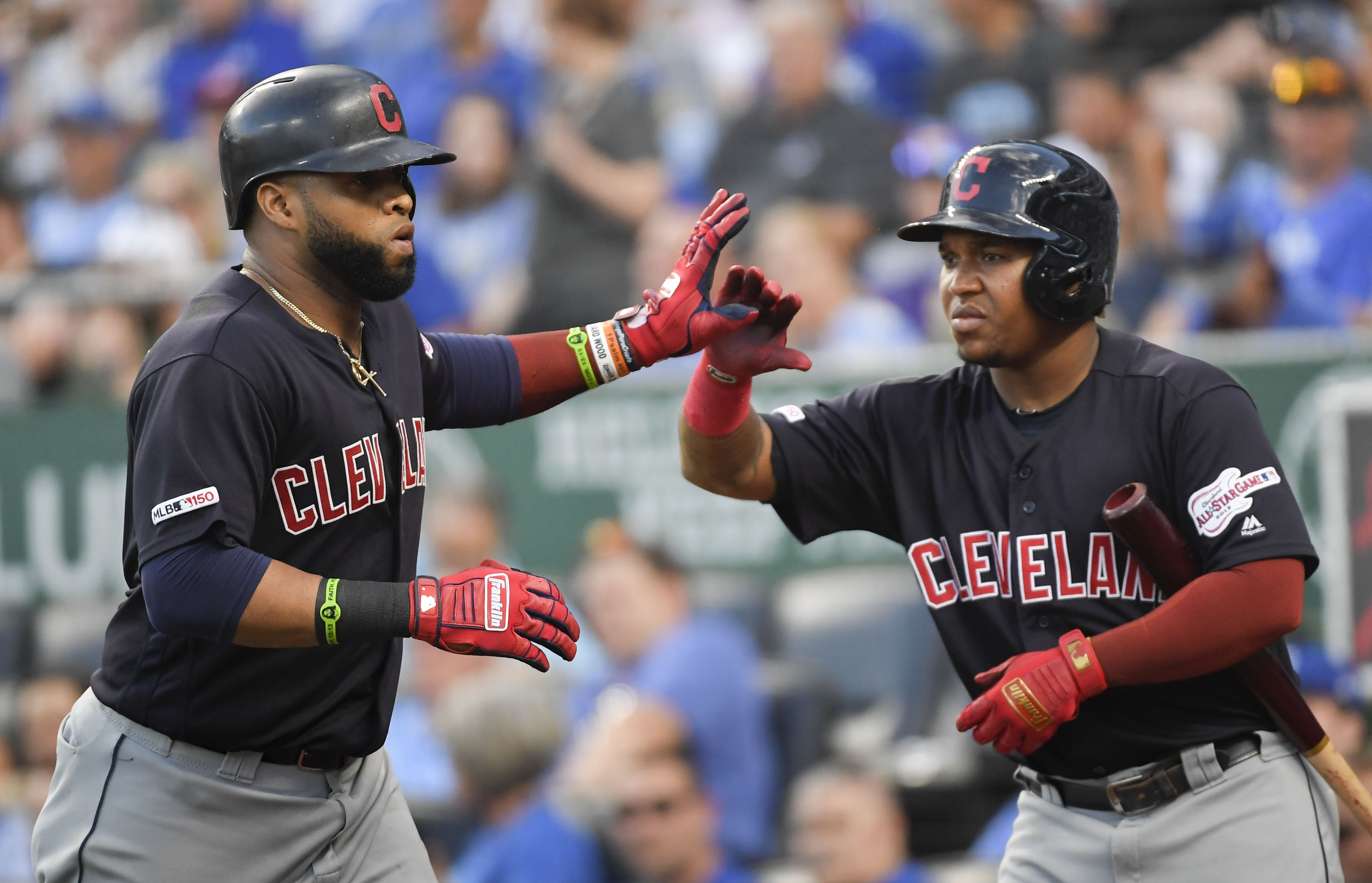 Monday brings us a 10-game MLB slate to start the week, with some elite offenses in really strong spots. Here are my top fantasy baseball stacking options.
It's important to note you should always keep an eye on the news and lineup notes from @DKLive in order to best prepare for each slate. In addition, feel free to get at me on Twitter with any questions — @julianedlow.
1.
CLEVELAND INDIANS
Daniel Norris ($4,200) will get the start for the Tigers in Cleveland, facing a lineup he struggled against earlier in the season. Norris hasn't been a great pitcher all season (4.96 ERA), but he's been getting progressively worse (6.26 ERA over the past month).
Norris has given up six earned runs in two of his past three starts, including one in Cleveland — six earned runs in seven innings of an eventual 8-3 loss. The Indians just finished a tough brawl at the top of the division with the Twins, so this is a spot for them to make some ground. Cleveland's lineup was hot entering the All-Star break, scoring seven or more runs in three of the past four games. Projected for 6.3 runs Monday, look for the offense to return to form against Norris and Detroit's 26th-ranked bullpen.
Players to Consider
Carlos Santana ($5,000)
Francisco Lindor ($4,900)
Jose Ramirez ($4,100)
Oscar Mercado ($4,000)
Jordan Luplow ($3,900)
Jason Kipnis ($3,500)
---
2.
LOS ANGELES DODGERS
The Dodgers are coming off a big series victory in Boston, scoring 18 total runs in the past two games of the series. Now they'll carry some momentum to Philly, projected for 5.5 runs against Zach Eflin ($8,200). While Eflin's having a solid season (3.78 ERA), there are some red flags entering this matchup.
Eflin's slowed down significantly over the past month, posting a 7.65 ERA over his past four starts. This will be his first start since the All-Star break, but it comes against a tough lineup to break out of a slump against. LHBs hit Elfin much harder when it comes to home runs and extra-base hits, which should give this LHB-heavy Dodger lineup an extra boost. Once he's knocked out of the game, the Phillies have just the 21st-ranked bullpen.
Players to Consider
Cody Bellinger ($5,100)
Max Muncy ($4,600)
Justin Turner ($4,300)
Joc Pederson ($4,200)
Corey Seager ($4,200)
Alex Verdugo ($4,100)
---
3.
BOSTON RED SOX
The Red Sox weren't a complete disappointment from an offensive standpoint out of the break, scoring 14 runs in the series against the Dodgers. They're in a bounce-back spot against the Blue Jays at home, projected for 6.1 runs against Trent Thornton ($6,800). Boston's still third in baseball in runs per game at 5.62 and have hit Thornton well.
While Thornton's 4.85 ERA does improve by more than a full run on the road, Boston isn't the type of lineup he's seen away from home. He's faced the Red Sox twice this season, giving up nine runs in nine innings, with opposing bats hitting .422 against him — that includes a 10-6 loss to Boston back on July 2. Toronto has an average bullpen, but it had to pitch more than six innings in the past matchup, with Thornton getting knocked out of the game in the third inning.
Players to Consider
Rafael Devers ($5,500)

Xander Bogaerts ($5,300)
Mookie Betts ($4,800)
J.D.
Martinez ($4,700)
Christian Vazquez ($4,700)
Andrew Benintendi ($4,300)
---
4. New York Yankees
The Yankees are projected for five runs at home, but some could be scared off by the matchup against Blake Snell ($10,000). We all know Snell's upside, but he's been terrible on the road all season (6.48 ERA). Snell also has been coming undone over the past month, with a 9.82 ERA in his past four starts.
While Snell did hold the Yankees to one runs in five innings of an eventual 4-3 victory in his past start, that came down in Tampa. You might recall Snell's lone trip to the Bronx this season — six earned runs while recording just one out, leading to a 12-1 loss. The Yankees are up to an average of 5.62 runs per game and only climbing with this hot offense. Although the Yanks limped out of the break a little bit on offense, this could be a contrarian spot where they find their stride again and at affordable salaries.
Players to Consider
Aaron Judge ($4,600)
DJ LeMahieu ($4,500)
Gary Sanchez ($4,400)
Luke Voit ($4,300)
Edwin Encarnacion ($4,100)
Gleyber Torres ($4,100)
---
5. Colorado Rockies
The Rockies will have a doubleheader at Coors Field, so just beware of a potential late lineup posting and bats resting. But they're in a smash spot against Dereck Rodridguez ($4,400) and the Giants. Colorado has an early 7.3-run projection, and the bats aren't even all that expensive. The reason they're only my No. 5 stack here is because I expect them to be popular, and there's some unknown with the back-end of a doubleheader.
Rodriguez has a 5.27 ERA and primarily has been working out of the bullpen recently, giving up 10 runs in 8 2/3 innings in July. The Rockies got back on track in a big way over the weekend against the Reds, scoring 19 total runs in the past two games. If you want to go full game stack here with Chi Chi Gonzalez ($4,600) on the mound for the Rockies, that makes sense, too. The Giants are cheap, hitting well lately, and projected for 6.6 runs themselves.
Players to Consider
Charlie Blackmon ($5,500)
Trevor Story ($5,500)
Nolan Arenado ($5,200)
David Dahl ($4,900)
Daniel Murphy ($4,900)
Ian Desmond ($4,400)
---
Put your knowledge to the test. Sign up for DraftKings and experience the game inside the game.
---
I am a promoter at DraftKings and am also an avid fan and user (my username is jedlow) and may sometimes play on my personal account in the games that I offer advice on. Although I have expressed my personal view on the games and strategies above, they do not necessarily reflect the view(s) of DraftKings and I may also deploy different players and strategies than what I recommend above. I am not an employee of DraftKings and do not have access to any non-public information.