Here are my top five stacks for Friday night's 13-game main slate, featuring all four teams playing in Texas and Colorado.
1.
COLORADO ROCKIES
The Rockies are projected for 5.8 runs at Coors Field, where they'll host Hyun-jin Ryu and the Dodgers. The LHP has had significant trouble with Colorado's lineup this season, dropping all three of his starts against the Rockies and giving up 16 runs (11 earned) in just 14 2/3 innings. In those games, the Rockies hit .323 as a team with four home runs. Those numbers all get even worse if you just narrow it down to the two games at Coors. Arenado is 8 for 14 against Ryu with three doubles and two homers.
Players to Consider
Charlie Blackmon ($5,600)
DJ LeMahieu ($4,600)
Nolan Arenado ($5,600)
Trevor Story ($4,500)
Mark Reynolds ($3,900)
Ian Desmond ($4,400)
---
2.
LOS ANGELES DODGERS
The Dodgers are projected for a slate high in runs by just a hair at 5.9 runs. Both teams at Coors could be very popular tonight, and with good reason. L.A. smacked Chad Bettis around for four runs in five innings earlier this season at Dodger Stadium, and has hit over .300 against him in 92 career at-bats.
Players to Consider
Chris Taylor ($3,900)
Corey Seager ($4,600)
Justin Turner ($4,400)
Cody Bellinger ($5,600)
Curtis Granderson ($3,800)
Yasiel Puig ($4,600)
---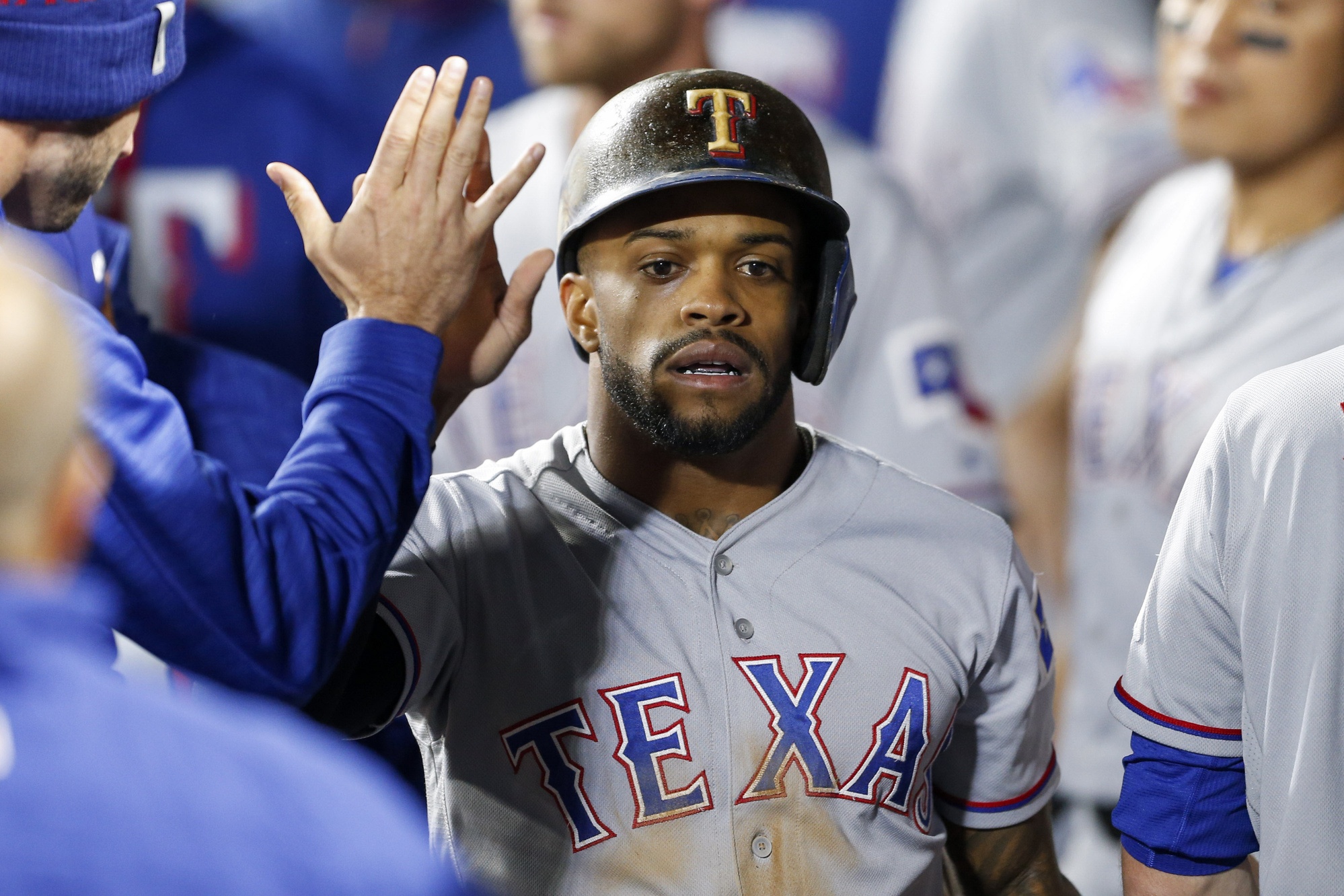 3.
TEXAS RANGERS
The other park with great stacking potential tonight is in Arlington, where the Rangers will host Raul Alcantara and the A's. Texas is projected for 5.5 runs against Alcantara, who has pitched just 19 2/3 innings this season but watched 17 runs cross the plate during his time on the mound. His 6.86 ERA balloons to 11.74 on the road, and that includes eight runs allowed in this ballpark in just two innings.
Players to Consider
Delino DeShields ($3,900)
Shin-Soo Choo ($4,300)
Elvis Andrus ($4,200)
Nomar Mazara ($4,600)
Joey Gallo ($3,800)
Rougned Odor ($3,600)
---
4.
OAKLAND ATHLETICS
In the visitors' dugout, the A's are projected for 5.2 runs in a matchup with Martin Perez. The Rangers LHP also has struggled against his opponent, surrendering nine runs in just 13 2/3 innings through his three starts against Oakland. The A's hit .333 against Perez during those outings and got 27 men on base — more than two per inning. Stack up those RHB and look for power, as 20 of Perez's 22 dingers allowed have come from the right side.
Players to Consider
Marcus Semien ($3,900)
Matt Chapman ($3,200)
Jed Lowrie ($3,900)
Khris Davis ($3,800)
Ryon Healy ($3,700)
Mark Canha ($2,900)
---
5.
CLEVELAND INDIANS
Then we have the Indians, who are somewhat quietly projected for 5.5 runs at home against the White Sox. Mike Pelfrey will be on the mound for the fourth time against this lineup, still looking to collect his first win. So far, the results have been 11 runs in 11 innings for Cleveland, sparked by four homers. Pelfrey has even splits, which helps the stacking potential even more.
Players to Consider
Francisco Lindor ($5,500)
Austin Jackson ($3,900)
Jose Ramirez ($5,500)
Edwin Encarnacion ($5,200)
Jay Bruce ($3,900)
Carlos Santana ($4,400)
---
I am a promoter at DraftKings and am also an avid fan and user (my username is jedlow) and may sometimes play on my personal account in the games that I offer advice on. Although I have expressed my personal view on the games and strategies above, they do not necessarily reflect the view(s) of DraftKings and I may also deploy different players and strategies than what I recommend above. I am not an employee of DraftKings and do not have access to any non-public information.