Good morning, welcome to the weekend! Rise and shine with a tasty seven-game slate, starting at 1:05 pm EST today, which includes a Clayton Kershaw start….but in Toronto. Let's get our studs and values and let's do this!
Pitchers
Studs
Clayton Kershaw – LAD @ TOR – $13,500 – Not a slam dunk to target Kershaw in Toronto today, as I've been writing all week about the Jays bats ready to bust out due to their high hard contact rates among their top bats. But Kershaw's numbers are too elite on such a short slate to ignore, 16% swinging strike rate, .492 HR/9 IP, 25% HH rate for the year. He's still a favorite in this game with 3.2 expected runs scored against.
Johnny Cueto – SF vs. COL – $9,900 – Benefit of a day game after a night game here and Cueto has been tough on the lefty bats (.265 wOBA), he's favored to win (3.3 runs against, -175 favorite) and he has a .77 HR/9 IP in the best park on the slate in which to pitch.
Values
Jeff Locke – PIT @ STL – $5,800 – Nothing to choose from in values on pitchers, so spend up. Many of the matchups feature the team in the top half in wOBA against the handedness of the opposing pitcher. In tourneys, maybe you can dial down to Locke, where the Cardinals don't kill it vs. LHP, Locke has a reverse split, so the Cardinals may platoon away an advantage, and they whiff 23.5% of the time against LHP. Just pay up for your starter today. The only real thing Locke gives you is salary cap relief.
---
Batters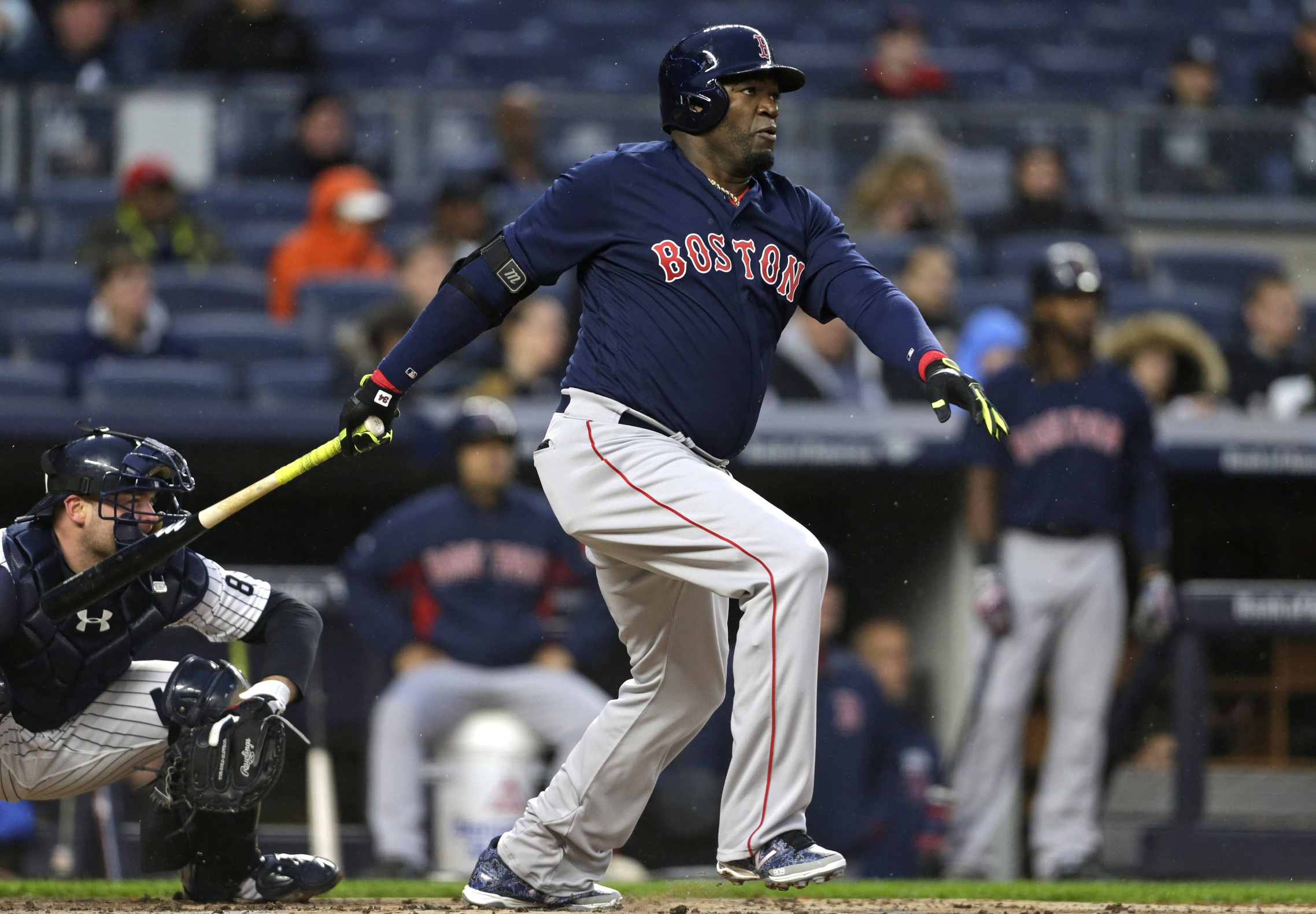 Studs
David Ortiz (1B) – BOS @ NYY – $5,000 – Make sure he's in a day game after night game, but go ahead and take Ortiz and his .426 wOBA and .343 ISO against RHP in one of the top LH HR parks in the league.
Bryce Harper (OF) WAS @ CHC – $4,800 – Harper carries a .478 wOBA and .362 ISO against RHP, and Cubs SP Jason Hammel has been excellent, but is a shade over .300 in wOBA against LH bats himself.
Carlos Santana (1B) CLE vs. KC – $4,100 – Ian Kennedy has the highest HR rate on the slate today, Progressive Field is a top 10 home run park, and Santana has been quietly making hard contact at the top of the Indians lineup. Santana has 50% hard hit rate over his last 10 games and a 211 expected power rating (on a 100 is average scale).
Kris Bryant (3B) CHC vs. WAS – $4,100 – Bryant is coming along, with his plate patience picking back up, going from 10% walk rate for the season to 17% over the last week. Bryant maintains his power as well, with a 144 expected power and a .214 ISO vs. LHP.
Michael Brantley (OF) CLE vs. KC – $4,400 – Brantley has come back to Cleveland with hard contact, with a 168 expected power rating over the last week. Brantley has a .375 wOBA against RHP, Kennedy has that high HR rate (1.48 per 9 IP) and a .348 wOBA vs. LH bats, so dig into some Cleveland bats today.
Daniel Murphy (2B) WAS @ CHC – $4,200 – Murphy's been raking, with a 96 mph avg exit velocity over his last two weeks along with 48% hard hit rate. Murphy has a .376 wOBA against RHP this season.
Andrew McCutchen (OF) PIT @ STL – $4,500 – Adam Wainwright has a .337 reverse wOBA split here, and Cutch, while the stats haven't been there, has been maintaining good contact, with a 172 expected power rating for the season.
Hunter Pence (OF) SF vs. COL – $4,100 – COL SP Jon Gray is very hittable from either side of the plate, with a .404 wOBA against RH bats. Pence has a 43% hard hit rating over the last 10 games.
Values
Brandon Belt (1B) – SF vs. COL – $3,800 – Two more Giants bats here against Gray, who has a .358 wOBA against LH bats, too. Belt's wOBA against RHP is .372 and his ISO is .211.
Brandon Crawford (SS) – SF vs. COL – $3,200 – Crawford delivered for us last night with a dinger and has a 50% hard hit factor over his last 12 games. He's also working a solid .333 wOBA and .211 ISO against RHP.
Jung-ho Kang (SS/3B) PIT @ STL – $3,400 – Kang has returned! He homered in his first game back and benefits from the same reverse split we showed with McCutchen against Wainwright. Last season, Kang enjoyed a .374 wOBA vs. RHP and .492 SLG.
J.D. Martinez (OF) DET vs. TEX – $3,500 – This is way too inexpensive for one of the top power hitters going. Martinez has a .362 wOBA, .219 ISO and .503 slugging against RHP and has a 42% hard hit factor over his last 12 games.
Rougned Odor (2B) TEX @ DET – $3,900 – Going against RHP Mike Pelfrey (.376 wOBA vs. LH bats), Odor will be leading off and have the most shots at the Tiger right-hander. Odor carries a .350 wOBA and .231 ISO against RHP.
Javier Baez (3B/SS) CHC vs. WAS – $2,900 – Make sure he's playing, but against a LHP, Baez has great splits, such as a .462 wOBA and .607 SLG and has usually been batting sixth against southpaws.