Happy Memorial Day, everyone! Today will feature 10 games that will be taking place this afternoon, which always brings us plenty of players to target. I'll go over some of my favorites, as I get you ready for this big afternoon slate. As always, you can get me on the ol' Twitter machine @SBuchanan24.
Pitchers
Studs
Jeff Samardzija – SF vs. ATL – $12,200 – I think Samardzija is enjoying his time back in the National League, but that's just me. He's been as good on the road as he has at home, averaging 22.2 FPPG with a 2.29 ERA and a 1.02 WHIP. With the exception of the Padres, the Braves are about as bad as it comes offensively, owning a .281 wOBA with a .326 SLG%, both ranked near the bottom of the league. The only downside to this start for Samardzija is that the Braves don't strike out a ton against righties, owning a 19.6 K%, which ranks 19th in the league. Nonetheless, this is a fantastic spot for Samardzija and I expect him to be highly owned in both Cash and GPPs.
Jose Quintana – CWS vs. NYM – $11,700 – I keep waiting for Quintana to start getting whacked around, but here we are on May 30th and that day has yet to come. Quintana comes into today with a 2.22 ERA with a 1.02 WHIP and averaging 21.3 FPPG. Pitching in the cozy Citi Field as a left-handed pitcher is something that most certainly favors Quintana. The Mets own a .299 wOBA against lefties with a .389 SLG% and a very high 27.8K%, which ranks first in the league. Quintana has only had double-digit strikeouts once this season against the Blue Jays, but today could be his best chance to at least come close. On the road, Quintana owns a 9.6 K/9 as he looks to improve on that this afternoon in New York.
Values
Nathan Karns – SEA vs. SD – $9,500 – When the Mariners acquired Karns, I thought he would benefit immensely from playing at Safeco Field. Coincidently, Karns has been better on the road than he has at home, but today brings a very favorable matchup. With the Padres coming to town, Karns faces the team that either ranked last or second to last in wOBA, ISO, OPS, SLG and OBP. Not only are they horrific offensively, they rank fourth in the league in K% against righties at 24.2%. With Karns owning a K/9 of 9, he could bring great value on this slate, even with his price tag checking in at $9,500. Karns sees his K/9 dip at home to 7.7, but I have a funny feeling he'll improve upon that today.
---
Batters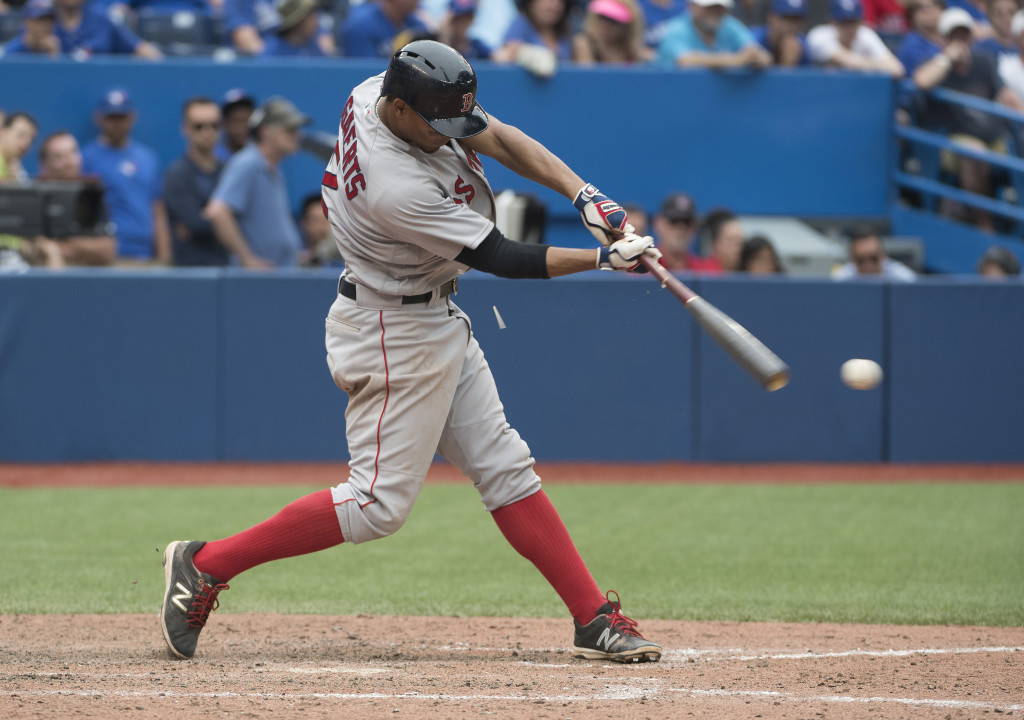 Studs
Xander Bogaerts (SS) – BOS vs BAL – $5,300 – You won't find a hotter hitter in baseball right now than Bogaerts. In the midst of a 21-game hit streak, Bogearts is now hitting .351 with six home runs, 28 RBIs and a .915 OPS. Away from Fenway Park, Bogaerts owns a .333 wOBA against righties. Hitting in the Red Sox lineup that continues to pound the ball overall, Bogaerts should be in a great spot here once again.
Adam Eaton (OF) – CWS vs NYM – $4,200 – Crazy to think that we're targeting against Matt Harvey, but that's exactly how the season has gone for him. Harvey has really struggled against lefties this season, allowing a .525 wOBA to them at home with a .778 SLG. Overall against lefties, those numbers settle at a .424 wOBA with a .593 SLG. Eaton has been great against righties on the road and a .383 wOBA and batting leadoff should get him at least a couple of cracks at Harvey.
Ryan Braun (OF) – MIL vs. STL – $4,800 – Braun was scratched from the lineup yesterday, so make sure he's in today. If he is, he faces off against Carlos Martinez, who went from a dominant month of April, to anything but that in May. After Martinez posted an overall wOBA of .200 in April, it's suddenly jumped to .355 this month. Braun is most certainly not someone you want to make a mistake with, as he owns a .431 wOBA this month with a .411 overall against righties.
Ben Zobrist (2B) – CHC vs. LAD – $4,800 – Zobrist continues to mash the ball for the Cubs and today has a matchup against a left-handed pitcher, which is exactly what he's been having the most success against. Facing Alex Wood, Zobrist owns a .433 wOBA against lefties with a .585 SLG. Wood is starting after apparently having some tricep discomfort, which scratched him from his last start. Wood has not been good on the road this season, allowing a .345 wOBA away from Dodger Stadium.
Jonathan Villar (SS) – MIL vs STL – $4,900 – I mentioned that Bogaerts may be the hottest hitter in baseball, but Villar is a close second. Averaging 13.1 FPPG over his last ten games (!) Villar is 15-39 during that span with four doubles, a home run, seven RBIs and seven walks. With Villar being a switch hitter, Martinez has struggled the most against lefties, owning a .348 wOBA against them with a .440 SLG.
Carlos Gonzalez (OF) – COL vs CIN – $5,200 – Carlos Gonzalez has been really turning it on lately; averaging 9.6 FPPG over his last ten games. He faces Dan Straily, who has been pitching fantastic for the Reds. However, as we all know, everything changes once they enter Coors Field. Straily owns a career .327 wOBA against lefties. At Coors this season, Gonzalez owns a .410 wOBA against righties with a .611 SLG with three home runs.
Adam Duvall (OF) – CIN vs COL – $4,700 – Duvall continues to crush the ball out of the park lately, owning four home runs in his last 10 games. Now he has a series in Coors Field and the crowd goes wild. Duvall faces off against Chad Bettis today, who some how has allowed all seven of his home runs AWAY from Coors Field. Figure that one out. If anyone can go yard, it should be Duvall. 10 of his 11 home runs have come off righties and this game should be full of production.
Values
Adam Lind (1B) – SEA vs SDP – $3,700 – I feel like a few times a year, Lind randomly pops up on a hot streak and reminds all of us that he's still playing in the majors. Lind is averaging 10.9 FPPG over his last ten games, going 11-34 with two doubles, four home runs, 13 RBIs and three walks. Facing Andrew Cashner is certainly a way to keep his hot streak going, as Cashner owns a .413 wOBA against lefties this season away from Petco Park. With Lind currently on his hot streak, hitting another home run certainly isn't out of the possibilities, as four of his five home runs have come at Safeco Field.
Yan Gomes © – CLE vs TEX – $3,700 – Gomes hasn't been doing much this season, but hitting lefties has been one thing he's been successful at. Facing Derek Holland, Gomes owns a .323 wOBA against lefties with a .487 SLG. He could be a nice option at catcher today that should go under owned, as his overall numbers aren't very impressive. Holland has been getting rocked on the road this season, averaging 5.7 fantasy points per start.
Nomar Mazara (OF) – TEX vs CLE – $3,900 Mazara is on the border of being expensive, but since he's under the $4K range, I'll classify him as a value. Mazara has hit four home runs over his past 10 games, which plays perfectly in his matchup with Josh Tomlin. Allowing six home runs at Progressive Field this season, Mazara has a great matchup to continue this trend he's started. Even with Tomlin pitching relatively well so far, Mazara is cheap enough to roster today.
Melky Cabrera (OF) – CHW vs NYM – $3,200 – Another day, another Cabrera recommendation. As I mentioned yesterday, Cabrera is such a value play for me because he has the ability to get on base and even go yard once in awhile. If Harvey falters again today, Cabrera at $3,200 brings us fantastic value. As a switch hitter, Cabrera owns a .325 wOBA overall against righties, with a .351 OBP.